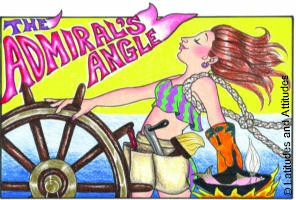 Admiral's Angle #3 – Getting Started
"When I hear men lament that they have a hard time getting their sweethearts to go cruising with them," writes one of my Admirals, Mary Verlaque of Iwanda,, "I ask what their first sail was like. Rather than an easy sail into a quiet anchorage where they watched the sun set while sharing an intimate glass of wine, the story usually involves white knuckles, wet hair and a feeling of total vulnerability for his would be crewmate."

For adventurous ladies with cast-iron stomachs and nerves of steel, this approach might work, but for reluctant crew, this is a helluva start. I once read an entertaining cruising autobiography called If the Shoe Fits: The Adventures of a Reluctant Boatfrau by Rae Ellen Lee. Actually, it was less a cruising autobiography than a "getting started" autobiography. Shoe was the boat her husband bought for them in Port Townsend after a nice vacation in the Virgin Islands. Coming from the mountains of Montana, they both had to learn how to sail and live aboard. For some reason they started in winter. Her husband Tom was the motivated learner, and as he taught himself, with more than a few of those white-knuckled moments, he dragged her along with him like a dinghy in a choppy sea.

There are easier ways. Mary and her husband Christian, for example, started sailing lessons together in their 30s. They started with the basics on small sailing dinghies, and gradually progressed to bigger and bigger boats. One of the neat things about sailing is the fundamental principles are the same whether you are in a dinghy or the 40' Camper Nicholson the Verlaques now sail in the Med. It's the forces that change, and, if you don't plunge into the big forces right away, you have time to internalize those fundamentals.

Although Mary and Christian started learning to sail at the same time, the school's policy separated couples. This allowed them to "make mistakes and ask what may have been dumb questions without involving each other as a couple." Many women opt for women-only sailing programs as offered all around the country. Under the impression she was providing moral support for a friend, Mary went along on a one-week women-only course and realized, in the all-female milieu, how many onboard tasks she'd been avoiding: engine and battery checks, sail selection, navigation, anchoring and docking. "I came home enthusiastic about sailing and living aboard. I felt empowered by the revelation that I could handle all those necessary tasks. I kept telling Christian, 'WE CAN DO THIS!' "

Of course, many cruisers were active sailors before they became cruisers. Ellen Sanpere of Cayenne III, says she has always sailed. "As an adolescent, I discovered I could go sailing if I hung around the yacht club and offered to crew for the racing boats," (a strategy that would work for single gals of any age!) Ellen returned to racing after a job transfer took her to Annapolis. She met her husband Tony on the racing circuit there, and the pair seems to have stumbled into full-time cruising simply by chasing down far-flung races. Kathy Blanding and her husband Dave, currently prepping to sail westward from Fiji, also started as small-boat racers. "Thanks to the racing, I knew the names of the lines and the sails, how to tack and gybe, and how to read the sails and trim accordingly. All of that helped with my self-confidence when we moved up to our Norseman 440 Sunflower."

More commonly, couples get started like Mary Heckrotte of Camryka. "My first date with Carl when I was 33 was to go sailing on his 26' Westerly, my first ever sail. After that we rattled around Pamlico Sound for years together on weekends and vacation days. Somewhere along the way we met real people who actually lived aboard and poked about the world. Such a wild idea!" Wild or not, the idea grew, Mary and Carl upgraded to a 36' Westerly, and they have been sailing the Caribbean since 1992.

If you are starting from scratch with no history and no boat in the back yard, I can't imagine a better way to discover cruising than to take a crewed charter. In the hands of professionals, novices can concentrate on the pleasures of cruising – those romantic sundowners -- without being plunged headlong into the responsibilities of a bareboat. You can often pick your yacht by type, and many crews will teach you as much as you want to learn. If you're lucky, you'll come home itching to do it on your own!