n the charter business, the "calendar" is the focus of all things: How full can you get it and can you stay sane keeping up with it!?!

In cruising, the cardinal rule is "Never have a schedule." In addition to promoting spontaneity in loving or leaving a destination, this rule also keeps the cruiser from being pressured to leave harbor when the weather report is not good.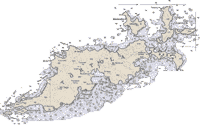 It is our intent to abide largely by the "Cruiser's" rule, but as we make our way on our adventures, it is also our intent to open up a few weeks here and there for visitors. This WAYPOINT page will let you look ahead to our proposed itinerary (remember, captains always have the right to change their minds!) to see if a destination particularly appeals to you so that you can let us know you are interested.
Our very loose schedule (as Capt. Don says, "All schedules chiseled in jello!"):
2001

November
Costa Rica
December
Nicaragua & Tehuantepec

2002

January - March
Southern Mexico
March - November
Sea of Cortez
December

Mazatlan, Mexico

2003

January - March
Mazatlan, Mexico
April - May
Virgin Islands (by air)
May - November
Sea of Cortez
November - March
Mainland Mexico

2004

March - September
French Polynesia
October - December
USA


2005

January - May
On the Road in the USA
May - September
Society Islands, Cook Islands, Samoas
September - December
Kingdom of Tonga


2006

January - May
On the Road in the USA
May - August
Tonga
September
Fiji
September - December
USA


2007

January - April
USA
April - ??
Fiji