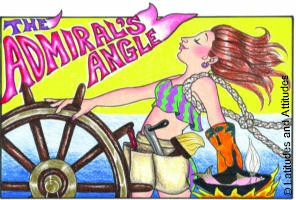 Admiral's Angle # 29 - Little Things Make a Big Difference
Much has been written about what a boat needs to make it safe for cruising, but not so often is much said about what things make a cruising boat pleasant to live aboard. I posed this question to the Admirals a while back and received a flood of input. More than I've ever received for any other subject! This may be because it is easier to think about this than heavier subjects, but I think it is also because we all love to share little discoveries that are (sometimes disproportionately) important to us.
The leading category for "little things" making a difference in a cruising woman's life is in the galley. The more time we spend out cruising the more we realize how important is not stinting on good galley tools. "Good sharp knives, great pots and pans, and my Fagor™ pressure cooker," states Sandy of Columbine, and she is seconded in that by several other Admirals. Mary of Camryka says, "A stainless steel pressure cooker costs more initially, but it's one of those lasts-a-lifetime items, so it pays to buy a good one." That was exactly my thinking I when I splurged on stainless-steel nesting pots, and I wish I'd spent for a Calphalon™ square griddle. My cheapo Teflon-coated aluminum one is the most used and abused pan I own, and I can't replace it out here.
Electrical gizmos have much more of a place aboard than in the old days, requiring an inverter and, as Yvonne of Australia 31 says, "enough battery power not to scrimp." It may surprise you to learn that almost half the responding Admirals use a bread machine. New models even remember where they are in the cycle should someone switch the inverter off! Several Admirals are surprised how much they use the microwave, and several people mention vacuum-sealers, either the larger Foodsaver™ models or a simple little device that has a mini-heat strip to reseal plastic food packages – the Euro Sealer™ ("as seen on TV") – that Katherine of Sangaris recommends.
Judy of Ursa Minor has long been an advocate of plastic cutting sheets; "They take next to no space, are super easy to clean even in a small sink on a boat, and make it much easier to have a clean cutting board handy as I switch between cutting veggies and meat." I've also found them handy to place across shelves to keep stuff tumbling out when accessing lockers underway. Judy also has neat salad-spinner bags; they fold away flat, but do as good a job as regular spinners. I've found them at Bed, Bath & Beyond in the US.
Cindy of Tashmoo loves her Pampered Chef™ food chopper as a substitute for a full- bore food processor, Mary advises good kitchen shears to be kept exclusively for galley work as well as a top-opening can-opener that leaves no sharp edge, and Bette Lee of Quantum Leap puts a vote in for silicone bakeware, colanders, and measuring cups. "They save loads of space, and don't rust or rattle." And speaking of small joys, I suspect there isn't an Admiral alive who doesn't appreciate quality paper towels and Ziplocs™ wherever we can find them and green Evert- Fresh™ bags for keeping veggies fresh.
Decent dishware and flatware – so that you don't feel you are camping out – is brought up by several Admirals. Ellen of Cayenne III likes her new Corelle™ plates, while Lisa of Lady Galadriel actually has a stash of real china for entertaining. Since I'm partial to plain white plates, I actually prefer the upscale plastic-ware with non-skid bottoms from the Galleyware Company™, marketed in most boating stores. For passages, Judy recommends double-bowled dog dishes that can't tip! Woof!
OK! Out of the galley! The next most commonly mentioned category is good lighting, especially for reading in berth areas, salon and cockpit. Also, "a boat can be a small space for one person to have a light on to read while the other tries to sleep," says Mary. "A book light minimizes the disturbance." These days many people are using LED headlamps for this, especially ones with a red light for night passages, which you can also us for running lights in your dinghy! On Tackless we have a tiny orange LED light wired into the head compartment as a night light, which is about as small a joy as they come. Elsewhere, I'm rather partial to Alpenglow™ daylight fluorescent lights. And speaking of not disturbing sleepers, earphones for our computer/ DVD setup means I don't have to listen to my husband's videos shoot up the world!
On board email is important to most cruisers, whether they connect by SSB, an amplified Wifi antenna, or sat phone. Satellite radio is also something many cruisers enjoy these days. "We started our cruising with XM Radio™ but lost the signal once we got south of Cuba so now have Sirius™," says Cindy. "It is nice to keep up with news and sports and have the variety of talk, story and music that it provides. We love listening to the old time radio shows when we are on passages." Where satellite radio doesn't reach, iPods™ fill the breach. Judy says, "While on watch at night I find that listening to audio books or podcasts I've downloaded helps keep me awake."
Comfortable bedding also got multiple mentions. Terri and Kimi of Delphinus put in a strong vote for the The Froli Mattress System™. Not exactly a small thing, they insist, "That is our purchase of the year. It's as comfortable as a Tempurpedic™ mattress, but the air circulation beneath has eliminated the daily battle to dry out the moisture that used to collect between cushions and the wood below. Sore backs and necks are gone!" Similarly, Mary votes for feather pillows. "Contrary to speculation, they really haven't gotten any more moldy or damp than foam -- and I sure sleep better."
One of the neatest ideas mentioned also came from Terri and Kimi. "Someone prior to us put three little bulkhead-based flower holders in our boat – three-sided teak boxes that hold a little plastic vase We buy a bouquet of fresh flowers every so often to divide between the vases. There is nothing as surreal and wonderful as smelling roses or lavender when bobbing around on a warm day." A potted basil plant in the cockpit can be similarly as great for its brush-by aroma!
Several Admirals insisted on including a few nautical items. "Without a doubt, it's having a cockpit VHF radio (or radio with a cockpit mike)," says Linda of Serafin. "A VHF in the nav station is useless when the engine is running and you can't hear or reach it to talk." Jane of Cormorant votes for their "Watch Man" night-watch timer/alarm. "The timer lets me read or listen to a book without risking getting so involved I forget to keep watch. If the person on watch doesn't push reset within one minute, it emits an ear-piercing scream, so the person sleeping can relax knowing that the one on watch can't have gone asleep or--worst scenario--overboard."
I haven't been able to include all the suggestions I received, nor are all the ones included strictly "little things," but the fact that so many of these were shared by Admirals cruising different parts of the worlds suggests that they do, in fact, make a big difference in our lives.