Volume V - April 2000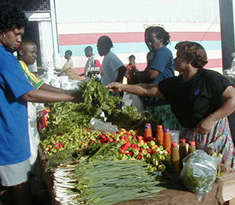 rinidad is a great place for food. Here West Indian cuisine shares turf with its ancestor East Indian cuisine, reflecting the population, which is close to equally dived. There are also Chinese and Middle Eastern communities that have left their mark, in addition to American in the guise of KFC, McDonald's and Pizza Hut!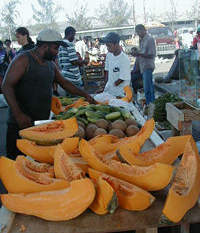 After the relatively fundamental options of the Windward Islands, not only eating out but shopping in Trinidad is a delight. Much produce is grown locally, but it is backed up by major shipping connections to the States and to South America. Supermarkets approach American standards and seem to get more familiar products every week, including such occasional esoterica as Portobello mushrooms, artichokes and asparagus.
The Saturday open market - with several acres of fresh, mostly-local vegetables - is a joy to behold…especially once you figure out what to do with it all! Fish, shrimp, and pork are cheap and good. Chicken is…well, chicken. It is NOT Purdue, however. A whole chicken is liable to arrive with its feet stuffed in its neck! Local beef, on the other hand, is something best left to the locals. But, when a red meat craving hits, imported beef and lamb can be found in the larger supermarkets. Omaha burgers are a hot commodity. We can even get good bagels!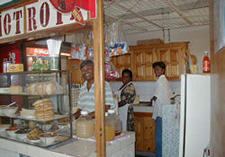 lthough we would be just as happy to eat every meal at home, as the projects have taken over the interior, we find ourselves eating out more and more. Joe's Pizza is our major hang-out, and Charlie (the owner) has become a good friend. Life here without Joe's Pizza (plus pasta, salads, hoagies, steak sandwiches) would be tough.
Alternatively, we can eat "local", which we have come very much to enjoy. We can start our day with spicy meat pies or bake-and-saltfish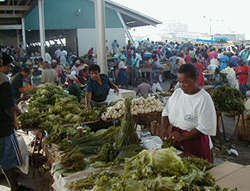 bujol, or even better, when we kind find them, Doubles (little "breads" called bara filled with curried chickpeas and various spicy condiments). Variations on Doubles include substituting Sahina (fritters with flecks of dasheen leaves) or Biaggone (deep-fried eggplant slices) for the bara. Lunch might be stewed chicken and pelau (rice and peas) from the Roti shop. Local fast food is roti (Indian paratha folded around a curry) or Bake and Shark (fried fish in a big fried Johnny Bake!) with lettuce, tomato and hot, garlic, tamarind or shadonbene (cilantro) sauces, of course!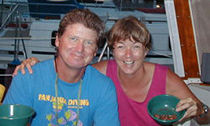 t Carnival's Viey Le Cou, we finally sampled the traditional dish of curried crab and dumplings as well as Callaloo and Coucou (a stew of dasheen leaves and okra served with a wedge of spicy cornmeal like polenta.). Other Carnival dishes we enjoyed were corn chowder and sweet bread. I love the concept of food fairs, where we visitors get a real shot at home cooking. I'm always amazed how many cruisers don't sample. Don and I….we love it all!

Bake and Salt Fish / Bake and Shark
Interestingly the bakes of "Bake &…" aren't really bakes at all, but "Floats," because they are usually fried bakes (of course!)
Bakes, aka Floats
4 cups flour
1 ½ tsp. salt
4 tsp. baking powder
water
oil for frying

Sift flour, salt and baking powder together, and add enough water to make a soft dough. Knead for 10 minutes, the leave it to rest for 30 minutes. Pinch off enough dough to make a flattened circle 4-6" in diameter and ¼" thick. Fry in hot oil, turn once and fry until brown. Drain on paper towel. Fill while hot with salt (or smoked) fish buljol or fried shark.

Bake & Salt Fish Buljol
½ lb salt fish (alt. use smoked fish, including herring)
2 onions, diced
2-3 cloves of garlic
½ bell pepper your choice of color!), chopped
1 tomato, chopped and drained
½ tsp. hot sauce
1 scallion, minced
½ tsp. each of minced parsley and cilantro
½ tsp. thyme
If using salt fish, soak it about a half hour to remove excess salt, changing water several times. Remove any bones and boil to cook. Shred or flake cooked fish (or smoked fish), removing any bone, and squeeze on some fresh lime juice. Sauté chopped onion, garlic, pepper, and chopped tomato. Add flaked fish. Stir in hot pepper sauce, scallion, parsley, cilantro and thyme. (In the islands you can buy prepared green seasoning which includes all of the above!)
Split open hot bake and spread with fish mixture. Eat ASAP!
(Guess what? Buljol is great with bagels and cream cheese!)

Bake & Shark
1 lb. Shark (or any firm fish) cut in small strips
2 limes
2 tsp. minced scallion & thyme, mixed
1 tsp. minced garlic
1 tsp. salt
½ tsp. pepper sauce flour, seasoned with salt and pepper
Rub thin fish pieces with lime juice and salt. Season with herbs and pepper sauce. Dredge lightly in seasoned flour and fry on both sides in hot oil 'til done, time will depend on thickness. Drain on paper towel.
Split open the hot bake and add shark strips, lettuce and tomato, and be creative with such spicy condiments as hot sauce, garlic sauce, green mango kuchelas, or tamarind sauce, or stay cool with Russian dressing or tartar sauce!