Volume VI - Venezuela
Venezuela was great cruising, but food-wise it was a disappointment. Granted, we were for the most part cruising offshore islands where small communities stocked only the most basic items in tiny tiendas, and restaurants were simple places dispensing cheap food for the locals.
But I guess we just didn't take to the cuisine. We are fairly adventurous eaters, nonplussed by being served fish and salad for breakfast, for example, like we enjoyed in Ciudad de Bolivar, Venezuela. But after the spices of the West Indies, the Venezuelan Latin meals seemed bland and oddly spiced. To us, both the meat and the chicken had a funny flavor, either some seasoning we couldn't identify or something unfamiliar in the animal's feed. We found this to be true even in touristy Puerto La Cruz. I know there are many who would disagree with us, who love and spend months at a time in the marinas of Puerto La Cruz, but there was little appeal there to our stomachs.
We had but a handful of memorable meals in Venezuela. The first was on the beach of Juangriego (a village named for a Greek pirate who shipwrecked there) with a seafood plateful of grilled shrimp, mussels, baby octopus, and squid! It made for a pretty busy plate, with all those arms, legs, heads and shells giving American palates a pause. But good adventurers that we were, we shoved aside preconceptions and cleaned our plates. Also in Margarita we enjoyed great meals every time we sat down at Jack's Place. Jack is the wife of the rigger there, and she operated a very informal outdoor restaurant essentially in the backyard of the marine store. Being from the Far East (I forget where) Jack produced wonderful Thai chicken, but she could also make a perfect liver and onions! Clearly, it was not local food, but it sure kept the cruisers coming. (Jack has since opened a restaurant in Margarita…track it down!)
The second memorable meal was on our canoe trip to Angel Falls. When we returned mid-morning from climbing to the falls, our Indian crew had roasted a whole flock of chickens on an open wood fire! We ate way too much chicken and paid the price with the tourista for weeks afterwards.
The best meal we had the whole summer was surely the one we had at El Canto de Baleine (Song of the Whale), a tiny beachside restaurant on El Gran Roque Island in the Los Roques island group. The Los Roques could almost be thought of as the Italian West Indies. There is, we learned, a sizeable Italian population in Venezuela and they have put their mark on this otherwise barren island in a village of charming posadas (like an inn or B&B). The food at El Canto de Baleine was superb, a set meal consisting of pesto pasta, marinated octopus (outstanding), broiled marinated grouper, salad of tomato and avocado, and fresh bread.
In Trinidad we had been able to buy beautiful produce at the Saturday market, including under-ripe fruit that would keep on the boat for a week easily. In Venezuela, all the produce in both the markets and the supermarkets seemed ripe or past ripe. This, of course, reflects the usage pattern of the people who, having no refrigeration, buy on a day-to-day, as-you-need-to-use-it basis. Things were a little better on Margarita, whose modern raison d'être is a duty free port. There are several large supermarkets there, the best to me being Rattan, a sort of tropical Zabars with gourmet food products and first-world department store selections (eg. Bread machines, food processors, etc.) Of course, the biggest attraction of duty-free Margarita for cruisers is the inexpensive liquor, wine and beer. You won't match the selection or the price until you reach Panama City or the US Virgins Island, depending on which way you are traveling!
At the westernmost end of the Venezuelan island chain are the Aves. These islands are divided into two groups, Barlovento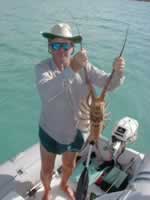 and Sotavento, (essentially "windward" and "leeward".) There is nothing here but islands and birds, plus a small Coast Guard presence. No towns; no tiendas. This is what cruising is supposed to be like, and if you are adept at feeding yourself from the sea, you can probably stay here indefinitely. We were able to catch a huge lobster here, which was enough to make a pasta dinner for three boats. There was also conch, which I fear we took for granted, as it was the last conch of any appreciable size that we were to see.
The good news is that frozen conch can be purchased fairly easily. After we had moved on from the Aves to Bonaire, we were treated to an outstanding conch chowder aboard the Hylas 44 Phantom, whom we had first met in Trinidad, from conch they had collected in the Aves. Sue gave me her recipe, but asked me to hold off sharing it on the website for a while, since she was submitting it to Cruising World. It was so good, I obliged, so now, here we are nearly two years later, playing catch up on the whole Two Captains Galley section!!!

Phantom's Conch Chowder by Sue Watson
¾ cup chopped onion
2 large cloves garlic, pressed
1 14-oz can stewed tomatoes with celery and green peppers (or add fresh celery and green peppers when sautéing the onions and garlic).
1 6-oz can of tomato paste
2 bay leaves
pinch of celery seed
2 cups water
1 chicken bouillon cube
1/8 cup dry basil
" handful" (?) of thyme and oregano
2 cups dry red or white wine
1.5 pounds of tenderized, minced conch* (Can substitute minced clams or other seafood!)
Hot sauce, to taste
Sauté the onion and garlic in a little oil. (Also green peppers and celery if using fresh) . Add all other ingredients except conch (or clams), and simmer gently for 30 minutes. Add conch and heat. Season with hot sauce to taste.
*Tenderize conch by pounding it with a metal mallet or hammer and then mince.