Volume VII - Colombia
Cruisers use the expression "Jumping off" for the departure of any longish passage, but "jumping off" from glitzy Aruba to cruise the Colombian coastline gave new meaning to the concept. To us, the coast of Colombia – as compared to the well-trammeled islands of the eastern Caribbean – loomed in our minds rather like the "Dark Continent" of early explorers. It had the cachet of the "unknown," since we'd met few cruisers who'd been there, and a whiff of danger in both the old reputations for piracy and drug running and the current news of its internal guerilla warfare. Instead of the glossy guidebooks with chartlets and restaurant recommendations to which we were accustomed, we had only a two page typewritten description of waypoints and anchorages prepared by Lourae and Randy Kenofell of the Beneteau 50 Pizazz.
Lourae and Randy had made this rugged trip in each direction and fervently promoted it as a more rewarding option than the usual long offshore trip, which is known as one of the five worst passages in the world! In fact they were making the trip a third time as part of the twenty boats in the Cartagena 2000 "flotilla" of which we were a part. The "flotilla" was in fact four groups of four or five boats each traveling in company for the security of making radio calls should any one boat run into trouble. The plan called for only one overnight passage, and most of the stops were in remote locations with only one city – Rodadero – on the itinerary before Cartagena. All in all, it was by far the most "adventurous" cruising that we had done to date.
It turned out to be a great two-week trip: great sailing, impressive landscapes, few but friendly encounters with locals, and good fishing. Everybody trying caught fish, some large and some small, but the highlight was certainly the huge tuna caught by Enchantress, the smallest boat in the group. Of course it was their first-ever fish of that size, and it nearly overwhelmed their small cockpit. To everybody else's great good fortune, Pete & Paula did not have a freezer, so Pete made the rounds of the group doling out huge chunks of fish – each about the size and shape (and color!) of a rolled roast beef.
Since tuna is at the top of the 2Cs list of favorite things, we were thrilled to take some off his hands. First we shaved it thin and gorged on sashimi with wasabi. Next we indulged in one of our favorite charter meals: pan seared tuna with sesame seeds topped by easy-to-make wasabi sauce. Finally, with the leftovers, we made sun-dried tuna jerky, the fish having been marinated in my favorite jerk marinade and then laid out to dry in the sun.
Like Oz at the end of the rainbow, Cartagena was a culinary oasis. A very cosmopolitan city, Cartagena drew and held on to a sizeable group of cruisers living in one of two marinas or on the hook off Club Nautico. Provisioning was decent, with a good choice of fresh produce and some very modern style supermarkets, but, not surprisingly, very few of the US imports we'd being seeing up to this point.
Surprisingly, good coffee was not that easy to come by – since all the best beans (like the best emeralds) are exported. Finally, we found "Coffee&…", a specialty shop at the tip of Boca Grande run by an American named Lee Miles. Lee has at least five or six different types of coffee nicely packaged, and he does a good business with the cruise ship passengers that have their day in Cartagena. "Coffee &…" also has decaf coffee, but Lee told us that Colombian coffee naturally has much less caffeine in than we find in the US. Companies like Starbucks, he said, actually add caffeine. It would seem he is right as we had no ill-effects (sleeplessness or heartburn) from his coffee. (We had been drinking a half & half mix.)
While on the hook off Cartagena's Club Nautico, we ate out nearly every meal as prices were very reasonable, although all the restaurants we went to were "foreign cuisine": Italian, Thai, Chinese, "Pacific Rim", Middle Eastern, Mexican (or more accurately, all those things with a Colombian accent!). Only one of the meals out would qualify as Colombian cuisine. That meal was enjoyed on our only out-of-the-city excursion at La Hacienda, where we went for lunch after our mud-baths at the mud volcano! La Hacienda was a working farm, raising bulls for the bullring. Evidently, if one doesn't make the cut for the ring, he ends up as lunch in the restaurant. They served most of us a great luncheon of beef and chicken a la plancha (spread flat) done on a great big grill, complete with salad, potatoes and guacamole. Just to be different I opted for Sancocho, a traditional Sunday soup/stew which turned out to be a chunk of brisket, "provision" (potato, sweet potato, yucca, turnip…i.e starch!) in a well-seasoned broth.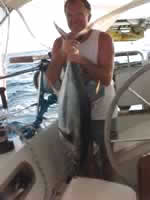 Seared Tuna with Wasabi Sauce
1 1"-thick tuna steak per person
Black sesame seeds
White sesame seed
Wasabi
Mayonnaise
• Mix one teaspoon of dry wasabi power per person with equal amount of water and let sit for three minutes (or use prepared wasabi). Mix in approximately 1-2 tablespoons of mayonnaise per person into the wasabi. Set aside.
• Rinse and pat dry very fresh tuna steaks (In the States, tuna is sold by grades, sushi grade, the best choice for this, being the highest.). Use the two colors of sesame seeds to make a pattern on the top of the steaks.
• Heat a griddle to very hot (the rest of your meal should be ready to serve) and sear the tuna quickly on both sides. You can watch the heat cook the tuna from the sides, but to be properly prepared seared tuna should be warm but rare inside!
• Place sesame side up and top with a dollop of the wasabi mayonnaise.
We liked to serve this with garlic-mashed potatoes or peas or orange sesame noodles.
Orange Sesame Noodles
8 ounces pasta, flat type
2 tablespoons sesame seeds, toasted
1 tablespoon sesame oil
2 green onions, chopped
1 tablespoon fresh ginger, minced
1/3 cup orange sauce, Chinese
1/4 cup soy sauce
red pepper flakes, to taste
• Cook pasta, rinse, and set aside.
• In deep-side skillet, toast sesame seeds. Remove and set aside.
• Add sesame oil, and when hot, stir fry scallion and ginger for a few seconds. Then add soy sauce and orange sauce and hot pepper flakes. When bubbly, stir in pasta, making sure it is thoroughly blended. Toss in toasted sesame seeds.