Volume X - Mexico, Part I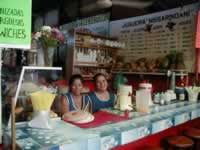 I'm not sure what historical or geographical phenomenon prevented the influence of Mexican cuisine from reaching farther south, BUT…it sure was a joy to our stomachs to cross the border! Mexico, of course, is a huge country, with many states and varied regional cooking, but so far all of it – with the exception a few restaurants catering to gringo touristas – has been great.
And what great beer! Not just one brand, but a whole rainbow. Is there is any place else in the world where there is such a wide selection of interesting and delicious beer? I mean, if you are going to drink beer at all, what a pleasure it is to really enjoy it. Our favorites are Pacifico, Indio, Negro Modelo & Victoria. But then there's Tecate and Modelo and Sol and Coronoa and Dos XX – Claro or Oscura………One has to have a few favorites, as most places buy only from one of the two or three distributors, each of which distributes only distributes one line. This becomes a bit of an issue if you buy beer in bottles, which of course is best tasting, as you must return your bottles to the right distributor to get the next case!
Our best meals by far along the Pacific coast of Mexico have been in the cheaper eateries, like the tiny stall with the two smiling ladies in the La Crucecita central market where we had our first tacos dorado. Once we got over their not being fish tacos, but rather rolled-up chicken-filled tortillas fried crispy, we were hooked.
The market itself was a delight, with the vendors perched high behind sloping displays of lovely fruits and vegetables. In the same market I bought my first mole sauce (Oaxacan) in a knotted plastic baggie. Dark as chocolate and thick as fudge, I wasn't exactly sure how to prepare it, but, diluted with chicken broth and served over chicken, it was the most scrumptious new flavor to hit TII in years. The chicken to put under the mole was also available in the market. The skin of these chicken was such a bright yellow it was alarming, until we learned that the chickens are fed marigold petals to get them that way! Next to the mole stall was a lady selling Oaxacan cheese, a salty string cheese the vendors unravel from a huge ball. And across the street from both was a tortilleria where stacks of fresh hot tortillas could be bought by the kilo. Plus, we got some excellent coffee beans from a kiosk right in the plaza in Huatulco.
Acapulco, our second major stop up the coast, is the grande dam of Mexican resort cities. La Costera, the beach strip, is permeated by such American clones as hard Rock Café, Planet Hollywood and Hooters, for those who want to travel without going anywhere new. Of course any of the above was the perfect place to spend super Bowl Sunday, as we did. Food wise, however, we did better in the old town neighborhood having our first goat tacos at a tacqueria behind the bank and really fine tostadas de pierna (leg of pork.) in Las Canastas, a restaurant by recommended by the customs agent who did our import papers.
In Zihuatenejo, our next stop, eating was surely the major activity among the hundred plus cruisers hanging out there. The market was again a favorite haunt where we were introduced to carnitas – tacos of roast pork with cilantro and chopped onions – and where we could get the best chile rellenos I have ever had. What really was amazing is that they had the stuffed and battered poblano chiles all ready to go, so that you could purchase as many as you wanted along with the wonderful sauce and take them home in Styrofoam to the boat! This "take-out" nature of Mexican markets was a real pleasant surprise. The fact that you could buy labor-intensive makings like mole sauce, chile rellenos, fresh tortillas and even kilos of carnita meat to carry home to assemble made the mysteries of Mexican cuisine much more approachable. Even in the modern supermarkets you find tortilla bakeries and vats of mole sauce, not to mention mountains of packaged tortillas and a whole line of boxed sauces from Knorr! As if all the great restaurants in Zihuatenejo aren't enough (and we've only given you a fleeting glimpse), on Sunday evenings the town square fills up with food vendors, and the residents, tourists and cruisers all turn out to graze among the very inexpensive offerings. (Well, maybe not the really transient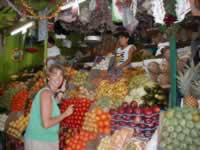 tourists….most of them stroll through looking suspiciously down their very pales noses before wandering off to a restaurant with a tablecloth. ) There are stalls for tacos, empanadas (deep-fried), tamales, pancakes, plus a whole range of sweets. Ironically, the favorite stop for cruisers seemed to be the guy with the hamburgers. From a NYC style pushcart, this gentleman assembles burgers topped with ham, two cheeses, avocado, onion, salsa, mayo, mustard and ketchup! Can we say "cholesterol"! In Zijuatenejo we also had our first (and best) pozole. Pozole is a soup with a rich stock usually made of pork (the head is the preferable piece to stew!), but sometimes of chicken, and always with hominy. In Guerrero State, where Zihuatenejo is located, you can choose between "green" or "white" pozole, and it is traditionally served on Thursdays. Elsewhere else, pozole is usually red. Whatever the color, pozole is turned into an elaborate meal by the addition of garnishes, which could include shredded cabbage, sliced radishes, sliced green onions, sliced avocado, cubes of jack-type cheese, lime wedges, hot peppers, and even little piles of oregano and cilantro, presented so diners can add and season to their own taste.
Pozole Rojo (Serves 6)
750 grams hominy, rinsed and drained
1 head garlic
1 lbs pork loin
1 lb pork leg, butt end, R-T-C
1 onion, to cook with the pork
salt, to taste
50 grams chiles ancho
50 grams chiles gaujillo
(Note: if you don't have access to dried Mexican chiles, you could substitute chili powder!)
stock, from cooking the pork
Typical Garnishes:
1/2 head cabbage, shredded finely
dried oregano
12 radishes, sliced
1 onion, chopped fine
4-5 limes (key lime type), quartered
12 tostada shells
2-3 avocados, diced
½ lb queso fresco (fresh cheese, eg. Farmers cheese)
(Sorry about the "grams" measurements; Joy of Cooking has conversions!)

• Rinse the hominy, and place in a pot with the garlic head, and cook over low heat without adding salt until it is soft.
• In another large pot, cook the pork with the onion and salt. When it is cooked, cut the meat into chunks.
• Soak the chiles in hot water. Put chiles and water into blender and blend into a paste. Add to the pot with the hominy kernels.
• Add the meat and a little of the stock in which it was cooked, and season with salt and leave to boil for 20 minutes over a low heat.
• Arrange all the garnishes in pretty bowls and set out on table.
• Remove the head of garlic, and serve the soup accompanied by all the garnishes, allowing everyone to add what they want.