Volume XI - Mexico, Central Pacific Coast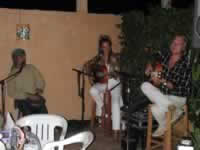 After the excesses of Zihuatenejo, the Two Captains lay low in the dining out department for the next month or so as we picked our way north along the coast. Dining out options returned to the familiar choices of the beachside palapa: ceviche – which became minced progressively smaller and smaller as we moved north, deep-fried pargo (snapper), with the occasional grilled dorado, shrimp or octopus thrown in. In other words, there is a strong culinary thread among all the Spanish-speaking coastal areas from Venezuela to Panama, Ecuador to Mexico. This doesn't mean it wasn't good, just nothing distinctive.
Things changed pretty radically when we rounded Cabo Corrientes into Banderas Bay. During the six weeks we spent in the area we ate out a lot, thanks to the critical social mass of a whole bunch of cruisers in one place coupled with a brief flow of visitors from the States. Still, for all the eating out we did in the Puerto Vallarta area (and all the $ spent!), there were very few evenings to be excited about.
The first was Papacito's in La Cruz de Huanacaxtle. Here we were lucky enough to get reservations for the last show of Latchko & the Gipsies, a passionate musical trio from Europe. Situated in a garden courtyard, the music flickered like fire against the stucco walls in front of tables packed with diners enjoying the startlingly continental cuisine. I splurged on something completely non-Mexican with grilled salmon and a Caesar salad. Well prepared, it was sheer heaven.
But several blocks away we found the dining experience to which we returned over and over, specifically on Saturday nights. Jorgé's. Mmm. The only things on the menu were beef tacos and beef quesadillas, with flour or corn tortillas to choose between, a relish tray of radishes and roasted peppers (hot!), and, to drink, the traditional beverages of horchata (like a liquified rice pudding) or jamaica (a cranberry-red brew made from hibiscus flowers!) Jorgé's was a family run operation – two nights a week only – with the sons returning from medical school to hustle platefuls of food to grateful diners who sit at tables along the curb! We would go back to Puerto Vallarta just to go to Jorgé's.
At La Cruz we were still in anchorage mode, but once we moved into Paradise Village Marina, things shifted to an all-out resort mentality. Because cruisers in the marina are technically guests at the resort, we had the dangerous luxury of being able to charge drinks or meals to our slip. One could go to a different fiesta buffet every night, do Sunday brunch, check out the several sit down restaurants or just order drinks and snacks on the beach or around the pool! This last was our pitfall. Nothing like having a white-suited waiter bring you an icy cold beer poolside, especially during 2 for 1 Happy Hour!
Fortunately, because of our revised eating habits, the all-you-can-eat buffets did not tempt the Two Captains. However our social group, headed up by the very congenial Ed Marrill of our sistership Siesta, made several mass outings. The most memorable was to Club Havana (I think it is called) down on the Malecon. Ed and his wife Daisy, both Cuban born, organized this dinner which I think had more than 14 boats involved, and it was very much as though Ed was our personal host. We might have been in Havana itself, Ed was so keen to have us all try and enjoy the tastes of his home country. The hit for me was a totally new rum drink called a "Mojito".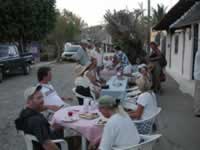 Recipe for Mojito : Juice of ½ lime, 1 tsp. Sugar, crushed ice, 2 ounces white rum, splash of club soda, and 1 or 2 sprigs of fresh mint! Talk about refreshing!
The only other two restaurants we really enjoyed in PV, were Bernardo's and El Repollo Rojo (The Red Cabbage). Bernardo's was one of a smattering of independent restaurants on the strip of beach just north of our marina known as Nuevo Vallarta, and with its Nouveau French Caribbean cuisine pleased us (twice) with grilled tuna and a memorable curried shrimp.
El Repollo Rojo was way back in the hills and required a cab driver who knew where it was to get there! This small nook of a place was decorated in tribute to Mexico's cherished yet unconventional artists Diego Rivera and Frida Kahlo (about whom the recent move was made) and its cuisine was dedicated to fine Mexican dishes. I was able to have here – in May – the very unusual Chiles en Nogada (poblano chilis stuffed with meat picadillo served chilled with a sweet creamy walnut sauce topped with pomegranate seeds!) which is a seasonal specialty from Puebla in July, August and September. Independence Day in Mexico is September 16, and the colors of this dish reflect the red, white and green of the Mexican Flag.
Here is a recipe given to me (in Spanish!) for Chiles en Nogada by a restaurateur in Puebla. I have done my best to translate and make logical substitutions!!

Chiles En Nogada (Serves 8)

Nogada (Walnut Cream) Sauce:
100 walnut halves
½ bolillo (a bolillo is a white roll) soaked in ½ cup milk
½ cup cream cheese
1/8 cup dry sherry, or to taste
Sugar to taste
Heavy cream, as necessary
Chopped fresh Parsley, for garnish
1 cup Pomeganate seeds, for garnish
Puree nuts, bread and milk in a blender. Strain puree through a strainer, discarding any skins that don't pass through. Return to blender and add cream cheese, sherry, sugar and sweet cream as needed, and blend until smooth.
The Chiles:
16 fresh Poblano or Anaheim chiles
Outside of Mexico it is not easy to find Poblano chiles, but California Anaheim chiles will do. I have even seen a recipe using canned whole chiles, although I would think that would have a very different taste. There is, however, a lot more work with fresh chiles, since they must be peeled. There are two ways to do this. You can roast them over a burner until the skin blackens and blisters, and then put them in a plastic or paper bag to cool. Or you can achieve the same thing by frying the chiles in oil instead of roasting them. The blistering effect is more even, and there are no calories added as the chiles are to be peeled!This trick I learned in a cooking class by Ileana, chef at El Naranjo in Oaxaca City. (to be featured in a future Update.)
Peel cooled chiles. Carefully slit one side and remove the seeds and the pith, leaving stem ends intact. Then cook the chiles in boiling water for about five minutes until tender. Allow to cool again.
Picadillo (Filling)
2 pounds ground or diced pork
Salt & Pepper to taste
1 onion
2 cloves of garlic
1 bay leaf
½ onion, minced
½ cup butter
4 cups tomatoes, crushed and strained
1 apple, peeled and finely diced
1 banana, finely diced
1 pear, finely diced
1 tablespoon sugar
½ cup pine nuts
½ cup slivered almonds
Simmer pork in water with salt, pepper, onion, garlic and bay leaf until cooked. Strain.
In another pan, sauté the minced onion in butter. Add the crushed tomatoes (the Mexican way would be to puree fresh plum tomatoes in the blender), and sauté for two minutes. Add the diced fruit and sugar and season with salt & pepper. Stir in the pork and the nuts. Cook until all liquid is evaporated, and allow mixture to cool. Stuff picadillo into cooled chiles, and chill.
To Serve:
Arrange stuffed, cooled chiles on individual plates or on your chilled serving platter. Spoon the nogada sauce over the chiles, and the scatter the chopped parsley and pomegranate seeds over the top.