Volume XII - Mexico, La Paz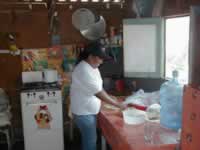 This first time we ever had a fish taco, we were about as far from Mexico as we could be and still be on this cruise. We were, in fact, in Tobago, just east of Trinidad, and we had just landed a big kingfish. That "we" is a very collective "we", because the fish was pretty much the work of guest Adam Royse, at the time doing his second of three legs with us. At that time, the Two Captains were not much in the fishing department.
Nor were we much in the taco department. When Adam suggested "fish tacos", we were certainly game. But what was involved? We had no tortillas. We had no salsa. All we had was fish...and The Joy of Cooking. I don't know what it is about cruising, but when you get a hankering for something, no matter where you happen to be, resourcefulness is the catchword. The results were not pretty, but I don't remember anyone complaining.
Well, it turns out La Paz is considered the capital of fish tacos among the cruisers in Mexico. Our appetite had been whet way back when, so we were ready. Imagine our astonishment when we were directed to a stand a block or so from the CCC supermarket. We could smell the hot grease a hundred feet away!
It turns out that Fish Tacos, La Paz style, are chunks of fish, whole shrimp, or even pieces of manta ray (!Yeeks!), coated in a tempura batter (that you can buy here in a mix from Knorr) and deep fried in what has a good chance of being lard! Cooled just long enough so that the customer's mouth doesn't get burned, these morsels are popped into tortillas barely big enough for them and then topped with a selection of sauces – fresh tomato salsa, green tomatillo salsa, cilantro salsa and/or avocado mayonnaise – and shredded cabbage. It is plenty tasty, but it still isn't pretty!
By the time we'd sailed north to Aguaverde, however, the Two Captains were becoming pretty successful fisherman by line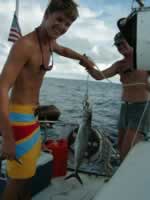 and spear, and the need to find ways to eat fish was becoming an important matter. Don still craved the idea of fish tacos, so we were forced to come up with our own recipe! It didn't hurt that, as small a town as Aguaverde is, we could buy delicious homemade tortillas by the kilo hot from Cecilia's griddle as well as nice tomatoes, ripe avocados, fresh limes, and even lovely cilantro (on certain days, of course) from Maria's small tienda. These simple ingredients are always available in Baja, no matter how small the town. We ate these tacos nearly every day for the next five months!
Tackless II Quick & Spicy Fish Tacos (Serves Two)
Fish
¾ lb fresh fish fillet
2 tb. Dry Buffalo Wings coating mix
2 tb flour, seasoned with salt & pepper
1 tb. Bread crumbs
Fresh Salsa
1-2 plum tomatoes, diced
¼ onion, minced
several spring of cilantro, minced
juice of ½ lime
Hot sauce to taste
½ tsp cumin
½ avocado, diced (optional)
¼ cucumber, peeled, seeded and diced (alternate option)
Guacamole
½ avocado
juice of ½ lime
pinch of cumin, salt & pepper
Hot sauce to taste
Condiments
Cabbage
Mayonnaise
Limes
Hot Sauce
4-6 tortillas, flour or corn, warmed
• Catch fish (On Tackless II it's usually grouper or hogfish; dorado works, too).
• Fillet fish, rinse & pat dry. Chill if necessary!
• Make salsa: 1-2 plum tomatoes, diced, ¼ onion diced, several sprigs of cilantro, diced (you can use the stems!), 1 lime (key lime type) squeezed, hefty dashes (to taste) of your favorite hot sauce (we like Red Devil), pinch of seasoning salt, pepper and cumin. Optional additions: ½ avocado, diced, or if you are in a diet frame of mind or are out of avocados, try adding ¼ cucumber, peeled and seeded and diced.
• Make guacamole (if you didn't just put avocado in the salsa!): ½ avocado, mashed with juice of ½ lime, pinches of cumin, salt, pepper and splashes of hot sauce.
• Cut into fine shreds several leaves of green cabbage (Napa is lovely when you can get it.) Set cabbage, salsa, guacamole, mayonnaise and hot sauce on the table. Put 7" size flour tortillas (or corn tortillas according to preference) wrapped in plastic wrap into microwave for 10-15 seconds, or heat each tortilla quickly in a hot dry pan.. Keep warm.
• Combine 2 Tb flour, 2 Tb seasoned bread crumbs and 1 Tb Buffalo Wing dry seasoning mix in a Ziploc bag. Cut fillets into 1-2" squares. Add fish to bag and shake until coated lightly. (Refrigerate unused Wing Seasoning.)
• Sauté fish in a teaspoon of olive oil, being careful not to scorch, until just cooked through. Place on paper towel if at all oily, then transfer to table while hot!
• Assemble individual tortillas with a swipe of mayonnaise, a swipe of guacamole, ¼ the number of chunks of fish, top with salsa, cabbage and hot sauce to taste. Or assemble it backwards if you are male. Fold in on three sides and prepare to enter heaven.