Volume XV - Fish, fish, & more fish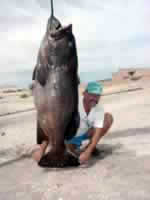 We never in our wildest dreams expect to be so successful in our efforts to feed ourselves from the sea as we were during our Summer in the Sea of Cortez. Don became quite accomplished with his spear gun and even I had some success with my Hawaiian sling (pole spear). Then there was the occasional dorado caught trolling, and, when Don's spear gun broke in late September, we broke out the dinghy rods and kept right on putting fish on the table.
Although I think Don could eat fish tacos ad infinitum, I did make some effort in the galley to serve up our catch in different ways. And since the other cruisers were in the same boat (so to speak…heh, heh), there was lots of recipe swapping.
My everyday technique was to dredge the filets lightly in seasoned flour and sauté in a deep fry pan is a little oil, then add a little liquid, vegies and or seasoning to make a sauce into the same pan and steam a bit with the lid on. Lemon juice and wine, tomatoes and green chiles, Veracruz or Creole, amek up our favorite toppings.
Our friends Katherine and Alan on The Good Neighbor, on the other hand, were masters of foil cooking. Nearly every evening Katherine would place a filet in a square of foil, add some diced vegetables, dried mushrooms and/or some "international flavoring of choice" (ensuring there was a touch of liquid in each for steaming). Then she would fold the foil into a tight envelop and cook this on their gas grill. This was an ideal cooking method for them as it kept the heat out of the boat and, since they didn't have a watermaker, reduced water needed for clean-up.
Both these ways of cooking fish are pretty intuitive, quick and easy, and as variable as your imagination.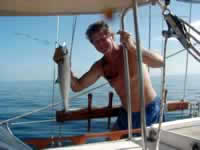 Probably the most exciting recipe of the summer, however, was one for fish sausage. Instead of being oriented to making a quick supper out of the afternoon's fish, it was oriented to using up a big catch and making it last. Long time Cortez cruisers Marilyn and Rick of Tortuga brought it as hors d'oeuvres to a cocktail party at Punta Chivato, and since this batch was made with trigger fish is was dubbed Roy Rogers Fish Sausage. Captain Don thought he'd died and gone to heaven. My Indiana boy sure does miss his Jimmy Dean pork sausage!
Roy Rogers Fish Sausage
6 cups ground fish (You can process it in a food processor, or mince by hand)
1 teaspoon garlic powder
1 teaspoon ground thyme
¼ teaspoon chili powder
1 teaspoon ground sage
1 ½ teaspoons ground pepper
2 teaspoons salt
2 teaspoons poultry seasoning
Mix together and form patties, sizing the patties for your planned use: small for hors d'oeuvres, medium for breakfast sausage, and burger-sized for great fish sandwiches!
Using a Teflon pan, fry patties in a little oil until browned and cooked through. Eat right away, store in fridge for several days or freeze!