Volume XVIII - Chili Cookoff
When you commit to spending more than a few days in a marina, you inevitably get involved in the unique little community the cruisers build up among themselves. In Mazatlán, like many marinas, there are long term, quasi-permanent residents; those (like us) who are in for a matter of months, as well as the usual transients – here today gone tomorrow. The ones that are there for any length of time at all need something to occupy their energies (as if a boat isn't enough!) In other words, they find themselves a Cause.
In Marina Mazatlán, in the winter season of 2002-3, the cruisers adopted the local fire department as their cause. All volunteer, the Mazatlán Bomberos needed help. The government provided virtually no support for the department – hard to believe in a city large enough to have the third largest Carnival in the World!!???!! Much of the department's equipment, including at least two fire trucks, had come second-hand from Santa Monica,CA, their sister city in the US!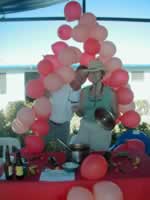 The cruisers, organized under the moniker Amigos de Bomberos (Friends of the Firemen) put on four or five events during the season – as well as selling very nice embroidered T-shirts -- to raise money to purchase a Jaws of Life. A Jaws of Life is the portable device rescue workers use to extract people from car wrecks. A new one costs roughly $2500.
The Two Captains flew back into Mazatlán in January just in time to participate in two events: a chili cookoff and an auction. For the latter, we donated items and bought back others. For the former, we cooked up a batch of chili that we hoped was exotic enough to win. The fact that we didn't win possibly has more to do with entrenched loyalties of the permanent community than the quality of the Tacky Chili, which all OUR friends said was the best!
Never let anyone get away with saying "cruisers are cheap" or "cruisers just take from a country and don't give back." Before we left Mazatlan in May, we were able to attend a ceremony held to present the Jaws of Life to the Bomberos.
Tacky Chili
1 kilogram plum tomatoes -- peeled and sliced
1 kilogram beef -- coarsely chopped
1 kilogram pork -- coarsely chopped (or use breakfast sausage)
1 teaspoon seasoned salt
2 tablespoons flour
1 teaspoon poultry seasoning
1 green pepper -- chopped
1 yellow pepper -- chopped
1 red pepper -- chopped
3 onions -- chopped
10 cloves garlic -- minced or pressed
2 cans beer
10 tablespoons chili powder
2 tablespoons ground black pepper
½ teaspoon ground ginger
½ teaspoon ground allspice
½ teaspoon ground cloves
½ teaspoon cayenne pepper
½ teaspoon dry mustard
½ teaspoon cinnamon
1 teaspoon salt -- or to taste
1 cup Textured soy protein -- reconstituted in beef bouillon
2 cans black beans -- rinsed and drained
1 can kidney beans -- rinsed and drained
4 tostada shells -- crushed
• In the bottom of each tomato make a cross with knife. Drop them two at a time into boiling water for 15-30 seconds each, remove to ice water, andthen peel and slice. Set aside.
• Season chopped beef with seasoning salt and sprinkle with flour. Sauté in olive oil, drain and set aside.
• Season chopped pork with poultry seasoning (alternately use American style breakfast sausage if you can get it!), sprinkle with a little flour and sauté.
• Mix 1/2 cup textured soy protein granules in 3/4 cup beef bouillon.
• In a clean pot, saute onion and garlic three minutes till softened, add chopped peppers and continue to saute until all are soft.
• Stir in chili powder, pepper, allspice, cloves, cayenne pepper, dry mustard, cinnamon and salt along with two bottles of beer.
• Add meat and soy protein and simmer for an hour.
• Add drained beans and crushed corn tortillas and simmer for another hour.
Serve with chopped onions, grated cheese and sour cream when available!
- - - - - - - - - - - - - - - - - - -
Per Serving (excluding unknown items): 451 Calories; 20g Fat (40.6%
calories from fat); 34g Protein; 33g Carbohydrate; 11g Dietary Fiber; 68mg
Cholesterol; 300mg Sodium. Exchanges: 2 Grain (Starch); 4 Lean Meat; 1
Vegetable; 2 1/2 Fat; 0 Other Carbohydrates.