Volume XIX - Oaxaca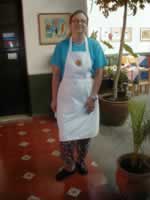 Even before we knew it could be done, the idea of taking a cooking class in Oaxaca had planted itself in our brains. For me the seed of it dated back a year earlier when Tackless II first pulled into Mexico, in Oaxaca State's seaside town of La Cruz, where Don and I were reminded that not only did we really like Mexican food, but that, after the culinary doldrums of Central America, that we really liked to eat…period. The thing is, there are so many unfamiliar things in the markets: the chiles, fresh and dried, the cheeses, the mole pastes. Mexican food, in Mexico, doesn't come out of pre-packaged boxes and cans like it does in the good old EUA (Estados Unidas Americano or USA). Or at least, not in the familiar packages. Forging ahead on your own, without some guidance can be daunting.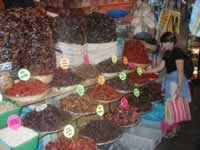 A year later when my friend Jan Loomis (sv Meridian Passage) and I walked into Oaxaca's centro from our bed and breakfast with food on the brain, we fell in love quickly with this city. First of all, the light was gorgeous, the sun's low angle reflected from clean planes of stone. Both Jan and I, although we knew better, were persuaded by that evening light that ocean had to lie just at the bottom of the street, a comforting illusion. Secondly of all, the pace was laid back. There was no hustle bustle here and thanks to a pedestrian mall, no traffic in sight, plus the zocalo with its thick leafy trees offered up a rim of inviting café tables.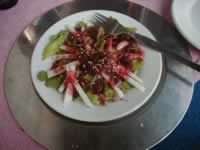 And then there was the food. For supper that first evening we started simply with a tlayuda, a giant Oaxaqueñan tortilla served crisp with mole negro, cheese, tomatoes and lettuce like a black-faced pizza. For breakfast the next morning in our B&B we had the even more simple delight of a homemade corn tortilla folded into a piquant ranchero sauce (essentially a chilaquile)
By midday the next day, however, after a tour to ancient Zapotec ruins, we were ravenous for a real meal, and this hunger led us to El Naranjo Trujano 203), recommended highly in several guidebooks. We found a covered courtyard, simple tables and a fabulous menu. I had a salad with a jamaica dressing (hibiscus flower) and the chef's specialty, poblano chiles stuffed with corn, zucchini and flor de calabaza (squash blossoms). More unusual for Mexico, the chef Iliana de la Vega came out herself to see how we were enjoying our meal. From her we learned of the Wednesday cooking class, and from her we got permission to squeeze into the last two places.
Eleven students – nine women and two men – from Canada, the US, and England – rimmed the workspace in a separate teaching kitchen and took turns helping to prepare a full course meal that we would all later enjoy. The menu: Sopa de Tortilla, homemade chips with two salsas, Rajas con crema, chicken breasts with mole rojo (and rice) and mango mousse. To drink: agua de jamaica. (a chilled brew of hibiscus flowers.)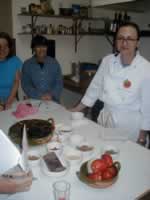 Iliana de Vega is a tall, slender woman in the thirty-something range. As she taught, demonstrated and oversaw our efforts, she shared a number of anecdotes about herself, Mexican culture and Cocina Oaxaqueño. Thanks to the barrier of rugged mountains that surrounds it, Oaxaca has remained geographically isolated from Mexico to the north. This inaccessibility, which has been blamed for keeping Oaxaca one of the poorest states in the union, has also done it many favors. The state's indigenous peoples have had fewer intrusions on their character, languages and handicrafts and likewise Oaxacan cuisine has been able to preserve and develop its individuality. Although Iliana herself grew up in Mexico City, her family would make the laborious trip over the mountains to visit relatives in Oaxaca on holidays. The new highway to the north, opened in 1994, brought Oaxaca more into the Mexican mainstream, and now, with its unbeatable mix of archaeological sites, indigenous crafts, pleasing climate, and distinctive cuisine, it is surely one of the most popular non-beachside tourist destinations in the country.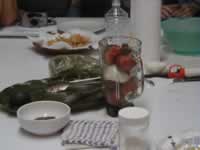 Oaxacan cuisine still remains close to the vegetarian roots of Mexican cuisine. In the past, traditional sources of animal protein were few and far between, but the ancients discovered a process of soaking the dried corn destined for tortillas with limestone to develop proteins! When the Spaniards imposed themselves in the New World they also imposed wheat, which they believed was better nutrition. Turned out it was not. With a quick glance around at us, Iliana shared the saying that "true Mexican culture stops where flour tortillas begin!"
A while later, though, as we peeled luscious yellow mangos and tackled lively blanched almonds to slip them from their skins, she told us that the beloved "Tres Leches Cake" of Mexico and other Latin American countries, was, in fact, an entry by some American housewife in a recipe competition to introduce canned condensed milk! On the other hand, rich flan custard was the product of a glut of egg yolks available, owing to the fact that the gold leaf that encrusts the interiors of Mexican churches was attached to the walls with egg white!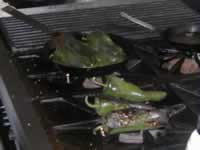 Someone asked who the best known chefs in Mexico are, and Iliana laughed and said that Mexican chefs don't tend to be known in Mexico as individuals. "Mexicans don't care who cooks the food, just that the food is good." Even the idea of going out to a restaurant to eat is a relatively new concept. Good cooking is home cooking, and home cooking is still largely done from scratch. She did mention Rick Bayliss and Diane Kennedy as name chefs doing well by Mexican cuisine.
With the mango mousses in the walk-in refrigerator to set, we set about roasting and blending. For the mole rojo, the dried chiles were wiped with a damp cloth, stemmed and seeded, and toasted very quickly in a dry pan, and then put to soak. Tomatoes, unpeeled garlic, and onion were also dry roasted whole. And finally a beautiful mix of pecans, peanuts, sesame seeds and herbs were fried in oil. The similarity treatment of the ingredients for moles to those for Indian curries was not lost on me.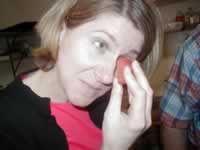 At this point we began to see why there are such huge stacks of Osterizer blenders in the supermarkets here. It is the modern tool of choice, edging out, for those with electricity, the old molillo, a flat basin of stone with a stone rolling pin. First the roasted chiles, with the addition of a little water, are pulsed into paste and turned out into a hot pan with oil to fry. Next the nuts, herbs, tomatoes, onion and garlic fill the jar and with the push of a button are reduced to puree. You can strain or not strain according to you preferences for texture as you add all to the pot. (Whenever using cinnamon, Iliana advised, be sure to strain.) Once the mole was reduced, we added chicken broth, salt, sugar, and "Oaxacan chocolate to taste". For twelve people, Oaxacan chocolate – which is not like any chocolate in America, least of all baking chocolate! – "to taste" was a whole 125 gram bar!
Interestingly, it was not our duty to cook the chicken. In our cultures, the protein would be the centerpiece, but here the sauce is the point, and the "protein" is cooked as innocuously as possible. Poached in this case.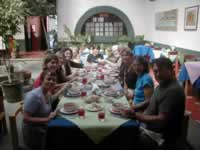 While the mole was simmering, we moved on to roasting fresh Poblano chiles for the Rajas con Crema. Iliana demonstrated the two best techniques: the traditional one of charring the peppers over an open flame, and the more efficient one of frying them in oil. In both cases the blistered chiles are then cooled in a plastic bag, until the skins just peel off. They definitely peel off more cleanly when fried. The same technique gets chiles ready for chile rellenos or other stuffed chiles recipes, but for rajas we cut off the stems, seeded them and then cut them into strips. Then we sautéed sliced onions, added the chile strips and then stirred in the lovely, thick crema (crème fraiche) that is everywhere available in Mexico along with ½ cup queso fresco (farmer's type cheese.) Scooped into warm tortillas, this is not a diet item. We ate half of our output while still in the kitchen!
Similarly, in preparation for the Sopa de Tortilla we fried up a bunch of day old tortillas cut into strips. While this was happening, we also whipped up three different salsas in the trusty blender, which, of course resulted in many of the chips for the soup being consumed.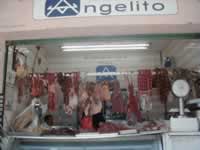 However, since this soup is the one dish most likely to be made by folks "back home", it is the recipe I will, with Iliana's permission, reproduce it here. Iliana does have a cookbook in the works; I hope that she will let me know as soon as it is available so I can add the info here. For sure, anyone even contemplating a visit to Oaxaca, should, if you love food and cooking, plan to include a day at El Naranjo.
Before we all sat down to our feast, Iliana led us down the street to Oaxaca's wonderful Central Mercado. Inside aisles tightly packed with good things to buy, we were introduced to mind-boggling piles of dried chiles and spices – many of them particular to Oaxaca, baskets of dried jamaica blossoms, scoops of small Oaxacan black beans, and much more. Students were also introduced to the many fruits and vegetables unfamiliar to northerners,
pyramids of quesillo – Oaxaca's own salty string cheese, and then, finally a stop at Major Domo, one of the premier vendors of Oaxacan chocolate.
When we got back to El Naranjo, a table for twelve was set, the ruby colored glasses of jamaica matching the tablecloth, and we were served with panache by Iliana's staff. Incredible to imagine any appetite could be left after all the snacking in the kitchen, but most of us managed! What a meal! And what a great experience!
Thank you, Iliana. It was the most memorable experience of our trip.
Sopa de Tortilla
© Restaurante El Naranjo, 2003
Serves 6
10 tortillas, day old (allow to air dry)
½ medium onion
2 medium garlic cloves, unpeeled
3 medium tomatoes
1 ½ tablespoons vegetable oil (canola)
1 ½ quarts chicken broth (boil whole chicken with garlic and onion, simmer and skim froth)
3 sprigs fresh epazote (epazote is a wild spinach)
vegetable oil for frying
2 chile pasilla
1 cup queso fresco, cubed (garnish)
1 large avocado, cubed (garnish)
½ medium onion, diced (garnish)
½ cup crème fraiche
½ cup chicharrón (fried pork skin, available in Latin markets) (garnish)
2 jalepeño chiles, chopped (garnish)
• Cut the tortillas into julienne strips. And allow to air dry overnight.
• In medium sized skillet, dry roast the tomatoes, onion and unpeeled garlic. Remove the garlic when it shows black spots, and leave the onion and tomatoes until well roasted, about 10 minutes. Peel the garlic and transfer it along with the roasted tomatoes and onion to the blender. Add water (enough for blender to work) and blend to a smooth puree.
• Heat 1.5 tablespoons of oil in a medium size saucepot, add the tomato puree, and fry for 3 minutes or until it changes color. Add the chicken broth and epazote springs, add salt to taste, and let boil gently for 10 minutes. Remove epazote sprigs if you wish.
• Meanwhile, while soup is simmering, cut crosswise the pasilla chiles, remove seeds and stems. To make chile rings, heat the oil in a medium sized skillet, and, when it is hot, add the chiles, turn off the fire and remove the rings immediately with a slotted spoon. Reheat the same oil and add small batches of tortillas chips. Fry until golden, transferring with slotted spoon into paper towels to drain.
• Divide tortillas into six serving bowls, ladle in the soup. Serve immediately along with garnishes.
***********
(Note: This soup is very forgiving. I just made it, but I added a few extra tomatoes, cut back a bit on the broth, used baby spinach leaves instead of epazote, skipped the chili, jalepeño and chicharrón garnishes, and substituted tofu for the queso fresco! It was as delicious as the original!)