Volume XXI - Mexico
Where's the Meat?
Looking at all the recipes I have listed for Mexico, you might wonder if there's any food for carnivores! Although it is fairly natural, that, living on the sea as we do, we eat a lot of seafood, when cruisers go ashore, especially in Baja or states of Sonora and Sinaloa on the eastern shore of the Sea of Cortez, we eat a lot of meat. Sonora in particular is famous for its beef.
Although Sonoran beef has less fat that American beef, the biggest difference that you notice is how it is cut. American style steaks – ribeye, New York, and T-bone – and of course ribs, appear in both restaurants and meat counters in response to the demand of gringo tourists, but the traditional Mexican cuts still prevail. These cuts are invariable thin, designed for quick cooking. We walked through one market and watched a butcher, wielding a blade about eighteen inches long, shave off very thin slices for the popular dish of Milanesa. Such familiar dishes as fajitas call for flank-type steaks that are grilled and then cut into thin strips. And the most common meat dish of all carne asada is beef or pork cut in strips and then grilled. When you do get a regular steak, a traditional way to serve it is off the grill, sprinkled with coarse salt and a squeeze of fresh orange.
The other meat that is popular in Mexico is pork. There is little to match good carnitas. Sometimes, carnita meat does actually get cut from a joint that has been roasted, but as often as not the pork has been cut in very thin slices and reassembled onto a huge skewer so that it looks like the joint it once was. Instead this huge cylinder of meat is seasoned and roasted (vertically) and then the vendor takes his long thin knife and shaves across the slices, raining down a hail meat chips just perfect enveloped in hot tortillas with pickled onions and lots of minced cilantro! The absolute best pork carnitas we've had were adobo style (a spicy barbecue sauce) in a shop across the street from a bus station in Ensenada. The best regular carnitas were the ones we had in Zihuatenejo at the Mercado.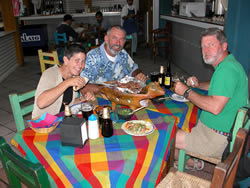 One doesn't see lamb often in Mexico, but in Mazatlán there is a wonderful restaurant fronting the beach called Montalayo. Here they serve roast lamb by the kilo, along with a spicy chile sauce, cilantro and onions, to be wrapped, of course in hot flour or corn tortillas. On Tackless II our lamb dishes come off the grill still pink. I'm not exactly sure how Montalyao cooks theirs, but it is so well-cooked it has fallen off whatever bone it was once connected to. It is served hacked into chunks on a hot brazier shaped like a ram (actually it looks like a pig to me) with a chunk of coal inside to keep the meat sizzling, and it is one of the most scrumptious tacos you can get anywhere in the country.
Mexican meat counters also feature all those parts of the animal we American don't usually see…brains, tongue, tripe, hooves etc. Whole pig heads sit side by side ready for the making of pozole (see Galley #9), and whole chickens come with their feet stuffed inside! Then there are the salchichas. It you imagined the hot dog was an American thing, forget it. The deli counters in any Mexican supermarket displays more brands of hot dog than you can imagine, all the odder because most of them are made of turkey. No wonder the corner hot dog stands use mayonnaise to cook their dogs. We have recently discovered that the fat red KIR (brand) salchichas are our favorite. God knows what's in them or what makes them red!
Just down from the salchichas will be the chorizo selection. Stacks of long thing sticks of meat are piled without a clue how to choose among them. Chorizo is often fried up for tacos, or to accompany eggs. Mexico even has a soy chorizo.
Surely the oddest meat in Mexico is machaca. Machaca is a dried beef product that looks like spun fibers and can be stored without refrigeration. It can be reconstituted for tacos and breakfast meat in lots of oil (of course) along with chopped tomatoes and onions.
On Tackless II, we still like our beef best in traditional steak form, either filets or, in Mexico, ribeyes. Here are two ways to treat them before grilling, the first the way we used to prep them for charter and the second a rub that Lisa of Lady Galadriel learned from a friend living on Baja.
Steaks a la Tackless II
In our charter days we used to buy huge, gorgeous Black Angus filets. This simple way to prep them for the grill was invariably outstanding. Pickapeppa is a Jamaican product available in most US grocery stores.
Pickapeppea Sauce
Brown sugar
Black Pepper
Pat each steak dry with paper towels. Rub the tops with a teaspoon of Pickappeppa Sauce, sprinkle with coarse ground black pepper to taste, then top with a teaspoon of brown sugar. With your finger, rub ingredients into meat. Turn steaks and do other side. Broil to taste…which OUGHT to be rare!

Baja Cowboy Rub
2 tablespoons salt
1 tablespoon chili powder (pequin)
1 tablespoon cumin
1 tablespoon paprika
1 ½ teaspoon brown sugar
½ teaspoon finely ground coffee
Mix all ingredients together and store in a spice jar. Excellent on steaks, burgers, and not to shabby on baked chicken legs either.