Volume XXIII - Mexico - Tequila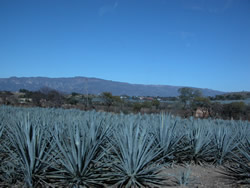 Tequila is?
a sharp rock,
a liquor,
a place,
all of the above.
When the idea of coming north to Mexico first came up, I am quite sure the first thought that popped into my mind was "margaritas!" Yep, even before "Mexican Food!" It has got to be nearly impossible for anyone from our generation to think of Mexico without thinking of tequila.
Tequila is only made in Mexico; indeed it is only made – by law -- in a very specific region of Mexico centered around the town of Tequila under the shadow of an extinct volcano (named Tequila) which is about 50 km northwest of Guadalajara. In this restricted region only are the soil and atmospheric conditions right for growing the blue agave, which covers fields and hillsides in orderly, spiky, oddly-blue rows. Agave liquors from outside this region are called mescal.
As a finale to our inland tour in January 2004, we made a stop in the town of Tequila, home of the industry's two largest distilleries – José Cuervo and Sauza – as well as dozens of smaller ones. It had the feel of an obligatory pilgrimage, but clearly we were not alone in that feeling. Tequila is obviously a huge tourist draw. From Guadalajara there are bus trips and even a special "Tequila Express" train to get you there. As we entered by car, kids on bicycles started hustling us at the edge of town, and the centro is packed with stores and cantinas devoted to extracting dollars from the "pilgrims."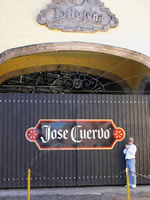 We made the mistake of arriving on a Sunday afternoon. Even though we had inquired the week beforehand to be sure the tours would be happening, we arrived to find the doors to both José Cuervo and Sauza closed. It looked like were going to have to make do with the Museo de Tequila when the day was saved by a tour operator operating out of the central plaza who hustled us into a van for a ride to a distillery out of town. The Cofradia distillery makes about 12,000 liters mostly for private labels, as opposed to the 16,000 and 18,000 produced by Sauza and Cuervo respectively. As opposed to those giants in town, Cofradia is set picturesquely amid fields of agave. Although the factory was idle on Sunday, all the stages of production were left set, so we were able to walk through the whole process.
Young agave plants are collected from "runners" spawned by plants in their second, third and fourth year and these are planted in rows 3 meters apart so that the farmer will be able to walk between the rows of sharp spikes as the plants mature. After five to eight years, the plants are harvested. At the center of each agave is a piña that looks very much like a pineapple only much bigger – about 25lbs and about the size and shape of a "pony" beer keg. The piñas are chopped up and cooked in huge ovens for a day to soften them, then they ride a conveyor belt through choppers and squeezers which direct the juice into huge vats. The fiber left over from the juicing is recovered and used in products as diverse as clothing and cookies!
Yeast and in many cases juice from sugar cane are added, and the stuff is allowed to ferment in the open vats for two to three days before it moves into the final distillation. One to two stages of distillation is usual, but the Cofradia plant was proud of the fact that they could do three.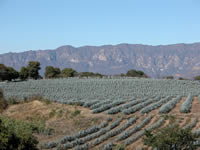 We learned a lot about the various kinds and qualities of tequila. On the store shelf you can choose from white (also called silver) tequila, gold, reposado (rested) or anejo (aged). White tequila has neither been aged nor has it had any color or flavoring added, and purists claim this is the "real" tequila. Gold tequila is also un-aged, but it has had color added, usually caramel. Reposado and anejo tequilas have both been aged in casks of robleblanco (white oak, the same wood used in aging wine) – two months to a year for reposado and at least one year for anejo.
Then there is the distinction between 100% agave tequilas and "mixtos". According to our guide, producers started adding the cane juice to the agave juice in a period when the supply of blue agave fell short of demand. Many popular tequilas, if you look closely at the label, continue to be mixtos. If it doesn't say 100% agave somewhere on the label, it isn't! Even brands you may think of as premium! These 100% agave tequilas are the right choice for taking your tequila straight, according to our guide, and they won't give you headaches nor make you sick. The good stuff, on the other hand, should never be squandered in the likes of a margarita!
The amount of tequila on the shelves to be sold in Tequila makes you wonder how there could be enough for export to the rest of the world! In the Museo de Tequila, they had a room full of all the different brands and labels of tequila made. Just the range of bottle shapes was awesome! Many of the distilleries, including the big names like Cuervo, offer products that we never see.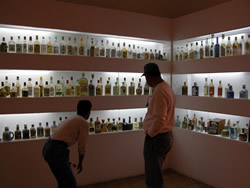 After our factory tour, there came the moment all tourists wait for...the free tasting! I have to confess this was a gross disappointment. The tastes were doled out in microscopic medicine cups, although the traditional salt and sour orange wedges were available. After all the hype, we were only offered Cofradia's mixto label. It was disappointing not to have the opportunity to taste a 100% agave tequila without buying a bottle for $80!
A surprising tidbit our guide let slip came in response to a question about whether there was really any difference between all the brands and what was the best. What he said was that Cuervo was the best of all the brands, because they did the most volume. Unused to linking volume and quality, we were surprised, but he said that the more agave in the pot the better the overall quality, an Cuervo had the most agave.
Oh, yeah…the answer to the quiz is "d". The word "tequila" comes from the Indian word for the sharp obsidian rocks found in the region of the volcano.
Recipes:
The Standard Margarita (serves two)
As you know you can order margaritas up, on the rocks or frozen. Like daiquiris you can also get margaritas in all kinds of flavosr: strawberry and mango are common, but you can also add unusual things like the fruit of the pitthaya cactus (as we tried up in the Sea).
3 ounces tequila
1½ ounces Controy, Triple Sec or other orange flavored liqueur
4 limes, freshly squeezed (the small key-type limes are best)
Ice, cubed or crushed, to taste
Lime wedges
Salt
Rub the rim of two margarita glasses with a wedge of lime and dip the rim in a plate of salt to coat the edges.
In a shaker or pitcher mix the tequila, triple sec and fresh-squeezed limes (in Mexico, you can find dedicated hand squeezers for this purpose in every corner market) with ice cubes and pour into glasses, over ice or straight up as you prefer. If you like frozen margaritas (asked for in Mexico as molida, mixta, or mezcla), put all the ingredients into a blender, and blend on high.

The 2Cs' Best Margarita
Finding a really good margarita in Mexico turned out to be harder than we expected. The standard recipe is a little too tart for my taste, while many restaurants and resorts use prepared mixes that are way too sweet! The best margarita we've come across was served in a small restaurant in La Paz called---TEQUILA's. We watched the bartender assemble these several times and came up with the following recipe which is the absolute best.
For every two margaritas, mix together:
½ cup tequila
¼ cup Controy
¼ cup jarabe (sugar syrup)
¼ cup freshly-squeezed lime juice (about two key limes)
¼ cup freshly squeezed orange juice
1 tablespoon Damiana liqueur
Stir together with ice cubes, and then strain into glasses, with or without salt, straight up or on the rocks!

Homemade Sangrita – Sidekick for a Tequila Shot
Serves 8
In Mexico, you can buy Sangrita in bottles much like margarita mix. We bought a bottle once, but never understood that it was not a mixer, but an accompaniment/chaser to tequila shots…until we experienced it properly presented in a café in Zacatecas where it was served beside a shot of Tequila Tradicional (100% Agave). Kind of a Mexican version of a Bloody Mary! Understand, this was consumed for medicinal purposes, as we were freezing at the time! Pretty tasty medicine and a refreshing change from margaritas! Here is a recipe for homemade sangrita.
1 pound ripe tomatoes, peeled
1 small onion, finely chopped
2 small fresh green chiles (the banana type is best), seeded and chopped
½ cup fresh squeezed orange juice
Juice of three limes
½ teaspoon sugar
Put all ingredients in a blender and process until smooth. Refrigerate. Serve cold alongside your favorite tradicional tequila.
Note: we haven't tried it yet, but we bet you could mix some spicy Bloody Mary mix with the orange juice, limes and sugar, and have a pretty close substitute! After all, "sangrita" translates as "little blood."
Tequila doesn't only find a place in the bar but in the galley. On Tackless II I'd wager way more tequila goes into cooking than into margaritas! Back in the old charter days, two of our most popular recipes were made with tequila. First was "Margarita Chicken," the invention of my crewmember Glenn Altshuler, who in 1992 won third prize with it in the Grand Marnier Culinary competition that in those days was a big event during the annual Charteryacht show. His recipe was such a success it appeared in the St. Thomas Daily News and subsequently in Cruising World Magazine! It's even low fat! Later I came up with my Zesty Grilled Pork, which was always popular and is still the Two Captains' favorite way to eat pork.
Glenn Altshuler's Margarita Chicken Fajitas
Serves 4
Sauce:
4 boneless and skinless chicken breasts,
4 teaspoons onion, minced
2 teaspoons garlic, minced
1 teaspoon oregano
2 teaspoons chili power
1 teaspoon cumin
¼ teaspoon cayenne pepper
3 teaspoons ketchup
2 teaspoons red wine vinegar
2 teaspoons sugar
¼ cup tequila
¼ cup fresh lime juice
1 tablespoon Grand Marnier
Garnish:
2 red and green bell peppers, sliced
1 large onion, sliced
½ cup sour cream
½ cup avocado, mashed
8 flour tortillas

Cut the chicken breasts into strips.
Mix the sauce ingredients together and marinate the chicken strips in it for one hour.
Pour chicken and sauce into a saucepan and simmer for 20 minutes.
Meanwhile, place the sliced peppers and onions in another saucepan and sweat them over very low heat until limp. (No oil needed!)
eat flour tortillas in microwave by putting a few drops of water between each tortilla, wrapping the stack in a cloth napkin and microwaving for about 1 minute.
Serve the chicken and sauce in a bowl family style with the wilted vegetables, avocado, sour cream, and tortillas on the side and let everyone assemble their own.

Tackless II's Zesty Grilled Pork Chops with Pineapple and Couscous
Serves 4
2 whole limes, zested and juiced
4 tablespoons olive oil
2 teaspoons cumin
1 teaspoon oregano
2 cloves of garlic, pressed
1 teaspoon chili powder
1 teaspoon hot sauce
2 tablespoons tequila
4 tablespoons ketchup
Salt and pepper
8 boneless pork loin chops, ¾-1 inch thick
4 slices fresh pineapple, halved
1 cup couscous
Combine lime juice, zest, olive oil, spices, hot sauce, tequila, and ketchup together, and marinate pork chops in refrigerator for 1-2 hours.
Remove chops from marinade and place on platter to take to grill
Dip pineapple slice in the marinade and add to platter for grill.
Put all remaining marinade into a saucepan and add enough water to make about 1 ½ cups of liquid and boil over medium heat for about six minutes.
Place chops and pineapple on hot grill for approximately 8 minutes a side or until pink has just disappeared. (Do not overcook!) Pineapple will take less time. Turn and remove when dne.
About six minutes before meat is ready, stir the couscous into the boiling marinade, stir, and remove from heat. Cover and allow to sit for six minutes. Fluff with a fork before serving
After our afternoon in Tequila, we pulled into the Casa de las Flores B&B in Guadalajara for the last night of our trip. Our host Stan opened his door and the warm smell of a Tequila Cake wafted out, which he served to his guests that evening in front of the terrace's outdoor fire place. It was a fine way to end our trip.

Glazed Tequila Cake
2 cups sugar
1 cups butter
4 eggs
1 cup milk
3½ cups all-purpose flour
3 teaspoons baking powder
¼ teaspoon salt
¼ cup tequila
Glaze:
1 cup light brown sugar
1 cup dark brown sugar
¼ cup water
Pinch of salt
¼ cup tequila
2 tablespoons Grand Marnier
Cream together butter, sugar and eggs. Stir in milk.
Mix together all dry ingredients, and then add. Beat well.
Add the tequila and beat until smooth and batter is glossy.
Pour the batter in into a greased and floured bundt pan and bake for about 1 hour in a 325 degree over or until a toothpick inserted comes out clean.
Cool on cake rack, then remove from pan and place on plate.
For the glaze put the sugars, water and salt in a saucepan and bring to a boil.
Cook, stirring constantly until the mixture stats to caramelize.
Remove from the heat and sit in both liquors, and pour over the cake immediately.