Volume 101
Hurricane Marty -- No Fire Drill This Time -- September 8-30
Turning around is always a little depressing, especially when it involves leaving a favorite place and most particularly when a deadline to leave the boat and fly Stateside lies ahead. When we left Refugio for some watermaker calls, however, we still had a few weeks left in the sea, which we looked forward to spending with our friends Dennis and Lisa of Lady Galadriel, now back in the Sea after a month in the States. We met up with them back at Isla Salsipuedes, from which we'd been driven by Ignacio, and, by coincidence, exactly one year after we were there last year!
This time our stay was nearly ideal. No other boats showed up to crowd us and the seas remained calm. The only disappointment was the water clarity, which had diminished to pea soup all over the northern Sea! My theory on this is that the period of strong westerlies we'd been having since we'd left Refugio had blown the warm, clear water offshore and allowed the murky cold stuff to well up from the depths. The 2Cs switched back from our Lycra skins to our Polartecs and Dennis and Lisa were in neoprene wetsuits.
Highlights of our stop in Salsipuedes were a hike ashore followed by a cool swim in the North Slot, a twin to our anchorage on the other side of the gravel bar at the head of the cove, and a snorkel trip to an small islet north of Salsipuedes. This is one of the few spots in the Sea where we have seen sea fans and sea whips encrusting the rocks, and this year we found the scattered skeletal pieces of a whale every bit as big at the one in front of BLA's museum. Not all of him, mind you, but several 10' long ribs, a half dozen vertebrae each about 12 inches across and a complicated piece that must have been part of its skull.
From Salsipuedes we motored north again to Isla Partida, the second Isla Partida in the Sea (there's another one near La Paz). On the way we made a close pass by Isla Raza, noted as a protected nesting place of 90% of the worlds Heerman Gulls and a majority of the total population of Elegant Terns. The author of that quote is Jack Williams, responsible for many authoritative books on Baja, so well take his word for it, however in September there wasn't a bird in sight. There is not a lick of shade on this islet, nor even much of a lick of greenery. The whole thing is a pile of stones, which even from the water, we could see are lined up in mysterious rows. Some people think they are ancient burial mounds while others say that were done by (relatively) modern Mexican's to facilitate mining the guano, but for sure the birds didn't do it!
A bit farther on, on roca Raza, an isolated conical rock, we startled a bunch of basking sea lions who hustled from their high perches to leap into the water, the big bulls honking threateningly!
After the slot anchorage of Salsipuedes, Crescent Bay on Isla Partida ("Divided Island") was very spacious. We missed this island last year, but it is one we could linger at. Our first afternoon, we snorkeled across a rock bar to find a fascinating shoal bottom alive with urchins, scallops, encrusting coral. Our next snorkel outing took us by dinghy out to Roca Partida, another isolated conical rock with yet another colony of sea lions. As they usually are, this rock was white with bird guano, but the rock underneath was black! We got in the water on the reef that extends north from the rock, well away from the bellowing bull sea lions, and were delighted to find crystal clear water and lots of grouper. Nearby, on a rock nearly awash in the chop, two lone sea lions appeared to be courting, completely untroubled by our presence.
A wind shift to the north drove us out of Partida and back across to Baja to take shelter south of Punta el Alacran. Alacran and Ensenada Quemado just to the north, are the two nicest coves along the ten-mile or so stretch of coast between Bahia Animas and Puerto Don Juan. Nearly mirror images of one another with low isthmuses of yellow sand leading seaward to long points of red rock, Alacran provides protection from the north while Quemado protects from southerlies. Although Quemado has been a very popular spot this year, Alacran was deserted. Our day there couldn't have been nicer. We spent the whole morning in clear water filled with fish, hunting and exploring. I even shot my first grouper with Don's gun! Life was pretty darn perfect.
Enter the spoiler: Hurricane Marty. Back on the east coast, the forecasting world was absorbed with Hurricane Isabel. Perhaps for that reason, data on Marty was late coming. To all intents and purposes, Marty "sprang up" nearly overnight from a "disturbed area" intersecting with a tropical wave. Its location the morning of September 19 was 17.5N 109W, about 330 miles South of Cabo San Lucas, looking then like it would track up the west coast of Baja. The next morning, however, it had stalled at 18N, 108W, and by the very next day, Sunday, it was Hurricane Marty, and it was one day away from hitting La Paz dead on.
Unlike Hurricane Ignacio, Marty was moving fast. Before the net was over, we had our engine on and anchor up. It's The Two CaptainsRule #1: Get thee to the hurricane hole ASAP. In a steady stream, cruising boats steamed back into Puerto Don Juan from as close as Ensenada Quemado and as far away as Refugio. Most of the twenty-five that assembled had been there for the Fire Drill, so this time everybody knew what to do. Good thing, because there wasn't much time for consultation.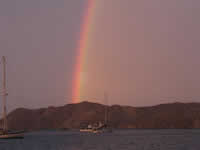 Aboard Tackless II, we got there early enough to get an edge spot where we could set two anchors without fouling up anybody else. The four boats nearest us followed suit. Even though we all still believed the storm would go inland on the mainland side and fizzle before we saw much of it, every boat there had their headsails off, their mains cinched to the booms, canvas stowed, decks cleared, and dinghies lashed down or flooded. It's The Two Captains' second most important rule: PREPARE FOR THE WORST CASE SCENARIO.
The Weather Channel, we are told, reported that Marty "never amounted to much." Well, from the cruisers' point of view Hurricane Marty was a big deal. It managed to wreak havoc in just about every cruiser node from La Paz to Refugio, including San Carlos. If the Gulf was a pinball machine, all the lights would be lit!
Marty hit La Paz dead on the morning of September 22 with winds up to 100 knots. By midday, Puerto Escondido was getting beaten up. By the evening nets, Santa Rosalia was feeling it. The last forecast of the day still called for Marty to make its second landfall near Guaymas/San Carlos and continue due north over the mainland. Everybody expected this to knock back the storm's strength quickly. We actually went to bed half-expecting to sleep through the night.
In Puerto Don Juan, winds building from the northeast woke us about midnight. For the next five hours, the barometer plunged and winds of 40-50 knots (according to our conservative anemometer) buffeted the boats from the northeast backing through the northwest. From the wind speed and the barometer's plunge it was obvious that the hurricane was coming much closer to us than predicted. Best guess is that it passed between Isla Tiburon and Isla Angel La Guarda, about 35-40 miles to our east. Thanks to our excellent anchorage and the latter well-named island standing between us and the storm, at no time did we get seas much over a foot or two (well, maybe more, but it was dark!) in Puerto Don Juan. This is what a hurricane hole is supposed to do provide protection from building seas, and having the two anchors set kept the ride aboard Tackless II comfortable enough that I could make and drink hot chocolate. About 0500 the winds eased enough that we were able to put our heads down around for an hour of rest before the first radio nets.
On those nets reports from all over the Sea of Cortez began flooding in. If the Gulf was a pinball machine, all the lights would be lit! With few exceptions, every cruiser node the length of Baja and on the mainland in San Carlos suffered damage with docks broken up and boats sunk or grounded. In La Paz, the location hardest hit, two of the three marinas are all but totally destroyed. (for photographs and on-site reports, check out www.clubcruceros.com, www.bajainsider.com, and www.latitude38.com) In Puerto Escondido, about a half-dozen boats were put ashore, several others sank, and two sailed right out of the harbor unattended (they were later recovered from beaches in opposite directions!)
Fortunately for us, Puerto Don Juan was one of the only exceptions. None of the twenty-five boats here (or the three over the hill in La Mona) suffered any damage at all. We were in a good place and we were prepared. It's the most we can do; the rest is luck.
You may recall we left a whole gang of boats up in Puerto Refugio. It may be called Port of Refuge, but it is not a hurricane hole. Most of the people there had the sense to skedaddle as soon as they hear that first forecast. Most of them chugged the fifty-five miles south at full bore to be in Puerto Don Juan by sunset. A few got creative and tried the small all-weather harbor at Bahia Willard (a choice we would have been reluctant to make sight unseen). Fortunately, that worked out for them. Unfortunately, several people who SHOULD HAVE KNOWN BETTER, convinced themselves that as soon as the storm followed its forecast track inland north of Guaymas/San Carlos it would become a non-event. Therefore five boats stayed in Puerto Refugio. I just don't know where their heads were at!?! Even as a relative nonevent, there would have been northerly winds, and Refugio is wide open to the north. As it was the storm turned left and tracked up the center of the Sea, and those guys had 10-12' seas where they were anchored on top of all that wind. I cannot imagine 10-12' breaking seas at anchor! Worse, they left headsails and dodgers up to blow apart in the winds. It must have been terrifying!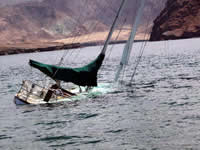 Two boats ended up on shore. The first boat -- a sistership to Lady Galadriel -- went on the rocks very early in the storm. Their boat was holed, and the tides and seas filled it with water forcing its occupants to spend the night of the hurricane plus two more days on the beach sharing shelter with two fisherman in a shrine the size of a large doghouse! Our friend Jerry, singlehanding aboard his Mirador drove himself ashore in the middle of it all after his anchor davit broke and sheared off his anchor line. Even with his engine on, he was unable to make any way against the wind and sea, and after he bumped into one of the other boats, he chose to "park" her on the beach. A resourceful guy, Jerry miraculously managed to sail himself back off at high tide the next day! He has some cracks in the hull, bow damage, and non-functional steering, Another boat we know, Aries, also stayed and lost their dinghy, headsail and steering. Kula and Pure Chance came through with bow damage only.
Although our hearts were crying for the folks in Refugio, it was several days before anyone was able to get out of Don Juan and up to help. In the interim we all ran a radio schedule 24 hours a day for moral support as those cruisers did their best to help themselves. By September 25, three days after the storm, boats were finally able to reach Refugio. They carried with them spares and repair material canvassed from all of us in Puerto Don Juan, and in the five days since they got there they have repaired all the floating boats, and removed everything salvageable from the other. The cruising community is a wonderful thing.
With our planned flight to the States looming in less than a week, the Two Captains were in a quandary. Do we cross the Sea and hope that Marina Real would find a place for us (they had several damaged docks and they couldn't promise us a slip), do we haul the boat out and leave her (which would be taking up the few yard spaces left when clearly there would be many boats needing them for repairs), or do we change our plans?
We changed our plans. Stay tuned!