Volume 103
The Sun Sets on the Sea (November 6-January 6, 2004)
Change of Plans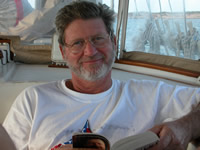 Don returned to Tackless II the morning of November 6. I was waiting for him on the beach when the taxi brought him and all his loot from the Mulege bus station. We were both mighty glad to be reunited!

By the time we were done reuniting and getting all that loot installed or put away, most all the other boats that had been in Concepcion Bay had moved on. We found ourselves in the pleasant situation of cruising south virtually alone! With winds now settling into the north quarter, we were able to sail almost every leg southward. It was so glorious that we skipped many stops we'd planned, simply to continue the joy of sailing along without the engine. When a strong norther was forecast, we'd stop and tuck away a few days. Temperatures--both air and water--started to drop, and in-water activities became less and less appealing. This was a disappointment for Don, who'd spent his nights in Indiana dreaming of stalking groupers with his speargun. But it was a relatively minor disappointment, especially after he landed a big dorado.


We did have good stopovers in San Juanico, Aguaverde and Los Gatos, all of which were old favorites and we spent Thanksgiving turkey-less in Isla San Francisco where our summer had begun. After the holiday we dragged our feet the last few miles before getting into La Paz by gunk-holing our way down the western shores of Islas Partida and Espiritu Santo. These two islands outside La Paz are a big attraction for the day trippers and bareboats coming out of that city. Having only visited them previously last year in the early summer when the southwesterly Corumuels made all the anchorages uncomfortable if not untenable, we had never grasped their allure. But with winter's winds out of the north, all those coves were now protected, and after a heavy rainy season, many were quite green! We could have spent a month there when we'd only left ourselves a week!

The rush to get into La Paz stemmed from a planned rendezvous with my old friend Mike, who, as chief engineer aboard the mv Double Haven, had spent the past seven years in the Far East. This past year, Double Haven had crossed from Hong Kong to Alaska for the summer season and was due into Cabo San Lucas the first of December. This brought us within a couple hundred kilometers of each other for the first time in ages! With the owner due in for the holiday season mid-month, we were obliged to fit any visits in early.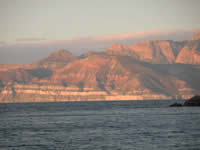 Which is how it came to be that on our first wedding anniversary, Don and I rented a car and drove to Cabo for a "weekend." I have toured Double Haven on three occasions - once while it was being constructed in Holland, once on its maiden voyage in the Virgin Islands, and once in Seattle when it was four years old and had all-but circumnavigated the globe. Don had only seen pictures. As we walked from the parking lot through the building to the marina, Don wondered aloud how we would find it, but the moment the docks were in sight, the question evaporated. Even I had forgotten how big Double Haven is! At 56 meters, it dominated not just the marina but the entire basin! And that is with other big yachts on the same dock!

We were made welcome by the new captain Steve, and soon after Don got his tour. Believe me it is awesome with three decks for the owners and their guests, crew quarters and an enviable galley. What impressed me in particular was that everything looked as good at ten years as it had in its first year. The highlight of the tour for Don, of course, was Mike's territory - the engine room, and Mike clearly enjoyed having someone truly appreciate every piece of machinery. For small yacht folks like us, the space, the spotlessness, the organization, and the redundancies are quite simply mind-boggling.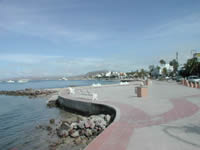 We found a nice inexpensive room nearby and pretty much spent the next day and a half schmoozing over cold beers and leisurely meals with Mike and other crewmembers who came and went. It was a great visit, and the chef Karl - who keeps a sailboat similar to Tackless in Indonesia - sent us home with a box full of frozen halibut and salmon from Alaska!

We spent the next week at the dock on boat projects, most particularly on getting and installing the new batteries for which Tackless had been crying for nearly a year. Then we rented yet another car and drove back to Los Cabos in the wee hours of the morning to catch the first flight north for Christmas. We divided the holidays between Don's family in Indiana - where, of course, we had to check on Don's Dad's continued recovery from his knee replacement surgery -- and mine, where my sister was hosting the first Christmas in their new home in Hendersonville, North Carolina.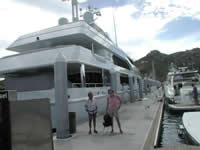 Back in La Paz, Don gave a seminar on Spectra watermakers and spent many days helping a few people who had problems. He put together a terrific handout on all the Spectra care and maintenance issues that real cruisers need to know, and I'm proud to say that the guys back in the plant were enough impressed they plan to post it on their website and include it with their manuals!

We left La Paz right after New Year's, once again traveling in the company of our friends Dennis and Lisa of Lady Galadriel, and after a couple of nights back in the islands waiting for a weather window, we were rewarded with an absolutely perfect crossing. Who knew the wind could blow a steady 12-18 knots for two whole consecutive days in the Sea!? We shut down our engine as we exiting the San Lorenzo channel and didn't start it again until a mile or two out of Mazatlán! With the full moon and our new MP3 player, even the night watches were a breeze.

After spending six months in Mazatlán last year, pulling into Mazatlán Marina felt very much like coming home. But we didn't relax back for long. Within days, the Two Captains and the two Lady Galadriels were packed up and on the road on our long planned inland trip to Colonial Mexico.