2C Update #114
Kauehi Atoll, Tuamotus -- June 5-15
The Tuamotus are an archipelago of "islands" scattered in a band 300-400 miles wide stretching northwest to southeast directly across the path of all vessels heading from the Americas to Tahiti and the Society Islands. Throughout navigational history they have collectively been known as "The Dangerous Archipelago" because 76 out of 78 of these "islands" are actually coral atolls rising only a few feet above sea level and therefore visible at a distance only should a waving palm catch the mariner's eye. An atoll, for those who don't know, is a ring of coral that built up around a volcanic island that has since sunk back into the sea leaving a coral-ringed lagoon. There are small islets -- called motus -- built up along the top of the reef ring, on top of which grow the waving palms. In the days before radar, GPS and accurate digital charts (in other words not very long ago!), many prudent cruisers bypassed the Tuamotus entirely, circling around their north end from the Marquesas.
Thanks to radar, GPS and (oh, thank-you, thank-you C-Map*) accurate electronic charts, these incredible islands need not be missed anymore! But how to choose which ones to visit?! This question occupied everyone we know for weeks back in the Marquesas. Realistically the choice is narrowed down to the atolls of the western Tuamotus. Those of the southeastern section - where France conducted its nuclear weapon testing until 1996 - are still off limits without special permits. The selection is further reduced to those atolls that have one or more passes into their lagoons that sailboats can safely enter.
Since you simply can't do it all, the logical approach is to pick a point of entry, and visit two or three islands in that general area. At least one current guide book suggests "paths" through the islands. The problem with cruisers is we have such an ambivalent attitude about "paths", particularly "beaten" ones. Nobody wants to go where everybody else is going!
Probably the most common route taken stops at the atolls of Manihi and Ahe followed by Rangiroa (the largest atoll in the world) all of which are along the most direct route between the Marquesas and the Societies. Hardly anyone in the Mexican Puddlejump group wanted to take this obvious choice. The ironic result has been that a whole lot of us quasi-independently, one group behind the other, beat a new path, making landfall at the medium-sized atoll of Kauehi and exiting somewhere around Fakarava, the second largest atoll in the chain.
The Passage
Our four-day passage from Nuku Hiva to Kauehi will go down in the logbooks as one of the grandest, easiest, most pleasant ones we have ever made. From right out of the chute, the sailing conditions were great. Ten to fifteen knots on the beam with seas maybe one to two feet! Tackless II really excels in these conditions. With no seas to knock her back we could put up all that sail area and off we went, leading the pac!. And quite a pack there was. In addition to the four boats that left Daniel's Bay together, the horizon was dotted with the sails of other boats that jumped on the same sailing window directly from Taiohae.
We even landed our first wahoo, a 52" piece of fighting muscle that wore Don out. He couldn't even start bringing him in for twenty minutes! A wahoo is fine eating fish -- and a lot of it. We were challenged to get it all stored away. Back in the Galapagos we lost of lot of equipment to several wahoo, so it was quite the accomplishment in our minds to get this one aboard.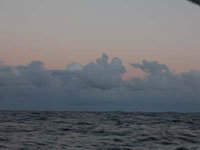 By the time we approached Kauehi at dawn our fourth day out, we were leading our group by ten and twenty miles! Just as we made our last turn -- right on time -- to approach the pass, one of the boats we were sailing with, Aliikai Too , about ten miles behind us, lost their steering! Jim, Aliikai's skipper got in the water and discovered that he had sustained some real damage to their skeg (part of the rudder assembly) that left the rudder with no lower support. No guess how it happened. For a while it looked like they would have to be towed in, the very real fear being that the rudder could just drop away. Fortunately just as we prepared to turn back to help, Jim determined that the rudder post was secure at the top and that careful steering with the unsupported rudder worked. Two other boats coming up behind them shepherded them the rest of the way so into the atoll so that we were able to continue on into the pass.
The pass is a very important step in these atolls. Some lagoons have no way to get in. Others have one or two passes. Most of us picked Kauehi for our arrival point because it has a wide deep pass, on the leeward side of the atoll with no tricky reefs to complicate things. What makes passes - even easy passes - a challenge are the currents. Although the tides in Tuamotus are not big -- only a couple of feet -- all the ebb and flow must squeeze through the passes. Also, there is often more water in the lagoons than from the tides when big waves cross over the low reefs. This can result in really sizeable outgoing currents with standing waves. One therefore wants to through a pass at or near slack water (in between tides) which happens only four times a day (and therefore only twice a day in daylight). The tide is also not easy to predict. The tide tables most of us are using have just one or two reference ports for the entire area. Often a boat will have to stand off and wait for as much as six hours or even overnight to be able to enter a pass.
We arrived at damn near the perfect time -- just at the end of the flood tide so we still had a little incoming current which helped us zip through. Once in we had planned to anchor and launch the dinghy to be able to standby for Aliikai . To our amazement, we could find little water shallow enough to anchor in, and those few spots were filled with coral or the buoys of the pearl farmers (the lagoons' "big" industry)!
The charts and guidebooks for Kauehi show an anchorage only in the northeastern part of the lagoon in front of the atoll's one village. But friends ahead of us (the advantage of at least a somewhat beaten path!) had radioed with GPS coordinates to an isolated spot at the southeastern end of the atoll. So we proceeded directly there.
Kauehi's Southeastern Anchorage (15*57'.47S; 145*04.63W)
Wow! This is what your mind conjures up at the words "South Pacific." The water is crystal clear and bright blue. The motus behind which we sit are bright white sand topped by waving palm trees while the ocean waves break on the outside just beyond. The wind is steady across the reef, enabling our wind generator to finally do its thing, yet the boat sits as steady as if tied to a dock!
Fortunately all four boats behind us made it safely in through the pass. The five of us, plus two boats already there, made a nice little social group the next few days.
And in this idyllic spot we finally did all those activities you imagine doing in a South Pacific anchorage. We snorkeled coral heads in white sand and water so clear it was like air. The coral heads were embedded with the rippled shells of six-inch tridacna clams whose fleshy mantles reflect jewel-like colors thanks to the algae that live there commensally. Familiar fish like parrotfish, surgeonfish, butterflyfish and tangs appeared in wildly unfamiliar color patterns, while unfamiliar characters like unicorn fish, bannerfish, and tiny humbug dascyllus sent us running to the fish books. Just to keep everyone's adrenaline pumping, small black tip sharks periodically swam nonchalantly through the group. Essentially harmless, they still look the part! They make a gentle introduction to the larger shark populations we are liable to encounter farther on.
We also had several potlucks on the beach complete with bonfires. And incredibly, these were just as fun, just as romantic, as you could imagine them to be! While the stars glittered overhead, we piled coconuts husks on the fire, and several of the cruisers played and sang to the accompaniment of guitars and mandolin. The real stars of the musical evening were Greg and Sujata of Maaji-Re . Sujata is from Madras , India while Greg is from northern Indiana . Sujata and Greg met while working in Hong Kong on computer trade magazines, but Sujata had a second life as a professional musician. Greg has learned to play with her, and they do some fabulous stuff: blue grass in English, Irish ballads, Mexican cançions, and some hauntingly beautiful Indian songs - obviously not your usual sing along stuff. Our second potluck was to celebrate a birthday, and the highlight of this afternoon was crab races - yes, shades of For the Birds in St. Thomas, and there was Don, the former Jose Cuervo rep, back in the thick of competitive crab racing!
After five days of projects in paradise (the chief one obviously being getting Aliikai mobile with some jury rig engineering), several of us moved up to Kauehi Village . The trip up was a real reality check on moving about inside the atolls. Getting into Kauehi had been so easy, we'd forgotten about the pitfalls - specifically, lurking coral heads. Although much of the lagoon is deep water, a coral topped rock can seemingly pop up any where. The rule of thumb is never move without good light overhead and without someone high up (on those ratlines we made in Mazatlán) keeping a looking out. Within ten minutes of our getting our anchors up, thick squall clouds rolled in cutting out the sunlight. This, and an early scare where a shoal spot materialized less than a boat length away in 80' of water (!!!), forced us to creep across the lagoon. The nine-mile trip took us three hours!
Kauehi Village -- 15*19'.59S; 145*07'.12W
Kauehi Village is situated on a strip of motu slightly thickened by a peninsula of land that sticks out into the lagoon. The village, centered around a beautiful old church built of coral blocks, stretches right and left along the lagoon shore. We were impressed with the houses that were more appealing than many we'd in the Marquesas. Few have glass in the windows or doors spaces; instead colorful fabrics accent the openings. We did notice that many of the houses had cable tie-downs on their roofs!
| | |
| --- | --- |
| | |
At the small, but well-stocked store we made met the proprietor - Nicole, whose husband has a pearl farm out toward the airport and who would be happy to give us a tour. Nicole's husband Tiaihau Tiaihau (that's pronounced tee-ah-ee-ha-oo) is a prosperous entrepreneur who reminded me of Yul Brynner in the "King and I". "My farm, my store, my bungalows" and almost "my town, my island, my new airport" etc., but not remotely in an obnoxious way, rather proudly possessive. He picked up eight of us in an oversized pick-up truck and gave us a thorough orientation to pearl farming despite being in the midst of busy reparations for three simultaneous wedding the coming weekend. (He told me he was the "chief" of the weddings. For about five minutes I mistook that to mean he was the "chief" of the island, which wouldn't have remotely surprised me.)
Pearl farming has turned a haphazard resource into a steady industry for these remote atoll villages. The process is complicated, and since I was translating from the French for the whole group, I hope I got it right. To start the process, the farmer must collect his seedling oysters. To do this he puts out strips of soft fuzzy material and waits for "God and Nature" to provide. Tiaihau takes care of this part of the operation himself as it requires scuba diving. When the seedling oysters are collected, their shells are drilled with a small hole, and they are tied in pairs to cords that are wrapped in protective chicken wire and set back out for six months until the oysters mature.
Next the oysters are cut from the cords, cleaned of barnacles, and prepared for the seeding process by prying them open and inserting a wedge. The wedged oysters pass to one of two " griffeurs ". At Tiaihau's farm, the griffeurs were two small " Chinois, " as Tiaihau exclusively referred to them (at first I thought the very small man and woman were children!) who fly in once a year to do the seeding. Tiaihau told us that most griffeurs in the Tuamotus were Chinese or Japanese, although there are expert Tahitian griffeurs as well. The griffeur places the oysters one at a time in a clamp and with tools like a dentist might use, carefully snip something inside and insert the seed or "nucleus." The "nuclei" are round balls made from oyster shell which have been sent to Tahiti to be "bio coated". This took a long time to sort out because the bright yellow balls sure looked like plastic!
The seeded oysters are placed in long pockets and hung in a watery corral out back where they can be monitored. If the oyster rejects the seed, it usually happens in the first two months, and the pocket will catch the seed, revealing the uncooperative individuals. Tiaihau told us his success rate in seeding is about 50-60% (although that might have been in return of decent pearls from successfully seeded oysters!) At this point the oysters are put back out to grow pearls for about a year. At the end of that time, the oysters are harvested. Nothing is wasted! The meat is sold for food, the shells are sold to artisans, and the pearls are shipped to Papeete . The leading buyers are China and Japan , with the US currently in fourth place.
I asked Tiaihau how many pearls farms there were in Kauehi, and he told me there used to be fifty-two, but that the current number was four! This he attributed to excessive taxation by the government in Tahiti (which has just changed).
Before taking us back to town, he gave us a quick tour of the airport. Kauehi's airport is brand new. Before, people had to make a forty-two mile trip by boat to Fakarava. Tiaihau was very proud of "his" airport. Tiaihau has built a half dozen or so tiny "bungalows" for tourists at the pearl farm. They cost about $35/day to rent; $70 a day if you want three meals included (clearly a good choice as there are no restaurants on the island!) You can learn about the pearl farming, go diving and just generally laze around. Should you be interested, you can contact him at tel&fax: 689-58-25-49!
Some of our group decided to stay on a few days at Kauehi to peruse Tiaihau's harvest pearls, but the Two Captains felt the need to move on, and so departed the next morning for Fakarava.