2C Update #118
Moorea - July 16-26, 2004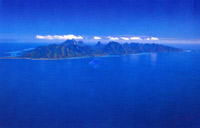 Take heart! The Polynesian dream does, in fact, live and breathe a mere 12 miles from Papeete on the island of Moorea . A 132 square-km isosceles triangle, Moorea is not a big place, but its forest-clad crags thrusting skyward make it seem much larger. All the development --from villages, to houses to resorts -- clings to the perimeter road leaving the mountains untouched, and the lagoon waters between the shore and the fringing reef are bright blue. The two main bays - Cook Bay and Oponohu -- are deep indents into the north side, and the view inward to the two peaks is just what you think of when you picture Bali Hai. Not surprising, since this is where those scenes were filmed for the classic movie South Pacific.
We arrived from Maeva Beach in the late afternoon, passing up Cook Bay to meet up with friends in Oponohu. Ironically, Oponohu is actually the bay Cook stayed in rather than the one that bears his name. Inside the pass there are several possible places to anchor deep inside the bay or out on the reef. We chose a spot tucked in just behind the entrance where we had the view in to the bay but still the clear water and steady breeze of the reef.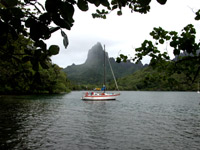 The depth was about nine feet! Since we first arrived in the Marquesas it seems like we have been anchoring regularly in 50 feet or more! This spot was so shallow our snubber line actually bounced on the bottom!
Here we spent ten truly pacific days snorkeling, diving, or just sitting and reading. One of the few public sand beaches on the island fronted our corner of the lagoon, where a kids' camp operated daily out of one end. This might have been a nightmare with the screaming children and/or screaming adults one might have expected, but in fact it was a delight to watch the orderly flotillas of youngsters in the bright-sailed Optimist prams sail in and out and around. There were also several Hobie Cats, a couple of mini-schooners, windsurfers, kayaks, and, just off the beach, a Discover Scuba type class. Each group had an instructor in a runabout shepherding them. Since this all took place in an amazingly organized manner, we found the constantly changing scene a delight.
One of the highlights of touristic Moorea is feeding the stingrays. Although many of my charter guests will remember me on scuba inching up to individual stingrays buried in the sand bottom, doing my utmost to establish enough telepathy that I would be permitted to pet their wings, I have never participated in the more organized "stingray city" experiences available in many dive destinations. Here on Moorea, near the northwest corner of the island, between the Beachcomber Resort and Motu Irioa, is a sand bank in about chest-deep water. Every morning tourists are brought by the dozens to interact with the colony of about a dozen good-sized rays. Always desirous of getting the jump on land tourists, the cruisers - we among them - were up and in our dinghies just after sunrise. Since we had some frozen skipjack in the freezer, we took it along, although we have since learned that most tours really don't actually "feed" the rays - they just pretend they are going to. This fits much better with my personal philosophies of fish feeding. (...which is: don't.)
However, I'd be lying if I didn't confess that it was a very cool thing to do - once. No masks or fins were needed. As the rays gradually assembled around our anchored dinghies, we slipped into the water to stand on the bottom, and we each held out pieces of fish. The results were amazing. Although naturally bottom-feeders, the rays would swim up and suck the fish right out of our hands! A few people (who obviously never had horses) would let their fingers get in the way and so get a little nip from the rays' hard gums. Occasionally, the rays would "fly" right up our bodies, presumably looking for more treats. This "forwardness" by something so big (each ray was about 3' across and 5-6' from chin to the tip of their long tails) could get a little overwhelming for some, in particular the shorter women. Despite their scary name, though, the only way a person is liable to get stung by a stingray is by accidentally stepping on its back (at which moment it will flip its tail and plant its barb in your calf!), so on the whole this is a pretty safe activity. By getting up close you discover that the eyes of a stingray are heart-shaped and their skin is velvety smooth. Don got friendly enough with one ray that he actually "wrote" his initials in the dusty film on its wing!

On another day we rented a car with Mike and Mary of Danseuse de la Mer . We started with a picnic lunch up at thebelvédère, a lookout spot partway up Mt. Tohiea , which gave us a great panorama of both Cook and Oponohu bays. Down the hill was a marae archaeological site which was nicely posted, but which, frankly, looked like little more than a bunch of old Vermont stone walls.
From there we made the 60km circuit of the island. The whole north side is clearly oriented to tourists, with no less than three large hotels having bungalows on stilts over the water and a slew of smaller ones. This zone wraps around the northwest point about a third of the way down the west side, dribbling out to the kind of hostels popular with surfers. The bottom point on both sides is where the normal folk live, and the east side builds up to Vaiare Bay where the big ferries come and go all day. It is a mystery to me where all the traffic for those ferries comes from or goes to. There just doesn't seem to be enough activity to support them all.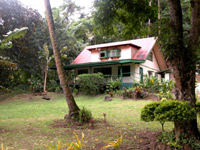 In Vaiare Bay there is a charming little marina tucked away, where, to our amazement we found a CSY walk-over docked. Owned by Christophe, a young Frenchman who bought it a year and a half ago, Moana Reva is a project in the works. Its previous owners had ripped out and rearranged various items of the boat's built- in furnishing to make the boat more of a shoreside condo. The most significant change for Christophe, who wants to take it cruising someday, was the removal of the three original refrigeration lockers to be replaced by a shoreside-type unit. Having only encountered one other CSY, another walk-thru (T2 sistership) that passed through last year, he was thrilled to meet people he could talk systems with - even though that talk had to take place in French! We invited Christophe to visit Tackless the next day and it was great fun for all of us to go over the boat in two languages!
Towards the end of our stay, Don discovered that several cruisers we knew were closet divers, just waiting for a buddy (with spare equipment) to show themselves. So he got several dives in on the deep reef outside the pass, with more sharks, tuna, and turtles. Other than that, our days and nights in Moorea were spent in leisurely cruiser socialization: sundowners on various boats, tutelage in computer projects, lots of movie swapping, even some cribbage. One evening we walked to the nearby Sheraton with our friends Bill and Helena of Antares and Christine of Wild Spirit (both of whom had guests aboard) to take in the traditional dance and music show they resent on Saturday nights there. For the price of a beer or two, we were able to take in the show from the bar, a big improvement over the $70 price tag for the Polynesian buffet which the hotel guests were sucked into.
Perhaps the hardest aspect of our stay in Moorea was watching good friends of this past year pull out and sail off into the west. We have made the decision to drop out of the Coconut Milk Rusher Run, the tried and true six-month course through the Central South Pacific which ends, usually, in New Zealand around mid-November at the start of the southern hemisphere cyclone season. Instead, we will spend the next few months leisurely touring the Leeward Societies, returning in September to haul Tackless II out and store her in Port Phaeton, Tahiti for six months while we return to the States.
This radically uncharacteristic decision is prompted by two things. Don's daughter Tiffany and her husband Derek, wed last year in the Virgin Islands (see Update #94), are going to make us grandcaptains in December, and we have received our "marching orders" to be present. Prudent timing is a little too tight for us to sail on to New Zealand , and Polynesia is the only real option we have for cyclone season between here and there. Once that choice was made, we are then governed by French Polynesia 's difficult immigration policies. If we've been in six months, we have to be out six months. Yikes.
Well, there will be much more on these subjects in updates to come, but for now it just means saying "Fare Well and Fair Winds" to many friends - Puddlejumpers from Mexico; newer friends from the Marquesas and Tuamotus - including such close compatriots as Mike and Mary of de la Mer . The cruising world is a small world, but the ocean is vast. One never knows if, when or where one's courses might next cross.