2C Update #126

(Photographs by the Two Captains)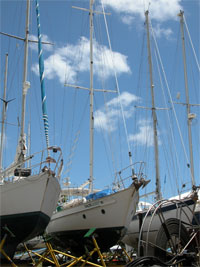 The Boatyard
Traveling back to a boat that has been stored in a boatyard for seven months is a time of bittersweet anticipation. As your attention shifts back toward the boat, the life you have been living Stateside, no matter how pleasant, subsides rapidly into memory as if it were some temporary hiatus, and, as you start considering all the projects you have to do when you get back, it is replaced by a re-blooming sense of self as a cruiser out on the seas of the world. It's a self image that seems to ring with truth.
Unfortunately, when you arrive back, with your four suitcases full of parts that you've schlepped several thousand miles and are just itching to install, and find your beloved boat filled with mold, mildew and cobwebs, well, the reality that goes with that truth can be pretty depressing. That first day, it seemed like nothing worked. As we dusted the cobwebs out of the way in the galley in hopes of a cup of coffee, none of the valves on the stove would budge, the lens of the overhead Alpenglow light had actual standing water in it, and the water pump kept cycling when the house system was turned on indicating a hidden leak somewhere. Discouraged, we found ourselves a bungalow/car rental deal for $100 a day and took refuge there, crashing onto our twin cots under the overhead fan at 7:30pm and waking at 5am to be at the boat by first light..
Of course, it all came together eventually. I slogged away at a cleaning program that inched outward from the galley and all its chock-a-block lockers, while Don doggedly cleaned, lubricated and worked every little thing back into operation. Together we excavated sail bags, lines, cushions, and solar panels from the inside of the boat where they'd been stored and got them all back up on deck where they belonged. We carted 40 kilos of musty clothes and bedding to the only laundry service with dryers, and said last rights over the shipboard computer which the experts could not resuscitate. Even so, it took five days before we could move back aboard, and, even though during our first night aboard the boat shook in the cradle from the gusting winds and heavy rain, we hugged each other in the dark and were glad to be home.
Pollyanna would urge me to point out that there were many systems that fired right up: the Adler Barbour fridge and the Minus 40 freezer turned on without a hiccup, and likewise the two radios with the Pactor Modem, all the Raytheon instruments, and also all our various kitchen appliances along with the stereo, TV, VCR and DVD. For all that we were very grateful.
On our second morning aboard the weather, which had for a week been demonstrating what the rainy season had been like, finally cleared, and Don was able to start on the boat's original project list. Seven months earlier he had dropped the rudder and in the process wrenched the bearing loose. Getting that all realigned was his big priority. Also, before leaving he had opened up a couple of dozen blisters on the bottom to dry while we were gone, leaving Tackless looking like she had a bad case of acne. Those blisters -- and the waterline which we were raising four inches -- now had to be ground out, filled with epoxy, sanded and barrier-coated before we could think about getting bottom paint on and getting back in the water. Plus there were new hoses for the heads, sea-cocks to be serviced, and stuffing boxes to be restuffed.
We'd been living aboard a week when out of nowhere Don was brought down by a fever. Neither of us had had so much as a cold in 12 months, and as always in the tropics one worries about dengue. When he woke the third day with the shakes, I packed him into the car and took him to the emergency room. Here we had a really good experience. The French thermometer read 40.7, which, if you have your trusty copy of French for Cruisers (p. 311) handy, you would know immediately is 105 degrees for us Fahrenheit types! The nurse raised her eyebrows and promptly slapped in a couple of IVs with saline and Tylenol to get his temperature down, drew six vials of blood for various tests, got Don's recent medical history through me as a translator, and shortly after ushered in Dr. Frederick Garcia, Raiatea's version of Dr. Kildare.
A short aside here. As one cruises around the world, one encounters a pretty fair distribution of women attractive enough to bring an appreciative smile to Don's lips and prompt some comment. But, you know, there just aren't that many men who do the same for me. Believe me, French with a Cuban father, Dr. Fred was one. Plus he spoke good English, was nice, and had a sense of humor. "Don't worry, the surgeon won't be cutting today" after a rapid-fire consultation over Don's belly in French. Or, "Tell me, Don, how is –how do you say it – your shit?" It didn't hurt that he was a sailor to boot!
Prompted by the varied symptoms that seemed to reach from head to toe and included pain just below the chest, they ran a slew of tests, and despite it being early Sunday morning Don was seen by several specialists. By noon , however, they had ruled out every major concern and were left with the flu. By then, after a couple of rounds of IV, Don was feeling much more himself, and frankly, when he walked out, he never looked back. Oh, he was good and took it easy for a couple of days, but he was back at work by Wednesday. Dr. Frederick came by the boat Tuesday and told us they'd since seen four more cases just like Don!
A week later, we were still on the hard, but launch was imminent. Don had been able to hire César, a fiberglass specialist whose surf board-building business was on standby awaiting materials, to work with him and catch things up. And when the bottom was done and the rudder hung, I suited up and tackled the bottom paint, something I haven't done myself in a lot of years! On Thursday the 26 th , we launched, three weeks to the day after our return to Raiatea . Oh, how much sweeter onboard life gets afloat!


But of course, we were hardly done. In the engine room, Don had the engine and generator to bring back on line, and the shaft and coupler to align. On deck there was the dinghy to resuscitate, the halyards to rerun, the sails to remount, all the mast-top instruments to reposition, and the wind generator to put back together. Rigging-wise, we had several repairs to make to the staysail boom and stay, new plates to install at the first spreader where we'd had our failure last year, and a new bow cleat to install after reinforcing the deck. We sold our rusty six year-old chain and replaced it with new and exchanged the old rope rode in the port locker for newer, more flexible line we'd had in the bilge. Then there were the leaks to track down, and we pulled and rebedded the boom crutch, several stanchions, a bunch of bolts and dozens of screws.
I say "we", but honestly it was almost all Don, and ten days after we launched it became TOTALLY Don when it was my turn to go down with the flu. Since we knew what it was this time, there was no hospital visit for me, but in retrospect I think not getting the IV treatment was a loss to me, because it has taken me much longer to recover. For which reason, we are still at the dock three weeks after we splashed.
Beyond the Boatyard
Six weeks in one place is a long time for a cruiser, but there have been some hidden rewards. When we first got back, the only person we knew was Bill Cowan of Antares I , who'd beaten us back by a few weeks. Everybody else in sight was French, and although we all smiled and nodded and politely said "Bonjour," the language barrier pretty effectively divided the yard citizens into two separate camps. Already in the water at the dock, Bill was preparing his boat to head back to Vancouver via Hawaii as one by one his friend Rick and brother John flew in to help crew.
In those first couple of weeks we made two very neat discoveries. We learned about the weekly Saturday night dance performance on the town quay and, by making our first driving tour of Raiatea in the rental car, we discovered what a large and beautiful island lies beyond the town limits. Raiatea 's two-lane road hugs the shoreline all the way around, and, since the coast is indented by many bays and coves, it all adds up to a 96km drive. Then there's a connecting road that crosses through the mountains, turning the tour route into a figure eight. At every turn is a beautiful vista, outward to the lagoon or inward to the misty mountains. The island is so large and the road so convoluted that we were constantly discovering that we were not as far along as we thought. On our second trip around, we took a GPS!
Raiatea, the largest of the Leeward Societies, was in ancient times known as Havaiki, a name that had been carried outwards by the first Samoan explorers, and later was carried even further afield (eg Hawaii). According to Lonely Planet, the name "represents not just a physical location, the homeland, but also a mythical promised land to which souls return after death." Havaiki/Raiatea became the religious center for the Society Island group, and on the island's eastern coast is the largest marae in all of French Polynesia , Marae Taputapuatea. It is certainly a major highlights of the drive. It is said that Marae Taputapuatea was so important that any new marae constructed on other islands had to incorporate a stone from Taputapuatea. Situated on a cape that juts eastward right at the Passe Tea Vamoa, the Marae Taputapuatea occupies a fabulous piece of real estate, a fairly flat lawn reaching right to the water's edge, dotted by tall shade trees and the complex of se veral stone ahu (altars) and terraces, making it a popular picnic spot. Inland rises a dramatic rock spire that makes a perfect range for boats entering the pass. Let's hope no big hotel chain ever gets a hold of it.
Other favorite spots on our island tour were the beautiful Baie Faaroa, where Don and made our river trip by kayak last year, a grassy picnic spot we found on a cliff-top that over-looked the reef-bound lagoon, and the mountain vistas from the cross-island road.
As for the dance group, which I think is called Tama Iri'i Uturoa (Good Children of Uturoa), they perform most every Saturday night on the cobblestone esplanade in front of two major waterfront restaurants (and also, by the way, at the Raiatea Pearl Resort on Friday nights). The troupe consists of male musicians pounding the drums, maternal singers and dancers who range in age from perhaps four to thirty. By no means are all the girls picture-postcard svelte, despite all the hip-wiggling, yet most of the male dancers are lean to the extreme since their moves are particularly athletic, especially in the vigorous tamure, where their bent knees vibrate in and out at warp speed. To my amazement, each time we've been (3x), they did a different program with different costumes, from coconut bras and grass skirts, to skimpy pareus to Mother Hubbard wedding dresses, all with beautiful flower headdresses in their hair or leis around their necks. The evening always concludes with a pa reu-tying demonstration dance with "volunteers" from the audience. Don got picked once by a mama I'm sure had her eye on him the whole show. He went with good grace and, I may say, looked very handsome after she stripped off his shirt and knotted the pareu deftly over his shorts!
What makes this show particularly delightful is the way the community gathers around and sings along! Afterwards, the action moves to a smoother plaza in an interior courtyard where the young folk turn up the boom box and perform breakdance and hip hop routines in emulation of Michael Jackson and his ilk. It tickles us to think of these kids practicing these moves through the week in their back yards. Indeed, we often saw the youngsters from the neighborhood around the boatyard practicing the headstands and coffee-grinder twirls required. Ah, the things our culture has exported…. However, WE much prefer the traditional music and dance.
When Bill and his crew departed, our social life suddenly contracted, and, as focused on yard work as we were, we didn't make much effort to change that. But the very day we made it to the dock, a female singlehander named Zoe stopped by and invited us to her going-away party that evening. We had never before been included in the impromptu gatherings of the French, so this was a big step. We were the only non-French there, and although my French is good enough to chat, Don was high and dry until this adorable young couple – Brice and Adeline – rescued him. Their English was excellent, and we soon got their story. Having met in New Caledonia where he was working as a phys ed teacher and she a nurse, they bought a tiny boat and have spent the past two years working their way eastwards to the Societies through the islands we are soon headed for. Here they will stop for awhile since Adeline is six-months pregnant, evidenced by the barest of bulges in her midriff!
Zoe's party broke the ice and bit by bit we were drawn into the French community. On Tackless II's port side are two Amel Super Maramus, both middle-aged couples who came to the Pacific via South America and the Horn. The names are bedazzling to Don: Jean Marie and Marie Blanche on Jimmie B and Jean Claude and Françoise on Vent du Soleil. On our starboard side was Michaele on Gulliver, an early Hallberg Rassey 40. Michaele, who sports pony-tail, earring and several Marquesan tattoos, turns out to be Italian with an opera-singer wife who occasionally visits! Down the dock is Pascal and his wife, with the adorable Yorkie puppy Plume, and, when Michaele went sailing with friends, our new neighbors became Giles and Caroline of the neat aluminum sloop Boreas with their nine-year old nymphet Charlotte. It turns out ALL of them (except perhaps Charlotte) can speak English, most of them as well as I speak French, so while I've exercised my French with them, they've exercised their English with Don. It has changed the whole tone of our experience here and dissolved the barriers. Since many of us are headed in the same direction (if any of us ever get off the dock!), we stand to carry this new circle of friends with us for some time.
Getting off the dock has not been easy. Don has made at least three trips into the office to pay our bill preparatory to at least moving to a mooring, but we are still here. The biggest anchor was me coming down with the flu. I had the fever for four days and was too weak for much of anything for another four. It was easier just to stay on the dock. While I slept (and I slept most of the time), Don quietly plugged away at the last of the projects, including a whole bunch we might never have gotten to, until Tackless is as ready to go as she's ever been. Just about the time we might have made our next escape, a couple of Spectra clients caught up with us, and a day or two got tied up with them.
Finally, our fellow Mexican Puddlejumpers John and Janice of Splashes , whom we had visited at their handsome ranch in San Miguel , California during our sojourn in the States, made it back to the yard. We had originally thought they would be sailing west with us, but their season has been cut short at both ends by family business back home and they won't leave the Societies. We'd had several emails from them intimating that they hoped to hire Don to help reactivate their Spectra watermaker, so it seemed kind of rude to depart just as they were arriving back.
So, we stayed yet a few more days…in truth a whole week, to help them get back in the water and up and running. With their return and the return of West Marine Chairman Randy Repass and his family aboard Convergence , our social life has in these last days swung back to an American flavor, culminating in a big group outing to town last night for our last dance performance.
And still it's hard to leave; just as it is hard to leave any place you have built friendships. Raiatea has been a very nice place to be, once you find all the stores, scope out the less-expensive places to eat out, and get out of town a couple of times. I don't think Don and I will quickly forget the simple sweetness of a picnic on the cliff looking over the magical blues of the reef-enclosed lagoon or the colors of the pareus and the flashing hips of the dancers. Raiatea has indeed become a Havaiki for us.
But enough is enough. Much longer and we'll be overrun by the next pack of Puddlejumpers who are even now congregating in Papeete . It's time: time to back out of the slip, find our sea legs, and see if we remember how to run this boat. Push the button, Don. Cast off those lines. Let's go!
Nana, Raiatea , and Mauruuru roa (Bye and thanks a lot!)