Volume 91
Girls' Trip Inland – Part Two–Oaxaca

At last, we made it to Oaxaca, the prime objective of the inland trip I made with Jan Loomis in February of 2003. The bus ride through the mountains was gorgeous: high dry hillsides, lots of curves and climbs, hints of houses carving out an existence from a generally unrelenting-looking environment. The ride in made the fact of Oaxaca City even more amazing. The bus followed a hillside above the long broad valley where the city, as cities are wont to do, has sprawled outward. The phenomenon of around a half million people was startling. You just can't expect it.
The Oaxaca bus station was not new and modern like the others on our trip. Crouched around a pay phone with traffic roaring by, we made our calls to hotels and B&Bs, finding, to our dismay, most of our first choices full. But serendipity was once again on our side, and a referral sent to us to the Casa de Maria.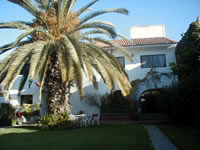 The Casa de Maria (http://oaxacalive.com/temazcal.htm) is a bed & breakfast built around the lovely home of Maria and her husband. Behind the walled street front, we found lush green lawn and gardens, a quiet and breezy room, and a low-profile hospitality that made it very easy to come and go. The Casa de Maria is normally known for its temazcal, a traditional indigenous herbal steambath (with associated massage and soothing teas, etc), which sat in its own small adobe building on one side of the garden. Unfortunately, Maria's husband had recently sustained a head injury from a fall, so we weren't able to indulge.
The Case de Maria was a pretty fair hike from the zocalo (center of town) – about 22 blocks, but the daily walk made us appreciate more than we might have otherwise the surprisingly lush greenery and gardens of this city in so high and dry mountains. No sooner than we dropped off our backpacks that first night, than we walked in to town on the hunt for orientation and supper. What a beautiful time of day! The light, low and warm, seemed to glow from the facades of the buildings, and supper we enjoyed at a sidewalk café around the zocalo. (Insert: scan of Oaxaca Zocalo postcard that I think I sent you in the enveleope) (Note: Food was a major element of our stay in Oaxaca, and most of that has been written up separately in the "From the Galley #18.")
Oaxaca has so much to offer the tourist. In season, the days are pleasantly warm and sunny, with nights just cool enough for a blanket. There are handsome buildings downtown (in particular the striking Iglesia de Santo Domingo with its agave-studded plaza), archeological ruins in the valley, and a bountiful and diverse collection of aretesanías (handicrafts) to be found either conveniently collected in stores in town or to be sought out at their sources in outlying villages. There was so much to do and see, that I knew we would not begin to be able to do it all.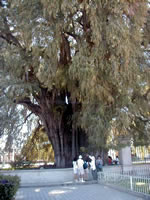 In hopes of a good start, I persuaded Jan our first day to try one of the dozen or more organized tours by Viajes Touristicos Mitla (V.mitla@prodigy.net.mx) that we could book through Casa de Maria.. The tour we chose took us eastward to Tule, Teotitlán del Valle, and Mitla. Tule's claim to fame is a huge ahuehuete tree (in the cypress family), that Lonely Planet says is "said to be the biggest single biomass in the world and to have the biggest girth of any tree in the Americas"! This phenomenon stands protected in the yard of a 17th century church with nothing to suggest how it alone survived to achieve such distinction. We paid our respects in about five minutes.
Our second stop was at Teotitlán del Valle, a village famous for its weaving. At a workshop there, we were presented with a well-done demonstration of the complete process involved in making the serapes (weavings & rugs) –that are just one of Oaxaca Valley's traditional industries. The demonstration began with carding the wool (which is brought in from elsewhere) and spinning it into yarn, moved on to the making of natural dyes from such sources as flowers and insect larvae, and, finally concluded with the weaving.
At a huge loom in the back, we were able to see a weaver at work on a complicated rug, his hands scooting without hesitation perhaps a dozen shuttles through the warps. After the demo, of course, there was lots of time to make purchases from the thousands of showroom offerings that ranged from coasters, to doormats, to runners to huge area rugs. These are the times when it is both a good and bad thing not to have a house somewhere.
The last stop of the day was Mitla, an archaeological site of a pre-Hispanic Zapotec religious center. The Zapotecs lived in this region before the Aztecs, and most of the indigenous peoples here are descended from them. Our guide pointed out that the temple complex where only priests lived was removed from the major Zapotec residential cities (Monte Albán) by more than thirty miles. He did not mention that it likely was one of those platforms for ghastly human sacrifices for which those ancient religions were known (a fact I later picked up in our dependable Lonely Planet.) What was memorable about Mitla were the mosaic decorations of stone on stone that adorned the temple facades.
By the time we got back to the city, breakfast had long since worn off, which motivated us to seek out El Naranjo, a restaurant highly recommended in all our guidebooks. Our excellent meal led to our participation in chef Iliana de la Vega's wonderful cooking class that is documented in "From the Galley #18" and which was a highlight of our trip.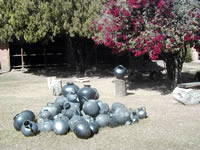 For our second day's touring, Jan wanted to give the organized tour a miss, and venture out on our own to San Bartolo de Coyotepec, a village south of the city, in search of the homeplace of the famous Oaxacan black pottery. Jan had several pieces of the black pottery at home, and was on the search for more. Upon arrival, it seemed at first we'd made a bad call. None of the stalls selling pottery were open yet, attuned as they were to being an afternoon stop on most tours. Plus, when we finally tracked down the Alfarería Doña Rosa, the workshop that invented the technique of giving the pottery an almost metallic shine, a huge bus tour group had just finished up the demonstration and was clogging the sales help.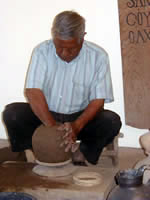 Patience paid off, however, (for us and for our taxi driver waiting outside!) for when the group finally left, the current proprietor, Doña Rosa's son Valente Nieto Real, kindly repeated the demonstration for the two of us. (Doña Rosa herself passed away in 1980, still making black pottery into her eighties! Her son and the rest of the family carry on!) Several things make this pottery special. The clay comes from one special mountain location, a source shared by all the pottery workers in town. It is still turned by hand spinning two concave plates, one upside down supporting the other, instead of by a mechanized potter's wheel. This produces the basic shape. The article must be left to air dry between each of the subsequent stages of molded additions and decorations. Pieces from the Doña Rosa workshop are then polished with a quartz stone before baking. The polishing step and the firing of the pieces at a lower temperature are the two techniques Doña Rosa stumbled upon that produce their signature patina. Unfortunately, it also leaves the pieces porous, so that they can't be used to contain liquid, making their use largely decorative. Because of this, many pieces feature elaborate cut out designs. Despite the fact that all the pieces are handmade, there were thousands to choose from. Jan bought a huge vase I thought she'd never get home, while I restricted myself to a couple of smaller pieces for Tiffany's southern California apartment.
On our way out of San Bartolome de Coyotepec, we stopped in workshop for alebrije., These are imaginative (almost hallucinogenically so!) carved and painted wooden figurines of creatures ranging from kitty cats to dragons! This is a new "industry" for Oaxacans that has grown out of traditional toys made for children. I craved a dragon – way too fragile a fancy for a sailboat, but settled for a saucy cat and a flame colored scorpion (which I confess I bought thinking it was a lobster!)
After lunch, Jan and I split to pursue different interests. She wanted to walk the shops, while I wanted badly to visit Monte Albán, one of the premier archaeological sites of Mexico. I thought I had lined up the tour operator to pick me up for the afternoon tour, but when they were a half hour late, I called again to find there was no tour after all. I guess my profound disappointment came across, because they called back and sent a driver to carry me on my own to the site. There they dropped me off to hire my own guide. I lucked into a wonderful old gentleman named Elmer who had lived these ruins for decades. His Spanish was kindly slow and clear enough that I got pretty much everything he said. As the afternoon sun angled lower and lower, I felt almost that we had the place to ourselves.
Briefly, Monte Albán, which sits on a flattened plateau atop a mountain a few kilometers west of Oaxaca City, is thought to have been first occupied around 500BC by the Zapotecs. From then it appears that the city experienced several different phases of use and growth. What I saw is believed to date mostly from the phase known as "Monte Albán III", from 300-700AD, when the city was at its peak with a population reaching a quarter of a million sprawling down the nearby hillsides. Elmer pointed out a steep hill to the north with another set of ruins that is just beginning to be excavated. It's interesting that the ancients chose to live on the mountaintops keeping the valleys free for agriculture, completely opposite to modern-day Oaxaca.
The ruins of Monte Albán have a parallel row of precisely oriented building framing a level plaza, an I-shaped ball court on one side, a number of tombs (one of which yielded the richest treasure to be found in the Americas which is on display in the Museo de las Culturas in Oaxaca.), plus several pyramids and platforms. Only one building is askew with the precise alignment of the others, a building that is though to have been an observatory because its angle lines it up perfectly with seasonal celestial movement. It has an aperture, Elmer explained, that lets the sun enter on the precise day when the rainy season begins, signally the correct time for planting! There are also carvings in the stone to suggest the earliest written calendar originated here! The other particularly fascinating building displays large (maybe 6') flat stone tablets with carvings of human figures. Originally these were identified as danzantes or dancers, but most recently, according to Elmer, they are thought to represent some kind of medical record, since each image has something wrong with it!
These last two buildings took up most of Elmer's time with me as he detailed the medical theories of the one and the elaborate celestial principals of the other! I am sure anyone who wants more detailed (and probably more accurate than my memory) information on Monte Albán can find it on the Internet. But as for me, I have a weakness for sense of place, and Monte Albán – in the late afternoon, from high atop the southern Platform (with steps so steep my legs were shaking for days!), overlooking the Grand Plaza where shadows are cast by ancient edifices and pyramids – has a marvelous sense of place.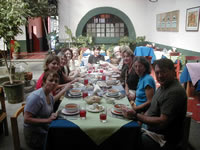 Wednesday was devoted to our cooking class at El Naranjo, detailed in the Galley Update noted above, and the suddenly it was Thursday and time for me to fly home. It was way too soon, but Friday was Valentine's Day and I was missing my sweetie big time. Frankly, I would have just as soon traveled home by bus as by plane. The good thing about air travel in Mexico is that there is no penalty for a one-way ticket. The bad thing about it is it is not cheap. The bus would have taken me to Mazatlán in two connections for about half the price. Of course it was have taken about 24 hours! I must say, though that the takeoff from Oaxaca, which carried us right over Monte Albán, made for a pretty fine finale.
In conclusion, let me say that Oaxaca really is a not-to-be-missed destination for anyone coming to Mexico. I have every intention of returning with Don to Oaxaca (and to Puebla)– probably next winter – before we sail away from Mexico.