Volume 93
Copper Canyon
April 2003
We just got back from a great one-week trip to Copper Canyon. For anyone moved by dramatic landscapes, Copper Canyon, in Mexico's Sierra Madre Occidental (approximately 27*N; 107.5*W), has to be one of those "can't miss" destinations of the world. What people mean when they refer to "Copper Canyon" is actually a network of five major canyons carved by six rivers out of an area four times larger than America's better-known Grand Canyon (Lonely Planet). Or, they are thinking more pointedly about riding the famous Copper Canyon Railroad, (actually the Ferrocarril Chihuahua al Pacífic or ChePe (pronounced ChayPay)), whose 415 miles of scenic track scales about 8000' of mountain with 39 bridges, 86 tunnels, and a turn so tight the train actually crosses over itself.
The Copper Canyon region would be better thought of as the Sierra Tarahumara, after the indigenous peoples who have made their home here for centuries. One of the most "unmixed" of tribes, the Tarahumara maintain an isolated lifestyle, traditionally making their home in caves that riddle the ridge tops and cliff faces, farming maize on small plots of soil, and raising goats and cattle in what nooks and crannies the landscape allows them. Nowadays many Tarahumara have built simple log or adobe homes on ejidos (land cooperatives), where are also found churches and schools, and many individuals are often seen selling crafts to tourists in towns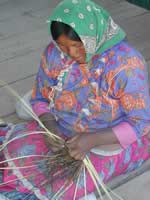 where there appears to be a steady influx of mestizos (non-indigenous Mexicans) and tourist-oriented operations. Although plenty of Tarahumara still live in locations so remote they can only be reached by foot, it's inevitable that these changes are intruding on their cultural lifestyle.
That it was a big canyon and a great train ride was about all we knew about Copper Canyon when we made plans last summer to make the trip with our friends Dennis and Lisa from Lady Galadriel this spring. Fortunately, several cruiser friends, who went last year and this, had prepped reports on their visits that helped us shape a general idea of the things we might want to do. Those, the Internet and a great book available called Mexico's Copper Canyon by Richard D. Fisher (order from Sunracer Publications in Arizona; telephone 520-882-5341) fleshed out our anticipation. However, other than buying our early morning bus ticket the day before, we had no reservations or schedule in place before we left. Our plan was to go with the flow.
The four of us left Mazatlán at 7a.m. April 1, by the TAP first class bus to Los Mochis. This was a six hour-long (three-movie) ride northward along flat coastal lands mostly devoted to agriculture. In Los Mochis, we schlepped our bags about six blocks in order to connect with a second class bus to the town of El Fuerte, two hours inland. We could have overnighted and caught the ChePe Express as it originated in Los Mochis, but El Fuerte was said to be a more charming town, not to mention a later departure time! This proved true.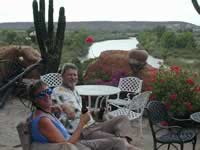 Plunked down on the main street in El Fuerte, we quickly discovered that the worst part of not knowing where you might want to go in a place you know nothing about, is that you don't even know which way to start walking. Plus, it is hard to tell from the prices printed in a guidebook, what a hotel is really going to be like. We wandered around a bit, before, on the recommendations of nice lady in a souvenir shop, ending up walking up a steep hill to the Hotel Rio Vista. I can't imagine we could have done better for twice the price.
The Rio Vista is perched on a cliff (mirador) tucked out of site behind the large fort (actually a replica of the original one) that gave the town its name. The hotel looks out over the surprisingly broad Rio Fuerte, which twists away westward. The bus ride had seemed so level, we were surprised to see mountains between us and the sunset. The rooms were quite attractive. One whole wall of ours was the rock the hotel had been built into, which extended right into the shower. Earlier cruisers had warned us that this hotel was plagued by vicious no-see-ums, but even though we sat through dusk watching the hummingbirds at the feeders, our bug juice worked and none of us were bitten.
The hotel took us to the train station the next morning to catch the eastbound primera express, which is distinguished from the "clase economica" train that follows by having a dining car, making fewer stops and by being slightly more on time. This is Mexico, and being on time is a relative thing. As we waited, the sky grew grayer and grayer and a few drops of rain spotted the pavement. By the time we were halfway up the mountain, a cold drizzle had set in. Lisa and I had worried about whether bad weather might ruin the whole effect of the train ride up the gorges, but in fact we all agreed it was beautiful regardless. Only at Divisadero, the stop where the train route actually approaches the main canyon rim and where passengers are given ten minutes to disembark and ogle the view, were we robbed. Instead of a canyon vista, we had a wall of gray fog!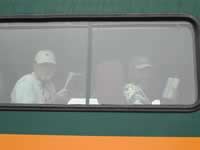 For many tourists, the train ride is the whole of their Copper Canyon trip. These folks ride the train one way either eastbound from Los Mochis to Chihuahua or westbound the other way. Imagine how disappointing the fog-out must have been to them! Many of the other travelers aboard were in large organized tour groups with a guide holding their hands the whole way. There was one such group in our car, and their guide narrated the scenery, bridges and tunnels sliding past the windows. The tour groups get a little closer experience than the train-only people by stopping over at two or three of a string of luxury hotels (www.mexicoscoppercanyon.com ) perched on the canyon rim itself, but its hard to imagine any of them venturing far from their hotel balconies.
For the more adventurous and lower budget travelers, however, the Copper Canyon really comes into its own. There are hostels, lodges and campgrounds all through the Canyon for less than a quarter of the price of the luxury hotels. The major center for these is Creel, a rugged looking village on the continental divide at about 7600', where we got off the train in the rain. Again, we had no plans or reservations, and just at that moment it seemed a bleak prospect. As the crowd dispersed at the station we were vigorously hustled by two boys thrusting forth brochures for the Plaza Mexicana Margaritas. The Margaritas folks (sorry, I lost the card with the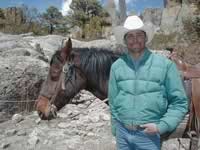 website!) have several locations, including the Casa Margaritas, a well-known backpackers hostel. We had heard and read about these hostelries in all the guidebooks and reports, and, with meals included for reasonable prices, they have certainly been very successful catering to the needs of the low budget traveler. We had also heard that they were masters of the hard sell and very resistant to letting their guests do anything but their tours. However, since "go with the flow was our motto," we went with the kids and got two rooms with king-sized beds and calefacción (HEAT)!
And indeed, when the next day dawned bright, brisk and breezy, (we were each bundled up in 4-5 layers of clothes!), we had a hell of a time convincing the management that we were not going out on "Tour #1". Actually, we did do "Tour #1", but instead of the Margaritas' van tour we went with Norberto (Beto) Padilla of Mexico by Horseback (www.ridemexico.com). Beto is an attractive young man who quite epitomizes the image of a Mexican caballero. He speaks English well and his horses are the same small, sturdy, sensible creatures we've seen throughout Central America, which are the only ones that survive the rough terrain. Believe me, we went several places that taxed my comfort zone that our horses stolidly coped with. The country around Creel is high-mountain pine forest pocked by complicated rock formations. The strange shapes are an attraction in themselves with some like mushrooms and others like frogs and, most impressive of all, the Valle de los Monjes, which is the polite name given to what the Tarahumara call Bisabírachi or "Valley of the Erect Penises." Believe me, the Tarahumara have got it right. As we rode up hill and down, across fields and beneath whispering pines, we saw the Tarahumara about their daily lives plowing fields, tending goats, cutting wood in locations far from the main road. What better way to see this kind of countryside I cannot imagine.
Our only mishap of the day occurred while we were inside the San Ignacio Mission. Although we were only inside for a few minutes, when we came out, no horses and no Beto!?!. A tour guide in a beat up station wagon started selling us his services, waving his hands like birds flying the coop. "Horses? Gone Creel. Horses…gone Creel!" It transpired that Beto had tried to nip into a tiny tienda for a soda, and in that second our ground tied horses got spooked and headed for home. Fortunately, it was early in the ride and "home" was at worst no more than a couple of miles back. We were still chuckling when Beto appeared around the corner leading five shamefaced horses. He had managed to snag the smallest, and thereby catch up with the others. In his arms he juggled an collection of our personal items, like binoculars and lunch makings, that had flown from the saddlebags!
Of course, after six hours in the saddle (and the saddles were not made for our size butts), we were all fairly crippled up! So, the next day, we arranged with Margaritas for an overnight trip to Batopilas, a van tour six hours down into the depths of the canyon of the same name. We could have gone by the public bus, but seven hours in school bus seats was out of the questions for the three tall people in the group. Margaritas has their own, fairly new hotel there called La Hacienda Río Batopilas. This is a very handsome place in a whole different league than their rustic Creel properties, and yet they can't be getting too much business, as it's not easy place to get to! In fact, beside our driver and us, the hotel's chef and hotel manager actually traveled down with us.
It is an awesome trip. The road is paved the first three hours of the journey and it crosses the northern tips of several smaller canyons that are impressive in their own right. But it's the 2000-meter descent into Barranca de Batopilas itself via a rugged dirt road making dozens of switchbacks with precipitous drops only inches away that is will be unforgettable.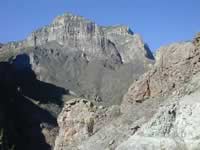 We stopped many times, for photos, for our box lunch, to change tires, and simply for Salvador, our driver, to get a break. Across the gorge ran the footpaths of the Tarahumara, linking small houses and farms perched in the most isolated of places. At one turn might be a Tarahumara couple knocking spines off nopales (edible cactus pads); in another a tethered steer, down the road a couple of donkeys grazing among a four place cemetery; and at the next turn a view of eight switchbacks below. Everywhere were the roadside shrines. Every time we passed one our driver crossed himself. The decent carried us through several climate and vegetative zones from pine forest to desert scrub until, when we stepped out in Batopilas we were back to balmy tropical conditions with bananas and palm trees. After just days up in Creel, where I'm quite sure the low temps were in the 40s, it was sure welcome to shed all our layers.
The former silver mining town was surprisingly lively, strung out along a mile or so of river in the canyon bottom. Our hotel rooms were elegant with brass beds, antiques and in the bathrooms, clawfooted tubs and tiled basins. When we walked into town, people of all ages were markedly friendlier than those of Creel. Quickly we were sorry we weren't staying longer.
Early the next morning Arturo, one of two Batopilas guides, collected us in his pickup truck equipped with two sofas facing each other in the truck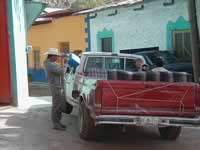 bed! Although he knew we had to squeeze our four-hour tour into less than three, we stopped innumerable times on our way through town to add a gallon of gas, to chat, to give rides, and finally to break down about halfway from town to our destination! Don and Dennis were sure we'd run out of gas (after all, who buys just one gallon at a time!). However, once the carburetor was removed and monkeyed with for ten minutes by Arturo and the three motorists whose way we were blocking we were miraculously on our way again on to the so-called "Lost Cathedral" of Satevo. Here Arturo proved his worth.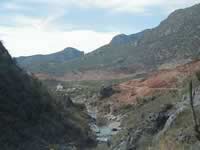 The "Lost Cathedral" is surely one of the most hauntingly beautiful religious structures in Mexico. It is situated in a valley about 8km south of Batopilas that, oddly, has never been known to have any kind of a sizeable settlement, and it predates Batopilas itself by about 200 years. Most of the guidebooks perpetuate the mystery of unknown origins, but according to Arturo, it was Franciscan missionaries that first built an adobe church on this spot in the 1600s in order to spread "las palabras del Dios" among the large indigenous population. Unfortunately, the Indians were afraid of the whites, and eventually the unsuccessful Franciscans left the adobe church to crumble. The Franciscans were followed by the Jesuits, who rebuilt the existing cathedral out of brick, but they fared little better with the Indians and, when the Jesuits were expelled from Nuevo Espana by King Carlos III in the late 1700s (if not before) the church was abandoned again.
Like the Franciscans, the Jesuits had come to spread the word of God, but they also came with their eye out for minerals, which soon led to the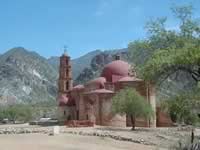 discovery of silver and even some gold. Up the river, Batopilas as a silver mining town came into being around in the late 1800s and particularly prospered under the management of an American named Alexander R. Shepard. Shepard is credited with much of the buildup of Batopilas and the ruins of his huge Hacienda San Miguel combining his residence and mine headquarters on the river's east bank -- is the other major tourist stop in town. The relative prosperity of Batopilas, which had its own church, probably sealed the fate of the forgotten cathedral in Satevo. Gradually it fell into disrepair, becoming a barn for a local campesino. The church was rescued about ten years ago when the governor of Chihuahua discovered its condition while traveling through with his family. Refreshed and repaired, there are now services there once a month, and indeed the trappings of the upcoming Semana Santa week (including a body representing Christ in a glass casket!)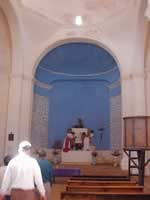 were in place. Whether Arturo's account (or my summary/recollection/translation of it) is accurate, I cannot assert. What I can tell you is that his telling of it, in his full-bodied singer's voice (Arturo sings in a local ranchero group), in the centuries old acoustics of the church itself, brought his tale vividly alive for us despite the language difference.
On our way back from the Lost Cathedral, Arturo took us to see a Tarahumara cave. We were of course, very curious to see one, because it is very hard for us first-world citizens to imagine making one's lifetime home in a cave. But we were also uncomfortable, because such a parade up the hillside seems like the epitome of intrusive touristical voyeurism, especially since the Tarahumara are painfully shy. It was clear that Arturo has his arrangement here, because there was the inevitable little line of pots and baskets for sale, and this should abate the moral discomfort. But it doesn't. To make it worse, it was disappointing, because the cave we were shown, allegedly a sleeping cave, revealed no sign of domestic accommodations.
Since our rooms at the Plaza Mexicana back in Creel were now occupied by a huge group of ATV riders, the manager moved us for our last night to one of three log cabin apartments they also own a couple of blocks away. This ended up suiting us to a "T", as there was a huge fireplace, which, when we came back from dinner had a substantial chunk of tree burning merrily away. This made for a fine, snug evening playing cribbage (which Dennis and Lisa have been teaching us) and sipping Nicaraguan rum.
On Sunday morning we hopped a bus to backtrack down the train route a few stops to Posada Barrancas. Lisa and I, the planners of this whole jaunt, had maneuvered our expenditures to enable squandering one night in one of the high end luxury hotels built right on the canyon rim. However we were thwarted when a phone call from the bus station revealed that both our first choices, The Hotel Mirador and the Hotel Divisadero Barrancas, were full!
We were referred to the Méson Tarahumara (www.online.com.mx/plaza/mansion). Also known as "El Castillo," because it is built to look like a castle, the Méson Tarahumara turned out to be just on the other side of the ridge from the Mirador for about half the price. I'll confess to a little prejudice about architecture that seems out of place like this, but it was more than counterbalanced by the hospitality of owner/manager Maria Barriga Villareal, their personable pack of dogs (who accompanied us everywhere) and, quite frankly, by the well-prepared meals. Our rooms were very nice in individual stone cabins featuring king-sized beds, and Dennis & Lisa had a TV with CNN that allowed us to catch up with the war news. The hotel even has a heated indoor pool and jacuzzi!
The highlight of our stay here was our walks to the hotel's lookout and along the canyon paths. The view from the rim here was as awesome as advertised. This canyon is the Urique Canyon, which is actually the largest and deepest of the canyon group, and, as the canyon closest to the rail line, is the one most people think of as "Copper Canyon" (the actual Barranca del Cobre chares the same river, but officially begins near Divisadero). With the fog and rain of our first day gone, the view was vast. It is different from the Grand Canyon vista because there is more twist in the canyon itself, so the long view is cut short. Also there is more slope to the walls, and therefore more vegetation. Photographs suggest that, in fall, after the rainy season, it can get postively lush! Paths honeycomb the view, accommodating the foot traffic of the Tarahumara whose homesteads can be picked out with binoculars. Our first afternoon, two young women from the hotel dining room Sonja and Nica guided us to a much more believable Tarahumara dwelling than the one we'd seen in Batopilas. This one was built into a ledge on the path below the hotels. The caves here were walled in with adobe and brick (it is much colder here than Batopilas) and a spring had been dammed into a small cistern. Family life was well in evidence with goats, dogs and puppies everywhere, and yet another painfully shy young woman who sold us a doll and couple of baskets from a table maintained for that purpose.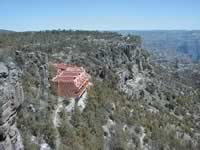 The Hotel Mirador turned out to be right above and we were welcomed to wander through on our return circuit. It is a handsome facility and it sure does have the advertised view! It also had a collection of paintings of the Tarahumara by Chihuahua artist Oscar Soto that gave more insight into the people than we could ever grasp directly. With permission, I did my best to photograph them.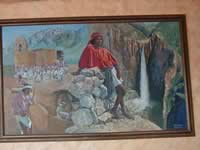 At last it was time to board the ChePe Express home. We boarded the train in mid-afternoon Monday and rode down in the Club Car playing cribbage all the way to Los Mochis. We stayed overnight in the least attractive of our hotels (El Fenix), where perversely we all got a very good nights sleep (despite the rumble and vibration of traffic and a non-stop compressor), and caught the 9am bus back to Mazatlan just one week after our departure.
A few words in closing: We made this trip in April. Probably the ideal time to come is October and November when the summer's rains will have filled the streams and waterfalls and turned the canyon vegetation bright green. Whenever you come, recognize that the trip involves a great deal of time spent just getting from one place to another. Fortunately, like much of our usual cruising, the "getting there" is half the point.
Also, if not on an organized tour, some Spanish is indispensable. Things we might do differently, thanks to hindsight, would be a second day in Batopilas, more time for hiking everywhere, reservations in advance for the luxury night, plus a day or two in Cerocahui, a village on the rim several kilometers from the Bahuichivo station which is the gateway to the Urique Canyon. Of course, you can never do it all. …But you can keep trying!