Volume 95
Altata
May 2003
Less than a week after the 2Cs returned to Mazatlán from our adventures in the Virgin Islands, we were off the dock and sailing north to Altata. In truth the boat probably wasn't quite ready to be underway, but WE sure were.
Altata is one of those special places that is off the beaten path. It appears on the charts as a small village at the north end of a huge lagoon about 100nm north of Mazatlán. There are several such lagoons along the mainland coast between Mazatlán and Topolobampo, but none of them appears in any of the cruising guides we have on board. Indeed, but for one entry in one guidebook for the large commercial port of Topolobamo, the whole 375 miles of coast between Mazatlán and Guaymas/San Carlos might not exist.
The instructions to find Altata are passed on from boat to boat in an ever-expanding set of Xerox pages. The first visitor, a catamaran called Spindrift, came sometime in 2001, and they wrote up a brief article for Latitude 38, a West Coast based sailing magazine. In April 2002, four boats ventured in, one of whom, Perpetua, assembled a detailed list of 18 annotated waypoints to get boats safely in from outside the outermost channel marker right up to the anchorage in front of Altata.
In late May, 2003, southerly winds brought three boats – Lady Galadriel, Camira and Tackless II – to the outer waypoint shortly after daybreak and at just about high slack tide. In theory, ideal timing. It was reassuring to see an actual buoy marker right where it was supposed to be, but it was less reassuring to see the huge breakers crashing on the fringing bars! We knew the waypoint string had been used successfully by the several dozen boats that had been here before us over the past couple of years, but we wondered if we might be the first boats to come in southerly conditions. No matter how you slice it, a string of waypoints through an entrance like this is purely an act of faith. Still, we'd come all the way here…and there were some buoys. We decided to give it a shot.
After one false start, T2 ended up leading the way. Not because we were braver, but, because our cockpit sits higher, we could see the buoy farther in! Once started there was no changing our mind, and we literally surfed in over the bar, wrestling with the helm to keep the boat from turning broadside as she rode several huge rollers. And then it was calm. Whew! We looked around behind us to check on our buddies and there was Lady Galadriel, but Camira's mast was headed the other way. It was the price they paid, they said, for being the last in line and watching the show!
The rest of the waypoints led us along a deep-water channel seventeen miles through the estuary nearly to the north end where Altata sprawls along the inner shoreline. Altata is a fishing village gone tourist. But unlike so much of Mexico that we see, the tourists that Altata caters to are locals from nearby Culiacan, not gringos from the North. A long string of about thirty palapas and restaurants front the beach, so close, in fact, that when the tide rises the chairs and tables are standing in the water, and waiters are said take care of patrons wearing galoshes!. Behind the beachfront is a village two blocks deep with streets of sand, a couple of tiendas and bakeries, a busy schoolyard plus a bunch of homes that are just a hair nicer than one might expect to see. Strung along the beaches to the north and south of town are relatively upscale vacations houses, most of which are empty except for holidays like Semana Santa..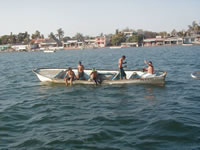 What makes Altata worth the effort of getting to it is the simple fact that it is a happy, welcoming place. Even during the slow days of a late spring week, everybody seemed busy and no one let us pass without a wave and a "buenas dias." The palapas were set up with piles of shellfish to entice the passerby, and several ranchero bands strolled the strip. Our very first day, one band rode around the anchorage in a panga, whether for our benefit or not we weren't sure! Later they appeared to serenade an afternoon party of office workers from Culiacan at La Perla. Free divers with innertubes for their catch dotted the waters around our anchored boats scouring the bottom for clams and cayos (what we know as pen scallops). Whenever they caught us looking, we would get a wave. And every evening a panga load of boys would paddle out and anchor for an hour's swimming practice, doing back flips from the gunnels with tireless energy, practicing their surface dives and doing some distance tests across the gap to Tackless…a gap that got smaller every evening!
Altata actually has its own Port Captain, a gentleman who would be a fine role model for many others in the country. He called us on the radio when we dropped the hook and graciously suggested we come see him the next day after we'd had a chance to rest up from our overnight trip. Although he spoke some English, he was clearly pleased as punch that Lisa and I spoke passable Spanish. When we finally met the next morning, Captain Rodriguez not only made us feel like honored guests, but he made it very clear that more yacht traffic would be welcome here. He pulled out all sorts of charts and printouts basically mirroring the information we had already gotten to get here, but also some brochures for a huge new development going across the lagoon on the barrier peninsula.
The first few yachts that came into Altata took the Capitania's Office so by surprise, that he didn't even know what or how to charge them. Tackless II and Lady Galadriel were the 24th and 25th yacht to visit, so not only were the proper procedures in place, but the usual routine of having to pay our fees at the bank was also instituted. The nearest Banamex, however, was 30 kilometers away in the town of Navolato. Since there don't appear to any taxis in Altata, this would be a problem if it weren't for the nature of the people.
Enter Gustavo. Gustavo is the proprietor of the La Perla Restaurant. Our very first evening, before we had been ashore, Gustavo came out by panga to the boats with his whole family to welcome us as he has for most all the yachts that have visited Altata. Since it was his experience that few cruisers speak Spanish, and since he like the rest of the townspeople speak virtually no English, Gustavo had called his son Caesar, who peaks fluent English from schooling in the States. Caesar, however, lives an hour away in Culiacan, yet he drove all the way out after the workday to interpret! We were duly welcomed and it was arranged that Gustavo would drive us to Navolato the next day. This in itself turned into a mini-adventure with Don and Dennis riding in plastic chairs in the back of the pickup along with Gustavo's seven year-old grandson, Ramon, while Lisa and I exercised our espanol with Gustavo in the cab. Great until we had a blowout! However, the truck came to a graceful stop, the tire was cheerfully changed, the spare pumped up at the nearest air station and the trip resumed. When business was complete, we all stopped for ice cream! This set the tone for our five days in Altata. Needless to say we ate every midday meal at La Perla!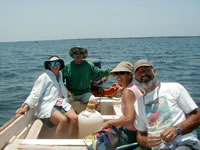 One day Gustavo offered to show us the estuary, so we climbed into his panga, along with a 10 gallon jug of gasoline. We whizzed down the 17 miles to the entrance in less than a quarter of the time we came up it, were slightly reassured that the breakers looked smaller, and in the southern half we turned inland up into the channel of the Rio Culiacan. The river used to be fresh all the way down to the lagoon, but dams upriver have allowed sea water to encroach almost all the way up to Culiacan itself. Every area of the lagoon is rich with shellfish -- probably a half dozen or more different kinds of clams and oysters, and of course shrimp. In season (fall and winter) the pangas hoist a sail and troll the shallow waters with small-scale dredges, something that would be neat to see. Gustavo, I think, is actually a fisherman at heart. He learned all the nooks and crannies of the great the estuary from his father, and only exchanged the boat for the restaurant when a brother died.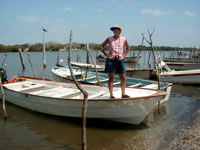 We got quite the object lesson in the cost of fishing for these pangeros as we watched the level of gasoline drop in Gustavo's jug! It really makes us wonder about all the pangas we see way offshore. How do they afford it? We refilled our fuel bottle up the Rio in the truly remote fishing village of Castillo, where Gustavo was born. The town kind of reminded us of the San Blas Islands, without even a glimmer of tourism. "Slips" for dozens of pangas were staked out along the riverbank with sticks. Fuel came not from a Pemex station but was hand cranked out of a barrel at the local fishing cooperative. Pelicans picked at fish guts on the shoreline. People stared at us instead of waving. Although the uninhabited stretches of the estuary looked enticing as remote anchorages, Gustavo discouraged the idea, pointing out that in this part of the bay there was "no authoridad." Hmmm.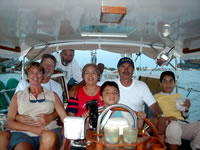 We left Altata before the weekend crunch got going. We are told, on Sundays in particular, it seems like all of Culiacan comes to the beach! I think it would have been fun to see, but for sure the nights wouldn't have been so peaceful. Frankly, I think the 2Cs could have stayed a lot longer. Gustavo's natural hospitality had bloomed into honest friendship by the time we weighed anchor, plus he was an absolutely ideal conversation companion, ready to whip out our dictionary at every sticking place in our amazingly wide-ranging talks. We were pleased to host Gustavo, his wife Lupita and the two grandsons out to the boats for wine, refrescos and hors d'oeuvres, and they kept making special treats for us in the restaurant, where we several times whiled away an afternoon playing cards. We vowed to return in the fall.
Unfortunately, there is a reason Altata is not a regular cruising stop and we were faced with it again upon departure. That damned entrance! We left when we did because the winds were forecast to be northwesterly – absolutely the wrong winds for sailing to Baja, but allegedly a better wind direction for getting over the bar. Well, let's just say conditions were not ideal. As we backtracked our way along the waypoints to the bar, T2 suddenly found herself driving into a breaking roller that seemed to rise up from nowhere and stand a good four feet above the deck before green water swept over the dinghy and into the cockpit. Two more like the first followed, and then, as quick as they came up, we were clear! Fortunately, we had prepared. The companionway was closed, the hatches dogged down, all lose stuff was stowed, and our harnesses on. Although we still had some water leak into the salon, our chief slipup was not stashing our nice cushions below. A thirty-hour beat with wet butts was a discouraging prospect. However, a little fresh water and by afternoon the cushions were dry again for our overnight slog to Baja.
I think we'll still go back. I hope so. It was that special a stop, with people we truly want to see again. However, I can't recommend to anyone going without a full understanding of what they might encounter in the entrance.