Volume 97
Mid-Summer/Mid-Sea - July 2003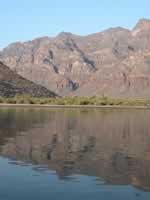 July 2003 will, in my mind, forever be Spectra watermaker month. On the first of July, as we motored south to Juncalito to position ourselves for the upcoming fireworks show, we got the radio call we had been waiting a month for. Some kind soul had picked up the package containing our new watermaker membrane from Downwind Marine in San Diego and brought it to Puerto Escondido.
Our beloved Spectra watermaker has, for four hardworking years, provided us with over 11,000 gallons of great fresh water, extracted by the miracle of reverse osmosis from the seas we sail through. In March Don attended Spectra's Tech School in San Francisco so that he would feel confident that he could keep our system operating anywhere in the world. Ironically, when we "unpickled" the watermaker in May after our long marina stay in Mazatlán, we discovered that the membrane had gone into shock. Despite Don's schooling and despite a flurry of emails back and forth to Spectra, nothing we tried could get our water quality back down to where it should be. This was not a terrible shock, because we had figured we were approaching the reasonable life expectancy of the membrane anyway and had planned to put in a new one in the fall, especially if we continued on schedule to depart for the South Pacific. We had to get one a few months sooner than planned.
You may remember, however, that we were in an emotional rush to get out of Mazatlán and back to Baja, and no way were we hanging around to get one shipped in before we left. This meant we had to cruise juggling water tanks for a month. We continued to make water for general use in one 45-gallon tank, whilst in the other two we conserved quality drinking water. This, of course, is how many people cruise, so it was less a matter of hardship than one of attention, and it was a valuable reality check. We were pleased to find we hadn't lost the ability to conserve when we had to. However, we were pretty happy to get the new membrane installed.
About the same time, another of our cruising cronies from last summer – Jerry of Mirador – hooked back up with our group, and he was having some trouble with his watermaker. Before he knew it, Don was making his first service call. Then, a week or so later, we were called to divert to meet up with another friend from last summer who also had problems to diagnose. These three "jobs" (no charge) took up a lot of Don's time and attention and cut severely into his hunting, reading and napping time. On the other hand, he probably couldn't have arranged a better scenario for cutting his teeth as a roving tech rep.
Meanwhile, our gang – T2, Lady Galadriel, Ryokosha and Mirador – put together a quintessential Gringo picnic to celebrate the home country Independence Day. Can we say cholesterol?! Onion and cheesy bean dips (and sashimi) for starters; cheeseburgers on the grill (with mushrooms), potato salad, Cole slaw, homemade baked beans, and – following a break for the pyrotechnics from the beach – peach pie with ice cream.
The ice cream is a story in itself. Jerry of Mirador started it by mentioning he had an ice cream maker on board, but he didn't have the power to run it! With our generator, we did, but then he couldn't find all the parts and pieces. Emails flew back and forth to his wife (at the time in San Francisco) trying to locate them. By the time the parts were found, it turned out to be too late to chill the bowl down in our freezer. But Jerry and Paul (Ryokosha) were set on ice cream and Lisa had made the pie, so the guys hitched into Loreto and returned with two half gallons – somewhat more than required for "a la mode."!!!! We had the leftovers in our freezer for weeks! But these are the little adventures that highlight a cruiser's life!
After the Fourth, we tried sailing southward to Bahia Candeleros where we had met up with Lady Galadriel last year. On that occasion this anchorage was calm and appealing, with lots of chocolate clams plus some great fishing around the Candeleros islets. This year, the wind came up during the night to a steady 25-30 knots from the west continuing right into the day. Nobody slept well with the boats pitching and the rigging shivering. It seems that in certain weather conditions, when, ironically, there are calm conditions of the Pacific side of Baja, that air get sucked through a notch in the mountains to blow like the bejeezus in Candeleros! We had a great sail out of the bay, but a mere 5-6 miles to the north, there was no wind at all.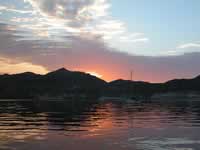 Our next stop was Marquer, an anchorage I have mixed feeling about as it was on a dive from here last summer that I got the bends! However, this year it was calm with clear water, and we made the best of the snorkeling and gathering activities that we could. One afternoon we had the best of many dolphin shows we've enjoyed this summer. A pod splashed and frolicked around us all one afternoon.
From Marquer we broke away from our buddies to Bahia Ballandra where Don's second watermaker "job" awaited him. Ballandra, however, was excruciatingly hot and miserable. The air was hot and the water was hot, so snorkeling was no relief, unless you dove below the thermocline, where, of course, you couldn't stay long enough! For the first time in Mexico I was truly sick from the heat! Despite it, Don got the afflicted watermaker up and running. From Ballandra we escaped back around the north end of Isla Carmen for a reunion dinner in Vee Cove with Lourae and Randy of Pizazz, folks we'd traveled with in Colombia. I do think Vee Cove is one of my favorite places in the Sea, with its Swiss cheese cliffs, steady wind and resident dolphins. Lourae and Randy had been tucked up there for weeks and, in fact, stayed there another two after we left.
We would have liked to linger, but just about this time our summer plans experienced the first of several major changes, and again it was watermaker related. This time, however, the person wanted to BUY a Spectra watermaker, and he wanted Don to do the installation…in San Carlos. Back across the Sea on the mainland side, San Carlos – with its two marinas and two boatyards – is the main place Mexican cruisers leave their boats for the worst of the summer heat and hurricane season. Indeed, our pals Lady Galadriel and Ryokosha were headed there around the end of the month, just the time this guy wanted us there! So, instead of lingering, we hurried north to catch back up with our friends.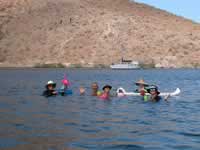 The group's next major stop was our third visit to Bahia Concepcion. Bahia Concepcion is a 21-mile long, nearly land-locked bay running parallel to the Sea just south of Mulege. It is a very popular spot with campers and RV'ers, and the string of coves dimpled into the semicircular shoreline of Coyote Bay are lined with vacation homes and palapas. Its appeal is understandable, as it is a very beautiful area. It is, however, uncomfortably hot in summer. The Amgios spent a lot of time in the water.
Despite the heat, we stayed at anchor in Santispac three days. Lisa had just finished a travelogue on Baja called Miraculous Air by C.M. Mayo (University of Utah Press—ISBN 0-87480-740-9; highly recommended!) in which the author made a day trip in this area to see ancient cave paintings. There are a string of cave painting sites (600!) in Baja's very remote central mountains that feature giant figures in red and black created by a long forgotten people, one of the mysteries of which is how the artists managed to paint so high over their heads. (See "Drawn from Prehistory", Smithsonian, May 2002.) The site near Mulege is the most accessible, and we determined we would try to take the same excursion. Unfortunately, it was a weekend, and the connection with a guide didn't get made until Monday morning, whereupon we decided his price was too high and the plan was regretfully aborted! It probably saved our lives. An inland road trip in that heat would have to have been sheer lunacy. Perhaps we'll catch it on the return trip in the fall, although quite honestly, after reading Mayo's book, I feel like I've BEEN there.
Although our nights in Santispac were sweaty and restless, our daytimes were not wasted. Thanks to the group momentum, we sought out and found two of the sights for which Concepcion is known, both of which we'd missed last year: an arroyo full of petroglyphs and one of a string of hot springs. The petroglyphs, once we located them, are just a little dubious. Located awfully close to the highway behind Playa el Burro, the cluster of carvings into the rocks suggests that not all of them are of ancient origin. Sadly, it's hard to guess which, if any, might be the real thing. On the other hand, if in fact some of it is a variation on modern graffiti, it is impressive that the "artists" have stuck with largely natural motifs: turtles, fish, birds, etc. as opposed to "Juan loves Maria." We were as much intrigued by the bell-like tonality of some of the boulders, on which one could actually play a tune! The hot spring we finally located was in the corner of a beach in the northernmost cove of Playa Concepcion. Someone had dammed up a pool to catch the heat that trickled down the sand from a small spring. Although a hot tub was the last thing we needed just then, we gave it the obligatory sit! Probably very popular in the winter months!
The other highlight of our short stay was a long dinghy ride to snorkel at Islas Guapa and Bargo. At the former we found clear water revealing craggy overhangs and lots of fish around the tiny islet off its southern end. At Isla Bargo, however, we scored big time finding thousands of calico scallops lying about on the bottom in 8-15 feet of water. Unlike the huge rock scallops that cement their bottom shells to rock, the calico scallops are no more than two inches across, look just like the Shell Oil logo, and are free swimming! Should you pick one up, it may try to jet out of you hand. Should you lay several out on a table, say, to open them for their meat, they will chatter away like those mechanical dentures that used to be sold as wind-up toys!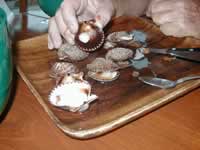 Should you eat some, you will enjoy a seafood of the highest delectability, only surpassed (according to the Joy of Cooking) by Chesapeake bay scallops. We know this, because we enjoyed scallops at Ray's, the wonderful beachside restaurant in Santispac, where last October I was given a truly great birthday party. Okay, the truth is out. You now know the true reason we put up with so many miserable nights sleep…two dinners at Ray's.
But, Monday morning, when the tour guide let us down, you never saw three boats bolt out of an anchorage faster than we did. We cooled down for two nights of socialization with other cruisers at Playa Domingo at the mouth of Concepcion and then motored (no wind) 26 miles north on up to Isla San Marcos, from where we planned to jump off on our crossing to San Carlos. As we anchored, the boats were surrounded by a school (flock?) of jumping mobulas. Mobulas are small manta rays, 3-4 feet across, that fling themselves from the water, flapping their "wings" before belly flopping back in. At times there were a dozen in the air at once! What makes them do this is truly a mystery. We used to tell charter guests that rays jumped to free themselves of parasites, a plausible explanation for one of two leaps, but how do you explain leaps that go on for hours!
At San Marcos we carried on with our now usual routine, as we waited for what we'd hoped would be a good weather window to cross the Sea to San Carlos. It seemed like, just as we wanted to make a passage, we suddenly had a lot more weather to worry about. The crossing to San Carlos would take about 14 hours, requiring either an overnight passage or a pre-dawn departure. Although the trip was a logical candidate for an overnight run, we'd been having a string of afternoon thunderstorms and late-night chubascos. The chubascos are characterized by lightning and maybe rain coupled with sudden strong microbursts of wind. At anchor San Marcos, we were hit with one during the night! If at all possible, it was an experience we wanted to avoid in open sea.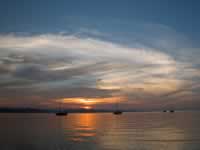 Meanwhile, as July drew to a close, this year's crowd of cruisers were starting to bail out. Suddenly, the radio nets were reporting that San Carlos's marinas had no more room. Yikes. Lisa and Dennis and Paul and Kathi had definite needs to be Stateside, requiring slips to leave their boats safely. While we could have made do without one, we'd sure been looking forward to the luxury of plugging in the air-conditioning. The one thing San Carlos is known for is being the hottest of the hot. Fortunately for us, Lady Galadriel had stayed in Marina Real last year, a track record which enabled her to make reservations for all of us by email. Still we were concerned, so, anxious not to be caught short, we packed up our dive stuff, our noodles, and our cribbage boards and set our departure for 4am the 26th of July.