Volume 99
Northern Sea of Cortez-A Month's "Vacation?"/Hurricane Fire Drill,
August 20-28
Normal people (a euphemism for non-cruisers) would consider a month's sailing a windfall in the vacation category. Yet the two captains, sitting in the air-conditioned salon on Tackless II in the marina in San Carlos, seriously wondered if a mere month would be worth all the effort to turn the condo back into a sailing machine and travel 200 miles or so north and back again. So is revealed the evolution of a cruiser's sense of time&especially one under the influence of air-conditioning.
We are accustomed to our schedule being dictated by no more than respect for seasonal weather fluctuations. The moment we have a set date for anything -- a visitor, a holiday, a wedding, for example -- the pressure is abruptly on. On this occasion, the controlling event was an appointment for knee-replacement surgery for Don's Dad. The moment we learned it was a possibility, we agreed that the two wanderers with the flexible schedule should fly "home" to Indiana to provide whatever help and comfort we could. Outsmarting ourselves, we got the idea it would happen in August, dovetailing conveniently with our trip to San Carlos for the watermaker installation. These things, however, obviously don't unfold according to OUR schedule! So, there we were with approximately a 4-5 week window, trying to decide if it was WORTH the trouble to dash up to our favorite part of the Sea. Really, we'd like to believe it was the air-conditioning that confused our minds.
Fortunately, the alternatives didn't add up. Traveling around the States to visit everybody would be fun but too expensive. Traveling inland around Mexico in September would be too hot. Just staying in the air-conditioning -- we were still clear-headed enough to see -- would be too boring. And, so, the morning of August 20th, we backed out of the slip, fueled up and struck out.
We were pleasantly surprised to find we had near perfect conditions. We had thought that yet again, the wind would be too light and we would have to motor. But exactly the opposite of our crossing TO San Carlos, despite the light wind, T2 picked up her skirts and sailed. We virtually sailed the whole way! We even managed to fly the cruising spinnaker (which is now permanently dubbed the BFS) for several hours. And the night sailing was lovely: gentle, uneventful (no chubascos), with the rising Mars like a spotlight on our stern. (In late August Mars was making its closest passage by Earth in thousands of years!)
We stopped for an overnight in Bahia San Francisquito, then without pause took advantage of the settled conditions and scooted out to one of our favorite spots, Isla Salsipuedes. We were thrilled to have it to ourselves and were ready to settle in for several days, but it was not to be. At 4am the wind piped up abruptly to 20 knots coming straight into the narrow rock slot in which we were anchored. Since it takes a while for the seas to build and since we always anchor for storm conditions, there was no immediate need to bolt. We took time for coffee and breakfast and to listen to the net.
At which time we learned of Hurricane Ignacio's birth. Interestingly, although we have felt this summer to have much more heat and "weather" than last summer, tropical cyclone-wise it has been much milder. Last year there was a steady stream of storms forming south of Acapulco and marching westward in the early months of summer. Not the case this year. So it was a bit of a surprise for everybody when Ignacio suddenly congealed from an area of low pressure just southeast of Cabo San Lucas. The first forecasts had it tracking up the Pacific Coast of Baja. Baja is nowhere that wide despite its mountain barrier, so although the storm was still five hundred or so miles south of us, we agreed immediately to follow the Two Captains' first rule of hurricane preparation: Get thee to the best hurricane hole you can and stake out a spot.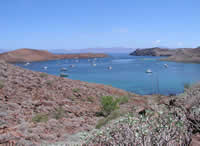 And so we sailed to Puerto Don Juan. Puerto Don Juan, notched into the southern lip of Bahia Los Angeles, is the best hurricane hole in the northern Sea, and one of only five acceptable holes in the entire stretch of Baja. We were the thirteenth boat in the anchorage. By the next morning that number had doubled, and in the end there were over thirty boats seeking refuge in this single bay. Puerto Don Juan is a nearly perfect hurricane hole, with its sole flaw being that it is fairly deep. The average depth throughout the center is 30-40 depending on the tide, and the storm was due to pass over us on the day of the new moon, when tides would be a full ten feet! Obviously, with that many boats, each with its individual ground tackle capacity and theories, we were going to need a lot of coordinated effort to make the jigsaw puzzle of free-swinging boats fit. Equally obviously, there was a wide range of experience among the cruisers. Some had storm experience in the Pacific Northwest, a few boats had experienced Hurricane Juliet two years ago here in the Sea, and all had had Chubasco experience in the preceding months. However, a half-hour of forty or fifty knot gusts is a far cry from twelve hours of 60+. Very few of the cruisers around us had really thought through all the preparations necessary to withstand a full-blown hurricane.
By the next day the storm had grown into Hurricane Ignacio, and its projected track had been shifted from up the outside of Baja to one that would carry it northwest right along Baja's eastern coast. In other words, right over the top of pretty near every cruiser summering in the Sea of Cortez! Suddenly it was a real and imminent (although incredibly slow moving) issue. About now, as you can imagine, the Two Captains were seriously reconsidering our decision to abandon condo status in San Carlos!
One of the cruisers proposed we have a meeting on the beach of all the boat crews and asked if Don and I would speak about our experiences preparing for hurricanes in the Caribbean. Don and I put together a checklist of the considerations that we would follow before and during a hurricane, and that formed the outline for a really good discussion, leading (amazingly) to a fairly general consensus of how to proceed.
The biggest issue was how to anchor. Back home in the Virgin Islands, our preferred strategy was to stake ourselves out in the mangroves with, for example three to four anchors off the bow (or one side of the boat) and as many line as possible from the stern (or other side) tied into the trees. Unfortunately that strategy was not available to us in Don Juan where there is almost nothing green, let alone mangroves! With as many boats around us as we had, Don and I would have chosen to set at least two anchors to limit the swing radius and reduce the effects of a wind reversal. The west coast sailors -- who are more used to winds switching around in all directions unlike the Caribbean where wind comes mostly from the East feel more strongly about the negatives of this approach (the anchor ropes winding up) than the advantages. Since you can't have some boats on two anchors and others on one with the kind of scopes needed and given the depth of Don Juan and the limited resources of some of the boats, the consensus was to all swing on one good anchor and have any others available ready to deploy should the first drag.
Fortunately, we never got to test the strategy. By the morning of August 26, Ignacio had surprised observers by wiggling its way more westerly over land, a position that would rapidly deflate its force. Plus, its new track would deal only glancing blows (relatively speaking) on the cruising communities in La Paz and Puerto Escondido before bearing off westward into the cool Pacific. On T2 the sigh of relief was probably even greater than that of our less experienced colleagues. Despite our role as advocates of early and thorough hurricane prep, aboard T2 we'd hardly made more than a start. That was because Don found himself busy full time between Spectra water maker service calls (nothing like a captive audience) and on-site anchoring counsel for all the boats nearest us!The good news was that we didn't have a big job getting the boat put back together before making our escape.