Volume 83
September 4-18
Making our way to BLA
It was still pitch dark when we woke at five am intending to make an early getaway from Marina Santa Rosalia. With the year waning and our longitude very close to the western edge of the time zone, dawn was much farther off than we imagined. We also hadn't realized that the town turns off the bright waterfront lights sometime after midnight! So instead of pushing things we sat in our ready boat and sipped coffee until the horizon began to lighten. When we finally slipped quietly out from between our sleeping neighbors and stole away north, we were amazed to discover it was nearly seven o'clock!
Our plan was to make for Punta Trinidad, billed as a good summertime anchorage, a bit more than halfway to Bahia San Francisquito. After weeks in civilization the two captains were itching for a one-boat anchorage and a chance to swim. The morning started ideally, with a beautiful sunrise on Cabo Tres Virgenes and our first Mexican dorado on the line (well our first on the line that made it into the boat!) midmorning. We had mahi sashimi for lunch, and life was looking good!
But Punta Trinidad was a disappointment. It was shallower and less protected than anticipated, and when we dropped the sails and rounded in, old Tacky II was rolling heavily. Quite disappointed, we rounded back out, rehoisted the sails and pushed on.
That five am wakeup had been set to give us the time window to make San Francisquito if we chose. But we had chosen to veer inshore for Punta Trinidad. Now it was another 40-some miles to go. That two-hour delay in departure plus he civersion into Punta Trinidad meant the odds were we wouldn't get in to San Francisquito until after dark - never our favorite thing to do especially in a new location. To make things a little more frustrating, the tidal currents did not seem to be agreeing with the Bahia Los Angeles tide tables I had so wisely obtained from the Port Captain's Office. This is the down side of cruising, sometimes you just have to face the plan not working out.
You don't of course, feel particularly good about the plan not working out, and this crankiness colored our afternoon which was beset with fickle currents and tidal rips off the next major headland, Punta San Miguel, which set the boat to bouncing around. Then just when everything seems against you, the tide changes (literally) and you're suddenly zipping right along. We were just 7 miles off Punta San Gabriel when the sun set and sling-shotting around it at 8-9 knots an hour after dark!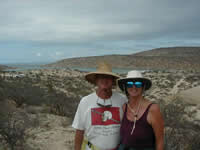 Punta San Gabriel has a reputation for bad tidal rips. Several days later a friend cut in a little too close in what looked like calm conditions and got himself pooped, the sea water filling his cockpit from the stern and gushing through open portholes all over his salon, chart table and electronics! Fortunately, we didn't cut close in the dark (and our portholes and hatches are always closed no matter how benign the conditions), and as opposed to turbulence, we seemed to sliding on ice! With Don on the bow with the portable radio and nightscope and me at the helm with the radar on, we picked our way carefully into Bahia San Francisquito. We'd have been perfectly happy to drop the hook there, but a welcoming dingy-load of fellow cruisers came out in the night to guide us in with flashlights into the more protected inner cove. This inner cove is a nearly rectangular basin, which sticks off the main bay like a sixth finger on a clenched fist! The entrance is narrow and fringed by boulders. We picked our way in behind the lights and plopped the hook down amongst the boats already at anchor, grateful to shut down the engine and put our feet up under the stars. Only the next day did we find out our guides had been partying heavily for hours!!! For snorkeling, hunting and just plain relaxing San Francisquito was perfect. A steady breeze blew across the low head of the bay where there was a small fish camp and some gringo vacation houses, and there was a nice hike overland to a beachside fishing resort on the other side of the isthmus (with its own dirt airstrip.). It is also one of the Sea's recommended holes for hiding from tropical weather, and, wouldn't you know, no sooner were we settled in and kicking back than a tropical depression sprang up that was projected to threaten Baja! No problem, there was plenty of room for the four boats at anchor to swing free in a storm…only we found out another three were heading in! The inner basin is not huge, and much of its head is unsuitably shallow, so we took our new handheld depth sounder out in the dinghy and mapped the whole anchorage so that when the new boats arrived we could space everybody out with the best possible swing room. Fortunately, it turned into a fire drill, because after several days of suspense, the storm veered left and fizzled, never even achieving hurricane status. We got some black clouds, a spattering of raindrops, and enough wind to crank the wind generator, but that's all. Just the way we like them!
Six days after we arrived, the storm threat and its attendant weather well past and the grouper population seriously threatened, we set sail again and headed for the Midriff Islands. The Midriffs are a spray of islands that clog the narrowest part of the Sea of Cortez. Like stepping stones in a stream, these islands make good stopping-over spots for boats working their way up, down or across the northern Gulf.. But also like stepping stones in a stream, they interrupt the tidal flow, which, as one gets farther north in the Sea, becomes more and more pronounced.
Speaking of tides, by consulting with the cruisers clustered in San Francisquito, we soon deduced that the tide tables we'd been given by the Santa Rosalia Port Captain's office for Bahia Los Angeles (the next tide station north) were in fact for Los Angeles, California! No wonder they didn't gibe. Fortunately we were able to copy an excellent shareware computer program called Wxtides32, which gives detailed tide information for everywhere in the world (except Great Britain which charges for their tide information!) This is better and more accurate than the tide info that came with our navigational programs, which gave up trying several hundred miles to the south.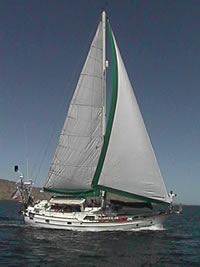 Anyway, so armed and with good weather we made a quick passage up to Isla Salsipuedes, which translates to "Leave if you can" Island. (28*43.29'N; 112*57.09'W) Salsipuedes is a sinuous rock island, well iced with bird guano. It had several small anchorages to chose from depending on the wind direction. We dropped the hook along a sheer rock wall in an anchorage known as South Slot. Our friends, Alan and Katherine of the Good Neighbor were at the head of the narrow cove, having scooted around there from North slot a few days before when winds went northerly. They promptly invited us to dinner, so, when we jumped in for a cool down snorkel we went without the speargun, which tortured Don as the wall was chockablock with big fish! It was also the prettiest uw stretch we've seen in the Sea with beautiful sea fans and gorgonians, cavelets and lots of rock scallops.
Over the next few days we hunted and kayaked and snorkeled all around this very rich underwater landscape. We even broke out the scuba gear and did a dive on an off-lying islet to the north of Salsipuedes. Visibility was an excellent 50-foot, until, of course, the day we went diving, when it plummeted to a murky 15'. We went anyway, and it was beautiful anyway. We even had sea lions around, the first to come close, and on one excursion stumbled on a sea lion raft-up -- probably a dozen sea lions floating on their back in dead calm water with their fins in the air!
From Salsipuedes we motored north 24 miles to Isla Estanque (29*03.32'N; 113*05.41'W), a island hanging off the southeast corner of the largest and northernmost Midriff Island, the fifty-mile long Isla Angel de la Guarda (which after years in New York City I keep calling Angel La Guardia!!) We came all this way to collect 20 pesos ($2) worth of peppers from a boat that had made a market run earlier in the week. Yes, that's five gallons of diesel for four peppers. And they weren't even the kind of peppers I'd wanted! This is the folly one gets into in a part of the world where there is only one town where vegetables are delivered overland only one day a week. To get any choice, in particular such esoteric things as broccoli, you've got to be there when the truck comes!
However, we did get to enjoy one more beautiful spot, one with a pod of whales spouting 200 yards behind us and a view to the southeast that couldn't be beat. We only got to enjoy it for one evening, however, because once again, the weather report threw us a curve with another tropical depression threat that seemed to pop up from nowhere relatively close at hand. Southeasterly winds 25-30 knots were forecast by the afternoon! It was pretty hard to believe, sitting there in the dead calm wide open to the southeast! However, prudent cruisers that we are, we picked up our anchor and made for Puerto Don Juan, a well protected spot near Bahia Los Angeles where we'd have been headed the next day anyway. And, sure enough, the wind was 20 knots on our stern by the time we reached there (giving us a great sail in!), and the boats that had delayed got the sh-t kicked out of them.
Puerto Don Juan (28*56.526'N; 113*27.086'W) is a perfect hurricane hole, better even than San Francisquito because it is bigger and it is protected with an S-curve entrance. Over the next day or so, eight boats hunkered down in Don Juan with winds of 25-30 knots most of the day. Just great for those of us with wind generators! However the viz for the hunters was very stirred up, and clams were a better bet than grouper. Within two days this storm threat also fizzled, and graced with a calm morning that also happened to be vegetable day, the 2Cs made the run to the town of Bahia Los Angeles about and hour away on schedule to pick out our own peppers.