Volume 85
September 24 - October 5
Puerto Refugio, Isla Angel La Guarda
Puerto Refugio (29*33N; 113*33W) is the farthest north of our destinations in the Sea, and as such it feels like we have been aiming for it all summer, if not all year! Even though there are 140 more miles of Gulf to the northwest of here, going right on up to the mouth of the Colorado River, the attractions for cruisers are said to be minimal and those complicated by huge tides, shallow water, and few good anchorages...or, so we're told by the guidebooks!!!
Guidebooks are a funny things. As you inch along into the area, people add comments and recommendations to the margins of the chartlets, and you formulate ideas of how a place is going to be. We were given our first guidebook for Mexico way back in Panama's San Blas Islands. Our friends Sid and Manuela on Paradise, Californians working the opposite direction and the ones that got us all fired up to come here, spent hours going over all their favorite places, and they were only the first of many. For us, Puerto Refugio, somehow became the most exotic - the farthest, the most complicated (larger tides, warnings on submerged rocks, advisories about contrary winds, etc.), and the most intriguing.
On the chart and in reality, Puerto Refugio is a large complex of coves at the north end of Isla Angel La Guarda, the northernmost of the Midriff Islands group of the Sea of Cortez. The name makes it sound like a might be Port, with a town and facilities, but in fact there is virtually no sign of man in sight. Indeed, there is no sign of man (beyond some fish camp conveniences) anywhere on La Guarda!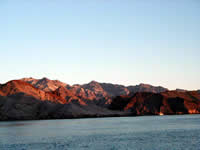 And it does feel pretty far away from things. Of course, the whole Sea is pretty far away from things. But in Refugio, for the first time, we were virtually alone, with no other boats in sight, not even fishing pangas zooming by. We really did not expect this. As recently as our last anchorage at Smith Island, there had been a small crowd. Somehow, no one but we decided to make the last forty-mile run! Even the VHF radio was conspicuously silent. Despite the pleasures of cruiser society, this is what we had imagined. This was the kind of place we had been seeking!!!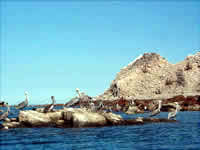 Just as the guidebook suggests, Refugio has a collection of possible coves to anchor in, many craggy rocks poking up out of the water in varying degrees (depending on the tide!), and the surrounding mountains are a whole range of reds, browns, ochres and grays. You cannot imagine how awesome this palette of colors can be, especially against the crisp blue sky. There are two major splashes of white, an islet called (aptly) Fang Rock right in the center of things and an island a mile to the north called Isla Granito inhabited by sea lions whose nighttime pillow talk, when the wind is right, we could hear from dusk to dawn. There are even tiny splotches of green: cactus, elephant trees (mostly bare), some seashore shrub at the back of one beach, and even some bright handfuls of color in out-of-the way niches, high in the rocks.
We spent the best eleven days of the summer here, moving around as the wind required. We dove Fang rock, visited the sea lion colony by dinghy, explored by kayak and hunted for dinner along a different boulder group every day. The only shadow that fell on our time there was the failure of Don's spear gun. Some little part broke for which we didn't have a replacement, and on a boat that we joking refer to as "Redundan-Sea", we found ourselves caught short on something really important. Oh, we had a pole spear, and a completely useless little short single-band gun, but just try sneaking up on wily grouper with either of those! With either one you have to be no more than a foot away, if that. Almost impossible!
And there were grouper. Grouper by the hundreds. Grouper by the thousands!!! Just teasing us! We spent hours stalking them. So, as an alternative, we took to gathering scallops and fishing from the dinghy. We hadn't fished from the dinghy since Agua Verde, and THAT was our first real effort at it. To our amazement, it worked. Almost immediately we caught a grouper. It was, however, the last grouper we caught. From there on in we caught mostly trigger fish. In a half-hour we could catch five or so! Trigger fish are a lot of work to clean and fillet, but fortunately they are pretty tasty. Then on our last evening we caught two barracuda. Mexican barracuda are very different than their Caribbean cousins, much smaller and skinnier, but with that same beady eye and toothy grin. Incredibly, these were the first we'd even seen. And also, the first we'd ever eaten. In the Caribbean, barracuda are notorious carriers of ciguatera toxin. Ciguatera free, these broiled up nicely.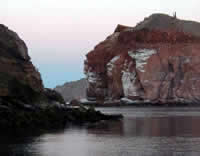 Leaving Puerto Refugio was tough. It was everything we had expected the Sea to be; remote, beautiful, full of fish and lots of sea lions. We only left because the summer, for us, was winding down, and it's a long way back to Mazatlan, where we need to be in a month.