Volume 87
October 8-21
The Return Trip Part One - BLA to Concepcion
And we thought the return trip was going to be a rerun! Hah! Although we certainly did revisit some of the same anchorages we'd seen on the way up, our experiences in each were different. Plus we surprised ourselves with a few new stops.
No trip starts without reprovisioning, and that took us back to Bahia Los Angeles (BLA) in time for the Wednesday veggie day. On our first pass through three weeks earlier, we had hustled over from super-protected Puerto Don Juan for a morning shopping run, and then hustled right back. At that time we had been hunkering down to miss out on some strong winds associated with a tropical storm system on the outside of Baja. I'm sure our sensitivity to wind was heightened by the reputation BLA has for its own idiosyncratic wind phenomenon, known as Elefantes. Elefantes occur when, essentially, too much Pacific air accumulates over northern Baja resulting in a great downrush of wind through the mountain passes. The name comes from the characteristic rolled cloud formation that can accompany it. These westerly gusts can reach 20-50 knots, although they rarely reach farther than 6 miles offshore!!!
Mexico cruisers have a love-hate relationship with the concept of weather. The first picture that gets painted of Mexico is of a totally benign area, and quite honestly, this is largely true, as long as you keep with the seasonal flow. But, once you are here, then you discover all these localized phenomena that nobody really mentioned before– like the Corumuels in the La Paz area and the Elefantes in BLA or new names for familiar stuff like Chubascos for anything from a thunder-squall to a hurricane!!! Sometimes, you wonder if folks just make up these weather monsters to keep the crowds down?
Elefantes do exist, and, as they evidently do keep lots of cruisers from venturing this far north, we felt they should be mentioned, HOWEVER…we never experienced one. On our second trip to BLA we got brave and anchored behind the hook of sand known as Punta Arena about a mile off the town's waterfront. Last time we passed through it was crowded with boats. This time we had it to ourselves, and we were surprised how much we enjoyed the view of the town's string of nighttime lights.
Enjoying a cantina supper ashore, we met a couple who had, just that day, had an encounter with the whale sharks reported to hang out at the south end of the bay in an area known as Limona. Since plankton-eating whale sharks – at 40-60 feet the world's largest fish – are high up on our "Experience To Do List", we couldn't leave the area without at least an overnight in Limona. This area, about five miles south of the town, is a wide beach backed by an extensive sedimentary valley heavily blushed with green! The beach, a long way in by road, supports a lot of vacation homes and RV palapas. The area must really be hopping in the winter, because it sure isn't in the summer. It was a pretty stop, but, regarding whale sharks…despite running the length of the bay in the dinghy, we…sigh…, didn't experience one of them either.
From BLA we motored all the way back down to San Francisquito, the other good hurricane hole of the northern sea, where we had also hunkered down about five weeks earlier from an earlier tropical storm threat. Unlike the first time where we tucked into the protected inner harbor, we dropped the hook off the beautiful white sand beach of the outer harbor. Also, unlike our first time here, we were completely alone…or so we thought until just about sunset when a yipping racket went up on the beach. Imagine our amazement when binoculars revealed a pair of coyotes! We were thrilled! Our first Baja land mammals!!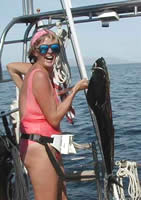 The trip from San Francisquito south took us pretty much the same fifteen hours it took us going north. Before dawn we enjoyed some nice sailing marked by a bright flash we deduce was a meteor! Mid morning Don landed a 41" dorado, only our second one of the summer! Although one dorado is plenty of fish for us for days, about an hour later, I decided to put the hook out again – just in case. My rationale was we were going to be joining some other boats with whom we could share. I was still spooling line out when I got a hook-up, so Don put the belt on me and I had my first experience working in a "big"fish – a 39" mahi. God forbid we ever hook up one of the monsters we've seen photos of! My arms were shaking!
This time through we skipped the joys of Santa Rosalia (the marina was full!) and went straight to Isla San Marcos, arriving in the midst of the most glorious sunset of the summer. Because the winds were northerly, we anchored this time on the south side of Punta Piedra Blanca in a spot known as Sweat Pea Cove (for reasons I can't even guess at.) Waiting dinner for us there were Lady Galadriel, The Good Neighbor and Music. Since we had been underway since 3am, this potluck was tremendously welcoming. Incredibly we stayed up talking with these old friends until 11pm!
The highlights of the three days at San Marcos was the whale that surfaced amongst us one morning, and a snorkel trip to the sea lion rocks off the island's north point. It really was a question of who was sight-seeing whom! The snorkelers passed leisurely right as the sea lions passed leisurely left, each surveying the other with mellow curiosity. These were not the playful pups of Galapagos, but big adults with white whiskered muzzles, reminding me of aged golden retrievers. As we had thought we would see lots of sea lions here in the Sea, this was cool.
From San Marcos the group sailed south to Punta Chivato. Open to the south, we had bypassed this on our northbound trip, but we are sure glad we didn't miss it altogether. Punta Chivato is yet another gringo community centered with a handsome Italian-owned resort (closed while we were there),
an airstrip, a fine shelling beach and a mix of nice houses and RV camps. Among cruisers, Punta Chivato is known for being the home of Mooney Base, the ham handle of the wonderfully welcoming couple Jim and Mary Johnson. Every cruiser passing through is invited ashore, singly or in groups, for happy hour at their gorgeous home, which overlooks the anchorage. This is the stuff of the Two Captains' fantasies. A cool spacious beachfront home, solar and propane powered, an RV in its own garage, and a single engine aircraft in a hanger out back! The satellite TV doesn't hurt either!!! Best of all, there seems to be a pretty stable community. These folks aren't just here weekends. We enjoyed several days snorkeling nearby reefs, walking around the community, shelling on the beach, and we even indulged in some huevos rancheros at Julia's tiny cantina up the road.

| | |
| --- | --- |
| | |
| One Mooney Base neighbor made a family project of assembling this whale skeleton in front of their house. The whale was probably one that used to hang out in the bay. They found him dead on the other side of the point, wound up in an abandoned fishing net. | Another of their neighbors had a good fishing day while we were there. Out trolling for sierra, Craig caught instead this 110 lb giant sea bass on 15lb test line! |

Unfortunately, the wind took to switching to the south during the evenings making the anchorage quite uncomfortable, so reluctantly we pulled the hook and sailed a few hours south to Conception Bay. We were happy to find Santispac fifteen degrees cooler than it had been in Mid-August and, incredibly, less busy with RVs and no jet-skis. Last time we were so hot on board, there was certainly no motivation to explore on land. This time we jumped off shortly after anchor down with Dennis and Lisa of Lady Galadriel and hitched into the town of Mulegé. Mulegé (pronounced Moo-le-hay) is a long strip of a town on the date-palm shaded banks of the Rio Santa Rosalia, one of the few fresh water rivers in Baja. Arriving in mid-afternoon, we of course coincided with siesta, but the taco stands were open and so were the grocery stores. We, as usual, were on the hunt for fresh vegies, but came home with several bags full of some surprising American products we hadn't seen in years! Lima beans for Don, and pickled red cabbage for me!! Oh, how small our joys can be! We have pledged to explore Mulegé more thoroughly next summer.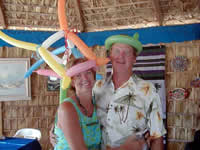 Bahia Concepcion is where we spent Don's Birthday, and by coincidence, here we were back in time for mine. As this was to be one of those birthdays of a big round number, I'll confess I was glad to find ourselves surrounded by most of our favorite friends from the summer. Therefore, I wasn't entirely surprised when a gang of fourteen cruisers showed up at Ray's Palapa restaurant in Santispac or even that Ray's was gaily decorated with the balloon art of Paul & Kathy of Ryokosha. It was actually Oct 19, the
eve of the big day, because Ray's wasn't open on Sunday, but you know we are never averse to extending these types of celebrations. Ray's had been closed when we came through in August, but we had heard nothing but praise for his upscale menu. Indeed he put on a special dinner (thanks to some coordination by Jim and Mary of Mooney Base who drove down for the party!!) of ceviche, salad, a plateful of scrumptious calamari, scallops, and his famous coconut shrimp, plus a big birthday flan. There were also some truly fine margaritas going around, which made things very, very merry, as you will see from the photos. In one of those very neat coincidences, a couple came in from a boat none of us knew (a power boat!) named Mikaleli, thinking to celebrate their Oct 20 wedding anniversary that night! And not only was it their wedding anniversary, it was Miki's birthday as well! All I can say is a good time was clearly had by all.
But it wasn't over yet. Mid-morning the next day the anchorage was treated to a couple of low fly-bys by Jim and Mary in their lovely single-engine, low-wing Mooney. Mary alerted us of their approach by VHF so we were all up on deck to wave mightily. I must say this is the first air salute I've ever gotten!! Sadly, no one's digital camera was up to freeze-framing the plane as it zipped by our masts.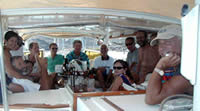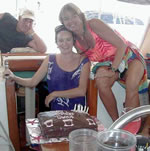 Two hours later, the whole gang reassembled on Tackless for a chicken, potato salad, and baked bean picnic topped off by a most marvelous, huge chocolate Oreo-crème cake created by Katherine of The Good Neighbor. All in all, I have to say, these festivities truly eased the big transition. On the 21st, all parties over, the crowd broke up and continued south.