Volume 88
October 22 - November 26
The Return Trip Part Two - San Juanico to Mazatlan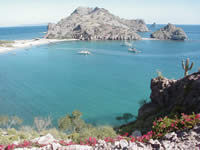 The social life of Concepcion was a harbinger of the next three weeks. Suddenly we were back in a pack of cruisers. Some were folks we had been traveling with on and off through the summer months, while others were cruisers re-embarking from the storage yard in San Carlos where they'd left their boats to escape the summer heat.
It seems there are a bunch of different understandings about what is the "cruising season" in the Sea of Cortez. In the winter months the area can be beset by "northers," strong winds from the northwest that can blow hard (and cold) for days at a time, sometimes pinning a boat down in an anchorage and keeping its occupants hunkered down inside! In the summer, however, there are only very light winds from the south and temperatures can get quite hot, plus there is hurricane season to fret over as well as the potential localized winds – Chubascos, Corumuels and Elefantes – mentioned in the last Logbook Update.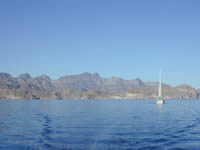 Most West Coast cruisers bound for Mexico come down in the late fall, many of them with the organized Baja HaHa Rally. This gets them to the tip of Baja – Cabo San Lucas – just about the beginning of November. Many of them have plans to "cruise the Sea" a bit before turning south to winter on the mainland, but this year at least, the north winds started early and the newbies have been struggling to get as far North as La Paz. In our book, this does not constitute "cruising the Sea!"
Similarly, cruisers who have passed a winter season on the mainland (southern Pacific Mexico is a serious hurricane risk zone in summer), come north to the Sea about May. Some will summer over in the Sea like we did, but by far the bulk of them will store the boat in La Paz or San Carlos and boogie on out. What we find amazing about this is how many of them were gone this year by mid-June! The water had barely gotten warm enough to swim in!
While some cruisers only store the boat for the worst month or two of heat and hurricane season, others are gone until November and do their "cruising" of the Sea on the return pass southward. Even though San Carlos is on the mainland coast, the easiest and usual route to take (because the mainland coast is plagued by shallows and few anchorages) involves crossing the Sea twice and doing your north-south travel on the Baja side. This strategy obviously limits the experience of the Sea to just a few weeks.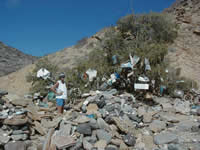 Anyway, as we headed farther south, the number of boats around was being increased by cruisers returning from San Carlos. Tackless II motored south from Concepcion in company with Lady Galadriel, most of the others having gone on ahead. In San Juanico, where we had been alone on our way north, this time we shared the anchorage with ten other boats! There was no tucking behind the Moon Rocks for more than one or two of us, but to our amazement the southeasterly winds we had by day never mounted a swell, while the nighttime westerlies kept the wind generator cranking. Everybody kept busy with kayaking, snorkeling, hunting, hiking, and moving from boat to boat for dinner gatherings. We even had a potluck cocktail party on the yellow sandstone rock formation below the fancy houses, to which we invited five people cruising for a week on a 27' O'Day bareboat!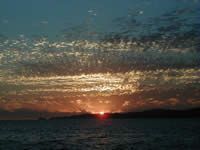 Hurricane season does not officially end until November, and this year Mother Nature took us to the wire with Hurricane Kenna. Late season hurricanes in the Eastern Pacific are the ones most likely to threaten the Sea and are notoriously unpredictable. We woke up in San Juanico one day to a building hurricane Kenna, which seemed to have sprung from nowhere. Nobody wanted to leave San Juanico, one of the nicest anchorages in Baja, but all stood poised to dash 76 miles back to Concepcion or 36 miles south to crowded Puerto Escondido depending on the storms track. Fortunately for us, Kenna never wavered from its predicted course, but unfortunately for the mainland coast south of Mazatlan it was a full-blown category V storm when it blew ashore there. San Blas, which we had enjoyed visiting back in May, was hit hard: roofs blown off, palapas wiped away, huge old trees toppled, mangroves burnt by salt, and even the ruins of the old fort where Don and I posed for photos were knocked down. Miraculously, no one was reported killed. Even Puerto Vallarta, which has smugly claimed that it has never been hit by a hurricane, had fifteen foot waves two or three blocks inland on the Malecon. Reports have it that most beachfront businesses were damaged and many of the statues lining the "boardwalk" have gone missing.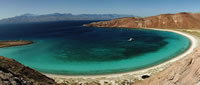 A week later, after the weather window was clear, we sailed south again with Lady Galadriel to anchor for several days on the south side of Isla Coronados. This island was one of our favorites on the way up, and it was a favorite again this time. The highlight was a joint snorkel excursion up the east coast where we found excellent visibility revealing a dramatic rock-scape with many fish and even dolphins! In the whole summer these were the only dolphins we saw while in the water!
From Coronados we revisted the Puerto Ballandra and Candeleros anchorages. This last was stunningly green compared to our first visit, and this time we hiked up to the little Danzante Resort (www.danzante.com) which perches on a hilltop overlooking the bay. We four were hoping to indulge in a restaurant meal, but the resort was full and had no room for outsiders. The view was reward enough, though, and we went home and cooked pretty much the same meal aboard as we would have been served!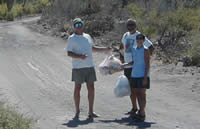 Our next stop was Aguaverde where we found eight boats already at anchor, all of them squeezed tight into the small northern cove. We found out why after sunset when our more exposed spot was set to big-time rock and roll! After a sleepless night we elbowed our way after coffee to the head of the cove practically anchoring on the beach among the pangas. This put us in a fine position when the one of the season's first northers kicked in keeping us all put for several days with winds over 25 knots. There was no beaching the dinghy on the town beach this time, so for provisions, goat cheese and trash we all had to hike several miles through the hills to get to town. Like Candeleros, Aguaverde had undergone a major transformation, with the hills blushed with bright green and even with flowers!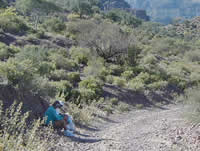 The norther that besieged us in Aguaverde was the first of a series. In the first break we zipped down to Evaristo just in time to get pinned down again! Interestingly, of all the places we stopped northbound, Evaristo was one we hadn't cared for. Yet this time, anchored away from town in Entrance Cove, we liked it much better. It too was greener, and in the cooler temps we enjoyed hiking around (in search of the dump!). The next jump took four of us to the south side of San Jose, where we enjoyed a day's grace before we skedaddled for cover again, this time to Isla San Francisco!
San Francisco's Hook anchorage had protected us from strong southerlies back in June. This time we tucked in a line up under the north cliff face to hide from yet another norther and spent a very pleasant three days hiking by day and doing round robin potluck dinners by night. The anchorage was so cozy we could almost forget the wind, but up on the island's ridge top our hats kept trying to set sail!
For the last several weeks, we had felt like we were stealing time, stretching summer vacation day by day by day, enjoying ourselves more and more and stubbornly not wanting it to end! Our day of reckoning dawned on Sunday, November 17, when we had to break up our happy group. Our airline flights back Stateside were barely a week away, and the weather forecast finally suggested we might have a break for the two-day crossing to Mazatlan. Incredibly it appeared to be perfect timing for both the full moon AND the Leonid meteor showers expected for the wee hours of November 19. At sunrise we hoisted the anchor, with Katherine and Alan on The Good Neighbor behind us, and poked our nose out around the corner to see if the winds had subsided as reported.
Well, that would be a sort of… We motored sloppily our first hour, before the wind filled in from the north at 20 knots! We had, of course, just shaken out the reef not ten minutes before the wind filled, so we had to take it in again. The seas were still quite steep, but with the wind on the beam, the main reefed, the staysail and about a 1/3 genoa we found ourselves flying at a steady 7-8 knots! A CSY at eight knots!!! This maintained for the whole day and was surprisingly comfortable.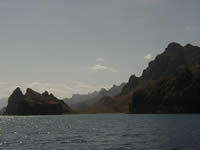 More amazing, we engaged out Aries windwave and let it steer. These are just the conditions it relishes, and although it definitely wanders right and left of course, the course made good every hour was right on the money! And no amp consumption!
The first night the wind eased a bit, but we kept up a respectable six knots. By morning however we were slowing down as the wind fizzled, and even with all sails flying we finally had to break down and fire up Perky. The questions was, how fast to motor, as the latest forecast now threatened a renewed 25 knot + norther by the following morning? Did we go slow in order to still be at sea for the meteor shower or did we hustle to get in before the norther?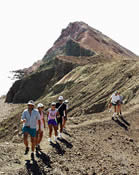 We hustled. But hustling was going to get us in around one a.m. This was a situation we are not used to, that is, arriving early at a destination! The Mazatlan Marina complex has an entrance reputedly dicey even by day, so we decided the better part of valor was not to try it at night with a wind and swell building, even under a full moon. So, instead, we bore off for the old Mazatlan commercial harbor with its relatively easy entrance. This took us out of our way by about six miles, but we popped the hook down about 2 am, presenting us with an impossible dilemma: Do we try to stay awake for another hour and a half and hope to see some meteors through the city lights, or do we go to bed! The latter won out, and so, yet another year, we missed the Leonids. This time, unfortunately, it is for keeps as the next Leonid meteor shower is not expected for at least 50 years!
But the sleep sure was welcome. For four hours worth. After that we were chased out by a stench the source of which we didn't stay long enough to identify. The only other sailboat in the anchorage, Meridian Passage, old friends from Puerto Vallarta (who had kindly talked us in by radio the night before) was on our heels as we hastened back north to Marina Mazatlan.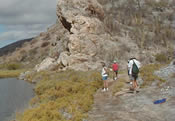 So, six days later, the boat is in the slip, washed of the summer's accumulation of salt and Baja dirt, the deck stripped, the fridge cleaned out and we are packing to make our Nov 26th flight out. Although we are not marina lovers by nature, we have taken a fast liking to this place, yet another kind of funky, capital-compromised operation, and our first impressions of Mazatlan (not counting the old harbor!) are very positive. We are optimistic that our project list can be managed here when we get back January 1, and we are already back to our regime of daily walks. What more can we ask for?
And so, we are Stateside bound, for the holidays. See you next year.