Volume 89
2003 Begins in Mazatlán
Welcome 2003! The Two Captains celebrated the New Year by managing to travel safely and with relatively little fuss back to Tackless II in Mazatlán, Sinaloa, Mexico. I say safely, because these days traveling around the US as we did, taking in nine far-flung states, twelve flights and nine different airports, several of them twice, creates more anxiety than we ever feel on any passage. I say relatively little fuss, because, of course, our return to Mexico took place on the day the new US airport security procedures were put into effect. Given the very odd collection of items in our luggage -- including a speargun, a carbon fiber mast (for our repaired wind anemometer) and various small black boxes of electronics -- we were quite pleased to get back with all intact. (They did search through two bags, according to yellow notifications we found therein!)
2003 is the year we were scheduled to depart for the South Pacific, but if you have checked the "Waypoints" page, you will have seen that once again we are delayed. The delay is thanks to the very worthy event of Don's daughter's wedding, which will take us back to the Virgin Islands for a month this spring, and the very small disappointment at the year's delay is well outweighed by the anticipation of another summer in the Sea of Cortez.
The small "price" we have to pay is a winter of chores. Our last extended work time was Trinidad, and one of the things we didn't do there was pull the chain plates to check them as a sister-ship did. Although we did check the exposed parts, we have fretted about what lurked in the unseen regions that pass through the cap rail ever since. (For non-sailors, chain plates are the metal pieces bolted to the hull to which the rig holding up the mast is attached. Rather important items!) So we decided that this winter would be the chain plate year.
We chose to make Mazatlán our winter base for this project (and others) for a number of reasons: first it is a new place for us; second, and most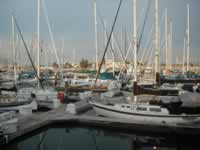 importantly, it has a reputation for good steel work; third, the marinas here are reasonably priced compared to either Puerto Vallarta or La Paz, and fourth,…well…how to say it politely? Although we would always rather be cruising than sitting in a marina, we did not feel a strong pull to head back down the same coast we traveled last year. (Of course, now we are sorry we missed a few spots along the way, most notably Barra de Navidad.)
The story of the chain plates and other projects we'll leave for Don to tell in his Engine Room. But life is not all work and no play, and we have found Mazatlán to be a very comfortable city to hang out it. We weren't sure it would be. Its status as one of the major shrimp centers of the world and as one of Mexico's largest shipping ports gives it a more practical foundation than many of the Pacific Coast cities, but we were afraid it would prove to be a big ugly industrial monster. This has not proved true. At least not the part we usually see.
Like most cities, Mazatlán has many sections. Our perspective of the city starts from our home base,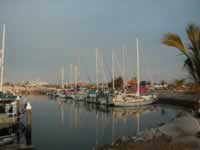 the estuary that has been developed into three marinas Marina El Cid (the fanciest attached to a very elegant hotel), Isla Marina and Marina Mazatlán. These last two were originally one operation, and may someday be again. The huge development project planned around them stalled some while ago, and although there are rumors of new ownership, there have been no substantive changes that we have seen.
The marinas are north of the city proper as well as the Zona Dorada (or tourist Gold Zone) which lies between us and town. Going farther north carries you quickly out into "country," except for a thin strip of intermittently developed beach zone where we walk every monring.
The Gold Zone, however, is just as you might imagine a dense strip of tourist services like hotels, condos, time shares, restaurants, and souvenir shops that lies just a block or two inland from a string of attractive beaches. The nice thing about Mazatlán's Gold Zone is that it is pitched to a slightly less well-heeled tourist than others we have seen, so a cruiser can nip easily down by bus for a cheap bite to eat.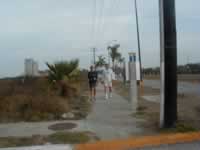 Just inland of the Gold Zone is an area of big supermarkets, lots of movie theaters, a Walmart and a Sam's Club, and even an Office Depot. While I have mixed feeling about what that means for the locals, it sure is a practical convenience for us gringos. I might add that we sailors are not the only gringos in town. Mazatlán has a huge RV cruiser contingent as well as many folks who spend months at a time in condos and timeshares, plus a good-sized community of norteamericanos who have retired here full-time. In fact, I think here in Mazatlán these regulars have a much bigger share than transient vacationers. Obviously, I have no statistics for this; it's just a feel for the kinds of folk we see on the buses and sidewalks.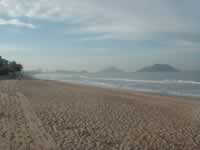 The Old Town of Mazatlán fills a peninsula defined by the ocean on one side and the huge estuary of the main harbor on the other. At the peninsula's tip is Faro Lighthouse (the second highest lighthouse in the world after Gibraltar!) and the stinky anchorage we fled from our first morning! Behind this tip are two hills of tightly packed houses, and an equally crowded, non-modernized downtown. I say non-modernized because it hasn't yet been razed for skyscrapers ("rascacielos", in Spanish!), but I'm pretty sure you could find about anything you wanted…if you didn't get lost. Because the street grid twists a bit and because the bus routes snake back and forth, my usually reliable internal GPS has found it very hard to get oriented!
Although Mazatlán is no gem of colonial architecture, it does have a number of lovely plazas. Plazuela Machado is one of the most attractive, graced as it is by the surprising Angela Peraulta Theater at its east end. Built in 1860 and renovated in the last decade, the theater presents a regular schedule of cultural events, which, since we've been here has included traditional ballet, ballet folklorico, and mostly recently a tango performance. A tree-lined rectangle, the plaza is ringed by charming sidewalk restaurants (several off on side streets) where the prices have remained affordable. The several we've visited include the very good vegetarian restaurant Ambrosia, Banditos for standard Mexican, and Thorny's, said to be the best American-style hamburger in town. Obviously, this combination makes Plaza Machado a great destination for an evening out.
A few blocks to the north of Plazuela Machado is the main town plaza fronting the cathedral and, a little farther, the teeming central mercado. We have not been inside either the cathedral or the market! As is often the way, when you make a place your "home" base, you don't approach it the same way you would a city you visit as a tourist. This fact was brought home to me recently when I took off for an inland trip with Jan Loomis of sv Meridian Passage. She and I traveled (way too quickly it turned out!) to the cities of Morelia, Puebla and Oaxaca (separate Updates to come), and we sure looked into all the cathedrals and markets! During the eight days of our trip, Jan and I could barely make a move without our Lonely Planet or Foddor guidebooks, and yet neither of us had previously given a glimpse to the recommendations these had for Mazatlán! Come to think of it, this is pretty much true for all the places we visit as cruisers!
Because there is a fairly stable population of liveaboards in the marinas, there is an equally well-established cadre of people to wash, wax, and varnish your boat, sew canvas, and cut hair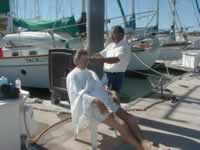 or do manicures. There's Dan and Sally's Expresso truck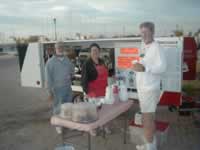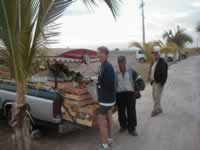 every morning, a heavily laden fresh vegie truck 3x a week, a shrimp seller 3x a week, daily bottled water vendors, a beer truck, and just lately a young woman selling the flakiest empanadas I've seen since Guadaloupe (where, of course they were called tartes!) Then there are the recreational activities: happy hours, Spanish classes, domino meets, and bands at the palapa. Singularly absent are exercise classes and yoga, but a steady parade of cruisers walk out daily, crossing paths with the RV'ers and condo dwellers going the opposite direction! This isn't even recounting the evenings at Angela Peraulta or such fun days off as the Annual Sand Castle competition. The 2Cs partake of as much of it all as we can!!!
More than we saw in the Caribbean, West Coast cruisers, wherever they congregate, do get involved in charitable endeavors. In Marina Mazatlán, the charity of choice has been the Bomberos, or firemen to you. The Mazatlán Bomberos are entirely voluntary. Their funding is meagre, and their equipment hand-me-down. Since we've been back, the cruisers have organized a chili cookoff,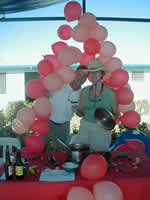 an auction, and a pre-Carnival Dance with the objective of raising $4000 for a Jaws of Life, the device that the paramedics use to extract people from automobile wrecks. Tackless II participated in all the events, cooking, donating, bidding and dancing. (As of this week, the goal was made, although the local newspapers gave credit to "French and German visitors at the El Cid marina" so much for journalistic accuracy!)
Recently, Don and I went on a house tour put on annually by the Pro Mexico charity, (which raises money for education). It was a much bigger event than we had imagined with several huge busloads of gawkers. We lucked into a jumpstart by filling the last two seats on a bus ready to leave early and met a couple our age Nadine and Bruce, from Alberta, Canada who'd met in Mazatlán ten years ago. They had been doing the tour every year and weren't going to let the small fact that they were getting married on the beach that afternoon break a long-standing tradition!
As we hoped it might, the tour gave us an inside peek at a part of the city we would not otherwise see. We visited two tiny old-style homes in the compact Olas Altas neighborhood (very near Plaza Machado). Olas Altas was the original tourist stretch in Mazatlan and has a lovely beach with, as the name suggests, a good break. Both small houses were filled with antiques, and struck us way too formal to live in. The third much home on the tour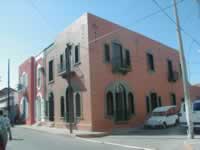 was in the same neighborhood and had recently and grandly been renovated by an American couple in a way that made it almost like two houses in one, with a formal antique-strewn downstairs and a much more comfort-oriented upstairs with several hideaway terraces in the back. As handsome as it was, however, there was no escaping the street noise.
The fourth "house" on the tour was actually an apartment occupying the third floor of a well-known craft emporiumDesigner's Bazaar -- in the Gold Zone. As you might guess, the apartment itself was almost a museum of Mexican art and craft, some of which gets quite bizarre!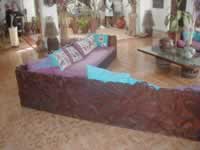 Then in an abrupt contrast, the last two houses were in the very modern El Cid Country Club development. The most amazing thing about this development to me was the simple fact of its existence. Somehow we had never guessed this huge "neighborhood" to be there tucked away as it was behind the Gold Zone. The first house we saw made me think of Feadship mega-yachts, where everything is cream-colored, state of the art, and precisely fitted. It had an expansive pool, a view of the golf course and not a lick of shade or privacy! The last house just barely completed was similarly luxurious, but it had a neat interior cactus garden and a perfect little infinity pool/jacuzzi combination overlooking a canal where a boat slip is planned….features to catch the imaginations of a couple of captains.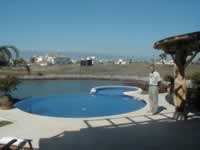 More than any place we have been, Mazatlán has stirred the thoughts of real estate investment. We have often been known to quip that we are out looking for a place we might come back to. Close to the States, close to the great cruising ground of the Sea of Cortez, with a choice of marinas, a very California-like climate (except in the summer when it is hot and muggy!), and a less-inflated sense of itself than such places as Puerto Vallarta, Mazatlán has tweaked our interest.
Early on in our time here we made friends with Dan and Sally, a quasi-retired couple from Portland. I say quasi-retired, because Dan & Sally own the "Expresso Truck" business that rolls into the marina at six AM to supply cruisers, cab drivers and sport-fishing-bound tourists with that ever-important cuppa fancy Joe needed to get the day going (along with all the yummy gooey things one might want to have with it!) Anybody who starts the day at 4am every day is NOT retired! The 2Cs became regulars early on when it seemed an easy way to get started on our daily morning walk program. Dan and Sally humored our seedling real-estate curiosity by arranging for us to see some houses being developed by a friend of theirs on a beach so far north of town that the road isn't paved! This, of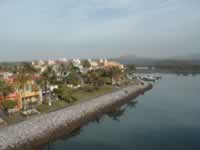 course, is what investment is: getting in early. And we have no doubt that Emerald Bay will someday be the hot spot; there are already isolated high-end developments out there. It's just weird to travel out into the hinterlands and find what building is going on is of townhouses packed cheek-by-jowl. Shared walls is, of course, the Latin way; but we're not sure it's ours.
Probably what was most revealing about the excursion was the discovery that Don and I who have independently owned the same car and the same boat have somewhat different tastes in desirable residential property. Don was taken by a very modern house we happened into right on the beach, which frankly made me dizzy, whereas I've been itching to get a look inside some prim condos with a quiet marsh view. There we were, for days, debating the advantages of this place or that, this investment or that, this style or that…as if it were a remote possibility!!!!!!!. There is just no way we can think of such an investment without STOPPING, and unless the world changes very radically, we are a long way from being ready for THAT!
So we've sworn off window shopping and turned our attention back to Tackless and her projects which, in the meantime, have been proceeding slowly. Mexican time, you know!