10 October 2000 Monjes del Sur, Venezuela 12d21.670N; 70d54.157
If you are plotting our travels, you are going to need a very strong magnifying glass to find our current location. Half the cruisers can't remember the name and just call it "The Rock." Let me tell you, we really feel like adventurers now.
But I get ahead of myself. We also feel like we and TII are really getting the hang of this downwind sailing stuff! We left Curacao before dawn in light conditions, but two hours and one pod of dolphins later, the engine was off and we were breezing westward to Aruba. I don't think the landlubbers among you can fully appreciate the delight Don and I get from sailing 45 miles with no engine time!
Aruba has a huge refinery on their eastern tip (Curacao had a huge bank of giant wind turbines on their eastern point which I forgot to mention!) and a very industrial looking coastline with upscale residential areas upwind of them! Unfortunately, we arrived on a Sunday, and our good mood was a little squashed by having to bring the boats (we are traveling in tandem with our friends Mac & Sam of Sandy Lee) to a cruise ship dock to do the formalities. The officers, as they trickled in, were quite charming and friendly, and impressed with the boat, but we were completely stumped by their insistence that we would have to return to check out before our planned 0500 departure. Quite frankly we didn't, and as we all have paperwork from Curacao to Cartagena, there will be no issue. The only reason we stopped to check in was that Sandy Lee needed to disembark Mac's visiting brother. We expected a huge immigration snafu with that, but it turned out to be such a nothing that the immigration officer actually gave Kenny a ride to the airport hotel!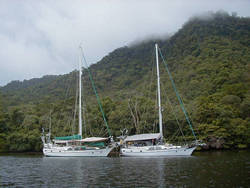 We quickly learned why Aruba is not a big cruising destination...it hasn't got much in the way of anchorages for pleasure boats. We crept into the very shallow water of the "designated anchorage" barely off the main channel and just off the international airport runway. (When the first plane landed after sunset I was quick to turn on the Masthead anchor light!) The wind was howling, and on top of it all it was a Sunday afternoon, and the sea surface was full of jet skiis and power boats, while, of course a band played on show! Relaxing!
We and Sandy Lee were underway again before sunrise. The dolphins were fewer but the wind came up quicker. We set our whisker pole this time, and were off like a rocket making 7-8 knots SOG (speed over ground, according to the GPS.) Yes, yes, alot of that is current, but I gotta tell you the boat was flying. The Aries even worked for a while. (We've finally got the lines hooked up right, but it still goes off after a few hours, a problem we haven't figured out yet, but we are making progress.) AND, we caught fish. Two mahi!
OK. Back to "The Rock". It's amazing. It is a butterfly-shaped, colourless pair of piles of rock. There are several other stark little Monjes rocks nearby, but this one has the lighthouse and radar on top, and about 15 Venezuelan Guarda Costas. The industry of man has reinforced the land bridge between the two piles behind which "dam" is the "anchorage," which consists of a rock-lined basin about 150' wide across which stretches a 3/4" rope, to which were already tied three sailboats when we arrived! Those boats were supposed to have left the night before, so there was a little consternation about where we would go, as there is no place to put an anchor down but between the Guarda Costa and the resourceful, communal-minded cruisers, everyone had shifted around, added reinforcing lines, and generally made room for two more! This acommodation put Tackless II on the end near the rocks and directly under the 24-hour generator! Given this precarious arrangement... not to mention the 20 knot winds, we slept surprisingly well!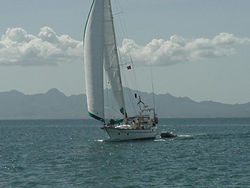 The Lieutenant here, Antonio, met us with in shorts and a T-shirt to welcome us to his island and to check us in to Venezuelan territory. The help and gracious friendliness encountered here has been a highlight. We'd been clued that he was interested in some digital photos of the "crowd" in the harbor (six boats in the harbor was a record; I imagine much of the year just one is an event) to send to the commandant in hopes improving facilities. So, after formalities I took the requested shots, after which we moved on to photograph each room of the new residence facilites being finished up on the hillside. We understand that when Hurricane Lenny passed last year, waves were crashing through the old office which was perched only about thirty feet above the water! After the photo session, we climbed up to the lighthouse for a spectacular view...which included not a speck of green. It rains here about four times a year!
The other four cruising boats made their departure for the Colombian coast last night, three at dusk, and the last at about four am. When we woke up, we were alone on the rope! (Sandy Lee had been put on the dock). We warped ourselves away from the rocks into the center of the basin before breakfast. It seems no one is expected in today, and we plan to leave tonight in the wake of the others. There is a large group several days behind us, however, so it won't stay empty here long.