11 October 2000 Monjes del Sur, Venezuela 12*21.670N; 70*54.157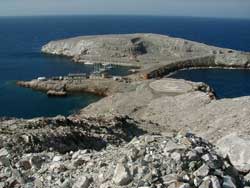 We did not leave "The Rock" as scheduled last night. As the evening approached, the winds did not ease. They increased. 25 gusting to 28 knots. Nor did the evening weather faxes paint a pretty picture. Plus it iced the cake when several Venezuelan fishing boats sought shelter. So much like the four boats before us, we extended a day. The good news is that wind generator kept the batteries Full ALL NIGHT...A record! The even better news is the forecast looks much better for tonight! Plus, it gives the boys a chance to go spearfishing this morning. We hear there are some big grouper, maybe lobsters! After lunch we have two more cruisers coming in! Adding boats to "the line" is good for a couple of hours of excitement!
This seems a good time to catch up on a couple of IMPORTANT matters.
1) My very brief article about Trinidad appears in the Shoreline column of September's Cruising World.
2) The Ham Radio Winlink system has an Internet service for checking on our position. You can distract yourselves from work by going to http://winlink.findu.com/wp2ail and you should get our last reported position! You may get our last five reported positions. We don't know; we've never seen it. For those of you with kids, (or with inquiring minds of your own) this could be a fun exercise in geography that can go on a couple of years. Get a big world chart and plot us along!
3) Tiffany has a new computer and is back on line. Welcome to the update group, Tiff! Her new address is TLWstarwater@aol.com.
That's all for now!