23 December 2001
Bahia Santa Elena, Costa Rica
10*55.3N; 085*47.05W

Northern Costa Rica & the Gulf of Papagayo
The variety in the landscape of a country as small as Costa Rica never ceases to amaze me. When we left Bahia Potrero, we rounded a point which brought us into the Gulf of Papagayo. It was a beautiful clear day and the Gulf opened out wide with no less than four volcanoes thrusting up into the few clouds!
The Gulf gives its name to the local dry season wind condition, the Papagayos. Papagayos are very strong gusting winds that can spring up with little warning, racing and swirling through gaps in the mountain ranges. The closest you can get to forecasting them is to watch the weather maps for high pressure systems in the Gulf of Mexico with corresponding lows on the Pacific side. Essentially that indicates you've got a lot of "air" in the Western Caribbean that wants to push though somewhere! Give something a name like "The Papagayos" and its reputation assumes ogre-like proportions. Especially when you have been in a light wind area for 12 months! We'd heard tales of 40-60 knot gusts, blown out sails and even of knockdowns. We'd been…anticipating….the Papagayos for some time. But when we rounded into the Gulf there was no sign of the Papagayos, or any wind for that matter. Our destination was Bahia Culebra, a deeply inset bay area highly recommended by California friends…both old and new as there were four southbound boats in place already. Some down time was much in order as I had been fighting a flu on and off for almost a week, so we lingered there off a long caramel beach for several days until I had a full 24 hours feeling normal. While there we fit in a nice beach potluck with the new group of boats, some noodling in delightfully refreshing water, and good sleeping with steady conditions.
On Thursday we suddenly realized that the pre-Christmas weekend was looming and that we had better get our paperwork taken care of for departing Costa Rica. It was hard to leave the tranquility of our anchorage, but we also feared that the calm weather could not go on indefinitely, and Cabo Santa Elena loomed ahead to be rounded. So, we puttered over to El Coco, the northernmost Port of Entry and the town at which we had originally thought of meeting Tiffany and Derek.
We're sure glad they visited where they did. El Coco turns out to be a fishing town that is adding a tourist infrastructure on top. There is said to be great diving nearby (we did none thanks to my flu), and newer upscale facilities catering to tourists are proliferating in nearby bays. Although we were much taken with the area in general, El Coco itself did not impress us much. To be fair, reports of thievery there may have predisposed our opinions. There's little a cruiser fears worse than theft. The long beach was a mix of brown sand and dirt, off of which were anchored a dense agglomeration of small boats, and the cruisers kind of had to fit themselves in along the fringe. Beaching the dinghy left our legs coated with brown stuff and it was the first time we have chained the dinghy up since Curaçao! Our impression of the town, however, was much improved by a great lunch of real Mexican style tacos at the Tequila Bar (nice shot of enthusiasm for our departure north) and a very smooth and friendly checkout process, despite the required schlepping around it called for. The restocking of vegetables, however, was a disappointment, one I fear we're going to have to get used to!
So it came that Friday morning, at first light, we weighed anchor and left El Coco in light air with Sandi Lee behind us. Now we had been expecting Papagayos for several days and they just kept not materializing. Indeed, even the Port Captain observed how this was proving to be a very light year. Perhaps so, but we really wanted to get the next leg behind us before Mother Nature changed her mind. In the Virgins, we have the Christmas Winds, a similar sort of phenomenon, and when they kick in, they stay for the winter! So, "no shit, there we were," about halfway across the Gulf, when the wind starts to pick up slowly and steadily. To windward, the surface grew thicker and thicker with whitecaps and as TII heeled more and more to port, we started taking on more and more wave splashes. Actually, it was fairly exhilarating. Being prudent sailors, the Two Captains had the boat snugged up tight, cushions below, hatches dogged down, sails well reefed. We even had our harnesses on in the "Admiral-able" belief that when precautions are taken, they aren't needed. Once again that philosophy worked for us. The landscape was awesome. Deeply folded dry mountains like something from another planet girdled the north rim of the Gulf and the lumpy umber islands knows as Isla Murcielagos, or the Bat Islands, rose up ahead.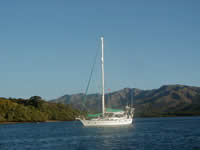 Our course brought us around a barely visible rock and into the channel between the Bat Islands and the peninsula of Cabo Santa Elena. The wind promptly dropped and the sea surface went flat, except that every so often it was fluffed and rippled by a sharp down gusts from the steep hills. The Bat Islands were really something.
About two miles behind us, Sandi Lee finally rounded into the protected water. It seems that Mac hadn't had his sail sufficiently reefed and in bringing it down, blew out a reef point. They wanted to stop and take a break, so we rounded into the anchorage and dropped the hook. The Papagayos are supposed to blow over the top of you here, but we still got some doozy gusts coming from at least two angles that would abruptly slam the boats around in circles. It was a pretty spot, though. Around us small rays, about a foot across, leapt repeatedly six or seven times, sometimes in groups, all day long! Occasionally turtles poked their heads up. Bird life, however, was surprisingly light. Or not surprisingly given the gusty conditions. Our short stop lengthened into the day. In the afternoon, I went for a swim where the sketch chart advertised "excellent snorkeling." I did not find "excellent snorkeling", but I did see plenty of fish in about 15 foot viz. OK, I'll confess, it's a little creepy. The Pacific cosystem is so different, that its a tad unsettling when unfamiliar things pop out at you from the murk. The people who write these West Coast guides and talk about good viz need to visit the Virgins! The Murciealagos are supposed to be great diving (in settled conditions!), and there is a research station on one of the islands a couple of miles across the channel, but there was not much likelihood of our launching a dinghy!
Wind of the Papagayo sort is stressful at anytime, but these gusts took on new proportions after the blazing sunset. Although we suspect there was not a bit of difference between the windspeeds we experienced during the day and the night, the sound of it in the rigging, the wail of the wind generator, the sudden jerk of the boat to the right or left, interfered with anyone getting much restful sleep. We'd gone "to bed" with the plan of waking again before first light in hopes of an early morning lull. No such luck. We turned off the alarm and rolled over for another few hours of horizontality.
There are many old adages about sailing that basically make the point about sailing not being the non-stop picnic landlubbers imagine it to be. One adage is that sailing is many hours of boredom interspersed with moments of sheer terror. Another is that cruising is the art of doing maintenance in exotic places. And of course, there's the one about the boat being a hole in the water you pour money into. If these gloomy perspectives were all there were to it, none of us would be out here. One of the wonderful mysteries of this pursuit is that the "stressful" moments, the moments when you start thinking seriously about the chicken ranch in Nebraska, evaporate in your memory the moment things turn around forthe better. When they don't, its time to stop.
With coffee we checked in with Sandi Lee. Apparently our night in the Bat Islands brought them to their threshold. We were surprised and yet not surprised when they told us that they had decided to turn back. They had the sail repair to deal with, and the night had driven home the fact that they were tired of dealing with the anxiety. They had, apparently being thinking for some time about having a professional captain "deliver" the boat to Mexico, where their plan for the next few years is to alternate gentle cruising with exploring the US by motorhome. That night they decided to do it. So, Saturday mid-morning when the gusts paused, the 2 Cs headed north around the Cape on our own while Sandi Lee turned back to El Coco. Although it is sad to part from a long-time traveling partner, we expect to see them down the road.
You had to know, of course, that our trip around the cape and on to our destination was totally uneventful. We had good, gust-free wind, small seas, breathtaking geological formations and gorgeous vistas. The anchorage here at Bahia Santa Elena in the Santa Rosa National Park is one of the most beautiful locales we have ever laid eyes on. Spotted dolphin and fish leap in the bay, green macaws and other exotica chatter and flutter in the treetops, spectacular hills of savanna and dry forest (said to be home for all of Costa Ricas species of wild cats) reflect unusual colors, and there is no sign of human habitation anywhere in sight.) The water is flat calm and most of the Papagayo gusts travel over us.
Our next leg will take us northwest along the coast of Nicaragua, putting the winds on our starboard beam. As we came into Bahia Santa Elena yesterday we watched a yawl reaching southward with all her sails full, which has got us all psyched for a great sail. Meanwhile, we think we'll sit here for Christmas. It's hard to imagine a more peaceful spot. Our tree is up, the meals are planned and as the stars cycle crisply overhead we will think of all our friends and loved ones wherever they may be and wish them a warm and happy Christmas.