Latitude: 8*25.49N
Longitude: 78*51.14W
April 3, 2001
Isla Espiritu Santos, Las Perlas Islands, Panama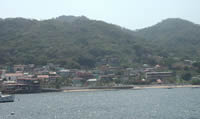 We have spent the past few weeks since exiting the Canal into the Pacific exploring the islands of the Bahia de Panama, which encompasses the huge expanse of water within the great arch of eastern Panama from Colombia to Punta Mala. Although we had intended to bring Tiffany with us straight to the highly-touted Las Perlas Islands, time and air-connection constraints forced us to stay closer in for her last few days. I don't think she minded missing the 40-mile trip. Instead we checked out Isla Taboga (8*47.8N; 079*33.1W) a popular weekend destination for Panamanians a mere 8 miles south of the Canal.

The French had a sanatorium here during their canal building effort in the late 1800s, and one of its patients was the impressionist painter Paul Gaugin, who actually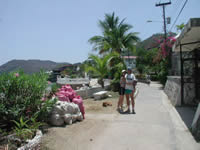 labored as a digger on the notorious Culebra cut, before he continued on to his famous wanderings in the South Pacific. The island is known as the "Island of Flowers," but our first impression was quite different. I guess it comes from years in the Caribbean where the mind just anticipates that a tropical island will be green. Not necessarily so. What we've got here are hillsides of deciduous trees that think it's winter! Great expanses of gray, naked branches! It could easily be a warm March day in New England! And speaking of warm, the water is NOT! Our determined dip was quick and exhilarating, mostly to say we did it! Nor is it blue. The waters around Taboga were determinedly olive drab. Fortunately, we did find the charm of the island ashore where the narrow streets in the steep village of vacation homes and posadas were indeed lined with flowers. Tiffany befriended the dogs, I befriended the school children, and Don befriended the barkeeps. Which was a good thing, because we ventured a hike to the far side of island, and let me tell you that despite what the trees think, the temperature is high summer! The hike did net us a spectacular view west all the way to Punta Mala with thousands of circling seabirds overhead….even though our unanticipated destination turned out to be the island dump! Although sad to return to Balboa for farewells, we did managed to give Tiffany a rousing windward sail back through all the huge ships waiting their turn to transit in the offshore anchorage. We even caught her a nice-sized barracuda for her last supper!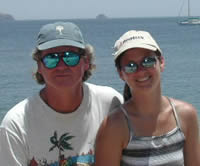 Tiffany's airport trip turned into an interesting evening for the 2Cs. Although we teased Tiffany that our regular cab driver Luis might be a bit smitten, to be fair to Luis I think he had honestly come to care for all of us. After her flight lifted off, Luis took us on a couple of unannounced side trips. The first stop was to meet his lady friend and her family in their tiny home in a densely packed suburban neighborhood. Panamanians traditionally live very close together, even the well-to-do. Only the housing left behind on the US-built bases has a separation factor comfortable to American sensibilities. The second stop took us practically halfway north to Colón to his sister's home high up on a hill (just below one of Noriega's former compounds). We went ostensibly to see the spectacular night view of Panama City, but there, too, we met all the family members. Such exchanges, and what they stand for, as clutzy as they might seem between our elementary Spanish and their elementary English, really are the special rewards of this kind of travel. Being back in Balboa allowed some restocking of supplies and a second shot at the crafts center, where Don bought a Panama Hat and I bought a Wounaan basket and two tagua nut carvings of pelicans. We also finally found the Oriental market Mini Max, which I had somehow missed (wrong door evidently), where we went hog wild on Japanese items as well as some gorgeous vegies topped off with a memorable cantaloupe punch! The Mini Max was back-to-back with the Super Kosher, another great shopping stop. All in all, Panama City has been a dream place for the two captains to take care of all our food fantasies.

Nonetheless, on Saturday morning at dawn, we dropped the mooring at Balboa Yacht Club with little regret, and motored away in calm conditions, bound for the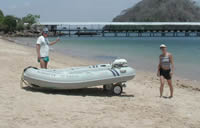 Perlas. The Las Perlas Islands are a triangular chain running north and south covering about 400 square miles of sea southeast of Panama City. There is one very large island (about 15nm x 12nm) - Isla de Rey - at the southeast base of the triangle, two 1-2-mile long islands - San José and Pedro Gonzalez - defining the southwest corner, and then a whole maze of a couple dozen rocks and small islands making the apex. With the exception of Contadora, a very high end resort island, the Perlas are uninhabited but for a handful of Indian villages. The beaches of Las Perlas are gleaming white sand, usually bracketed by rocky outcrops, but, like Taboga, the hillsides are mostly a dry tropical deciduous forest, which means they are, at this time of year, about 50-90% leafless. There are scatted palms trees giving a splash of green, there are some other species still in leaf, and there are scattered patches of a pink flowering tree heralding spring…or in this case, the approach of the wet season. It seems like a cruel Catch 22; the island will be most lush and beautiful when the weather is rainy! The other catch to this cruising paradise is the tides. For two captains accustomed to the Caribbean's eight-inch tide, the huge ranges of the Pacific have been an eye-opening experience. In our time here, the tidal range has been about 8-12 feet. This adds a whole new dimension to anchoring: What will low water be? What will high water be? Is the scope enough? Too little? Where are the rocks hiding? How far up the beach do we need to drag the dinghy! (Thank God, for those new dinghy wheels!) Of course, the flip side to the tides, is the opportunity to explore the littoral regions, as huge areas of beach and rock uncover at low tide leaving marine organisms hiding out under rocks and in tiny pools.

Perhaps the most striking thing about all these islands has been the seabirds. The Pacific is just fifty-some miles across the isthmus from the Caribbean, yet the seabird populations are much, much greater. Whole squadrons of pelicans cross courses with long lines of cormorants (which we don't even see in the eastern or southern Caribe!) Up high circle flocks of magnificent frigate birds, while small groups of snow white egrets provide contrast. Surprisingly, the gull population is small, although we see our Virgin Island friend the laughing gull both in adult and juvenile plumage. Then, working the shoreline, we have spied white ibis, with their hooked red bills, yellow-crowned night heron, and the red-billed North American Oystercatchers. As for sea life, we have had several sightings of dolphin. Indeed as we entered the island chain at the north end around Isla Pacheca, which is a major seabird nesting area, we crossed through a huge pod that were clearly working a school of fish. Our friends Nancy and Kaci of Tethys saw two whales as they came in, and all of us have seen rays jump. I am the only brave soul to have gone snorkeling (the water is about 75 degrees, a few degrees cooler than the VI in midwinter!). Actually, despite the chill, I felt quite rewarded by banks of delicate hard coral bouquets and fish that are just enough different from their cousins back home to give me a tickle.

We have stopped in four anchorages so far. The first was Isla Contadora (08*37.50N; 079*01.70W), where we anchored for several days off the "nude" beach. Very weird to see nude sunbathers against a mid-winter-looking backdrop! We dinghied all the way around the island checking out the hotel facilities as well as the luxurious vacations home of the rich and famous. There was one eye-catching residence on a bluff with a 300'-long, 40' high steel catwalk out to a dock capable of raising and lowering swimmers and their jetskiis to and from water level! The same house had a fully-enclosed glass elevator that ran from the catwalk up to the house! Not exactly your typical third-world residence!
From Contadora we sailed south to Pedro Gonzales (08*24.00N; 079*05.00W) to meet up with the Tethys gals who planned an overnight stop on their way to the Galapagos. The overnight stop expanded to five nights as Nancy struggled with a sinus infection that kept her in bed reading with a 101 degree temperature for five days….until it was discovered that the thermometer was stuck! The anchorage at Pedro Gonzales was particularly pleasing aesthetically because the long white beach was lined with green palm trees. It also offered great tide-pool exploring as well as an easy overland hike. It was, however, a bit more exposed than the guidebook suggested, and we had several bumpy nights when the winds came up. Particularly dicey was our first night, when, having anchored a bit too close to the beach, we stayed awake in the cockpit half the night, eyes glued to the digital depth display as the water ebbed inch by foot out from under our bouncing keel. It was our first tidal reality check.
After Tethys sailed off to the Galapagos, we moved north again to an anchorage amidst the maze known as Bayoneta (08*29.50N; 079*02.90W). This was our first one-boat anchorage since the Chagres River, and it was a very pretty, placid spot with lots of ibis and heron and some pretty dramatic rock formations that emerged as the tide fell! We spent a day exploring by dinghy and picnicked and (actually swam) on a beautiful beach, not a soul in view! After two nights at Bayoneta, we negotiated our way up the Canal Gibraleon at high tide, (having scoped out the shoals at low tide by dinghy the day before), and popped out into relatively open water to sail away southeast down the eastern shore of the big island, Isla del Rey. This brought us to our current anchorage, one highly recommended by our friends back at Pedro Miguel. It's a gorgeous spot in a channel between Isla del Rey and a slim string bean of an island, Espiritu Santo. This side of Espiritu Santo has a forested ridge, a sand apron and a rocky isthmus, while Isla del Rey displays a coastline of soft green hills and deeply indented coves which dry out at low tide. Again we are totally alone cruiser-wise, although Indian fishing boats pass by several times a day.

Panama means "many fishes" and that supposedly refers to these waters. We, however, have had no luck catching them. Although Don indulged in two new spearguns in Panama City, he has yet to put his face in the chilly water beyond a quick dip. With the exception of Tiffany's barracuda, caught practically IN the Canal itself, our trolling line has produced nada! We even tried trolling our handline behind the dinghy one afternoon, to no avail. Thank God for the Indians or else it'd be pollo, pollo, pollo! We bought a lobster from fishermen in Pedro Gonzalez and bartered a gallon of gasoline to some needy guys for a huge pargo (snapper) here. Meanwhile we get emails from friends about the great fishing here in the Perlas, so Don is out mounting the rod holders in the dinghy even as we speak. We will not go down in ignomy! Speaking of "pollo," we are sticking to our mutual resolution to study Spanish daily. Up to this point, Don had been sliding by on the essentials - "Cervesas frias" and, shortly afterwards, "Baños, por favor?" With two more years scheduled in Spanish-speaking countries and with watching my stumbling successes with the locals, it seemed to him time to step up to the line. I ordered some workbooks - recommended by my first teacher (the author of Spanish for Cruisers) Kathy Parsons - from the Warren Hardy School in San Miguel de Allende, Mexico via the Internet (see www.warrenhardy.com). We work side by side after coffee and before the morning nets, Don on the beginner book, me struggling with direct and indirect objects and the preterite tense, and it really is amazing the accomplishments you achieve when you do it doggedly. Tomorrow or the next day, we will move along south to San Jose, pretty much completing a full circle of the Las Perlas, and from there we will jump off on our 563-mile passage to Bahia Caraquéz on the coast of Ecuador. The radio nets are abuzz of the position reports of our many friends heading off to the Galapagos, the moon is waxing, and we are itching to get a move on. Addendum We went trolling around the island looking slick in our decked out dinghy with the almost new dinghy rods and the newly-mounted rod holders…and, guess what, we caught a fish! A decent-sized snapper! We are pleased as punch! I guess the moral is you can't catch them if you don't put the lines in the water. Plus it was gorgeous on the outside, with one rock sporting a rookery of a couple dozen white ibis! 'Course no sooner do we round the bend for home than we see a local fishing boat hanging off Tackless's quarter. In alarm, (fearing theft) we sped back to the boat, only to find the guys (eight of them, mind you) were waiting to give us some fish, in hopes of some beer in return!