Volume 2 - February 1999
Dear Friends:

hanks for all the great feedback on the web site. Thanks to email, we've heard from people that have been lost to us for years! We've even had at least once chance visitor who found us surfing! Hopefully, by now we all have the glitches worked out. Some lingering problems scattered among you seem to have to do with old versions of Internet Explorer. It is time we all upgrade!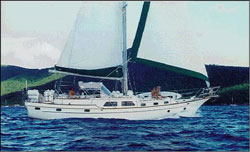 Taking Ourselves on Charter
Don and I had a most wonderful "cruise" over the holidays. We started with a jaunt to Yacht Haven to pick up 400 feet of brand new anchor chain, 100' port and 300' starboard, and upgraded from 5/16" Hi Tensile to 3/8" Hi Tensile. It doesn't sound like a big change, but the links look twice the size! It was a tight squeeze into the lockers, but we were very glad to have it as the weather was blustery on and off throughout the holidays and the heavier chain holds the boat much steadier.
By Christmas Eve morning we made it to Christmas Cove, and you would have thought we were first-time charter guests from the way we reveled in the sun and clear water! Christmas Eve we shared supper with our good friends Pieter and Pat Stoeken on the one-of-a-kind CSY, Independence. I called home and caught the whole family in the delightful stage when cocktails and hors d'oeuvres are about to segue into our traditional roast beef dinner! Christmas morning (Santa came!) we had the Stoeken family to a charter-style eggs Florentine brunch! And later in the afternoon, we pigged out on a turkey feast on the power yacht Obsession with several sets of charter crews.
By Boxing Day night we'd made it to Leinster Bay which was crowded with cruising yachts hunkering down there from some squally weather after the annual Seven Seas Cruisers Christmas dinner at Maho Bay. From there we went to Soldiers Bay on Norman, which we had to ourselves. Next day, the weather back to normal, we sailed all the way up to Mountain Point, Virgin Gorda, which was empty when we aimed at it, but ended up with six or seven. New Year's Eve we spent in Deep Bay, one of our "newer" hideouts on the back side of Biras Creek Resort with only one other boat while literally hundreds crowded in over the hill for the festivities at Bitter End. We left early for a truly dynamic sail up to Anegada where we anchored almost alone again at Pomato Point. It was so beautiful at Pomato Point that afternoon that we didn't bother to taxi to Loblolly, and the sunset was superb! Should have been a full moonrise too, but the clouds were massed in the east. Sunrise was awesome enough that we both got up and out to enjoy it, but our sail down to Jost Van Dyke was disappointing as there was only light air and some big swell. We had to motor most of the way back! Little Jost was mostly ours that night, and the next night we spent in Great Harbor. Fortunately, it was NOT BBQ night at Foxy's so not only was it not crowded, but we saved our middles! We rounded the trip out back lingering one last night at anchor back in Christmas Cove. I confess it gives me a certain smug satisfaction to be out during the busiest week of the year and be able have private anchorages most every night!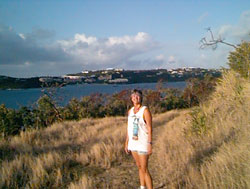 You will all be amazed that, despite our good intentions, we made only one dive the whole week! You will be even more amazed that, instead, we hiked on shore every single day! Don and I had begun building the new habit of brisk morning walks daily, and we were determined not to let it slide. We did the walk from Leinster to Francis and back on St. John, we explored the road on Frenchman's Cay at Soper's Hole, we walked the beach at Mountain Point, we hiked some of the trails at Biras Creek and Bitter End, we walked the endless beach of Anegada, and we culminated all this industrious exercise with a couple of hikes on the "new" roads of Jost Van Dyke, including a killer one on the north side which gives new meaning to the concept of "steep." This stuff does not come naturally to me, who has spent most of the last ten years at sea level and below and Don, of course, has spent his life in the flat lands of Indiana and Florida. Sitting on the cool deck of a boat, the thought of a land hike always conjured up images of heat, sweat and bugs. The kaleidoscope of rewards that we are actually discovering are many varied and rich. The views, obviously, are awesome, and the twisted ridges offer panoramas right and left, the submerged reefs shading the sea. We are becoming more tuned to plants, flowers, and wildlife (including deer on St. Thomas!) And then there are the moments such as the one when we staggered to a stop at the top of a saddle above Little Harbor, Jost Van Dyke, our lungs heaving like a pair locomotives. As they subsided, we heard singing, and tucked into a fold in the ridge we found a tiny white clapboard church in which a woman soloist was praising God on behalf what necessarily was a tiny congregation. The voice soared and plunged beautifully. We sat on the roadside and soaked up the music, the sun gleaming on the water, a boat under sail in the distance, and the simple goodness of life was pretty clear.
Whisper is Sold

e returned our slip at Independent to find that, at last, a bid had come in on Whisper. It was a weird deal. The prospective buyer was a Turk living in England, who made his bid sight unseen through a Florida broker and who had already scheduled a surveyor to fly down to check her out. The bid was, of course, lower than our asking price, but close enough to what we'd anticipated ending up at that it wasn't worth arguing.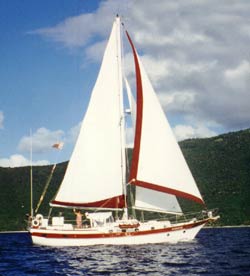 Almost immediately, Whisper started "dragging her heels" . Just about every piece of machinery on the boat started acting up. After a few days of commuting out to the mooring in Redhook, we gave up and brought her into a slip here in Independent, reducing our commute to a barefoot stroll. Between cleaning and repairing, Whisper began to take up most all of our time. The surveyor showed up on Jan 21st. The original plan was for me to lie low, since as Don kept pointing out we were trying to effect a sale, not an adoption! But by midday the surveyor, moving much more slowly and thoroughly than anyone had anticipated, had allowed that he wouldn't say anything rude about "my" boat if I wanted to join them for moving her to the gantry for the haulout and then for taking her out for the survey sail. With the good fortune that has always seemed to bless Whisper and me as a team, the weather was perfect for the sail. We put all three sails up and tacked out toward French Cap….and just kept going. It was sailing the way its supposed to be, and Whisper felt joyous, knocking out 6-7 knots comfortably.
We felt fairly good about how the survey itself had gone. There were some unexpected things that didn't work, but we had them fixed by the end of the next day. But we also learned some things about our buyer that had us nervous. Whisper was the fourth CSY that the surveyor had looked at for this buyer, the last more than a year before! The buyer himself was going to fly down the following week to see the boat after all, a backwards approach to boat shopping, AND he had another CSY lined up for survey back in Florida. The surveyor told us the last CSY had been very nice and he's assumed the deal had been done. Before he'd come down to survey Whisper, he'd asked what had happened and been told they hadn't been able to agree on a price. This was not what we wanted to hear. We thought we had a signed bid. And, indeed, just as we feared, the buyer arrived, breezed through the boat, acting like she was barely worth his consideration and "rejected" the boat as contracted. He would, however, take her off our hands for $10K less.
What he didn't know was we had another prospective buyer, so we could tell him to take a hike. Which he did, back up to FL, and the boat there, for the same price as Whisper, turned out to be a dog! Time for reconsideration and an attitude adjustment. I'll give him credit for not dawdling around. The broker told us he wanted the boat after all on Sunday morning, and by Tuesday the money was in the bank, and by Wednesday he sailed her away to Tortola!
How do I feel? Before the sale, the thought of selling her had me tied up in knots. Don is absolutely right on when he says I wanted to look at it more like an adoption than a sale. It felt like a moral issue: she's taken care of me, I should take care of her! But I finally came to realize that the relationship that I had with Whisper, resides in me, stays with me. So, surprisingly, when we came back to the dock and she was gone, what I mostly felt was relief. A big step is taken, a big obstacle to our departure has been removed. Not to mention, the fact that the new owner clipped a solar panel on his neighbors boat upon departure……Hey, not my boat!
NOTE FROM THE OTHER CAPTAIN:
The sale of Whisper was made with very mixed emotions as you have read and heard. Those of you that know Gwen and Whisper know what a special relationship they had. The decision to sell her and keep TacklessII was not quick, easy or even settled till we spent 10 weeks in the states and countless hours reviewing and considering a new "our" boat! Nothing really measured up to what we already had in either boat without breaking the bank and forcing an unwanted delay in our future departure.
With the sale of Whisper, TacklessII has become "our" boat both emotionally and financially. Gwen has in effect said that she has the confidence in TacklessII as a vessel and me as a companion to cruise whatever seas of world that we choose, but more importantly she has said that she has the faith in our relationship to let Whisper go—that makes me very happy and proud. Let the adventure continue………..
CSYs
Whisper may be gone, but she had her impact on many people, witnessed by the number of touching memoirs we've received upon the announcement that she was for sale. Several people she influenced have recently become CSY owners. The first we know of was Bob and Rosalie Beasley who were charter guests of ours on Whisper a couple of years ago, and again on TacklessII in our last season. Last summer Bob, an engineer with the EPA, and Rosalie, an OSHA inspector and Internet jockey, bought a CSY for their next retirement. Rosalie Anne is currently berthed on the Chesapeake, but as Rosalie has finally gotten Bob into diving, who knows where they'll end up!
Our young friend Adam Royse, who cruised with us on Whisper down island in the summer of 1997, became the proud owner of a CSY just last month. Adam is based in St. Augustine, FL where he and his father run a small sailing school and charter company. Adam wanted a boat like Whisper that he could use for crewed charters to the Bahamas. For awhile we though Whisper might end up with Adam, but as Whisper is deep draft and Adam's waters are often shallow, he found himself a shoal draft CSY nearer to home. Now named Argo, he is ready to take charters as early as April of this year!
If you are interested in more information on CSYs, we have recently been alerted (thanks to Rosalie) to a web page focusing on CSYs and their owner. To check it out go to www.thecoverts.com/csy.
Other Web Sites of Interest for Fans of Paradise
| | |
| --- | --- |
| www.thecoverts.com/csy | info on CSYs |
| www.caribwx.com | A weather info site produced in Tortola by David Jones, the man we all depend on for our Caribbean cruising weather. |
| www.flagshipvi.com | A display of the yachts currently chartering through Flagship, the clearing house Whisper and Tackless II cleared through. |
| www.islands.vi | A web page featuring the USVI with links to many businesses |
Accomplishments on TacklessII
Despite the demands Whisper made on our time this month, we have made some headway on the TacklessII project list. See Don's Engine Room for details on the installation of the new generator etc,
Visitors
We may be pinned to the dock, but we have not wanted for visitors. On January 19 Don Carnegie, a former colleague of Don's from his days selling printing in Indianapolis and his wife arrived in St. T on a cruise ship. As TacklessII was a disaster and the muffler was out on the white "limo", we limited our visit to coffee at Havensight plus a little walk around the docks at Yacht Haven to give them an idea of the boating life. We regretted being so limited, so we got our act together by the next week when a high school friend, Vicki Carwein and her daughter came in (different ship) on a post-engagement, mother-daughter vacation. St. T put on a perfect day, and we truly enjoyed our tour, which started with the boats and continued onto five or six resort properties as Vicki's daughter was "researching" potential honeymoon destinations (The Ritz Carlton is really something if you've got lots of $ to dispose of!). From there we went onto Magens Bay (one of the world's most beautiful beaches) for lunch and a beach walk, a stop at Udder Delite (the ice cream shop at St. Thomas Dairies) where the milkshakes are made with liquor!, a drive along all the required scenic overlooks, and finally an hour or so of shopping downtown, before we managed to get them safely back before the ship left!
We take great pleasure in sharing our Paradise with friends from home, so, if you're cruising, don't hesitate to let us know when your ship comes in. Obviously, the same applies if you are vacationing at resorts or on another charter yacht. We'd love to see you for a drink if we are able!