Volume 71
10 June, 2002
Introduction to Baja California Sur & La Paz
Arrival in Baja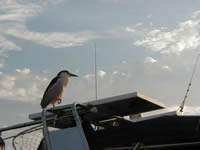 Our trip across the Sea of Cortez from Isla Isabela to Baja was yet another marathon motor on mostly smooth water. The water was so placid as we left Isabela we could see turtles basking on the surface all around, each with a bird resting on its dry back. Whenever the wind came up we sailed as long as it lasted, and as both nights were moonless the stars were crisp and clear. We caught a couple of fish, both skipjacks, and we can now say we know how "to get the cat to eat it." Boil it up and get rid of the real dark meat, and presto, canned tuna fish! The only negative thing about the whole trip was the steady downward trend of the water temperature, from the
84 degrees of Isabela to a brisk 77!

On May 18, dawn broke about 0600 to reveal the long reddish mountain range of Baja. What a spectacular arrival, striking from even eight miles off!

Baja California is a product of the same geological fault that shakes up California now and then, the peninsula ever so gradually splitting away from the mainland over eons. If you picture the peninsula as a long wide plank, the tectonic splitting motion is lifting the eastern edge while the broad top is depressed to become a long slope to the west. This has produced the dramatic sheer eastern face that makes this coast such a memorable cruising ground. But clearly that's not all that's gone on. As we sailed closer and closer, the rock diversified into a huge range of colors, textures, ravines and strata! And very, very little of that color is green!

As desolate and uninhabited (uninhabitable?) as the terrain appeared as we rounded the north end of Isla Cerralvo, man's presence was quickly revealed by several dozen fishing boats working the rich waters of the island's tip. Some were panga style and others were sportfishermen. Fishing is probably THE big attraction in Baja. There are dozens of guidebooks written detailing where the fish are to be found, and when, and how the determined angler can find them. A popular means for fishermen without multi-zillion dollar mega-yachts or sportfish boats at their disposal is to truck in a skiff on a trailer. All along the Gulf are rustic trailer parks and fishing camps catering to this addiction. We saw our first of these a couple of hours later on the Playa Tecolote as we passed through the Canal de San Lorenzo into the Bahia de La Paz. The Bahia de La Paz is a huge area of water bounded on the east by a north-thrusting promontory and a string of islands and encircled on the west by the Baja "mainland". This part of the Baja peninsula is fairly low and narrow, which forecasters predict will someday make it an island. The city of La Paz is all the way at its south end tucked into a funky mini bay of its own, and from the Lorenzob channel there is still nothing to suggest that it's there!

"I lived in La Paz for 12 years, and with my late husband Mort, was one of the founders of the Dock Cafe at Marina de la Paz. One of the many wonderful experiences I had in La Paz was to document the resurrection of the Mushroom Rock, and I assure you, it is not made of fiberglass. As a journalist, and friend of the person who donated the money to put it up again, I documented the entire process in more than 1000 photos. With an incredible effort of innovation and engineering, the ORIGINAL rock, which fell in 1988 for REASONS UNKNOWN, was re-established on its original base, mostly by hand labor. The rock you see now is the original rock, replaced on its original base, with the help of re-bar and quick-drying cement, and a little artistic licence to make them all LOOK like the original. I have photos of the naturally standing rock, and the re-mounted rock, and they are virtually identical, except for the small bronze plaque on the base, dedicated to Mrs. Clift, mother of the man who donated the money to re-establish this landmark. It is both amusing and saddening to see all the falsehoods regarding this landmark, and somehow, having seen all the hard work that went into putting it back, I feel a responsibility to correct the record, even when that is just on a cruiser's weblog. You can contact me at chuca-jane@usa.net should you be interested in the actual details of this historical restoration."

Apologies from the Two Captains. We got the information from one of the popular cruiser's guides, and as it was before the purchase of our kayak, and as the water was quite brisk at the time, we certainly didn't get over to check it out first hand! Would we have been able to tell? Who knows? Regardless, that such an effort was made, by whatever means, is an impressive "investment" of time and energy.

Before rushing straight back into civilization, we put the hook down in Estero Ballandra, a mile and a half long oblong bay with scalloped edges and a sand bottom. The whole inner half of the bay is only a few feet deep, a phenomenon very common in Baja: tempting turquoise water you can't get into! Ballandra became famous for a mushroom-shaped rock that balanced on a very narrow stem just off its beach, which appeared in many books and postcards. It was such an icon, in fact, that when it finally fell over, it was replaced by a fiberglass stand in!!! This in a bay with nary a building in sight!

We dropped the hook in one of the southern scallops and spent four content days gradually being indoctrinated into some of the realities of Baja. The very first reality were the "bobos," tiny little flies that persist in flying in your nose, mouth, ears and eyes or landing with amazingly heavy footfalls in the same location from which you just swatted them. Fortunately, they don't bite. Fortunately they aren't everywhere.

The second reality was the Corumuels. An early summer phenomenon, Corumuels are southwesterly winds that begin to pipe in the late afternoon and early evening, originating in La Paz and spreading northward up the bay for a hundred or so miles. The nice thing about the Corumuels is their very first stirrings chase away the bobos and cool the hot afternoon air temps. The bad thing about them is they keep building and building and building! Usually they top out around 20-25 kts, but they can blow harder than that! Although we had planned for them (being faithful readers of all guidebooks) and had anchored close to the southern cliff face for protection, they still managed to keep the boat in a steady state of bounce and shiver most of the night! This did not make for the most restful sleep that first night, but it sure kept the wind generator humming. Indeed the third reality of Baja is going to be the success of our alternate energy sources. Between the strong sun during the day and the wind at night, we haven't had to use any exterior charging on our batteries since we arrived!

The fourth reality of Baja is that no matter how desolate the terrain and how remote you feel your anchorage is, mankind is around. On the weekend, the beaches of Balandra filled with beachgoers from some unseen parking lot, the waters hummed with jet skis and small runabouts, and cruising boats came and went coming and going from La Paz!

And finally, the fifth reality of our Baja 101 lesson is that the wind can come from anywhere, and eventually will! On our last evening in Balandra, the wind clocked around to the north! This put our protecting cliff suddenly on our stern while wrap-around swell turned our placid corner into a washing machine! We happened to have couple from a powerboat we'd first met in Acapulco over for drinks, and all four of us had to have a death grip to keep from being tossed from our seats. That they stayed aboard gives you an idea how badly their round-bottomed boat was rolling. Without a keel it was double-timing TII's motion!

So, although we had planned to go into La Paz the next day, anyway, our anchor was up the moment the coffee was poured!!!! Which reminds me to mention yet another reality of Baja. It's COLD in the morning. If the wind isn't blowing it's brisk enough at 63 degrees, but a 20-knot wind can add a lot of wind chill! We're sleeping under two blankets and we do coffee in long sleeves and sweats! This is all the more amazing when you know it's going to be 95-100 by mid-afternoon!

Intro to La Paz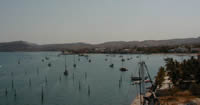 La Paz is going to be a city we are going to get to know. With our current plan of spending a second year in Mexico (thanks to daughter Tiffany's wedding plans next May), we figure we will pass through at least three more times, going from and coming to the Sea each season. Good thing, because of all the cities we have stopped in, this is the one that has appealed to us most.
There are two full-scale marinas in La Paz, Marina de la Paz in town and Marina Palmyra (home of the small Moorings fleet) out of town, plus several smaller ones that seem to be mostly long-termers. There is a huge anchorage area paralleling town between a sand bar and the Mogote, a very large sand island protecting the town and harbor. The substantial tidal flow and the Corumuel winds make the anchored boats move around in what is known as "The La Paz Waltz," but there is much more room than we'd imagined. There are also at least five boatyards, and just to make it really confusing, three of them are owned by members of the Abaroa family. Then to top things off there are a half dozen marine stores that actually have stuff! Including stuff for sailboats. From Colombia west, this has been a rarity!
We chose to make our debut in La Paz by spending the bucks for a slip at Marina de La Paz, mostly so that we would have easy access not just to the town but to the informed experience of the marina management who are former cruisers themselves. We thought we were just going in to scope things out and make some plans for later in the month, but to our utter amazement, things got rolling so quickly that, presto, seventeen days later we were sailing out of the harbor having checked most every project off our To Do list. That list included haul out, bottom paint, insurance survey, hyro-testing of the scuba tanks, inspection of the fire extinguishers, new latches for the ice boxes, various canvas projects and repairs, and even the purchase of a new kayak! There was even time for a few things NOT to go so smoothly, but as Don plans an Engine Room entry on these misadventures, I'll leave that saga for him to tell.
The town of La Paz fronts a long waterfront with a very pleasing malecon stretching its length, the perfect venue for sunset strolls. A lot of
construction work is going on to improve things, although most Americans are skeptical of how well the work will hold up. The town center is more sophisticated than we expected, but with less glitz than we've seen anywhere in Mexico! Perhaps this is due to the fact that what gringo-oriented tourism enterprises there are are things like sailing, fishing and kayak eco-adventures! All the glitzy tourist stuff is about three hours away down in Cabo San Lucas, where, we're told, a slip for Tackless II would be $65 a night! Yikes. In La Paz, we ate out almost every meal finally at the prices we'd expected from Mexico, maybe $5pp! We even got to take in a few Lakers playoffs on a big screen TV. Oh, the joys of civilization.
But, the real joys of Baja are going to be its remote anchorages tucked into stunning landscapes. Much of the cruising crowd is well ahead of us. Old timers tell us the flow was early this year because a popular cruiser festival took place a month early up in Loreto. Many of our friends, in fact, have already reached San Carlos (Siesta & Sandi Lee, for example) where they will haul out and leave their boats for the summer. Others have plugged into long terms slips in La Paz, while a few have gone so far as to bash back to California. What's amazing about this is that the winds have just begun to get their southerly component for sailing, the water temperature is still chilly, the clarity of the water is still low for diving, and the dorado are just arriving! The season is really only just beginning! On the other hand, there have already been two tropical systems - Hurricane Alma and TS Boris - that have set our guts to their seasonal churning. Nothing has come close, and real threats here are usually few and far between. After all, we are north of 24 degrees north! Still, like the Caribbean this cruising Paradise is not without its anxieties, and the 2Cs are on the alert. Meanwhile, we are proceeding at our own very leisurely pace, and enjoying it.