Volume 72
1 July, 2002
Isla Espiritu Santo, Isla Partida, Isla San Francisco & Isla San Jose
!!!! The Two Captains Start their Fourth Year of Cruising !!!!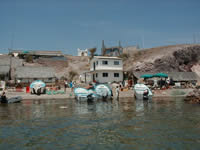 The afternoon of June 8, we sailed (really!!) out of La Paz a short, five-mile hop to Caleta de Lobos which meant we were able to celebrate the eve of our third anniversary since leaving St. Thomas at anchor instead of in a slip!!! (June 9, 1999 - St. Thomas; June 9, 2000 - Trinidad; June 9, 2001 - Galapagos; June 9, 2002 - Baja!) We got the hook down early enough in the quiet afternoon to test paddle the new kayak and have a nice dinner with a bottle of wine. Thanks to this latter, we slept fairly well through the Corumuel winds that night, but perhaps the wine bears some responsibility for our somewhat less that clear thinking the next morning.
For the winds were still cranking when we set off on a 17 mile reach to Isla Partida, and as though the three years of cruising experience since our old charter boat days in the VI had simply evaporated, we set off towing the dinghy and outboard instead of hoisting both aboard. Wow, between the wind and the fresh bottom paint, Tackless II flew across the 4-5 foot seas of the San Lorenzo Channel making 7.5 to 8 knots! This would have been exhilarating if it hadn't been for the dinghy surfing down the face of these same waves, threatening to pass us, before being yanked back around. Unfortunately, we were committed, but fortunately Mother Nature was forgiving and we pulled into Caleta de Partida without having swamped the dinghy or motor.
Isla Espiritu Santo and Isla Partida, the two islands that project northward to define the Bahia de La Paz's east side, fit so closely together like pieces of a jigsaw puzzle, that they may as well be one island. Regardless of how many very different regions we have traveled through, our many years in the Virgin Islands inclines us to look at a string of deeply inset bays open to the west and see nice protected anchorages. Wrong! No longer are we in the land of winds out of the east. Take these two islands and plop them in the VI and they would offer at least ten great stopovers. Here, at this time of year, you've got instead ten wind scoops lying wide open to the southwesterly Corumuels! No wonder the Moorings bareboat business has never really taken off here!!!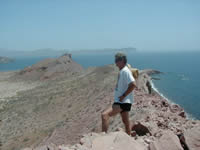 Caleta de Partida, the "bay" formed where the two islands nearly interlock, had the best reputation for protection from the Corumuels. Clearly that is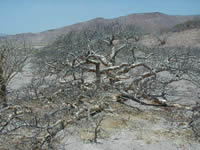 relative. We swooped in to find three boats already squeezed as tightly as imaginable in the dubious lee of a big bulge of rock. This left their sterns in fairly shallow water with more shallow water behind. Yikes! We made a spot for ourselves, blessing our relatively shoal draft, and let out enough scope for a hurricane! We zipped up our dodger and side windows, added a layer or two of clothing and essentially hunkered down to wait it all out. Okay, I exaggerate….slightly. It did not blow like stink for 24 hours a day. Just about nineteen or twenty. And I'm sure it only FELT like it was freezing. What is the wind chill factor for 69 degrees x 25 knots? I do not exaggerate to say that we wore our many warm layers until broad noon. In the afternoon's four-hour "window" of relative "calm," however, we did venture off the boat to explore the small "channel" that wends its way between the two islands. What a great set-up for the fishing camp on the sand bar, access to both sides of the two islands without having to take the long way round! For us, the sand bar offered up a great beach walk with piles of shells to study.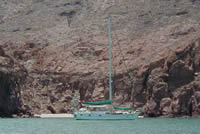 After two days we'd had enough of this, so despite little sign of improvement, we moved north four miles to Ensenada Grande. Whether there was a coincidental improvement in the weather pattern or whether we just got a little farther away from La Paz, I'm not sure, but we found a delightful haven in a one-boat niche off the southern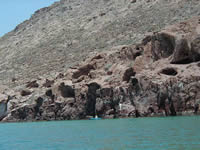 lobe of this three-lobed bay. Here, it got a little warmer a little earlier in the day, and the windless window lasted a little longer. It was also the perfect place to kayak. What rocks!!! While the surface of the hilltops looked as smooth as a crust on a cake, where the cliffs have been cut by the sea is revealed a whole turmoil of geologic action. On one side the point looked like some under-cooked baker's confection! The cliffs sagged like things hadn't quite set and gaseous bubbles had left honeycomb-like pockets in the overhangs!
On the other side the long arm of the bay looked like the many layers of an English trifle, there were so many strata of rock!. The water was variably clear so in some spots one could peer down from the kayak at tropical type fish below, but it was way too chilly for taking more than a very quick plunge from the back of the boat. The only life we saw, other than a Great Blue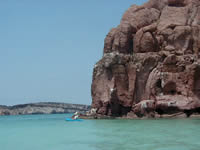 Heron, who coolly watched me paddle by, were scores of little crabs making the most of the tidal drop.
When two small powerboats squeezed in with us in our one-boat corner --before coffee, mind you --, we picked up the anchor and moved on. Our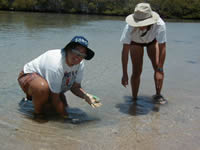 original plan was to motor the few miles northeast to Las Islotes to check out the sea lion colony there, but the wind was chilly and the sea choppy (and of course we had gotten a good dose of sea lions in the Galapagos), so we opted instead to sail on the 19 miles to tiny Isla San Francisco. Since we missed our shot to see sea lions, Mother Nature sent us instead our first Baja whale. Although quite close to us, it made no leaps or tail-flipping dives to give us any clue to identification, but it puffed past spouting repeatedly, so we were quite pleased. Mother Nature clearly figured she'd done enough, and we caught nada on our trolling lines. However, things were about to look up in the seafood department. Our friends Lourae and Randy of Pizzazz cruised into the charming hook-like anchorage at San Francisco with a 50-inch dorado (mahi mahi), so we enjoyed not only a great dinner, but evidence that there are indeed some fish to be caught in the Sea. (Red lures….do we have any red lures?)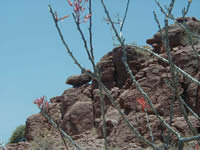 Isla San Francisco, though tiny, is another great spot. (Can you tell, our enthusiasm is picking up!) It has a great long curving beach to walk, and a hike up and along the encircling ridge. We did both. The hike was our first in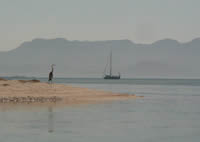 the desert. I wonder if we will ever get jaded to variety of color, shape and texture of the rock here. On the far side of the ridge there were veins of green while below lay copper colored beaches. The desert ground beneath our feet seemed like incredibly hostile soil, and yet the variety of life struggling to survive amazed us. There were dozens of low shrubs, stunted trees and different cacti. My favorite was a thorn trees - called Palo Adan or Adam's trees (identified after the fact from a friend's Baja Plant Field Guide - which had delicate red flowers at the tips of its leafless branches around which -- believe it -- buzzed a hummingbird! Walking was easy on the crunchy surface, very reminiscent of frost on grass in feel and sound, while clambering up rocks required great attention as most of it was loose and crumbly.
After two nights at "The Hook", we moved around to the island's north face, where notes in the margin or our cruising guide suggested lobsters could be found in the rocky reefs. Well, we're sure they're there as the beach was littered with molted shells, but the water is still way too cold for US to hunt them. Perhaps we'll check it out on our return leg. Instead we dinghied about a mile across to Isla Coyote, the smallest inhabited island in the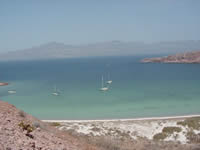 Sea of Cortez, where word was we could BUY some lobster. No typical fishing camp this, the houses on this piece of rock are all substantial block homes belonging to the four generations of a single family that have lived there since the 1920s. We found the brothers in the midst of filleting stingray and manta ray, so we had the time to look around a bit. Then we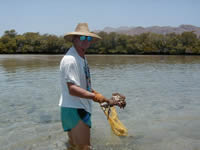 were taken by panga to their cache of lobster kept on the cooler cleaner side of the islet. No deals here, unfortunately, but after all the bother we took two for supper, our first lobster since the San Blas of Panama. Our next stop was only a few miles further north a La Amortajada ("The Shroud"), another hook-like anchorage at the southern end of Isla San Jose, only much bigger! Ironically, many boats skip this stop, or just make a daytime visit, because it has a reputation for bad no-see-ums. Miraculously, we had none, so we stayed several days, and it is surely one of our favorite spots so far. Protection is provided by a long curving spit, that we made the mistake of assuming was sand. It's not. It's a 8-10 foot high bank of packed stones and shells, that looks as man made as can be, but, of course, isn't! Although billed as "good shelling", most of the shells we saw when walking on this bank were well aged and bleached.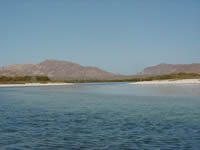 Granted we didn't walk super far, as the odor was very strong. What we did see were many fish skeletons, including the entire spine of a dolphin or small whale! Don was itching to take this home, but at a good seven feet long, it was it or me! Behind this bar is a large mangrove lagoon. This mangrove estuary is the real highlight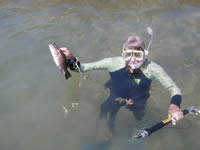 of La Amortajada. The entrance, once the sand bars are negotiated, unfolds into a "river" estuary that serpentines in a mile or so to a wide lagoon. In the lagoon proper, the area is so large and the water so calm, that some of the big powerboats come in here with their guests for water skiing! As you might guess this estuary attracts many birds. We saw herons of several types and nesting frigatebirds, among others, not to mention many, many seagulls. The mangrove roots are home to many fish, and when the tide uncovers the several sandbars at either end, a whole wealth of shellfish is uncovered, including steamer clams and pen scallops. We made our debut in the collecting of these, learning the ropes from several experienced Baja cruisers, and Don also made his first forays with his new spear gun. Fortunately, the fish had a lower learning curve than he did and we got two for supper!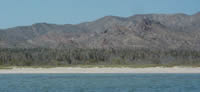 Another attraction of this bay is an extensive "forest" of Cardón cactus. The Cardón cactus is the tallest cactus in Baja. Walking through a forest of them, is much like walking through a "forest" of telephone poles as they are mostly straight with few branches. Of course, there are many other varieties of plants and cacti going between them, but that's the only one I was definite on when I got back to the plant guide.
Perhaps the biggest problem with our time in this stretch of Baja is the constant mental tug-of-war between the pleasure of just being in these special spots, and the lure of what lies farther on ahead. It was hard to tear ourselves away, but after a quick overnight or two across the channel off the somewhat bleak fishing village of Evaristo, we popped the genoa and sailed north forty miles to a bay we had been hearing about since the Caribbean -- Aqua Verde.