Volume 73
25 August, 2002
Agua Verde (25*31'N; 11*09'W)
Coming north from Central America against the flow of southbound cruisers, we collected nearly every Baja Guidebook known to man, and in the margins of all the pages there are copious notes recommending anchorages, dive sites, fishing holes, clamming spots, etc. Of all the places talked about fondly, the one that recurred most often, was Agua Verde. Even the guidebook itself relates the apocryphal tale that if a boat were to sit in Agua Verde long enough, it would eventually meet every cruising boat in the Sea. This led us to expect an anchorage packed with boats, so it was a pleasant surprise to round into it (June 20) and find only four, and those well spread out! One of these was our friends Les and Diane of sv Gemini, and within an hour of our arrival we were meeting all the others at a potluck happy hour on the beach!
Thanks to an inset in the coastline here, Agua Verde opens to the northeast. The northernmost point is marked by the striking Roca Solitaire, a 115' high finger thrusting straight up as if to say, "Here! This is the number one spot!" The approach from the south is through patches of reef arching out in a long curve to the white lump of Isleta Marcial. Between these arms are three separate potential anchorages, one protected from the winter north wind, one from the summer southerlies and one in the center off the main beach. Having moved far enough north to be clear of the nighttime Corumuels, we chose to anchor off the beach, having been forewarned of dying squid (and their odor) in the popular southern notch. The main beach is about a half-mile long with just enough of a dune to conceal the village in the plain behind it, behind which rise steep rugged mountains. On the beach itself are scattered simple shelters of pole and thatch presumably to protect the fishermen whose pangas are moored just off the sand. There are also a couple of fairly sophisticated outhouses, set up on blocks. (Our curiosity was piqued by these, but not quite enough to actually check them out.)
The village behind the dune was a pleasant surprise, especially after the bleakness of Evaristo. To start with there is more natural greenery here than we had seen in a while, including clumps of shady palm trees. There is a water supply, a spring we presume, that is piped into town from the mountains, with the result that many houses have gardens growing. You can't imagine how cheering a patch of green or a splash of pink flowers is in this stark terrain. Taking advantage of the flat plain, the town is laid out with a grandiose scheme, with road tracks crossing in a pattern complicated enough to do LA proud. The residential areas are split with one string of houses along the foot of the mountains, and another dense cluster near the far end of the beach amongst the palms. In between is the church, the educational "facilities," a playground, and a spanking new basketball court! There are about fifty families here, with 25 school-age children, and both primary and secondary education are offered. Our guess is, however, that is still all by one teacher!
Perhaps because of the steady flow of cruisers through Agua Verde, there is definitely a perkier attitude about strangers walking through. Everyone says "Hola" or "Buenos dias," as we pass. There are also some entrepreneurial efforts going on, and we patronized every one we could find. There is
cheerful Cecilia, who make tortillas by the kilo, while you wait in the shade next to their bed in the front yard, fully made up, complete with stuffed animals! Then there's Maria whose tienda has an amazing selection of things, including fruit and vegetables (providing, of course, you get there on the right day!) much of which is hung in plastic bags from the rafters (which are very low...mind your head, Gwen!) She explained that the restocking takes place at night when the produce has a better chance of surviving the 40 mile ride (over a very rough road)
in the back of her husband's pick up truck! The little "Bar/Restauran" (sic), with one picnic table under the thatch roof and cooking done on a 50-gallon drum, provided some very cold refreshment, but only enough for one round when the cruisers descended! Block ice only goes so far, and electricity is limited to what a few solar panels here and there can provide. We were even able, on the far side of town, to buy a big wheel of freshly made goat cheese (which was great in quesadillas made from Cecilia's tortillas!) from a fairly active goat farming operation. Last Thanksgiving, a bunch of cruisers celebrated the holiday with a goat roast. We note this year that the goat farmer has added several turkeys to his flock. Now there's a man that responds to consumer needs!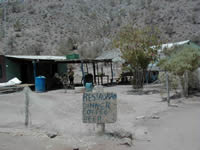 But the best part about Agua Verde was the fishing. The waters of the bay were so dense with bait fish that the pelicans, cormorants and sea gulls were kept feeding all day into the night (full moon!). In the late afternoon, most of the cruisers went out by dinghy with fishing gear in hand in hopes of a fresh supper, so of course the 2Cs followed suit. Despite the special rods we'd acquired for dinghy fishing back in the Caribbean, we have done very little reef fishing, and you can guess how little reward our small efforts had produced. Well, Agua Verde can go down as the place where all that turned around. We are now fishing fiends. Nothing like success to breed interest.
The objective of the first outing was squid, under the tutelage of Les and Diane of sv Gemini. Apparently, this is mating season and squid (the preferred food of the whales) are everywhere. Let me tell you, squid fishing is kind of exciting. To start with, these things are not the little "ballerinas" we see in the Caribbean. These things are big. Like 18 inches! When they hit the lure (and actually it is more a question of the lure snagging in the tentacles!), they give a very satisfactory fight on the rod (first time I've even understood the concept). But it's when you get them to the dinghy that things get exciting, especially when you don't have a net! They have unlimited supplies of ink it seems, which they squirt like mad as they're drawn close to the dinghy (and, later, IN the dinghy). Meanwhile, their buddies are darting all around them in a general tizzy. (Actually, as its mating season, it is probably less a matter of buddies coming in aid that it is of competitors coming in to thumb their noses at the victim's bad luck!) Then as you are trying to scoop your catch out of the water with your bucket or your game bag (because, idiots, that's all you have!), the critter turns into a super soaker gun! Looking over at Les and Diane, we saw a geyser shoot up three or four feet over their heads, even as we took a couple of chest shots! (right after our nice, post-snorkel showers, too, wouldn't you know!) We caught two and Les and Diane one, so we repaired to the beach where Les showed Don how to clean them. Now this is a food processing miracle, because when all is said and done, you end up with a big flat rectangle of smooth white meat, which with these sized squid are about a foot square and a half-inch thick! I'd seen these "sheets" in the markets labeled "calamari", and said to myself, "Oh sure! ," figuring it for some kind of processed stuff like surimi! With so much meat, we didn't bother with the tentacles, feeding some to the gulls and keeping the rest for bait. Then we went home, cut the rectangles into four or so "steaks", pounded them, trimming off a final membrane, and within a half hour Diane was sautéing them up a few minutes a side "abalone style" in olive oil with seasoned bread crumbs. Man, that's about the best seafood we ever ate! And definitely the kind of fishing lesson we like -- hook to table. I tell you, guys, our horizons are broadening!!!!!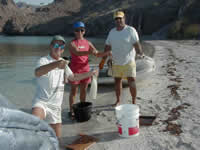 The very next day we were out with our squid tentacles to try our hands at bottom fishing. Les's technique was called mooching, and its done with a heavy weight to the bottom with a tail of bait bouncing along above. Although they caught several fish this way, "mooching" did not work at all for us. All our success came from a regular jig on which Don caught two trigger fish and snagged another squid. This worked out well, as some more friends had arrived in the bay and we were able pass on our new squid cleaning expertise in exchange for trigger filleting lessons. Triggers are tough fish to deal with. They have a sharp file on the tops of their heads, which they are most eager to plant in your inflatable dinghy. They also have nasty teeth that can chomp through or bend your hooks, and they are said to be able to bite you even after filleting!!! Plus their skin is like leather, so filleting is a struggle. Two pairs of pliers are essential tools in trigger fish cleaning. However, in the end, the meat is good, firm almost like a lobster, and we rushed home to enjoy trigger fish tacos!
On our third day I caught two grunts and another trigger (I had the jig this time!) before I caught a rock and in the struggle as Don maneuvered the dinghy around to try and free it (with Lou from Niña del Mar calling over helpfully, "Keep your tip up!"), I popped my drag off and so completely backlashed my reel that I had to quit. I do NOT like THAT part of fishing. But, the grunts produced ragged-looking but delicate fillets that made another lovely meal in lemon and wine sauce, and Don, bless him, sorted out the snarled line, so my enthusiasm is back. Before we knew it we had gone eight days (counting the shellfish and snapper from L'Amortajada) feeding ourselves from the sea! Now THIS is what the Sea was supposed to be about. Self sufficiency, and pretty healthy to boot, ......although I suspect the avocados (which is what passes for a green vegetable in these parts) and the tortillas (that are surely made from lard) take away from that!
Our only disappointment with Agua Verde was not being able to dive. The water just seemed to get colder and colder rather than warmer and warmer. We did snorkel briefly along some inner rock piles, and I did a fast reconnoitre of Roca Solitaire -- a very auspicious and well-recommended site with dramatic drop offs and tons of fish -- but what visibility there was dropped away the day we were going to go, and its just too cold to dive by Braille. We'll just have to catch it on our way back south.
So, in this manner time passed quickly and sociably, but, then, the urge to move on rises up, and within a day or two the whole group that had been there picked up anchor and moved on! That's the way it is in the cruising life!