Volume 75
Caleta Candelero Chico and Bahia Candelero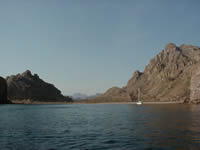 Our course from Isla Monserrat to Caleta Candelero Chico (Little Candelero Cove) looked to be leading us straight into a steep cliff side. At the last moment a huge boulder opened up on our left revealing a 65' wide passage into a compact one-boat anchorage. Wouldn't you know, there was already one boat there! And a power boat, to boot. Upon closer inspection, however, the powerboat turned out to be our German friends aboard Isla Bonita (the couple we'd last seen rolling their guts out with us in Estero Ballandra), so we proceeded in and poked around to see if a second boat could be squeezed in. We were just about to give up, when they emerged from their nap to tell us they would be leaving in a few hours. So we dropped the hook and visited a bit, and then waved goodbye as they departed.
At last we had an anchorage all our own! Incredibly, this was the first time since coming to the Sea, and it was a very special spot. The round basin had calm clear water fringed at the head by a sandy beach with rocky cliffs everywhere else. The mountains towered above us to the west, while over the sandy beach we had a vista across a low saddle of more peaks farther down the coast. To the east a gap in the rocks afforded a pass to the outside, just passable for the kayak, and the boulder strewn shallows along the cliffs made great exploring. If the water had just been warm enough for snorkeling, we'd have been in heaven!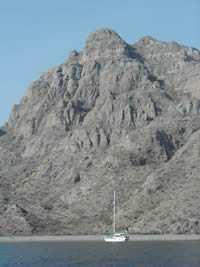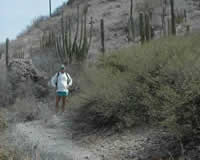 For the first time in the Sea we had bird life that went beyond the everyday seagulls, frigates and cormorants. Our favorites were a pair of black and white osprey who usually perched individually at the top of a cardón cactus. Their call was surprisingly sweet for a bird of prey. One morning, one of them entertained us by spending twenty minutes at the water's edge taking a very thorough bath. It repeatedly splashed water over his head and under his wings, all the while carefully keeping an eye out for intruders! In the same area on our last morning we saw our very first roadrunner, darting along the beach, over and under some boulders and then up the mountainside, his long tail pumping in exclamation every time he stopped. Even though there was no road in sight – and, sad to say, no "beep-beeps" -- he was unmistakable!
There is a great hike across the low saddle behind the sandy beach. Fishermen apparently use it, as they use both beaches occasi?nally, depending on the wind direction and tide, to beach their pangas for a rest. The guy who wrote one of our cruising guides, Gerry Cunningham, must be quite the hiker, because his charts are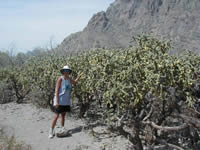 usually accompanied by photos he has hiked over hill and dale to take! And just to prove it, he usually has a label on the chart showing his photo vantagepoint. This entices us, at least, to scramble up hill and dale ourselves trying to reproduce some of these photos with Tackless II in the middle. In Caleta Candelero Chico (which earned the color cover of his Middle Gulf Guidebook), the view should have been stupendous. But the hills were challenging. Finally I really understand the concept of "angle of repose". Although the hillsides are steep, they don't seem soooo steep, untilyou try to clamber up. The way seems clear, because the ground is open between bits of scrub, but then, about half way along, you feel as though the soil can't support any more weight without sliding out from under you, and there you are teetering! We were pretty warm when we finally scrambled to the lookout! And there was Tackless II unphotogenically sitting stern to us and partially obscured by a knoll. That's what you get for not anchoring precisely in the center of the cove! This, too, is another situation where the digital camera doesn't cut the mustard. It just doesn't have the depth of field and the angle to make such vista shots work. Sigh.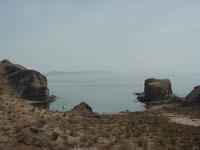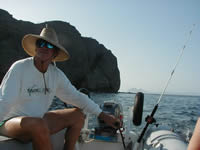 From this anchorage we also launched our second attempt at trolling for dinner. Dennis and Lisa of Lady Galadriel and their friend Alan of The Good Neighbor were up around the corner in the next bay, so we dinghied up using our two dinghy rods and nice brand new Rapala lures. Nary a bite did we get. Aboard their boat, however, we got introduced to chocolate clams on the half shelf, and so resolved to move around the next morning to learn to "hunt" them. On the run back to Tackless, however, the lures started to sing. We caught a grouper, which I lost in my excitement, then we caught a grunt and a snapper, and, as a finale, two long silvery fish -- one on each rod -- that gave us quite a show, leaping all around, but which, sadly turned out to be the inedible sport fish called ladyfish (a demure relative of tarpon.)
The next morning we moved Tackless II the short distance around Punta Candelero into the broad bay where our friends were. This bay becomes very shallow close by the beach, so the boats have to anchor way out. Ashore were some palapas with beachgoers frolicking and in the hills a small resort. Yiee! Civilization! This area is not far south of Puerto Escondido and Loreto, and the whole stretch of coastline along here is dotted with the RVs, campers and tents of avid fishing tourists.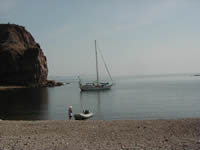 Within a half-hour of anchor down we were suited up (5mm suits, hood and gloves) ready for lesson #1 on how to plunder the elusive chocolate clams. Finding them is the key. These clams bury about four inches below the sand in at least six to eight feet of water. It's amazing how busy a sand bottom is when your begin to study it closely. There are all kinds of holes and siphons to distract you. The clams in question, however, give themselves away by projecting up a pair of siphons very close to one another. Once you pin down the telltale give away, all the diving, ear-clearing, frantic digging (they are not always directly below their siphons!) and surfacing gets pretty rewarding as, in the final analysis, they can't run from you! Once you have a stash in your goodie bag, you hang them over the side of the boat where they will purge themselves of sand overnight and keep for a couple of weeks or more. Perfect for happy hour hors d'oeuvres!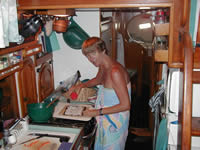 As if that wasn't enough excitement, the boys decided to go spearfishing out at the nearest Candelero, one of several offshore rock spires that give the whole area its name. As the current was stiff, Lisa and I decided to stand dinghy watch, ready to collect any of the hunters being swept away. Of course we tend to assume everyone else is more experienced at this than "we" are, but no one was more pleased than Don to discover that he was as successful as the other guys! Especially as his catch was the much sought-after and more lively yellowtail – that's "hamachi" to you sushi bar goers! With yellowtail on the brain, we all picked up anchor as the afternoon began to wear down and sailed about seven miles north to Puerto Escondido.
Puerto Escondido is a large, completely enclosed anchorage, where, some years back, Fonatur (the Mexican tourism agency) sank a lot of money into the infrastructure for a marina here. However, the project stalled well before completion, and now you have a lovely bay with cement walls, a huge parking lot and virtually no services except the store and restaurant belonging to the upscale Tripui Trailer park a mile or so down the road! (Actually there is a water spigot and trash removal plus there's a man who can arrange for fueling by truck.) Of course, this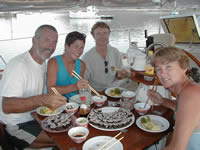 is just the kind of place to attract long-term liveaboards, and the bay is filled with boats that haven't moved in months if not years. Between these "cruisers" and the equally well-planted trailer park and fishing folk, there is a thriving gringo alternative community here, and their preparations for the Fourth of July holiday dictated the time of our arrival.
In the meantime, however, the hunters had something less red-white-and-blue in mind for dinner, and the whole gang convened on Tackless II for the evening where I turned our yellowtail into a dozen nori rolls while Alan presented his as sashimi. Oh, the satisfaction of pigging out on a spread that in a stateside Japanese restaurant would have cost you a fortune!