Volume 76
July 2002
Part One: The Puerto Escondido/Loreto Cruising Grounds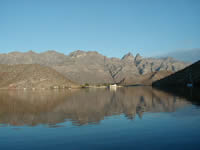 The Two Captains have just wound up a whole month exploring the cruising grounds of Puerto Escondido and Loreto, a XX stretch of water that mostly closely resembles the rich selection of anchorages and activities we were used to back home in the Virgin Islands. The territory officially includes Agua Verde, Isla Monserrat, and the Candeleros (already covered in Updates #73, 74 & 75), as well as San Juanico, 20 miles yet to the north of us. In between are Isla Danzante, Isla Carmen, Isla Coronados as well as several anchorages on Baja itself. If one were going to base a charter business in Baja, this is where you would want to do it. Of course, now that we aren't charging for visitors, we failed to sign up a single taker!
Looking ahead, from Puerto Escondido, It seemed like a sensible idea to try to collect all these anchorages in one umbrella Update, but in retrospect it has become an unwieldy job thanks to extent of our adventures here, so we will break this up into three parts!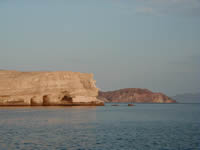 We arrived in Puerto Escondido just in time for Fourth of July, a holiday that Americans hate giving up even when far from home. As mentioned in the last "Update", Puerto Escondido is one of those ideal creations of nature, a bay completely encircled by land but for a 60' wide access channel. As a harbor, it is hard to imagine better, and for decades it has drawn sailors to its security. Fonatur, the Mexican tourism agency, had fantasies of an extensive marina and condo development here as part of their "stairway to Mexico" chain of marinas, and the infrastructure was laid maybe twenty years ago. Exactly when and why it stalled, is not clear, but surely has to do with the fact that Loreto, the closest city, is twenty miles to the north. I'm guessing, too, that the resident population, while they wouldn't mind the services of a marina, would resist the costs of those amenities, when life is pretty good without them. So, currently the network of paved roads is overgrown with brush, the forest of streetlamps don't come on, and the seawalls remains without docks.
As often happens in such attractive and protected anchorages, more and more anchors get "permanently set". Puerto Escondido is well populated with boats that haven't moved in memory. Some of these are just stored here, but many others have fulltime folks living aboard. There is also a contingent of land-based "campers." Many of these are quasi permanent, with RVs or trailers shaded by palapas, that grow more and more elaborate over time. One we visited had full living room furniture, a regular kitchen, and – their special pride and joy – a complete, enclosed modern bathroom! This in open-walled structures with thatch roofs!! Some of these folks came originally as cruisers, while others came for the fishing.
So with all these gringos at hand, Puerto Escondido was a good place for the Fourth. The main event was a potluck picnic at a special park called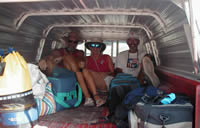 Agua Primera. This park was back in the hills in an arroyo oasis created by a natural spring. Three hundred years or so ago, the missionaries built a swimming pool in the arroyo and this is still in operation. Well, sort of. Despite a "reservation", the gringos trickled in by carpool to find that the maintenance crew had drained the pool to clean it!!! This was surely a disappointment, but not so great a one as to destroy the occasion. The picnic fare was scrumptious and the arroyo was thickly shaded with mango trees heavy with fruit. No one left without a stash! That evening we motored out of Puerto Escondido around to Juncalito, a lovely, more open anchorage to the north where the camper contingent put of a very nice, albeit small scale, fireworks on the beach. All in all a nice day.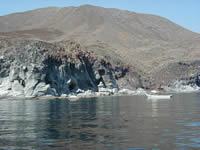 The next day, we motored north to Loreto to do all the official stuff with the Port Captain there. Loreto, amazingly, is Baja's oldest city. In 1697, Father Juan Salvatierra established the Mission Nuestra Senora de Loreto, the first mission on Baja from where in 1799 was launched the establishment of all the famous missions of, what is called in these parts, Alta California. Loreto is a pleasant town with an "international airport" (i.e. flights to California!!!!), although there seems to be way more facilities built than it is currently supporting. From a cruiser's point of view, the town's biggest shortcoming is no protected anchorage. A big seawall enclosed an area for the fishing pangas, but sailboats are relegated to dropping the hook in the open-roadstead outside. The day we came in was dead calm when we arrived, but by midday a hefty swell had kicked up, so that after paperwork, reprovisioning (great vegetable/fruit stand), and tasting all the options at McLulul's Taco Stand, we beat a hasty retreat for a more protected overnight anchorage.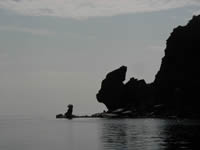 This was our first introduction to Isla Coronados, named for its volcanic peak. There is nothing not to like about Isla Coronados. We arrived in tandem with our friends on Lady Galadriel, to a wide-open empty anchorage with a long stretch of sandy beach and a protective hook curving around to the south. Almost immediately we were surrounded by dolphins. There were several pods that through the course of our multi-day stay busily worked the waters, leaping and snorting and slapping their tails (or whole bodies), often quite close to the boats, apparently herding fish. This was what we imagined we'd see in the Sea, and we did not tire of watching their antics. At night the bioluminescence was fantastic, while the channel between us and the "mainland" was lit up with such a string of lights that you'd be persuaded there was civilization over there, but was in fact the squid fishermen at their nights work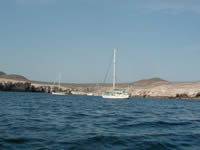 Dennis and Lisa of Lady Galadriel were also divers, so at last the two captains broke out our dive gear and made our Sea of Cortez diving debut enjoying several sites at the base of some elaborate rock formations on the island's north side. The water was still quite cool, in the low 70s, so we were grateful for our 5mm wetsuits and neoprene hoods we'd never worn before, but the visibility was pretty decent. The boys were especially delighted by thick populations of large, meaty fish from cabrilla (grouper-types) to yellowtail, while the ladies enjoyed such smaller and more delicate creatures as nudibranchs and snake eels. The 2Cs can't get over the huge variety of fleshy starfish, something we have relatively few of in the Virgins, not to mention the multitude of huge green moray eels! And if the diving weren't enough, the kayaking was delightful, especially with the dolphins making passes. Plus, the white sand beach was a superb place to spend time sitting waist deep in the late afternoons, sifting your fingers through sand to reveal a whole rainbow of tiny clams the size of your thumbnail.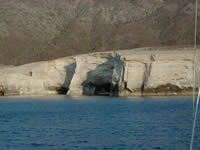 We parted company from Lady Galadriel at Coronados and motored through flat water punctuated by the exciting shapes of finback whales about thirteen miles east to the north side of Isla Carmen, a seventeen-mile long island opposite Loreto. Here we found a group of cruising yachts squeezed into a really unusual anchorage called Vee Cove, despite the fact that the cruising guide calls it a one-boat spot. The fact is, if the wind direction is such that you can anchor there at all, then there no reason more boats can't stack up outside the cove. Vee Cove looks just like someone cut a pie wedges out of the 30-40' high cliffs. These whitish cliffs are elaborately eroded into caves and undercuts that just beg kayaking, which I did within an hour of dropping the hook in tandem with Katherine of The Good Neighbor. Later that evening there was a happy hour dinghy raftup inside the largest of the caves! One doesn't want to spend a lot of time thinking about what holds up the ceilings of these caves!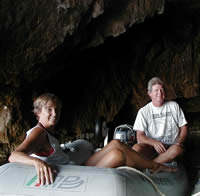 Unfortunately, when we went snorkeling the next day, we discovered that a bloom of nasty stingers aptly called "String of Pearls" was moving through. Even with wetsuits, gloves, socks and hoods, these little threads of pain would find a bit of open skin and leave a whopper of a welt. So it was without much regret that when the wind clocked around the north, we all sailed off other anchorages.
We chose Puerto Ballandra, a perfectly protected anchorage situated on Carmen's NW coast directly across from Loreto. This makes it a popular stop for many boats, so we never had it to ourselves, plus we found the nearby reefs to be pretty well picked over for fish for dinner. We tried a dive on an islet to the north called Isla Cholla with Alan of The Good Neighbor, but aborted the dive when confronted with thick stingers flying along in a stiff current! Instead we used our tanks up enjoying a mild midday stroll on some shallow boulders just the north of the anchorage itself.
Looking for better hunting, we moved south to Bahia Marquer, where we had heard fishing was good. Here we stumbled into another group of avid divers, led by the famous Terry Kennedy on his trimaran Manta. Terry is one of those well-known characters who seems to live to dive. A former Navy Seal, he has been diving the Sea for 26 years, and he knows all the special places and enjoys sharing them. We had referrals from many of the cruisers we met in Panama and Costa Rica to look Terry up aboard his trimaran Manta when we got here, so it seemed providential to finally meet up with him just as we were getting back into diving.
Providential or not is something we will debate for a long time.