Volume 66
12 March, 2002
Manzanillo, Mexico

Getting a weather report in Mexico is not easily managed, but one rule of thumb lately might be, "Don't go when Tackless II goes!"
We went to bed the first of March at Isla Grande intending to rise at about 3 a.m. for a pre-dawn departure. This was to get us into Manzanillo before dark (two days later!). The stop in Manzanillo was a last minute modification of our itinerary at the urging of Ed Marill, of Siesta, a sistership to Tackless II with whom we have been communicating by email for years and whom we have been looking forward to meeting for some time. Ed and Daisy are in their first cruising season, having come south from San Francisco with the Baja HaHa (a famous cruising rally organized by Latitude 38 Magazine). Ed and Daisy are having such a good time cruising, that they have already delayed their rush south for another season in Mexico. Their enthusiasm is very refreshing and motivating to us old hands! Ed's inside scoop was that we could anchor off the Las Hadas resort without having to do the Port Captain thing, which overcame our principal objections to stopping there!
However, the night went bad for me with my first real case of the revenge (onboard eating!) and bad for everybody else with a nasty roll. Mac of Sandi Lee had a cold, and all in all no one much felt like getting going in the dark of night. However, when the sun rose, we all realized that it was Saturday, and Isla Grande's hideaway anchorage was going to be inundated with day trippers and obnoxious jet skis. So, we raised our anchors about seven hours late, figuring that for a daylight arrival we'd just have to skip Manzanillo and continue on to Tenacatita as originally planned.
The basic weather pattern for this coast is light and variable winds largely influenced by the land & sea effect. This means that the breeze is sucked in toward the land when the land gets hotter than the sea from about noon on, and reverses in the middle of the night when the land surface cools. This makes for a little sailing every day and a lot of motoring. However, occasionally this simple cycle is interrupted by northers, when a strong flow of air funnels down the Sea of Cortez from intense high-pressure systems centered in the plateau between the Sierra Mountains and the Rockies. Usually, this flow weakens by the time it gets this far south…but not the days we chose to travel! If we thought no wind on the nose made for frustrating travel, try 18-20 knots of it on the nose. It was never awful, but it was slow and bumpy. Two boats that left with us fell farther and farther behind and they got hit with winds of 20-25! Yuck!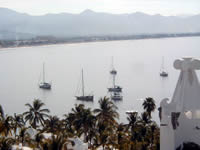 So, as we were slogging along late afternoon of our second day out, the radio crackled with "Tackless II, Tackless II, Siesta, Siesta!" At that moment Manzanillo was still 55 miles away! The usual VHF radio range is about 25! We were amazed. Ed made another pitch for our stopping at Las Hadas, a particularly beautiful spot he insisted, and he pledged he would set his alarm and get up to guide us in. Fifty-five miles at barely 4 knots made good would get us in around 0300, but he was not daunted. So, we and Sandi Lee altered course and at 0300-ish we entered Manzanillo Harbor, a wide open bay with lots of lights. Manzanillo proper is the largest Mexican commercial port on the Pacific Coast and they are making a bid to become the largest port in all of Mexico. Las Hadas, however, is three miles across the bay from this action tucked in behind a peninsula we would later see to be draped in elegant houses and hotels. Between Ed talking us in and our radar picture, the entry was easy, with the sole exception of a lonely panga, whose occupant stunned us by slipping overboard and taking his bright light underwater as we approached! Remember this is about 4 a.m.! Fortunately, Don had his nightscope on the bow, so we got round him with no trouble, and tucked ourselves in among the handful of anchored boats in the small basin behind the Las Hadas Marina's breakwater. We shut down finally at 0430!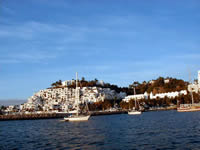 Morning came rather too soon, as you might guess, but what a sight to wake up to! Las Hadas Resort, a very upscale facility where the movie "10," featuring the memorable Bo Derek was filmed, was built to resemble an Arabian hillside town. Brilliantly white, the jumbled planes of the accommodations reflected the morning sun and made us feel like we had sailed through some space/time warp into the Mediterranean! It was also freezing! Well, maybe not FREEZING, but it was in the low 60s coupled with a brisk wind! We spent our first hours huddled in sweats!
A small daily fee to the dockmaster at Las Hadas not only enables dodging the Port Captain rigmarole, but permits use of the dinghy dock and discreet use of the very elegant swimming pool. By discreet use, they mean don't use the sun chairs and try to use a white beach towel so you look like the other guests, and, oh, yes, please spend a little money with the bar. Actually, it is quite difficult to spend a "little" money at the bar as things were pretty pricey. However, we enjoyed a very nice afternoon getting to know Ed and Daisy in this elegant atmosphere.
We lingered in this rarified scene for several days, walking the cobbled hillside streets, checking out the Las Hadas golf course, lunching in town, doing a little shopping at the supermercados, and of course chilling by the pool. A highlight was a cruiser only in-pool volleyball game, where I think we may have pushed the limits of our discreet presence! Mostly we just relaxed, as an anchorage on this coast with no roll is a treasured thing. We also of course started the rounds of sister ship inspection. Now there is an activity that can keep the involved parties absorbed indefinitely. Mac and Sam wisely stayed clear!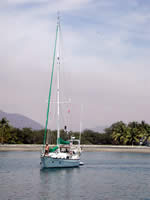 After four nights, there were about eight boats in the anchorage, and almost all of us raised our anchor ensemble and moved north to the next bay, Bahia Santiago. Ed had learned of a sunken shipwreck there, easily accessible for snorkeling in barely 20' of water. All the boats anchored within swimming distance, and indeed it was a very nice snorkel. If I were a local dive operator I would consider it a true treasure, especially for beginners. In the afternoon, we hosted Ed and Daisy and their fine tooth comb aboard Tackless, after which Daisy had us back to Siesta for a Cuban supper of picadillo (ground beef with onions, peppers, apple and raisins), rice, plantains (nuked in chunks without fat in the microwave!), with mamey - a fruit that tastes somewhat like pumpkin pie - for dessert.
The next morning we weighed anchor again for Tenacatita at last! Finally we are in a section of coast where the legs can be completed without overnights. Oh, joy! However we are still in an uncooperative area relative to sailing. After twenty miles or so of flat seas, the wind started to pipe up, and the last fifteen were hard work. However once we rounded Cabeza de Navidad, a tricky point with submerged rocks, we were able to bear off, set the headsail, shut down the engine and smoke into Tenacatita Bay at seven knots, a thrilling forty-five minute reminder that TII can sail!