Volume 67
25 March, 2002
Tenacatita & Chamela, Mexico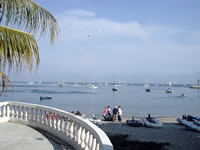 Greetings from Puerto Vallarta! Well, actually we are in La Cruz de Huanacaxtle (20*44.7'N; 105*22.5'W), a village a bit north of PV in Banderas Bay, where we can anchor out as opposed to going into a marina. Although PV is only about 175 miles north of Manzanillo, it took us nearly three weeks to travel that distance thanks to the temptations along this stretch of coastline and a bit of adverse weather.
The first temptation, which we resisted, was Bahia de Navidad with the anchorages of Barra de Navidad and Melaque, as well as fancy marina facilities in the enclosed lagoon. All are popular with cruisers, but since they are all under the aegis of the Barra de Navidad Port Captain, stopping would have meant another round of port captain fees. At $50 a port, we just aren't going to stop unless we have the time to stay awhile. It's on the agenda for next winter.
Beyond Bahia de Navidad by thirteen miles is Tenacatita (19*17.83'N; 104*50.28"W). This large bay offers several anchorages (none with a port captain!), the most popular and protected of which is in the north corner tucked behind Punta Chubasco. We are told that at the height of the season the number of cruising yachts anchored here can rival Zihuatenejo! It is hard to imagine. When we dropped the hook there were less than thirty, and ashore the only structures you see are a beach bar at the near end of the beach and small resort at the most distant. "Remoteness" was a refreshing change from what we have seen so far in Mexican anchorages.
On the other hand we weren't quite clear on what the long term appeal of the anchorage would be. Granted we only gave it four days. The dirt-colored beach itself, backed by leafless scrub, was not especially enticing, particularly as landing the dinghy is somewhat complicated by there being a lot of small stingrays hanging about in the surf line! When the tide is up, however, dinghies can carefully cross a rocky bar into the estuary of a small mangrove river. Right there is the beach bar known as Angel's, which was built as part of the set for the recent "McHales Navy" remake (This whole coastline is revealing itself to be one big back lot for Hollywood!) Although we only visited Angel's once for the Friday night rib BBQ, we could certainly imagine passing timeless afternoons indefinitely on its shady veranda.
The little river itself can be explored by dinghy for about three winding miles through dense mangroves. This "Jungle Trip" is one of the big activities of Tenacatita! Of course, most of the cruisers here are from the dry West Coast, so this may be their first exposure to mangroves. We went up it in a group of three or four dinghies, and despite the noisy crowd we did see quite a few mangrove birds along the way (but no crocodiles…whew!).. After about an hour of the channel getting narrower and narrower until it was like motoring through a tunnel, we emerged on the other side of the point in a lagoon that backed right up to a little village. No more than a hundred yards away was a line of palapas on a long blinding-white beach! It seemed a long way from anywhere, but it must not be, because the palapas were ready to seat hundreds wanting seafood dinners and vendors were well stocked with the usual tourist junk. We had a great lunch of fish and shrimp, definitely served in more diverse and adventurous ways than most palapas. I had the house special -"rollo del mar," a filet rolled with shrimp stuffing and an almond sauce, Don had a foil packet of fish and shrimp in white wine (the best), Mac had shrimp kebabs, Sam had shrimp tacos, and Ed had what Ed always has - fried whole snapper!) We had carried our snorkel gear along to snorkel a spot known as the "Aquarium," but after a meal like that enthusiasm for exertion was low the length of the table. Sadly, we later heard it was a very good spot, and next year we will simply take the big boat around.
The disadvantages of remoteness start to weigh when you run low on produce! We'd been told there was a weekly vegie truck with good produce, but we, of course, missed it by a day, so when supplies got low, we dinghied about three miles across the bay to a village called La Manzanilla. We specifically went early while the seas were low, but landing was still a bit exciting. We left the dinghy on the sand behind an upscale looking house, and were surprised to find it occupied by cruisers we knew from the Caribbean! Small world! Equipped with their local knowledge, we were able to find some real basics from a series of tiny tiendas lining dirt streets. Obviously, for boats lingering long-term in Tenacatita, the accessibility of Barra de Navidad for provisioning is a big plus.
What makes Tenacatita work for cruisers I think is their own abstract sense of community, which strengthens when there are fewer shoreside distractions. While we were there we partook of a dinghy cocktail raft-up, a big group dinner aboard Siesta, a girl's afternoon aboard the catamaran Out of Africa (the boy's retaliated by gathering on another boat!), and dinner for the 2Cs aboard the same cat after I successfully deactivated the alarms on their depth sounder which had been driving them batty!
After four days, however, we were ready to move on, and we weighed anchor on a promisingly bright morning intending to stop at least briefly in Bahia Careyes, reportedly a very picturesque collection of coves with upscale hotels and a Club Med. However, as we moved north, the wind started to fill in from the south with enough vigor to shut down the engine and sail! Because southerlies are so rare, we were very tempted to just keep on going the rest of the ninety miles to Puerto Vallarta, but we turned into Bahia Chamela as planned, and, as it turned out, the winds petered out several hours later after all.
Unlike Tenacatita, the Two Captains took to Chamela (19*34.93'N; 105*07.84'W) right away. Who's to say why? We spent our first afternoon anchored among the cluster of small islands in the center of the bay, sheltering from the chop kicked up by the southerlies. However, when the wind veered back to the northwest and died mid-afternoon, we moved farther up in to the larger anchorage in the north part of the bay. There, sheltered behind a very dramatically rocky point (reminiscent of the BVIs Indians multiplied by four), we found a wide open anchorage backed by a sweeping white beach that stretched, as best we could tell, the whole length of the long bay. Tucked up in the most protected corner was the obligatory line of palapas, with a row of fishing pangas beached in front of them. The beach was substantial enough to have an actual dune, and behind this was a line of crumbled walls and buildings. One block inland from the beach was a what struck us as an extraordinarily subdued village strung out along a paved avenue that stretched straight as an arrow for at least a couple of miles!
The village may have been subdued, but the bay itself was not. The very first night we woke to vigorous splashing punctuated by sharp exhalations all around the boat that proved to be an extensive school of dolphin actively fishing among the schools of needlefish. In the bioluminescence the dolphins left corkscrew contrails of sparkle while the needlefish exploded in straight-line radials! Wow! This repeated itself several nights! Thank God for those aft portholes! Then one morning we found ourselves surrounded by a school of about fifty small bat rays who for some purpose only they know chose to churn the surface around TII with their wing tips! Something must have been spawning for the boobies dove like dive bombers among them and large yellow-fin jacks worked the show from below. In the clear water it was quite a show from deck.
Although we packed up in vain to leave Chamela two times, we ended up spending seven full days there, thanks to a weather cycle that settled in to the north of us which created strong winds and nasty seas around Cabo Corrientes, a big cape between us and Banderas Bay. Boats that ignored the weather reports and did try to leave were either forced to turn back or got beat up miserably! Other than the fire drill with relaunching the dinghy each time, we found we didn't mind the delays a bit. Over the course of our week of waiting a daily schedule evolved for the 2Cs that included either a row in the dinghy or a paddle in Siesta's kayak out around the rocky point - addictively good for both the mind and the body, followed by a two-hour beach walk, followed by a mid-afternoon meal in one of the few restaurants actually open. The walking group started with just us and gradually swelled in number through the week, but the number of cruisers willing to while away an afternoon waiting on such seafood delights as ceviche, shrimp diablo, octopus with onions and garlic, and, yes, the inevitable whole snapper, was always dependable. I know it sounds like a tough life, BUT it suited us just fine.
It took until our very last day before Ed, with his fluent Spanish, finally got put together a picture of this little town's reality. Essentially a beach getaway for urban Mexicans, the community spends most of its year quietly catching fish from the fleet of pnagas. On weekends things pick up a bit with clusters of families and inflatable beach toys enjoying the seaside and buying the odd lunch at a palapa. However, things were now definitely gearing up for the upcoming Semana Santa, the big holiday week of their year, with extra tents being set up and truckloads of the ubiquitous white plastic chairs (how did we ever sit down before them!) being unloaded. For the 2Cs, this brought back memories of Bahia de Caraquez, Ecuador, the small coastal town where we spent the Easter holiday last year. In eerie symmetry, it seems the crumbling buildings in Chamela, including a solitary high-rise a mile along the beach, are the lingering evidence of a big earthquake that hit the region in October 1996. Unlike the concurrent mudslides that Bahia de Caraquez suffered, Chamela got a tidal wave with their earthquake. Our waitress, pregnant at the time with the child hanging by her hip, remembered vividly the water receding from the bay and rushing back in to engulf the shoreside buildings, a very scary image for boaters!
Finally, on Wednesday March 20th, the forecast and reports seemed to permit a weather window to get round the Cape, and we, along with seven other boats readied ourselves for an afternoon departure. However, in a most atypical departure, we enjoyed a mid-afternoon send-off party aboard the powerboat Spirit Quest, who had most of the anchorage over for a final potluck featuring their tuna sashimi and some vegie sushi I assembled. Maybe we should do that more often, for we all enjoyed a great trip north, motorsailing with a favorable current, making such fast time around Cabo Corrientes that we arrived in La Cruz several hours earlier than expected!
La Cruz, despite being a very small unprepossessing assembly of buildings and cobbled streets, is chock a block with things going on, most centered on food and music. We've been here four days, and I'm already ready to write another Update…and just getting to this one. But I'll save all this excitement for another report in a few days. Meanwhile, we have a little engine problem to cope with (mechanic already lined up), a dentistry experience for me to follow through on (gonna deal with that root canal), and several potential visitors looming in indecision. It's gonna be a busy, busy, stop!