Volume 68
6 May, 2002
Banderas Bay
Between Cabo Corrientes and Punta de Mita, Banderas Bay takes a nice big bite out of the Mexican coastline. It is said to be the seventh largest bay in the world with a bottom that has yet to be found. The southern shore has deep water and steep-to mountains with several small villages tucked in coves reachable only by sea. In contrast the northern coast is gentler, with shallow depths, long beaches, and sloping hills where a couple of larger towns are strung out along a coastal highway.
In between is a long west-facing coast, almost all beach, along which is Puerto Vallarta and its resort satellites. The old town of PV is packed into the southeastern corner of the bay around the Rio Cuale. Here you find the old mercado, the narrow cobbled streets full of shops hawking Mexican artifacts and silver jewelry to tourists, and the very lovely ocean front boulevard known as the Malecon. North of old town is a strip of international-style hotels, restaurants and supermarkets, followed by a cruise ship dock (across from which is a SAM's Club and soon-to-open Walmart!), the huge Marina Vallarta complex (a town in itself) and, just beyond, the airport. North of the airport one crosses from Jalisco State into Nayarit State. No subtle transition here, there is an armed border crossing manned by soldiers with rifles! This state border is also the border between the Central Time and Mountain Time Zones. Since the northern sweep of the bay is functionally a part of the same resort destination, most people just keep to Puerto Vallarta time. That's most people; but not everybody…..makes for some confusion!
Immediately, north of the border is Nuevo Vallarta, a region that doesn't even show on maps more than a few yeas old. That's because it is almost entirely a recent figment of Tourism's imagination. Between the highway and the beach a loose grid of streets meet at rotaries dividing up the terrain into chunks belonging to this resort or that. In the center is a huge raw new golf course. Along the beachfront are huge resort projects, many in process, and inland of that is a nascent Ft. Lauderdale of expensive houses on boat-lined canals and two more marinas. There are lots of lots for sale.
February-March is a big time for cruisers in Banderas Bay. Boats heading for the South Pacific are poised to set sail, and, since Banderas Bay is a good point to depart from, Latitude 38, the popular West Coast boating magazine, puts on a famous series of seminars and parties for the "puddle jumpers". Then there's the Banderas Bay Regatta, one of the major events on the west coast cruiser's social calendar. Timed to take advantage of the northbound migration of cruisers, the regatta takes place the first few weeks of March and fills any slips that might still be left in the marinas. It's a week of big parties punctuated by sailboat races, and clearly most people come for the parties.. We had been hearing about both the Puddle Jump events and the Regattta for months, and at one time intended to get here in time to participate. The weather in Chamela prevented this, but we were not much disappointed. Slips in the three marinas were hard to come by even a week or so afterwards.
La Cruz de Huanacaxtle -- March 21-27
Upon arrival from Chamela we dropped the hook in the inner bay's only real anchorage, la Cruz de Huanacaxctle. Although the population was beginning to thin out, there were still forty or fifty boats at anchor. Ashore, behind a breakwater was a little beach for landing dinghies and right there was Ana Banana's, in every way a quintessential cruisers' hangout. Ana is a young energetic Mexican lady married to a crusty gringo sailor/musician type. This meant there was regular music, cold beverages and inexpensive food available pretty much all day, which, with Ana's great smile made for a winning combination Ana Banana's alone could have made many a cruising destination, but the sleepy, cobblestoned town of La Cruz held a surprising number of attractions. Our first night, we were hustled to Papacito's, a very charming European-style restaurant in a courtyard, for the finale performance of the season by a group called Latchko and the Gipsies. This was very exotic and powerful music, and the group is much beloved by cruisers. And frankly, after weeks and weeks of seaside palapa food, a dose of European gourmet cooking was delightful. There is also another music bar in town called Philo's, which leans a bit more the country western direction. Philo's was a hit with Sam of Sandi Lee, who likes a bit of clogging when she can get it. Another evening we joined a birthday party at Los Dos Felipes, where the open mike-type music was so boisterous that it blew the power out for the whole town!!! Well….maybe it was a coincidence, but it didn't stop the music. Someone brought a battery-powered amplifier and the music went on.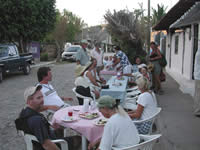 Our favorite spot, one which we returned to four times (!) was Jorgé's. Jorgé's is a private home, which sets up tables in the street on Saturday and Sunday evenings to serve homemade beef tacos and quesadillas. These are nothing like anything we have tried anywhere else. Luscious. Your only choice is whether to have them in corn or flour tortillas. In the center of the table is a plate with radishes, salt, picante sauce and roasted peppers of a fiery persuasion. Beverages are horchata, rather like rice pudding in a glass and a red drink made from hibiscus. If you want beer or wine they must come from the shop around the corner. You are waited on by the sons of the house, both handsome young men in medical school. One night, we had a great conversation (mostly in Spanish) with three local business men at the next table. Another time, we brought Tiffany and Tyson over from the marina, and they were a big hit with the sons…and I don't think the dog was the main attraction!

In some ways, La Cruz was the perfect anchorage for us, because in the calm mornings the sun beat down on the solar panels while in the afternoons the wind piped up to crank some amps out of the wind generator. On the other hand the boats tended to switch 180 degrees each day, which always makes you a little anxious about the holding. One night we came back around midnight to find our neighbor concerned that we might be dragging. We didn't think so, but in the spirit of good beighboship, we fired up the engine to move clear, only to have it die! Yikes. A half hour of midnight-tinkering later, we determined that we had an injector pump problem. Don managed to jerry-rig things enough for us to move and reset our anchor, but we feared we had a major problem on our hands. In the morning we called "Teapot Tony," the mechanic of local repute, and thereby discovered that rebuilding an injection pump, a very expensive proposition in St. Thomas, for example, might prove to be one of the good deals of Mexico. However, it was days before Easter weekend, and we decided not to count on the promised 24-hour turnaround. Instead, we limped into Paradise Village marina, where most of our friends had already gone, which we figured as a safer location to be without an engine.
Paradise Village Marina, Nuevo Vallarta - March 27-May 6
It was a good call. The 24-hour turnaround on the injection pump ended up taking a week, but more to the point, Tony and Don found another problem out of sight underneath the injection pump. A plug in the engine block, placed there to protect the engine from freezing (!), was steadily seeping coolant. It was a serendipitous find and only a 75-cent part, except that a plug the right size simply could not be located! The hunt tied us up for three weeks. We were very glad we weren't still out on the hook in La Cruz!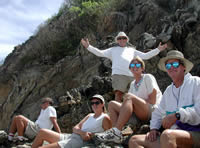 The social scene, however, might have been quieter out there. Paradise Village was packed with cruisers, some we had been traveling with, some we had know from earilier ports (including the Caribbean!), and, of course, many we had yet to meet. Ed on our sistership Siesta was there our first couple of weeks, and true to character, he organized one huge group outing after another! The best of these evenings was to a Cuban Restaurant on the Malecon (Waterfront Blvd) in old Puerto Vallarta. Ed and his wife Daisy, both Cuban born, could have been hosting us in Havana, he was so keen to have us all try and enjoy the tastes of his home country. The hit for me was a totally new rum drink called a "Mojito".
Recipe for Mojito: Juice of ½ lime, 1 tsp. Sugar, crushed ice, 2 ounceswhite rum, splash of club soda, and 1 or 2 sprigs of fresh mint! Talk about refreshing!
Unfortunately, unlike Jorgé's in La Cruz, none of the restaurants we visited in Puerto Vallarta were anywhere close to reasonable! It wasn't so painful if they were good, but even that wasn't guaranteed.
In the meantime, our enthusiastic gushing about life in Banderas Bay signed up a series of visitors. First was Terri Sue and Michael, sailor friends of Tiffany and Derek's who came down on a quasi-business trip to the very ritzy Four Seasons Resort out at Punta de Mita. We met T-Sue and Michael at the airport where they passed over a few parts for us (including, we hoped, the right freeze plug) and invited them to an afternoon on TII the next day. This they accepted even though we couldn't leave the slip for the sail we'd hoped to take them on. The afternoon expanded to a big BBQ evening at TII with friends from Sandi Lee and Pizazz joining in. It was much fun. The very next day, Tiffany flew in with her doglet under one arm and another bagful of parts and stuff for the two captains. Tiffany, of course, had wanted to overlap her visit with her friends, but the overlap was short. Almost straight from the airport, we hopped a taxi out to Punta de Mita, an hour away. Trying to coordinate this rendezvous without a phone was a bit tricky; email isn't quite as timely, and T-Sue and Michael had forgotten to leave our names at the Four Season's gate, so we were turned away. Ever resourceful in such matters, we determined the name of the most popular beach palapa from the guard, left a message for them to meet us there and carried on down to the beach.
T-Sue and Michael met us about halfway through our plateful of fish tacos and ceviche (Tiff hadn't been fed on the plane) and they settled right in, ordering, in true Mexican fashion, a round of tequila! Next thing we knew it was 8:30, dark and the restaurant was closing! We should have gone home then, but Michael wanted us to "see" the Four Seasons. Not easy to do after dark, although the fleeting impressions were elegant. No one needs us to go into the rest of that evening except to say we were poured into a Four Seasons van to take us home, and we were sufficiently memorable that the driver recognized us a week later downtown!
T-Sue and Michael did not get their daysail in their last day, possibly feeling as slow as the TII crew. But, Teapot Tony, did in the end get the engine running, so we could have done it (I'll leave the details to Don's next "Engine Room" report.) Tiffany, never a keen sailor, was just as happy to appreciate the luxuries of Paradise Village.
Until we had our glimpses of The Four Seasons, we had thought Paradise Village to be a pretty upscale resort. Built in a tasteful imitation of Mayan architecture, the resort has two main hotel buildings, several condo buildings, its own enclosed shopping mall, and some large-scale further development in process. It is situated on a barrier strip of beach with the breakwater and inlet to the marina at one end and a long line of slips down the canal behind it. It is beautifully landscaped (where there isn't construction) with tennis courts, a spa, two handsome pools with
waterslides sculpted to look like Mayan serpents, and it's own small zoo! Inland is a just-opened golf-course, around which are many, many housing lots for sale.
Paradise Village is the type of place where you charge everything to your room or slip number. This is scary stuff, especially as cruisers start to really relax on the beach or around the pool! But just when I was starting to have a panic attack over the luxury quotient of the place, a practical-minded Canadian on a boat near us pointed out that the cost for us for a slip for a month wouldn't get you four days in one of the rooms! Yikes.
So, Tiffany enjoyed the gym, the spa, the pool, and the beach, and we enjoyed them right along with her, only instead of the gym at $7/day, the two captains stuck to daily power-walks. On April 21, my sister Jo arrived, having linked a visit to us with a trip to Pasadena, California for her fiftieth high school reunion! Jo, unlike Tiffany, was skeptical of such sedentary activities as pool and beach sitting. She was even a little skeptical of daysail plans. To make sure she wouldn't be left sitting the whole day, we lined her up with a tennis partner, and early morning matches were almost a daily thing. We understand she did quite well…once she got used to Simba, the lion, roaring just as she was about to serve.
Jo and Tiffany overlapped a couple of days, which was kind of neat as it was only the second time members of our two families have met. In those couple of days, even Jo began to acquire a taste for the beach and pool life! However, once Tiffany flew home, the two captains were determined to provide at least one of our guests with a daysail, so off the dock we went to motor out to Los Arcos. Los Arcos are a series of rocks south of PV that have eroded into striking arches. Jo and I had a great snorkel there finding lots and lots of fish in the cool water, followed by a charter-type luncheon on board. Our only disappointment was a failure of the usual afternoon winds to spring up for a real sail home.
So we tried again a couple of days later, motoring out to Punta de Mita (the scene of the tequila crime) for a well-behaved afternoon getting the beach palapa experience and a night at anchor. The next morning, we puttered out to Isla Marieta, one of three fairly barren islands in the mouth of the bay that recalled the Galapagos quite strongly. Birds were everywhere and fish too, only the snorkeling was not quite so enjoyable thanks to lots of jellyfish around. Jo got a few stings from what we fondly refer to as "sea lice" - not lice at all, but single cells of various stinging organisms adrift in Neptune's soup - but good sport she is, she didn't let it ruin the outing. This time, the wind did come up and we had a great three-hour sail back to the marina! In the end, Jo claimed the sailing days were the highlight.
When Jo left, I'm sure she thought the two captains would be off the dock in a matter of hours, so whet was our appetite for being OUT OF THE MARINA. However, it took another week. I had yet to finish up some dentistry I'd started the day after arriving, Don had yet to take his fair Indiana skin on its annual visit to the dermatologist, and our back-up refrigeration was found, on testing, to be locked up, and therefore not much of a back up at all!
Also we had our first experience with the convolutions of Mexican customs bureaucracy. A box of parts we had ordered from San Diego but which had not made their way to us in the luggage of any of our three visitors, flew in by air freight. We have a paper called a 10-year importation permit, meaning we can import repair parts without duty. Only problem is that for each new part, you must produce an old part. Since not everything in the box was strictly a replacement, and since two things were replacements for things lost overboard, it was a challenge to come up with enough junk to turn in. However, there is a guy in business to provide this stuff! Don spent about $10 with him o avoid about $300 of duty. Isn't Mexico grand!
What made this Customs experience so ludicrous (politely ludicrous, mind you) was the utter smooth efficiency we experienced getting our FM3 Mexican visas from Immigration the week before. Tourist visas are for 90 or 180 days. This would have meant for us that we had to leave the country six months after our entry, or just about the end of July. As that is hurricane season as well as prime time in the Sea of Cortez, it was not something we wanted to have to do. Also, any visit by the 2Cs to the US, gets pricey, not even counting the airfare. So we sprung for the annual visas, which allow us to stay for a year and are renewable should we stay longer. We had been told the visas would take three weeks, but we got them in 8 days, with polite and friendly service.
But even these last minute boondoggles got cleared up, and we finally backed out of Paradise Marina for good at noon on Monday, May 6. It was overcast, and the wind was, of course, blustery against us, and we had to tack our way all the way out to Punta de Mita in the lee of the land. But once that anchor was down and the rums in hand there were two very happy captains. Marinas are convenient for many things, but there is no doubt we prefer to be at anchor.