Volume 69
10 May, 2002
Jaltemba & San Blas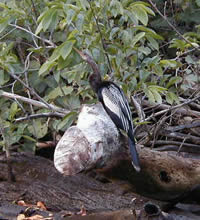 Rounding Punta Mita and heading north was a major psychological turning point for the Two Captains. After all those weeks in the marina, this departure almost felt like an escape.
Practically, speaking, it marked the beginning of a sequence of easy "day sails," a real treat after so many months of overnight passages. Indeed, we actually were able sail on our first leg to Jaltemba. Not the whole way, mind you, but perhaps half. It was a gentle easy sail, but making an average of four knots, it was an acceptable pace. We said to each other what we always say to each other in these conditions..."We could go around the world like this!"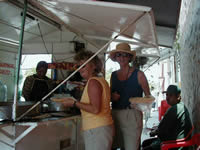 Jaltemba (21*02.81'N; 105*16.17'W) was a much bigger bay, with more development, than we had deduced from the cruising guide. Only a hour or so north of Puerto Vallarta by car, it seems this is a big vacation destination for Mexicans (PV being mostly for foreigners). There were a couple of possible anchorages along the two beaches, but another out in the lee of a rocky lump called Isla Pena. We found a spot of sand due East of the rickety landing jetting there and plopped out hook down a little past midday. Above the jetty were two restaurants. Although both were painted up nicely, the lower one was definitely not open, and we made no bets about the one higher up that we couldn't see into. The odor of bird guano was pretty strong.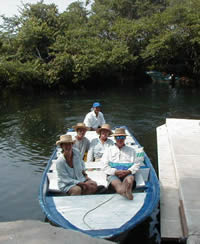 It wasn't long before we caught on to the system. Water taxis came and went with families whom they deposited neatly on the beach (which took some fancy maneuvering backing in through rocky shoals.) Each group would stay an hour or two before being whisked away again. It was not crowded. The 2Cs got energetic and went for a snorkel. We were surprised to find coral reef towards shore, and quite decent snorkeling of the cobblestone bank to the north. Visibility deteriorated as we neared the little beach, so it's no wonder the visitors didn't do much snorkeling Don however, did find treasure in a $100 peso note (About $10 USD) in the reef. He took that to be sign we should go ashore for a cold drink, which we did, finding the upper restaurant indeed open. It was a fine view overlooking that very fine white sailboat.
We stayed two nights at Isla Pena. Every morning we would wake to find the coast swathed in what looked like fog but turned out to be smoke! It seems at this time of year, the locals burn their fields in preparation for the rainy season. Sandi Lee, still traveling with us, had opted to anchor off the town, so every morning they were cloaked in the stuff.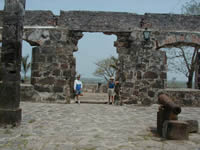 Our next leg was originally going to be a long one to Isla Isabela, but T2's engine had made a couple of strange noises which had us somewhat concerned. The bill for servicing the injector pump, not to mention all the injectors, and resetting the valves was plenty fresh in our minds, but nonetheless something was acting up again in the number one cylinder.. Don changed the injectors for our freshly -serviced spares, and still it made the noise. So , in a fall back move, Don resorted to the never-fail option of treating the problem with Marvel's Mystery Oil. He put some in the fuel tank, he put some in the oil, and he sprayed some into the air intake on the hypothesis that we had a valve sticking. One of those moves worked, because we've heard nothing since! Have a mystery? Treat it with Mystery! That's our motto!
Still, the prudent plan seemed to make another short leg, rather than a long overnighter. There were two small ports less than thirty miles away, and we chose San Blas, even though it meant...yes, another port captain. We are very glad we made the stop.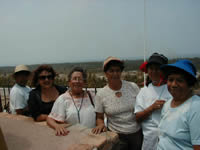 San Blas is more like the Caribbean than any place else we've seen on this side. It is situated on the mouth of a huge estuary that spreads lush, green mangrove marshland as far as the eye can see up and down the coast and inland to a range of low mountains. There are no signs of tourist development...or any development for that matter. There are two options for anchoring: one in the river estuary itself right off town (21*30'N; 105*17'W); the other three miles to the east in Matanchen Bay (21*30'N; 105*14'W.), which we chose.
The town, a busy fishing port, is good sized and lively, but there is hardly a gringo tourist in sight! Ironically, they actually have something to see. Historically, this was the base of Spanish maritime operations on this coast, and many of the ships that explored the Pacific were built in Ensenada Matanchen! Most of the expeditions to found the famous string of missions in California left from here., and Longfellow wrote his famous poem "The Bells of San Blas" about the town. There are several picturesque ruins about to support all this, but the tourists were uniformly Mexican. Clearly Mexican tourists have different standards than gringos. We met a large group of middle-aged ladies from the city of Puebla in the ruins of an 18th century fort on the Cerro de la Contaduria overlooking the town. The ladies were each very festive with a red hibiscus in their hair, but as a group they left in the back of a flat bed truck!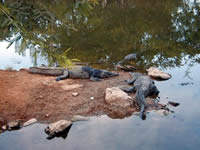 The highlight for us, however, was yet another "jungle trip" by panga up the mangrove estuary. Of all those we've done, in many different countries, this one was the best. We four went ashore early and got the first panga on the river in care of Hugo, who was very knowledgeable but spoke no English! We saw tons of birds, including anhingas, kingfishers, boat-billed herons, caracaras, owls (2), hummingbirds, tiny ducks, turtles, and crocodiles.Down one fork is a crocodile farm, where we got good look at crocodiles at various age levels. These
were behind stout fencing, which was good as one was in a aggressive mood lunging at Don and Mac with impressively snapping jaws. Up the other fork was La Tovara, a fresh water spring with a terrace restaurant and a fenced in swimming area. We enjoyed a dip in the crystal clear water along with catfish and turtle, and followed it with a nice breakfast. After chatting with us about our travels and swapping salsa recipes, the proprietor Frederico THEN offered to call their "pet" crocodiles for us to see. Crouching at water's edge on some concrete steps, he slapped the water several times, and, by golly, in swam three crocodiles from the bushes, each one larger than the one before. The last had to be twelve feet in length (even the the crocodile farm states they grow to a max of two meters...baloney!). Imagine our reaction when one of the crocodiles did a surface dive and passed right under the fence into the swimming area we'd been in a half hour before!! The proprietor was fairly quick to get the family of kids out of the water!
There is an American...no, a New Yorker, here named Norm, who with his wife has been based in San Blas for some thirty years. Norm is a self appointed ambassador for the area. He has put together a little booklet with lots of local information, he stands by on the VHF to guide people into the inner estuary or to call for cabs to be sent out to the beach at Matanchen, and he invites just about every cruiser to come by his home for coffee and cake. Unfortunately, Norm's radio presence has a deliberateness that makes you think of a depressed Mr. Rogers, and his sense of responsibility requires him to pass along and emphasize a long list of "warnings." He wants you to come to San Blas, but he wants there to be no surprises when you do, so he publicizes all the negatives right along with the positives. The negatives are mostly the port captain requirements and the fact that you must use an agent here which costs even more. This actually worked in our favor, since the agent collected our papers at Norm's over coffee and cake and somehow he cleared T2 through in the lower price category!!!! Then there's the prevalence of pesky insects, especially voracious no-seeums (which supports the huge bird population), and of course the usual warnings about locking everything up! In person, Norm is a big bear of a guy, a former steel construction person, and his wife Jan is lovely lady who manages to be a terrific watercolorist (she is doing a fabulous series of lithographs on the Huichol Indians) as well as an award-winning sportfishing person! Together, they can't do enough for visitors.
So, in the end, we were very glad we stopped, and we would certainly urge other cruisers to ignore the negatives and not miss it.