Latitude: 9-00.96N
Longitude: 079-36.560
March 8, 2001
Pedro Miguel Boat Club - Panama Canal

Here it is March and we are still here at Pedro Miguel Boat Club partway through the Panama Canal. When we arrived at Pedro Miguel in January, we thought only to stay a couple of weeks. Even with my trip to Ft. Lauderdale, even with all the stuff I brought back, we were pretty close to being ready to move on after three weeks.
But then Don went to turn on the standby propane tank, and gas gushed from the valve. Needless to say the parts for these American non-standard tanks and valves aren't available here, and, since the tanks are twenty years old, the prudent thing seemed to be to order two new ones. Of course … they weren't in stock.
Once you are waiting, it's easy to wait for more stuff, so our second thought list expanded substantially. Mike, who still has several weeks of recovery time to wait out in Ft. Lauderdale, has been running all over kingdom come tracking down these things for us. Then there was the autopilot whose idiosyncrasies we decided we had time to get checked out, only that led to sending it to New Hampshire for warranty work! Yikes, how things multiply!
However all shipments but the autopilot (thanks to the winter storm in the northeast) have arrived. We are making preparations to leave next week, mid-week to the weekend, most likely. (There's a chance Tiffany may arrive in time to down lock to the Pacific with us!) Check your emails regularly from Tuesday March 13th on if you want to catch us on your computer in the Miraflores Lock camera. We'll email out our scheduled time as soon as we get it.
Meanwhile, the delay has given us more time for both Panama and the Pedro Miguel Boat Club. Although we did not take the long-weeked trip to Boquete we talked about (reports were of chill rain), we did make a day trip to El Valle in the mountains of Coclé Province. El Valle's Sunday market draws visitors from all over Panama, which led us to anticipate something sprawling, which it was not. Indeed it was quite small!. We did find some treasures and some nice vegies, plus we split two giant bags of juice oranges and grapefruits among three boats, but it's a long drive for just that.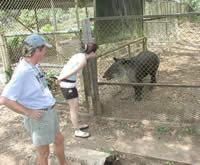 From the market, however, we went on to the Hacienda El Nispero, a pleasant zoo in a garden setting, which gave us a chance to get an up-close look at a bunch of Panama's exotic animal and bird life, including tapirs, agouti, ocelots, sloths, monkeys, alligators, ibis, toucan, pheasants, parrots, macaws…..even Panamas' gold spotted, poison-arrow frogs. No jaguars or cougars, however.
Don and I also indulged in a "canopy adventure" wherein we donned a harness and gloves and, clipped to a pulley on a cable we slide through the treetops. Can we say, "Wheeeee!"? It's billed as a way to view the special ecology of the rainforest canopy, but really it's an amusement park ride. It all happens way too fast to look for flora and fauna. Yachties are notoriously tight with a nickel, so our compadres dampened our enthusiasm for the $40 experience. However when we stopped by, a shortened version could be had for $10@, and not only did we have a thrill, we believe it was the highlight for those who watched. Don was ready to go for the whole ride then and there, and we probably should have, because we missed the segment over the waterfall!!! Fortunately, we'll have another opportunity up in Costa Rica.

Nearer at hand our morning walks have turned us into novice birders. Our walks generally take us south or north along the rail bed of the Panama railroad, which is currently being reconstructed. Hawkeye Don can see details of tiny birds a hundred feet away, but a small pair of field glasses has done wonders for me. We have not been the only walkers/birders out there, so we stop as often to compare notes as to study birds. We'd have to confess it was the four Keel-billed Toucans in the one tree that really hooked us. Four Toucans! In the wild! They and the exotic little Black-crowned Night Heron that landed up close on some
dock lines along with the pair of swooping Fork-Tailed Flycatchers. Our most recent thrill was a female Anhinga. It's just like fish-watching, only they move faster. My "tiny bird" list will never fill out!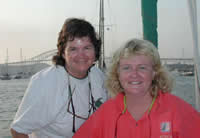 The Club itself is an interesting and comfortable place, with cruisers coming from East and West, plus a few who've been here awhile. One interesting pair is Nancy and Kaci, the captain and mate of Tethys. Nancy is about to complete her second circumnavigation and Kaci her first. They teach world cruising to women guests who sign on for various legs of the trip. (For info and schedule email tethys@compuserve.com). Craig Owings, the commodore here, is a character of wide ranging knowledge, who is busily prepping his CSY Pogo to return the cruising life after 14 years in Panama. His wife, Sarah was the first woman Panama Canal pilot. She made her last trip through last week, and as her ship cleared the Pedro Miguel Lock, all the yachties lined up on the docks here to salute her with every noisemaker at hand!

The Canal, of course, dominates the experience. It is easy to sit here awhile - watching ships of all descriptions and nationalities come and go all day (even at night) - and take the phenomenon of the Canal for granted. David McCullough's The Path Between the Seas, a thoroughly absorbing history of the creation of the Panama Canal, however, puts every inch of what we see into perspective. Its construction spanned 44 years, absorbing millions of dollars and affecting the politics of several nations - France, United States and Colombia. It was built in a period of such great engineering and scientific leaps forward that the achievement
was truly heady for all. Today, it is functionally the same canal it was when it opened in 1914 and really it is just as marvelous.

Not only should no one take the existence of the Panama Canal for granted, but no one should take its smooth operation for granted either. Most of the yachties make several trips through the canal as line handlers for friends before and after transiting on their own, as we have. Although every time is different, usually with some distinctive adrenaline moments, on the whole the system works.

On Friday, March 2, it didn't work for our friend John on Nepenthe and a Swiss couple on a Dufour 47 called Antares Royale. While uplocking in the Gatun locks, side-tied to a Canal tug, the tug's stern line came loose (somehow?) and the whole raft-up swung into the stern of the huge freighter in the lock in front of them. John's boat was nearly driven under the surface and both boats were violently dismasted. It was the first serious incident involving a sailboat in fifteen years! The good news is, incredibly, that no one was hurt. Equally incredible is that the Canal appears to be accepting responsibility. It will not get cleared up overnight, though, for sure. Both boats came to Pedro Miguel yesterday, Antares under her own power, Nepenthe lashed to a pilot boat. There is nothing more sobering to see than hurt cruising boats, for it is not just the physical plant that is injured, it's the souls, the dreams and the plans of her owners.

As I said at the top, we are pretty much ready to go. The lockers are bursting with provisions, and Don's "To Do List" is almost empty! On to the Pacific!