HOME

WAYPOINTS

LOGBOOK

REFERENCE SHELF
CHARTERING

ENGINE ROOM

GALLEY

ADMIRAL'S ANGLE

LINKS

CONTACT

HOME
Follow Our Latest Adventures on the New Tackless Too!
2018...Headed for the Bahamas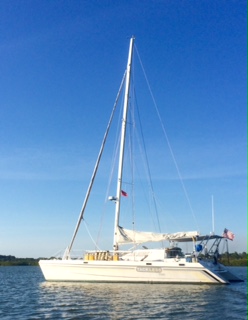 Welcome aboard!

This website has served as the communications homeport of Captains Gwen Hamlin and Don Wilson -- also known as The Two Captains or, for short, the 2Cs -- since 1999, and we're still at it aboard our new boat, Tackless Too, a St. Francis's 44 catamaran!

Like any good homeport, the site was conceived to be a place for family and friends to drop in and catch up on all our latest doings. As the posts evolved into deeper and more thorough articles about the places we visited, we were surprised that our readers increasingly were people we'd never met looking at the site as an information resource! All our adventures are documented by region under the Logbook tab. *

TheTwoCaptains.com was first launched when Don and I departed the Virgin Islands to go cruise the world full time, aboard TacklessII , a CSY 44 walk-through, cutter-rigged sloop. That voyage lasted ten years. Prior to that cruise, I operated a dive-sail charter business in the Virgin Islands from 1991-1999, first aboard Whisper, a CSY walk-over cutter and subsequently with Don aboard sistership Tackless II. Both boats were extremely successful and we're proud to boast over 250 charters all together.
TacklessII was a CSY 44 walk-through, cutter-rigged sloop. From 1996 to 1998 she was operated as a dive-sail charter yacht in the Virgin Islands. The charter business was previously operated for six years on TacklessII's sister ship, Whisper, a CSY 44 walk-over model.

Both boats were extremely successful and are proud to boast over 250 alumni charter guests whom we expect will be among those following our exploits on the site!

TacklessII was sold in Australia in 2009, and Gwen and Don returned to the US to be with family

Staying in touch with family, friends, and former charter guests was the initial driving force for this website, but writing the posts turned out for me, Gwen, to be a great classroom for re-honing rusty journalistic skills, which eventually led to articles and a column in national cruising magazines (Latitudes & Attitudes, Cruising Outpost, Cruising World and the SSCA Bulletin) as well to becoming one of the founders of WomenAndCruising.com, an online resource for women cruisers.

After we sold TacklessII in Australia in 2009 and returned to the US to spend time with family, we were fortunate to keep up our sailing skills by crewing for friends aboard their very beautiful St Francis 51 catamaran Quantum Leap, in three extended voyages in Indonesia, the Caribbean and the Bahamas. Those adventures are also captured for readers to follow in Blog links also found under the Logbook tab. Our trips aboard Quantum Leap introduced us to catamaran sailing.

So, now we have a catamaran of our own and aboard the new Tackless Too, we begin a new chapter for the Two Captains.. Go again to the Logbook tab or follow the quick link at the top of this page to jump to our latest saga about acquiring, refitting and setting sail on this great new boat.
* Technology apology: The technology of web pages changed in great waves back and forth over the years since TheTwoCaptains.com was first started in 1999, plus the website had several different webmasters who changed back and forth between PCs and Macs, not to mention different programming languages! In the early days (we left with a digital camera that could take just 10 photos!), it was all we could do to get one tiny photograph transmitted from the boat by ham radio or a shore based Internet cafe! By the end, new blog formats, WiFi and cellular modems have made uploading photos a breeze.

* As a result, the posts you will find under the Logbook tab vary greatly in format. Sometimes the type is very small, sometimes the page wider than your screen, and sometimes strange characters are sprinkled throughout. An anal techie would fix all that, but I am not that. I am a writer, who sometime remembers to take pictures.
****FAVORITE SUNDOWNER RECIPES****

Recipe for Sunset Sangrias
In a tall glass with ice:
2 ounces white wine (or white zinfandel)
2 ounces orange juice (Tropicana is best), mix.
1 ounce Whisper Punch*, do not stir
1 Tablespoon Grand Marnier, floated on top

*Secret formula Whisper punch mix, makes 1 gallon
1 can frozen Welches Guava Punch (subsitute Passionfruit)
1 can frozen Five Alive Citrus Punch (or any Citrus Punch)
2 cans frozen Bacardi Strawberry Daiquiri mix
1 small can frozen, Minute Maid Limeade
Water to make 1 gallon