2C Update #132 - Vava'u, Tonga (September 15 - November 29, 2005)

We are smitten with Vava'u, Tonga. (Pronounced Va-VAH-oo, Tong-Ah) It is serious. After six years we have stumbled on a small paradise where the hills are green, the water bright blue, humpback whales frolic and a plethora of anchorages are tucked throughout a maze of curled-together islands, all an easy hour or two travel from one to another. Town is yachtie-friendly and offers a waterfront almost completely dedicated to those services – bars, restaurants, Internet cafes, and laundries – designed to make sailors smile.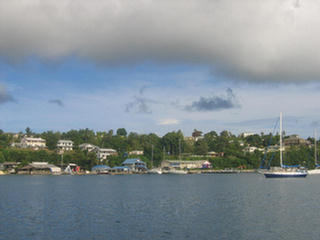 If it sounds reminiscent of the Virgin Islands, it is…and yet it isn't. At nearly the same latitude south as the Virgins are north (18 degrees; 18*49S;179*W), the climate seems comfortably familiar. Yet, there are no crowds here – no cruise ships, few tourists and little shopping beyond what some small stores, several bakeries, a great produce market, and handicraft vendors can tempt you with. The Moorings bareboat fleet – with just twenty boats in season – is not much threat to privacy in most anchorages, and even during the months – June through November – that the cruising yachts swell enough in number to fill the main harbor, the scattered anchorages of the outlying islands remain practically empty.

| | |
| --- | --- |
| | |
Surely the biggest difference between the two island groups is in the local people. Tongans are very secure in who they are. They are citizens of the Kingdom of Tonga, the last remaining true monarchy in the world, and the only island nation of the Pacific never to have been colonized by any of the European powers. Community life is built on the twin foundations of the monarchy and the Christian church, and it seems to satisfy them wholly. However, unlike the residents of Niuatoputapu, who with cruisers act like shy children, the people of Vava'u are enough accustomed to visitors that cruisers' presence and doings are taken for granted.
We were already in a good mood when we arrived. Our 160-mile passage south from Niuatoputapu had been sinfully smooth, thanks to there being only enough wind to keep the mainsail full as we motored over a glassy sea. We really hadn't thought there'd be NO wind; the forecast called for light winds of 5-10 that we'd hoped might be a bit stronger. But the fact is that truly favorable winds coming from Niuatoputapu to Vava'u are hard to come by, since the course puts the prevailing south-easterlies right on your nose and winds from elsewhere are usually either light or accompanied by bad weather. No sailor likes to hear the engine run for 30 hours, but the comfortable ride, especially during the night under the nearly-full moon, was nothing to sneer at.
The north face of the archipelago is a sheer cliff of many colors, topped by green. All of Vava'u slopes away southward from here. As we motored into the embrace of the archipelago, we saw a seascape of green islands and islets layered one behind the other, with compelling structures of eroded rock and scattered golden beaches. Don and I are both suckers for this color palette of green, gold, blue and rock, and if possible the hues are painted even more intensely here than in the Virgins.
This illusion of homecoming created by the geography was enhanced by already having friends who live here. At the end of 2001, Baker and Cindy of Lite 'N Up, whom we'd gotten to know in Ecuador, dropped anchor in Vava'u and never left. Last year, the ever-energetic Ben and Lisa of Waking Dream also stopped over. Both have started businesses here, so it was no idle tarrying. We were very much looking forward to seeing all these folks and hearing their stories. Don was very much looking forward to a cold beer.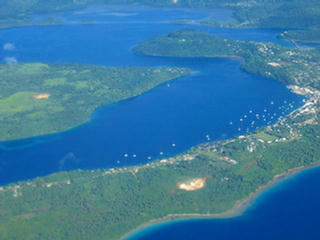 The main town of Neiafu, home to about 4,000 Tongans and about 100 palangi (foreigners/ex-pats), sits atop a long bluff above a near perfect anchorage about two miles long and maybe ¾ mile across, shaped like one leg of an inverted horseshoe. The other leg of the horseshoe, a long channel with Paingamotu Island in between, ensures an utterly protected harbor. Its one flaw is that it is deep, 150' through most of the middle. Several of the yachtie businesses along the base of the bluff, however, maintain strings of moorings along the shoreline for the convenience of visiting boats.
Had we been arriving into Tonga for the first time, we would have been obliged to take Tackless to the wharf so that the same retinue of officials could comb through her. As we had made our official entry at Niuatoputapu, all that was required was an easy stop at customs -- a desk in a big warehouse -- and a check-in with immigration. The officials here were, well, …more official, and yet at the same time more welcoming than those of Niuatoputapu. We had a small glitch come up at Immigration when we discovered that our passports had been stamped in Niuatoputapu with the wrong date, owing to the official having spun the "date" wheel of her stamp from "31" to "1" but having failed to spin the month, making it appear we had been in the country a month an a half instead of two weeks which would have put us overdue on our visas. Fortunately, we had some other paperwork, and after a few phone calls north, all was solved. What was nice was no one got worked up about it.
| | |
| --- | --- |
| | |
It didn't take us long to catch up with old friends. Ben and Lisa of Waking Dream have their new business – Aquarium Adventures – in a bright blue and red building at the south end of the yachtie strip. Aquarium Adventures is most visibly an Internet Café, and as its big deck seduces customers to hang around and gab over their French Press coffees and pastries after Internet work is done, it has become a regular hangout for cruisers. Behind the computer services, Aquarium is a booking office for all the islands' activities and hotels, including several of their own enterprises: The Flying Coconuts (rental sailing dinghies) and TongaSphere, a kind of eco-adventure park Ben is building out of town. Just a few days after our arrival, Aquarium was hosting a Full Moon Party on one of the islands and we'd arrived in the nick of time to attend (and help set up!)
Next we caught up with Tom Abend, crew of Bravo Charlie III, who we'd met and dived with in Fakarava last year. Since we'd last seem BCIII in Papeete, the boat had been to New Zealand and back, but she and Tom had been sitting for several months now in Neiafu since the boat's owners, Greg & Ruth, had had to go back to the States. You might think being stuck in the harbor for so long would be boring, but Tom had clearly made the best of it, doing his dive master with a local dive shop and becoming a valued friend and volunteer helper with several others. He'd recently been out with a BBC photographer filming Vava'u's humpback whales, and he had some fantastic shots of his own from the outing.
By evening we had finally caught up with Baker of Lite 'N Up, the first of our friends to get stuck in Vava'u. Baker and Cindy arrived here in December 2001. Statistics claim that Tonga only gets a bad hurricane once every ten years. Lucky them. They arrived just in time for Cyclone Waka that New Year's Eve and from the hotel room in which they'd hunkered down for the night watched their boat (and pretty near everyone else's) drag across the harbor. As protected as it is, there's not much you can do to hide when a Category V comes to visit. Fortunately, Lite 'N Up stopped short of the opposite shore! Baker and Cindy are split these days with Cindy taking the shop they'd started and Baker the boat. These things are always a little awkward for friends, but Baker is recovering and was as good a beer-drinking partner as we remembered. He is an avid champion of Vava'u as a cruiser destination, and when I undertook an article for Cruising World on cruisers who have stopped here to start business, he was a great help introducing me to all the entrepreneurs in town.
We found Cindy in her T-shirt shop Tropical Tease which turned out to be just downstairs from Immigration. Sometimes people are lucky enough to stumble onto the right thing for them, and it sure looks to us like this is it for Cindy. We hadn't known quite what to expect, but it is a pretty impressive operation with striking designs by local artists that she and her staff silk-screen onto the shirt of your choice. Her signature shirt is the Tongan Dirt Shirt, a shirt dyed in local mud and set in saltwater rinses before printing. A new feature is her humorous 'Weather Window" shirt for all those New Zealand-bound sailors. What really impresses me about her set-up is how organized she is to produce individualized custom shirts for cruisers or bareboaters on fairly short notice. Because she thinks like a cruiser, she anticipates what they might want and has screens ready to assemble. Clearly all this industry has been a tonic for Cindy who looks great and seems happy.
If you are thinking this is starting to read like a series of advertisements instead of a cruising log…Well, what can I say. Our friends are mighty industrious, and it can't help but impress….maybe even inspire. As given over to fantasizing about future alternatives as we are, it's inevitable that Don and I would fantasize about this place. We started with thinking about chartering again, but when we asked questions of one of the two crewed charter yachts based here, the operator practically went white with anxiety over the idea of competition. We've met people with quaint little restaurants, and a couple with a neat little bakery/lunch stop that looks fun from the outside, but who'd want to be in town full time? Later, as we saw some of the charming rustic resorts on the outer islands, we thought to ourselves, hey, we could do that, too. But we weren't here long before we realized how much work WORK is, especially in a place like this where the season is short, the tourist flow thin, and resources limited.
Our introduction to the outlying anchorages of Vava'u came hand in hand with helping Ben and Lisa set up for their Full Moon Party. Two days after we arrived we quit the harbor again and followed Waking Dream to the island of Vaka 'Eitu, a motorsail of about 7 miles. Both boats anchored behind a reef-topped sand bar connecting Vaka 'Eitu with the small island of Langito'o, just off the party beach. We were surprised at first at how small the intended party beach was, until ashore with the stuff we'd helped ferry down, we realized how a clearing opened up the slope behind the beach and dipped down to another beach on the other side. That night we made dinner for Ben and Lisa and their handsome young Tongan helper Tipasa. I think that evening, with just the two boats, the pink sky behind the palm-lined ridge followed by a night so bright and calm we sat out on the foredeck talking until late, was the quintessence of what all our cruising has been about!
| | |
| --- | --- |
| | |
The party itself was fun. They had quite a turnout: twenty-five boats in each of two main anchorages, another ten or so right off the party beach, plus a slew of folks who came from town aboard Whalesong, a sort of small landing craft vessel that normally does whale watch tours. There were probably 150 people altogether, most of them cruisers. The party itself was a cooperative effort. The Mermaid Bar, the most popular watering hole in town, ran the bar, with young ladies wound up in provocative white togas serving "moonjuice" – a chunky blend of local fruits and vodka (Can we say Yeehaw!); Pete the Meat (a meat importer) ran the barbecue (the land belongs to his wife Hapi), and Ben and Lisa did all the set up and the music. Set up included men's and ladies potties (with palm frond walls and proper seats), an inflatable jumpy castle for the kids (of all ages), fairy lights through the trees and a DJ powered by generator. The 2Cs made a major contribution by developing a dinghy mooring field for "valet dinghy parking" which earned us free entry. We stayed up a lot later than we normally do, ate, drank and danced like kids, and met a whole slew of new people, some of whom we actually remembered the next day!
Two days after the party, we had the anchorage to ourselves again, and the cove looked as pristine as it had before the event.
To be continued…….