2C Update #140 - Five Months in Florida
Our blithe plans for the holidays were turned upside down when our son-in-law Derek's bad stomach turned out to be a ruptured appendix. How it got that far is anyone's guess. Derek, who has had some major medical misadventures in his life, apparently has a very high pain threshold. Appendicitis had been considered, but since it was already ruptured it didn't respond to the usual home diagnostics. He thought he had the flu and maybe a hernia, and eventually went to the doctor for that!!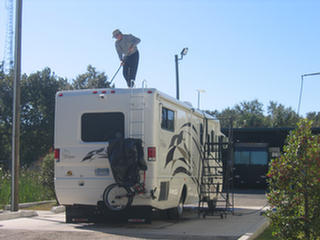 Within hours of our 5:00 AM arrival, Don and I had driven up to the RV storage facility in Palm Harbor where we had left the coach. Thanks to the kids' attentions over the summer, we found the inside in perfect condition. We backed it out, ran it through the wash stand, then drove it down to the kids', where we parked it in the yard between their new house and Tiffer's Mom Cindy's. Then we crashed and slept for about six hours.

When Tiffany and Derek had moved back to Clearwater last spring with their new baby, they'd moved in with Don's ex in the little house that Cindy had shared with her mother. Verna had passed away the previous summer, so there was plenty of room for the new family, and Cindy was glad to have them. But one of the main reasons for moving away from LA was for the kids to get a house of their own, so they had their eye out. By chance, about six months after their return, the house right next door came up for sale. In so many ways it was the perfect opportunity for them. The house had been long neglected, and so they could get a deal, and the convenience of being cheek-to-cheek with her Mom couldn't be ignored. There are lots of special mortgage deals available for first-time home buyers, so almost before you knew it, they were homeowners.

The house needed work, so they stayed at Cindy's while they tore down walls, repaired old plumbing, put in new appliances, and generally spruced things up. Tiffer's best friend Mettaya, a woman of indefatigable energies and talents, helped the kids create a very stylish interior with ingenious use of simple materials and paint for a fraction of what a designer would have cost. Not only were the kids pleased as punch, but the whole neighborhood was glad to have the eyesore transformed.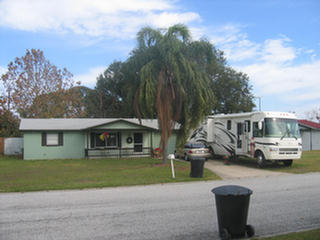 Our arrival in the driveway coincided with their house-warming party. In addition to old friends of Tiffer's from high school, most of the neighbors showed up. Everybody thought the coach in the yard was cool, so we ended up staying right there through much of December.
Derek, obviously, laid low for the party, and the next day thought he was feeling better. However, when there was no further improvement, he was finally persuaded to go to the doctor's. Slam, bam, and into the hospital. They operated and removed an appendix that was so encased in tissue they couldn't speculate on when it had actually ruptured. No doctor could believe he was alive, let alone upright enough to drive himself in! All the standing plans for travel to the Wilsons in Indiana and my family in North Carolina for family Christmases got canceled, and we stood by for Derek's recovery.

No one could have planned it, but this worked out to be a major boon for the grandparents. With Derek in the hospital the next two weeks, his condition going up and down with various infections and reactions, Tiffany's attention was diverted from her one-track mind of motherhood. Under normal circumstances, we believe, it would have taken months before she would have left us alone with Kai, but now, suddenly, for several weeks, we had him to ourselves for much of the day!
At Play with Our Grandson



Have I mentioned that we have the world's cutest grandson! Popping into his year-old life out of the blue, we might have expected him to be pretty shy of these towering strangers. Yet, the very first day, he warmed right up to us, clearly forging a special bond with his Grandpa. We played with him, fed him, changed diapers, took him for rides in the car, shopping, to the playground…all of it. Those kids couldn't have set the hook in these two captains any firmer if they'd planned it.
| | |
| --- | --- |
| Derek Home for Christmas | Christmas Dinner |
Derek was released in time for Christmas, and, though we sorely missed the family gatherings going on in the north without us, we had a fine time right at home. With three women in three kitchens, Tiffany, Cindy and I put together some mighty sumptuous meals as well as a mighty big pile of presents…and then, on Dec. 27, it happened all over again for Kai Thatcher's first birthday!
Kai Enjoys a Milkshake

Gone Aground at Franklin Locks
(we're on the right)
After the intense togetherness of December, it was time for us to give the kids a little breathing room, and we set off on the first of many land cruises in the RV. On this first trip we met up with Don's folks at the Army Corps of Engineers campground at the Franklin Locks on the Caloosahatchee River near Ft. Meyers. This is where our association with RVs got started (see Update #125) last year, and it will always be a favorite place.
After Franklin Locks we drove around Ft. Meyers and then made a pass up through the center of the state, checking out the havens amid the orange groves where thousands of snow-birding RVers flock for the winter months. Without exactly knowing it yet, we were on a hunt for a place we could call home. We'd had a reservation in the park we'd been in last spring in Palm Harbor, but found this year, in the cheek-by-jowl parking of high season, that it was too congested for us. But nothing we saw in the center of the state, from Ft. Meyers to Sebring to Wachula was our cup of tea. Were the only parks with elbow room government parks? …government parks that were fully reserved 11 months out! We were plenty happy living in the RV, we just weren't happy with where we could find to park it. Even sandwiched between the kids' and Cindy's, as convenient as it was, wasn't a perfect long-term solution. Everybody has to have space enough for their own lives at some point.

Plus we were growing alarmed at the escalating prices of any kind of real estate in Florida, even away from the coast. Might we someday want to retire from our nomadic lifestyle? Would we then be able to afford anything we'd want to live in? We put a lot of miles on the car with reams of realtor listings, and every time we saw a house with a "FOR SALE" sign, we'd estimate by eye whether there was enough room to park the coach in the side yard. Our initial fantasy was that we would find a house to buy, something reasonably close to the kids to which we might someday want to retire, which until that time we could rent out while we lived in the RV in the back yard! Dream on, you say? Well, believe it or not, we did find such a place, but we realized in the nick of time all the obligations having it would entail, especially the financial ones, and how completely that would compromise our lives as wanderers. It is bad enough having one foot on the boat and one on the grandparent RV, but to add a third tie…well, we just weren't ready for it.

And so we kept on the move. We did the RV version of boating: we checked out campgrounds all over the state, we went to a big RV show in Tampa; we went to National's Lakeland plant for warranty work, and we went to an organized rally for National RV owners.

The RV show, huge as it was, was somewhat of a disappointment to us, because none of the brands we'd come wanting to check out (including the new models of our coach) were there! This absence of major names was due to Lazy Days, the world largest RV dealer, being just down the road. We could have taken a shuttle over, but we didn't bother. The other disappointment was that in the big exhibition tents, there just didn't seem to the aisles and aisles of gidgets and gadgets that make a boat show so interesting. I guess it is because RVs come so totally equipped there is little to add! Instead the focus was dedicated to firing up the appetites of RV owners and wannabes to get out on the highway and travel with booth after booth offering pamphlets on parks, campgrounds and clubs all over the country. Although we schlepped home two shopping bags full of this material, being as we are only back in the US in the winter months, we are not really ready to go too far afield …by road anyway!
We'd heard a lot of horror stories from other RV owners about trips to "THE PLANT" for warranty repairs, yet our stop at National RV's East Coast mini-plant in Lakeland was a totally pleasant experience. They jumped on all our perceived problems, (even the ones Don hadn't wanted me to mention), and then fixed things we hadn't even known were wrong! While there we met two other Dolphin owners (the husbands all named Don (!) one of whom drove a twin of our car!) All three couples went to dinner together at a local Olive Garden and swapped equipment stories on the coaches for hours just as cruisers do about their boats.

That pleasant experience encouraged us to join a National RV Owners chapter of the Family Motor Coach Association known as NUTS (National United Travelers). We were a little alarmed upon arriving at our first rally -- and seeing everybody with their engraved acorn-shaped nametags hanging around their necks --that it might all might be little too…TOO for us, especially since 80% of the attendees were probably over seventy! But to our surprise, we fell in with a group of super simpatico folks including a couple (who might actually be younger than we are) who winter on their RV and summer on their boat in the Great Lakes. We ate, drank and danced to golden oldies (we did NOT line dance!) and, if truth be told, we actually look forward to the next one!

Our biggest and most eventful trip was a two-pronged journey to SE Florida in February. We started with a week in the Keys parked in the driveway of Ed & Daisy Marill's house in Marathon. Ed & Daisy, of T2's sistership Siesta, we'd cruised with in Mexico as they passed through back to the Keys from San Francisco. Their neat two-bedroom house was a dream set-up with a dock on a canal out back for Siesta; a breezeway beneath the house for Ed's stable of toys -- including two cars, a camper, bicycles, a motorcycle, and kayaks of many colors; and a driveway big enough for visiting RVs!
The Coach at Ed & Daisy's in Marathon

Ed & Daisy (L) the 2C's, Dave (R)
(all owners of CSY 44 Walkthrus!)
There's even a nice bike trail right at the end of their street! Of all the places we went to in Florida, Marathon brought us closest to the familiar atmosphere of the cruising lifestyle, with cheap eateries and bars and lots of seafood, plus a huge contingent of cruising boats in the harbor. Among those boats we found a bunch of old friends -- Ron and Dorothy Sheridan of the CSY 44 pilothouse ketch Memory Rose , Dave McCampbell of T2's twin Soggy Paws, as well as Don's old buddy Bill Church on Geodesic II, finally out of that Annapolis boatyard. Ed and Daisy are consummate hosts, making sure we saw as much of what the area had to offer as possible, and, combining that with get-togethers with our other old friends, we had a truly grand time.
| | |
| --- | --- |
| Shades of college days! | Gone Aground in Downtown Miami! |
From the Keys we drove north to Miami. Yes, Miami! Dead downtown! We drove in at 4:00am to beat the traffic into the city center in order to park the RV in the Exhibitors parking lot at Bayside for the week-long Miami Boat Show. We were there to work for Sea Tech Systems, for whom I do some roving rep work. Last year I'd attended alone, flying in and staying with a friend on her couch. This year, Steve, the boss, sprung for the parking pass for us! What a nice deal! We worked hard all day in the booth, and were able to come HOME at night! I actually made some money!
In addition to working at the Sea Tech booth selling HF radios, computers, navigation software and satellite phones, I joined my friend, author Kathy Parsons (http://www.forcruisers.com) in a seminar she had organized with a third friend, Pam Wall of West Marine, on "Women and Cruising". The three of us, with our different cruising backgrounds, simply stood up before an audience of keen wannabees and fielded the questions they had. Our answers were sometimes the same but often quite different, and it was quite a hit, showing how there is no one way to do things. This was a fun experience in itself, but it set a whole bunch of balls in motion down the line! (including a trip I made by air to Oakland, CA in April to reprise the sales and seminars!)

From Miami we drove diagonally north all day up to Crystal River, a town which is about sixty miles north of Clearwater. At the Tampa RV show, one of the flyers we'd picked up was for a new park being developed north of there called Nature Coast Landings (www.naturecoastlandings.com ) . The spokesman for the park at the show was none other than Gary Burghoff, the actor who played Radar in MASH who, it transpires, is actually one of its residents. The premise was a recreational park that you buy into. Two phases of the development were complete, and now the lots in the last phase were up for sale.

We'd heard of and even visited a couple of other parks where you owned your lot, most of the new ones being very high end. But NCL seemed to be avoiding the glamour angle. Nestled in a part of Florida that is largely state-owned and preserved wetlands, known as the Nature Coast, the NCL development is butted up against a state park with a bike trail to the Gulf and a boat ramp onto the old Florida Barge Canal. Several other of Florida's Greenway bike trails are nearby, as are many springs and rivers where manatees winter and kayakers paddle. There's even scuba diving! We'd made a run up there to check it out, and the idea had been growing on us ever since. For a pittance of what a house would cost, we could have our own 40'x95' lot, with guaranteed elbow room. It seemed like an idyllic compromise.

We parked across the way from the lots we were considering, and hung around a couple of days before making our final decision, bicycling every morning the four miles to Gulf and getting to know the people who would be our neighbors. That's surely what clinched it. Compared to all the parks we'd been in, these folks came the closest to cruisers we've yet met ashore. We made our decision in the nick of time. Only two of the lots we'd liked were left. Between the end of February when we signed and May when we left, our big pile of dirt now has our very own pad, with water and electric (and our very own electric bill!), a concrete patio with a big deck around it, grass (albeit brown!) and a cream and white utility shed. It's not fancy, but it's ours, and we have lots of plans, mostly landscaping and planting, to pursue in the fall.
Other than all the RV folderol, we crossed a lot of paths with old friends. Jim Carozza, who on Cinderella was my big brother/mentor when I first started in the VI charter biz way back when, came from Washington State with his wife Jan to visit his mother in Clearwater. It had been ten years since I'd last seen him, and he hadn't changed a whit! Former cruising buddies, now RVers, Mac and Sam just up from a winter in Mazatlan came to St. Pete to visit Sam's Mom, and we exchanged several visits, even going with the coach to their Elks Lodge park in Brandon. Former charter guest Sandy Divan came to Crystal River with her sister-in-law to dive with manatees right when we were buying our lot. And we were able to snatch a drive-through breakfast with Jackie Lynfield, my first-ever diving buddy from New York City days, when she and her family were visiting her folks in Boca Raton. I saw Jackie again along with my dear friends Peter and Becky Hearn of Pan Aqua Diving on a solo trip I made up north to look for papers stored at my cousin's in Vermont.

On top of those folks, Don has quite a group of old friends in Clearwater -- most of them old sailing buddies from his bachelor days -- with whom we are rebuilding connections. Leading the list is Don's good friend Dee, who recently completed a "mid-life madness" career change, swapping the competitiveness of high-pressure sales for a "giving" career in nursing. Then there's Carey and Gail, formerly of the Irwin 52 Cajun Waltz, who now have a lovely home in Palm Harbor. And lastly, the retired gynecologist John, who has traded up from the Endeavor 42 Baby Boomer of those good old party days to his current 50' trawler Knot So Fast which Don spent a week helping him take from Clearwater through the Okeechobee to Cocoa Beach.. Even Bill Church made it up our way for a month or two on Geodesic. All these folks used to party and sail together over a decade ago, and although we never got them all back together in one spot, they sure make it seem like we've found a simpatico part of the States to roost!

Despite the disappointment of our aborted Christmas trip, in the end we were lucky to get good visits in with much of the family we missed. Don and I left the RV and drove the car over to Melbourne to spend four days with both my sisters at the condo in Melbourne (see Update #123).
Jo was on her way out after four months there, and Cecily and Bob, the owners, were on their way in for a month's retreat from their NC mountain winter. Fortunately, both sisters were also able to make weekend trips to Clearwater to meet Kai, bravely sleeping aboard the RV in the driveway! In addition I made that solo trip north and spent four days seeing snow with cousin Patty and Doyle in Vermont (not all of it rummaging through file boxes), as well as a lovely overnight with my Aunt Jo in Williamstown MA.
On Don's side, we were able to get together with Don's folks four or five times in Florida, while they were down wintering in their RV, including a whole month they spent in Clearwater within easy reach of the newest great grandson. During that month, Don's cousin Menarda and husband Steve rolled in on their shiny Harley touring bike for an afternoon visit. (Let's not get into Harleys at this point….a lot of our new neighbors at NCL have 'em!) Don's brother Greg and wife Karen also spent a four-day junket with us in Clearwater, although for some reason after the second night in the RV park, they abandoned staying with us on the coach in favor of a romantic room right on Clearwater Beach! Hmmmm! Highlights of their stay was a day trip on Dr. Johns trawler and beach time on Clearwater's justifiably famous beach.
Grandma & Grandpa Wilson, with Kai

Menarda and Steve with their Harley


Day Trip on Dr. John's Knot So Fast


Beachtime at Clearwater Beach

But despite all this, the main story of the five months back has been Kai. After all, he is the number one reason we have now cut our cruising year in half! In the five months we were back we shared in his growth from a baby taking his first halting solo steps to becoming a gleefully running toddler, kicking beach balls all over the yard with a deadly aim! We've ridden him on the back of our bikes, hunted shells in the sand, splashed in the ocean, swung on the swings, ogled wild animals at the zoo and seen our first baseball games, built towers to knock down and read story books to quiet down, generally doing all we could to be grandparents the memory of whom will survive our long absences. Leaving was very hard to contemplate, and staying was tempting, but we just keep reminding ourselves of how cool it will someday be to have grandparents who are Two Captains with stories to tell of high seas and faraway places.
See our slide show 'The World of Kai'