2C Update #139 - In Transit Home – A Sneak Preview of Fiji (November 29-Dec.1, 2005)
Our flight to Fiji on Air Pacific included a really nice orientation video to Fiji . What a nice idea! Get the visitors in the mood! Good thing, because we were a little nonplussed when our Nadi (pronounded NAN-di) flight stopped first in the capital of Suva, where we all had to get off and do customs and immigration.

Suva and Nadi are on opposite sides of Viti Levu, the largest by far of Fiji's some 300 islands and, at 10,400 sq km, the largest we have been on in our south Pacific travels so far. Its interior is mountainous, and a flight across it reveals a huge expanse of folded hills with little evidence of man. Yet Fiji is not only one of the major tourist destinations of the South Pacific, it is a major center for South Pacific cultures. We really didn't expect it to look so empty!
Although 221 km from the capital, the modern international airport at Nadi is the one at which most of the visitors to the country arrive. There is a reason for that: Viti Levu's west coast is much drier and therefore more appealing to beach-loving tourists. This coast and the islands scattered to the west are peppered with resorts, from rustic back-packer camps to the most luxurious and exclusive retreats, while the wetter and cloudier east coast and the remote Lau island group on that side concentrate on the serious business of sustaining traditional Fijian life.

Although Fiji, Tonga and Samoa have been intertwined in each others histories throughout the ages, Fiji is actually considered to be the beginning of a different cultural and ethnic region known as Melanesia. Melanesia, Micronesia and Polynesia – the three main cultural zones of the Pacific islands -- are cultures that grew out of the eastward movement of an Austronesian people known as the Lapita. As they pushed their influence from SE Asia through New Guinea and the Solomons, they mingled with different peoples which colored the characteristics of the Melanesian group that resulted. People are literally darker skinned. Up to now, everywhere we have been on our voyage – from the Marquesas to Easter Island to Tonga -- has been Polynesian, the culture spawned from the Lapita people that pushed on eastward.

Modern Fiji's cultural mix is further complicated by a sizeable Indian population that was summarily imported at the end of the 19th century to work as indentured labor on colonial sugar plantations. Reminiscent of Trinidad, these Indian laborers stayed on after completing their contracts and, specializing in commerce and agriculture on leased land, now make up almost half of the Fijian nation's population,. But also much like Trinidad, the two populations often find themselves in conflict politically, the original inhabitants on the defensive, fiercely holding onto their rights and traditions as the indigenous people in the face of the economic successes of the newer arrivals. This has resulted in several coups and uprisings in the past decades that make the tourism industry nervous. However, tourism has a short memory and things in Fiji are currently booming.

All this background, a fraction of what we've read and heard, laid a groundwork for our curiosity about this next leg of our travels. And I would have to say that, given our affection for the multi-cultural experience of Trinidad, we were looking forward to seeing how it worked in Fiji. Despite being happy with our decision to prolong our stay in Tonga, I know there was a little disappointment in delaying getting to Fiji. So, we were looking forward to the sneak preview afforded by our flight in.

Even so, landing in Nadi and expecting the darker faces of Fijians, it was a surprise to be surrounded by taxi drivers and touts for various tours and hotels who were all clearly Indian! Anyone without a definite destination upon exiting customs was liable to be swarmed! Thank goodness for the lead on a place to stay we'd got at breakfast from one of the guests at The Villa in Nuku'alofa. We called on a pay phone from the airport to the reception at Stoney Creek Resort and felt ourselves lucky to get a "bure" for several nights. Then, before grabbing a taxi, we rolled our pile of luggage to the Air New Zealand office to inquire about moving our flights up. We'd come to realize that we'd scheduled things rather tightly back in Florida leaving ourselves less than a week between our return and our subsequent departure for the annual Christmas round robin of flights to family in Indiana and South Carolina. For $100 apiece, we could move our flights up by four days, a substantial savings compared to the costs of hotels and meals in Fiji, and buy ourselves a little more adjustment time in Clearwater.

We might have regretted that change upon arriving at Stoney Creek. stoneycreek@connect.com.fj
| | |
| --- | --- |
| | |
This little resort about eight miles from the airport into sugar cane country sits atop a one of the foothills of the Sleeping Giant Mountain range. This affords it a 360 degree view of mountains in one direction, valley in another and the glittering water of Nadi bay in a third.
Evolving from the imaginations of its owners, Gary from New Zealand and Michelle his Fijian wife, Stoney Creek offers everything from a backpacker's dormitory to private rooms to stand-alone bures (cabins) centered around an elaborate stonework terrace and pool area. Breakfast and dinner are served to guests daily, a horse-shoe shaped bar with projection TV caters to a local weekend clientele for the football (soccer) matches, and most nights there's a campfire to sit around under the stars.
Our bure, if a little on the rustic side for some, suited us to a T. There was a double bed with crisp white sheets (that never tucked in!) under a cloud of mosquito netting, a fridge whose sole purpose was to keep cold the cream for morning coffee from the coffee maker, and another tiny bath area where you stepped through the shower to the toilet.
The staff was definitely eclectic mix. The main hostess – a tiny girl whose complicated name I could never get a hold of – was very much Indian. The other girl we saw most of was Mare, whose nearly black skin made her shy smile radiate like a beacon. In the kitchen were girls of Chinese extraction. We were most entertained by a staff competition to produce "Christmas Trees" from bare limbs stuck in pots. There was a Fijian tree, and Indian tree and a Chinese tree!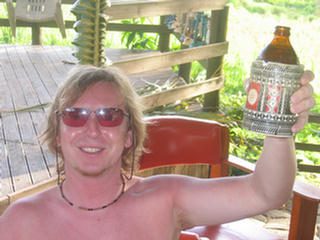 Over afternoon Fiji Bitters, consumed as we moved from one vista to the next, ending up with a 360 degree sunset from the top of the knoll, we made friends with Klaus, a young German sound engineer who was on his last days of a month or two he had spent hopping around the Fijian archipelago. Klaus had signed up for a snorkel trip the next day out of First Landing Resort, which was right next to Vuda Point Marina…so we decided to go along, at the very least as a way to get a look at the marina facilities.

A van collected us for the day excursion, and we had only about a half hour to dash over to Vuda Point. Even though I had seen a diagram of the place, it was still a surprise to see the perfectly circular marina. The boats are moored bow and stern in radiating spokes and the keyhole entrance can, we understand, actually be closed off in the event of a storm. Surrounding the basin, many boats were hauled out, most of them in cyclone pits where the whole boat is lowered into a hole in the ground lined with tires. The idea, of course, is that in a storm, they can't fall down, although I wonder that the pits don't fill up with water. We saw several boats we knew – Bobulona, Sunflower, and the boxy motorsailor Tom Cat –but Hans of Tom Cat was the only person still around.

The half-hour, however wasn't enough to talk with Hans or the various contractors at the yard, and we had to rush off to the snorkel boat where everybody was waiting for us. The snorkel boat wasn't huge, maybe 28-30', but there were four crew and ten passengers, including a couple with a baby in a stroller! The route was to take us away from the "mainland" out to the spray of little sand islands to the west. Each of these islands, it seems, has a resort of some kind on it. Rustic backpacker joints and more upscale ones that could have been anywhere.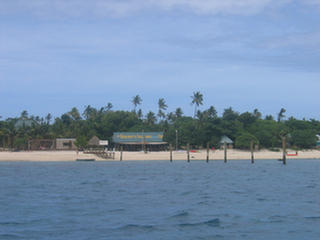 Our first stop was "Bounty Island" one of the former category, where we were issued snorkel gear and set loose on the reef. This actually turned into a nice little experience for me as, striking out away from the crowd close in, I saw my first batfish (a pair) and an octopus. The reef wasn't world class but mighty nice for a tourist stop. Our next stop was "Treasure Island" (catch the motif?!) of the second category, where we were encouraged to go ashore for lunch…which we had to buy ourselves from the resort restaurant! Still, it was a nice chance to socialize with the other tourists. Our third scheduled stop never happened as the wind and seas started to kick up.
With our heavy load, the boat seemed to be wallowing badly in the troughs, and most of the passengers were starting to turn green. Don, Klaus and I sat in the stern, better for the bellies, but we got repeated sluiced with seawater. The refrain of Gilligan's Island's three-hour tour was starting to chime in our heads! The boat pulled over for a half hour at Bounty again to let folks settle down (and use the toilets!), before pushing the rest of the way back. It seemed to take forever! There were white caps everywhere driven by the 20-25 winds, and I have to admit it was somewhat unsettling being in four foot waves that seem to have sprung up from nothing. Afterwards the crew insisted that they were going slowly on purpose out of concern for the baby, but Don and I were not convinced. Everybody was pretty relieved to get back to shore.

The next day we took a cab back to Vuda Point and spent the morning talking with the yard workers and the office, arranging that our unused reservation be transferred to next year, and wound that up with lunch with Hans at the Vuda Point "Yacht Club". Hans is an interesting character. We first met him and his wife Ilke in Fatu Hiva, where they squeezed us in at the European cruiser feast, Hans literally feeding me from his plate. Germans have such a gruff manner sometimes, you think they have no use for you, but over the season we crossed paths with them several times, and it was clear Hans had taken a liking to us, sharing fish with us when he caught it, bringing us a gift of sweets when I loaned him some CDs. Like us they stayed over in French Polynesia for cyclone season, and we met up with them again in Raiatea and in Bora Bora where Hans had his daughter crewing with him. Both Hans and his wife had health issues they were fighting, and we got the feeling that Hans, who was lean as a piece of leather, was hanging on to the adventure as long as he could…not always with his wife's indulgence. It looked like this would be our last crossed path, because Hans was planning to take Tom Cat onward early the next season, and we, lingering as we do would fall way behind. The variety of friendships made cruising, with people who are not always just like you, is one of the treasures of the lifestyle.

We flew out from Fiji on the night flight to LA, a long dark undoing of two years of travel. By changing our reservations, we had mucked up plans for a spending our day layover in LA with Michael and Mary of De La Mer, now back working in LA, so we spent most of the daylight hours killing time in the airport…which airports are no longer set up to allow! Only the International Terminal (which for some reason our flight did not come into) had restaurants available outside of security. Weary, we schlepped our hand luggage from one side of LAX to the other, trying to keep warm (we never remember that LA is so cool) until finally at five pm we got picked up by Mary for a quick dinner together after work at a nearby Italian restaurant.

It's always a little weird to see cruising friends in the real world, but it was especially pronounced with Mary, who makes her living painting murals for the rich and famous. Formerly a model, Mary had an angular glamour even as a laid back cruiser like the rest of us, but decked out for the chic mileu of LA (she'd just come from working on a bedroom for a famous child actress) it was almost hard to recognize her! Still we had a good get together, only sorry that Michael couldn't get free, although he had sent us some terrific prints he'd taken of Tackless and the 2Cs in the Marquesas.

Full of pasta, it was back to LAX for Delta's red-eye to Tampa, where we were picked up at 5am by our son-in-law Derek, who looked like hell. It turned out it was neither the return of the in-laws or the early hour that made him look that way. It turned out to be a ruptured appendix that put him in the hospital several days later, and changed all our holiday plans.