Volume 90
Girls' Trip Inland – Part One –Morelia & Puebla
February 2003
No sooner than the 2Cs become Mr. & Mrs., than it seems like we are off taking separate vacations. Except for my weeklong parts trip to Miami from Panama two years ago, Don and I haven't been apart an overnight in six years!
It came about like this. Don had a chance to go to San Francisco to attend a watermaker school put on by Spectra, the manufacturer of our watermaker, which he very much wanted to do. Our friend Geoff of Meridian Passage also had to make a trip back to the States about the same time. Faced with being left on our own, Geoff's wife Jan and I got to talking, and the next thing I know we've decided that we girls should go traveling. Unfortunately, Geoff's and Don's Stateside trips didn't overlap, so it ended up than Jan and I went two-weeks before Don. Oh, well.
Although we travel as a lifestyle, the coastal cities we usually see often do not present the true face of a country. This is particularly true in mainland Mexico, where, far beyond our expectations the coasts have been given over to the extravagantly luxurious resorts developed by FONATUR. Despite our best intentions, however, Don and I just never got inland at all last year. Jan and Geoff, on the other hand, are very well traveled in Mexico. Still, Jan had never been to Puebla or Oaxaca, and as these were both cities high on my wish list, I was happy to let her set the itinerary. They are both, however, a long way from Mazatlán, so we decided to do go outward by bus, hopping from city to city, and then return home by plane. It's a good thing (or a shame, depending how you look at it) that we didn't do it the other way around, because after a taste of Oaxaca we might never have gone anywhere else.
The United States could learn a lot from Mexico about busses. Instead of one or two major companies, they have 90-odd, each associated more or less with a region and a route. They also have different classes of bus service, with deluxe and first class long-distance busses that are non-stop, air-conditioned, and spotlessly clean with wide seats, lots of leg room, and movies (about 50% of which are in English with subtitles). It is actually a pleasure to ride on them and a great way to see the countryside, plus they run frequently, weren't crowded, and are quite affordable at about $5/hour. These are, obviously, a long way from the rattletrap chicken busses you always read about in tales about Mexico. Those still exist, providing "atmospheric" second and third class service on local routes, but it sure is nice to have an option!
I started with the TAP bus (8 hrs) from Mazatlán to Guadalajara, Mexico's second largest city. There wasn't a tremendous variety to the terrain on this leg, sloping coastal foothills seaward and the mountains of the Sierra Madre Occidental inland. Outside of Guadalajara we moved up into the hills proper, and fields upon fields of cultivated agave (for tequila!) unfolded in deep blue-green rows. I learned later that Jan and Geoff had really enjoyed a tour of a tequila factory out this way that very morning! Damn, I always miss the fun stuff!
Similarly, I had only a fleeting glimpse from the taxi window of Guadalajara, as I scurried to meet up with Jan and Geoff before dark in Tlaquepaque, a section of the city known for its arts and crafts. Guadalajara, often called Mexico's "most Mexican city", is the home of mariachi music, and well deserves a visit in it own right, which hopefully Don and I will be ale to work in next year. Geoff and Jan were returning from a loop up to San Miguel de Allende and had set our rendezvous here at the Quinta Don José (www.quintadonjose.com), a charming B&B owned by their friends Stella & Art. One could easily spend many days there relaxing in their peaceful courtyard behind walls that seem to blot out the city noises, sipping the barman's perfect margarita from a beautiful green tipped glass made just down the street. My stop there was just a tease, though, for after our late supper we strolled along a beautiful pedestrian street lined with store windows full of enticing stuff, all closed for the night! And the next morning it was back to the station to board our separate busses, Geoff bound for Mazatlán and we girls for our first official stop – Morelia. (ETN, 3 ½ hrs).
Shortly out of Guadalajara, we were into the State of Michoacán. Here the fertile countryside surrounded by volcanoes is turned to agriculture, with vast stretches of bright green, well-plowed fields. As we turned off the autopista to head south to the state capital, I was startled by the vista of a lake, specifically Laguna Cuitzeo. Somehow, lakes just look out of place in a Mexican landscape, and in fact this one looks as though it is rapidly silting in like nearby Lago de Patzcuaro, which is said may not exist at all in fifty years!
Jan and I took a cab from the very new first class bus station directly into Morelia's zocalo. We found it repeatedly hard to accept the very obvious fact that the historic centers of these cities we were traveling to see are but very tiny cores in the centers of huge urban sprawls! However, the centro of Morelia is very picturesque with all the blocks surrounding the zocalo and the huge cathedral presenting the beautifully preserved stone-faced buildings of Spanish colonial architecture.
Dumped with our backpacks almost on the cathedral steps, Jan and I spent the next couple of hours hiking around checking out the hotels listed in the Lonely Planet. Just when we'd think we'd narrowed our choices, it would turn out we'd (both!) misheard the quoted price, and our hike around would start again. We finally chose the one we'd liked best from the start, Hotel de la Soledad, which, we discovered, was a tourist stop in its own right having been built around 1700 as a carriage house and inn. The rooms were available on two levels surrounding inner courtyards with arches dripping scarlet bougainvillea. It proved a good call as our dark cool room in the back courtyard was insulated from traffic noise and we woke to the chatter of birds instead.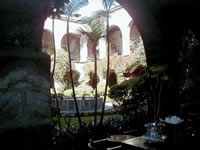 With more time, I would have very much have liked to taken the trip from Morelia out to the El Rosario Monarch Butterfly Sanctuary. Every year millions and millions of monarch butterflies migrate from North America for the winter to hibernate and then breed, before they migrate back north in the spring. It has to be an incredible sight.
Instead, impatient to be moving on to Puebla and Oaxaca, Jan and I made do with an afternoon poking along all the streets near the zocalo, passing through the cathedral, several parks, and the mercado known for its line of sweets stalls. These were not quite as tempting as they might have been because most of the sweets were displayed unwrapped and were therefore an obvious draw for flies.
This is probably as good a place as any to mention that my traveling companion Jan is none other than Janette Loomis, author of The Healthy Cruiser Handbook. (Seaworthy Publications – www.seaworthy.com). While I snapped the usual tourist photos, Jan was always on the lookout for photos to go in her slide show to demonstrate the kinds of health and welfare pitfalls looming for traveling cruisers! In one such shot, I am frozen for time immemorial one step away from an open manhole cover (an endemic problem in Mexico!)
We rose early to catch our next bus, this to Mexico City where we would change for Puebla. Mexico City is, by the way, the largest city in the world, with the world's worst pollution. Linked to this image for us were tons of anxieties about congested bus stations, armies of pickpockets, and generally all the worst you can imagine about anyplace. To complicate our concerns, Mexico City has four bus stations – north, south, east and west - and we had to match up our destination station with one that would have an outgoing bus to Puebla. Although Morelia is southwest of Mexico City and Puebla east, the correct station turned out to be the North Station! We were even more surprised when the bus (Primera Plus, 5 hrs) did not aim directly for Mexico City, but circled north right across Laguna Cuitzeo and through the town of the same name by a very small highway. This positioned the bus to approach the megalopolis from the north, and I was tickled as this gave me for free a whole new landscape to enjoy. However, it must have been frustrating for Jan when we passed barely a half hour south of San Miguel del Allende where she'd been three days earlier.
Our paranoia about the urban station (we had removed all rings, necklaces and other jewelry) was unwarranted. The first class station was modern, clean, and not at all jammed, plus we made our connection with barely enough time to grab an empanada on the run. In fifteen minutes we were back out on the road, (ADO, 2 hrs) pushing out through the traffic (which is horrendous) and the smog (which is horrendous) to climb out of the Central Valley toward Puebla.
And what a climb! As the bus labored up out of the smog, several volcanoes poked up into the blue including the picturesque pair Popcatéptel and Iztacchíuatl, Mexico's second and third tallest mountains. Only 43km west of Puebla, the volcanoes figure in the background of many postcards. Popo has been active in recent years, and that very afternoon belched several plumes of gas.
I was very much looking forward to seeing Puebla. I was keen to see the home of such delightful contributions to the world as the brightly patterned Talavera pottery, delicious mole poblano, and Cinco de Mayo celebrations. Then, reading about its history in the Lonely Planet guide, I came to suspect that Puebla was one of models that went into the blender for James Michener's fictionalized city of "Toledo" in his 1992 novel Mexico (even though the map on the novel's flyleaf situates it directly opposite of Mexico city close to real-life San Miguel de Allende!)
Even more so than Morelia, Puebla proved to be a big city, about double Morelia's population! Where Morelia's streets seem fairly quiet beyond the zocalo, Puebla's were teeming with shoppers day in and day out. Puebla is, we discovered, the home base of Volkswagen in the North Americas. Every VW in Mexico comes from Puebla!…and there are a lot of VWs in Mexico! The city's modern industrial base and its important university combine to make Puebla a very lively city. Tourism is just icing on the cake.
We stayed the first night in a small hotel recommended by one of the cruisers in Mazatlán. As soon as we dropped off our packs, we headed out to find the zocalo, several blocks away, and much like Morelia it proved to be a beautiful shady square surrounded by buildings of colonial stone and overlooked by its adjacent cathedral. After a circumnavigation of the square, we shot off on a side street to find supper at the Fonda Santa Clara, a highly recommended source of Poblano cuisine. Ravenous, Jan had enchiladas with three different moles, and I had mixiotes, a specialty that proved to be a spicy mutton stew bundled into and cooked in maguey leaves. Both dishes were so stupendous, that we came back for dinner the next afternoon too, whereupon I had my second choice, the most famous dish of Puebla, chicken in mole poblano. Quite honestly, we could have made food the entire reason to be in Puebla…but we didn't.
Early the next day we set out to find Uriarte, the one remaining Talavera "factory" open to the public in Puebla proper. The word of "factory" in Spanish is "fabrica", which is a better image, because Talavera pottery from Uriarte is all hand made. Talavera, by the way, is not just china for your table. It is equally well known as tiles for buildings, used both inside and outside. Indeed one of the great attractions of Puebla is its many tile-fronted buildings.
At Uriarte, we were shown the whole process of making Talavera, step by step: the turning of the pieces on mechanized potter's wheel (three potters can work at once) followed by the first firing in the two modern kilns. From there each piece is dipped in a vat of "slip," a yellow glaze that turns white as it air dries. Next the pattern is applied with stencils and charcoal from an extensive "library." Then each is hand painted by one of a dozen ladies surrounded by their stone-ground pigments in what else, Talavera paint pots! Then, it is all fired a second time.
The tour ends up, as many tours do, in the gift shop. This was a room filled with complete sets of pottery place settings in a kaleidoscope of colors and patterns as well as a wall-full of tile samples. We both came intending to buy Talavera, but the choices were almost paralyzing! We frittered away at least an hour while a big tour group tried to make their decisions. The big group, we found out, was about to check out of the Hotel Colonial, one Jan had her eye on as a more authentic experience, so, after we finally made our purchases, off we went to change hotels. There is no doubt about it, it was a nicer, more picturesque situation putting us a mere block from the zocalo. In the late afternoon we wandered from the new hotel to the Artesania Market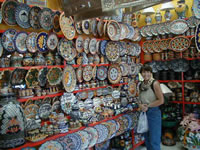 where we found loads more Talavera piled and crammed into stall after stall. One had to look a little more carefully here to distinguish good stuff from tourist schlock. It seems that there are 175 fabricators of Talavera pottery in the Puebla environs, and from every booth we got a slightly different story about what was the most traditional style and colors. What it comes down to: choose what you like, because crafts like these survive by blending tradition with what buyers want.
While in the market, the alley was suddenly filled with hundreds of school children! Jan and I took a break on some benches to watch the flow, and there we met a teacher out cruising the market with three students looking for Norte Americanos on whom to practice their English! We whiled away a very pleasant half hour being their field project!
Our second morning in Puebla, Jan and I split to pursue different interests. She went to the train museum while I joined a tour (me and one other guy!) to Cholula. What drew me to Cholula was its correlation with the Michener book. Near his fictional city of Toledo, was a huge pyramid that was a major religious center for the series of cultures that occupied the area in succession. Each new group built over the pyramid to make it their own often completely changing the nature of the religion being practiced. In modern day Cholula, the world's largest pyramid, Pirámide Tepanapa, rises from a fairly flat plain, only you kind of have to know the pyramid is there; it is now so overgrown that it looks rather like a misplaced hillock. Its history is exactly that of the one in the Michener novel. On top of the Cholula pyramid is an exquisite church – Nuestro Señora de los Remedios – a vision in cream and gold built there by the Spaniards to superimpose the Catholic Church over the indigenous beliefs.
Although I have come to realize this was a regular strategy for invaders (before as well as after the Spaniards), there surely is no better example than this pyramid. According to the histories, Cortés swore to build a church in Cholula for every day of the year, and indeed ecclesiastical domes dot the skyline of this relatively small town (although way short of 365). Sadly the earthquake that hit this region in 1999 resulted in a fair amount of damage here, and although repairs have been made to the church, they have not been extended to the tunnels of the pyramid. It was a disappointment for me that we were strongly discouraged from entering them.
Almost as compensation, our tour guide took us to see a very different kind of church than the usual Spanish ones. This church, the Templo de Santa María in the barrio (neighborhood) of Tonantzíntla, was built, as our guide put it, "by indios for indios." Outside, the church is faced with red and blue tiles with red-and-white spiraled columns ascending to a double belfry. "Inside," our guide went on, "are the faces of all the indigenous peoples of Mexico." He might have meant that literally as every inch of interior wall was festooned with painted faces sculpted of stucco and then crusted in gold leaf! It was a very intense space!
Jan and I reunited for lunch, compared notes and set out for what we naively thought would be the first of two museums. It took us a while to find the Ex-Convento Santa Rosa, nestled as it is in a street of hardware stores. From the outside, it was very unprepossessing, with a smattering of crafts vendors in the central courtyard and no very obvious explanation of how to see the exhibit! My tour guide of the morning had insisted that the convent's exhibition of historical crafts of Puebla State was not to be missed. Plus the convent is where mole poblano was invented by a sister reputedly pressed to come up with something special for visiting Church dignitary. Thank God we persisted. The exhibit, which is mostly on the second floor, can only be seen with a guide, who leads the tour on the hour, and I can only wish it had been in English because his obvious passion for his subject came through clearly even if all the details didn't. My brain was sizzling from the Spanish workout by the time we left, but the fact is the artifacts spoke well for themselves. Carefully selected and beautifully organized, the exhibit led us through different regions and different epochs and the many different expressions of these. There was embroidery, textiles, and baskets from the south; fabulous pots and urns in lead-glazed earth tones, plus a section of "historical" Talavera where we learned that the blue color so prevalent is not traditional, but rather the product of trade with China! There were elaborate ceramic sculptures telling "the story of the world" plus a collection of "tree of life" sculptures. As an art form, the "trees" predated the arrival of Catholicism, but they were readily adapted to the influence of Christian teaching (e.g. the story of Adam and Eve and the serpent, only the message may not have been complete as in Mexican culture the serpent is seen as a god rather than a devil!) The former convent itself had a history that the guide interwove into his tour, which culminated in the famous kitchen where mole poblano originated. Sadly, I was not allowed to take photographs of any of the art. You'll just have to go! It was definitely a not-to-be-missed stop.
However we were bushed mentally and physically afterward and blew off the second museum in favor of a nap. We emerged at sunset for supper in another highly recommended restaurant the Méson Sacristía de la Compañía, which was just a few blocks from the hotel. The tables were set in the courtyard of this 18th century building the color of ripe pumpkin. I had a salad of, of all things, fried parsley with shrimp followed by Mole Sacristía, a house specialty which proved to be pork with a slightly acidic mole based on chipotle peppers. Jan had Guajolotes,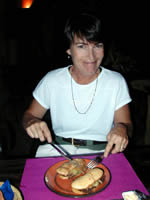 which were delicate stuffed breads. Everything was so beautifully presented that I started taking pictures of my meals, determined to resurrect the "Galley" section of the website. This carried us into conversation with the manager, who, upon learning about the website, insisted upon showing us not only the beautiful colonial guestrooms
melding handsome antiques with modern conveniences upstairs, but also the rooms and facilities of their very different, very "modern-art" property a few blocks away, the Alfarería "Doña Rosa." Although the prices were way out of these cruisers' usual touring budget, in reality they were not outrageous at all by American standards (www.mesones-sacristia.com, or for the "Doña Rosa" email xcaretx_26@hotmail.com ) Either would make for a very special weekend with great locations!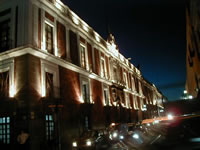 It was clear we could spend another couple of days in Puebla with no problem, but to do so would have eroded our time for Oaxaca, which (rightly as it turned out) was going to be a place we would have missed even a day! Hopefully, Don and I will be able to make time next winter before taking of to the South Pacific to repeat some of this trip together.
And so, with regrets, it was up early on Sunday to catch the bus to Oaxaca City (ADO 4½ hrs.)
Girls' Trip will be continue in Part II - Oaxaca